Abstract
The study of 16N's gamma spectrum has two main uses: calibrating gamma detectors in a high energy range, and determining the fluorine grade of mineral samples of fluorite. This article examines and compares the gamma ray spectrum of 16N as recorded by a Bi4GeO12 detector, as well as the resolution of this detector at high energy levels, and the signal–background relationship of an experimental laboratory cyclic activation unit. 16N is the product of the reaction 9-F-19(n,α)7-N-16, which takes place during the neutron activation of mineral samples of fluorspar, and its production depends, among other factors, upon the grade of fluorite. The technique used in this study is cyclic-type neutron activation for recording delayed gamma rays, carried out with an americium–beryllium neutron source with an activity of 1 Ci. Lastly, a correlation is established between the area below the peak amount of 16N emitted by the sample, and the sample's fluorite grade.
Access options
Buy single article
Instant access to the full article PDF.
USD 39.95
Price excludes VAT (USA)
Tax calculation will be finalised during checkout.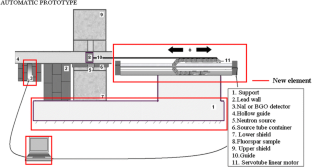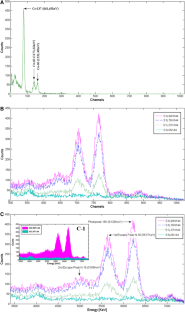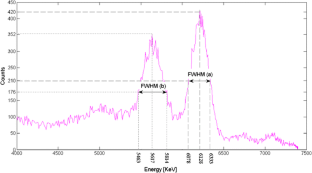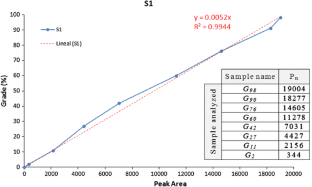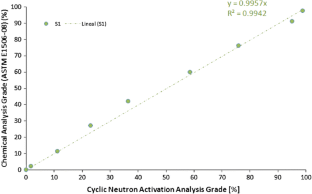 References
ASTM E1506–08 (2008) Standard Test Methods for Analysis of Acid-Grade Calcium Fluoride (Fluorspar)

Parry SJ (1991) Activation spectrometry in chemical analysis. Wiley, New York

Sypou NM (1981) Cyclic activation analysis. J Radioanal Chem 61:211–242

Alfassi ZB (1990) Activation Analysis, vol 1–2. CRC Press, Boca Raton, p 179

Randle K (1985) Determination of fluorine in geological samples using accelerator derived neutrons. J Radioanal Nucl Chem 90:355–361

Sakurai H, Fukuda M, Hayashibe Y, Sayama Y, Masumoto K, Ohtsuki T (1997) Determination of fluorine in standard rocks by photon activation analysis. J Radioanal Nucl Chem 217(2):267–271

Anders OU (1960) Determination of fluorine by neutron activation. Anal Chem 32:1368–1369

Croudace IW, Randle K (1993) Fluorine abundances of twenty nine geological and other reference samples using fast-neutron activation analysis. Geostand Newslett 17:217–218

Croudace IW, Randle K (1988) A rapid and non-destructive method of fluorine determination using fast neutron activation analysis. Chem Geol 67:165–170

Parry SJ, Bezing R, Bolstad KL, Steinnes E (2000) Epithermal/fast neutron cyclic activation analysis for the determination of fluorine in environmental and industrial materials. J Radioanal Nucl Chem 244:67–72

Weber G, Guillaume M (1970) Fast and precise determination of fluorine in geological samples by 14 MeV neutron activation analysis. J Radioanal Nucl Chem 5:379–386

Wing J, Wahlgren MA (1969) Fluorine analysis by activation with an isotopic fast-neutron source and counting Nitrogen-16. J Radioanal Chem 3(1–2):37–42

Rey-Ronco MA, Alonso-Sánchez T, Castro-García MP (2010) Production of 16N and obtaining of its gamma spectrum in order to calibrate detectors or determination of fluorine in geological specimens. Nucl Instrum Methods Phys Res 268:2766–2772

Rey-Ronco MA, Alonso-Sánchez T, Castro-García MP (2011) A neutron activation technique based on deferred gamma rays applied to the quantification of fluorine in fluorspar mining samples. J Phys 325:012021

Rey-Ronco MA, Alonso-Sánchez T, Castro-García MP (2011) Neutron activation of deferred gamma rays: steps to determine the usefulness of this technique in analyzing elements of a mineral sample. J Phys 325:012025

Rey RMA (2007) Desarrollo de un método rápido basado en técnicas de activación neutrónica para la determinación del contenido en flúor de muestras de mineral de fluorita. Doctoral thesis, Universidad de Oviedo. http://www.tesisenred.net/handle/10803/11110. Accessed 2013

Alonso-Sánchez T, Rey-Ronco MA, Castro-García MP (2010) A neutron activation technique for the analysis for fluorine in fluorspar samples. Int J Miner Process 94:1–13

Rey-Ronco MA, Alonso-Sánchez T, Castro-García MP (2010) Mathematical study to improve the sensitivity in the neutron activation analysis of fluorspar. J Math Chem 48:165–174

Alonso-Sánchez T, Rey-Ronco MA, Castro-García MP, Carnero-Rodríguez FJ (2012) Design for an asymmetrical cyclic neutron activation process for determining fluorite grade in fluorspar concentrate. J Math Chem 50:394–409

Castro-García MP (2012). Activación neutrónica cíclica para la determinación del contenido en flúor en de muestras mineral de fluorita. Doctoral thesis, Universidad de Oviedo. http://hdl.handle.net/10803/83930. Accessed 2013
Acknowledgments
The authors would like to thank the company MINERSA SA, the Government of the Principality of Asturias, and the University of Oviedo's research grant scheme for their collaboration and financial support throughout this study. This project was made possible by the Government of the Principality of Asturias, through funding from the PCTI of Asturias, which is supported in part by the FEDER Operational Program of the Principality of Asturias 2007–2013. The authors are members of the Q-Thermie group: http://personales.uniovi.es/web/qthermie
About this article
Cite this article
Castro-García, M.P., Alonso-Sánchez, T. & Rey-Ronco, M.A. Study of the gamma spectrum of 16N with a BGO detector, for the purpose of calibration and of determining the fluorine grade of mineral samples. J Radioanal Nucl Chem 298, 915–921 (2013). https://doi.org/10.1007/s10967-013-2599-3
Received:

Published:

Issue Date:

DOI: https://doi.org/10.1007/s10967-013-2599-3
Keywords
Spectrum

Fluorspar

Fluorite

Gamma rays

Cyclic activation