Abstract
The impact of the Fukushima nuclear accident in north–western Greece was assessed through an environmental monitoring programme activated by the Nuclear Physics Laboratory of the University of Ioannina. Measurements of 131I were carried out in atmospheric particulate, ovine milk and grass samples. In daily aerosol samplings, radioiodine was first detected on March 25–26, 2011 and reached maximum levels, up to 294 μBq m−3, between April 2 and April 4, 2011. In ovine milk samples, 131I concentrations ranged from 2.0 to 2.7 Bq L−1 between April 2 and April 6, 2011, while an average activity of 2.7 Bq kg−1 was measured in grass samples on April 4, 2011. The 134,137Cs isotopes were below detection limits in all samples and could only be determined in the air, by analysis of multiple daily filters. A maximum average activity concentration of 137Cs amounting to 24 μBq m−3 was measured during the period from April 5 to April 9, 2011, with the 134Cs/137Cs activity ratio being close to unity. Activity concentrations were consistent with measurements conducted in other parts of the country and were well below those reported in May 1986 after the Chernobyl accident. The committed effective dose to the whole body and to the thyroid gland from inhalation of 131I was estimated for the adult and infant population and was found to be of no concern for the public health.
Access options
Buy single article
Instant access to the full article PDF.
US$ 39.95
Tax calculation will be finalised during checkout.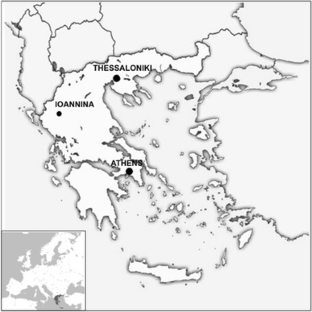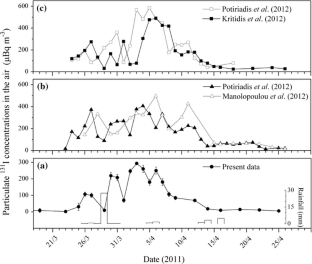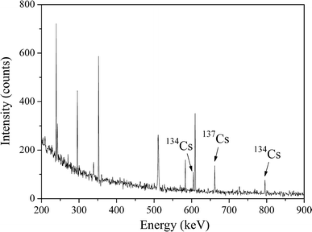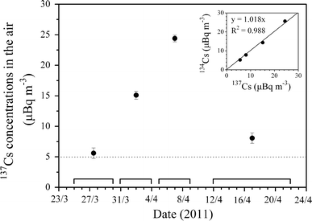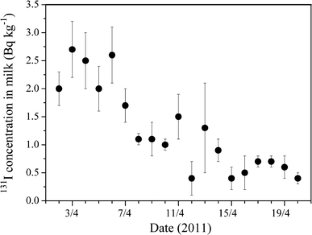 References
1.

International Atomic Energy Agency (2011) Briefing on Fukushima nuclear accident. www.iaea.org/newscenter/news/tsunamiupdate01.html/. Accessed 12 Apr 2011

2.

Bolsunovsky A, Dementyev D (2011) Evidence of the radioactive fallout in the center of Asia (Russia) following the Fukushima nuclear accident. J Environ Radioact 102:1062–1064

3.

Diaz Leon J, Jaffe DA, Kaspar J, Knecht A, Miller ML, Robertson RGH, Schubert AG (2011) Arrival time and magnitude of airborne fission products from the Fukushima, Japan, reactor incident as measured in Seattle, WA, USA. J Environ Radioact 102:1032–1038

4.

Lozano RL, Hernández-Ceballos MA, Adame JA, Casas-Ruíz M, Sorribas M, San Miguel EG, Bolívar JP (2011) Radioactive impact of Fukushima accident on the Iberian Peninsula: evolution and plume previous pathway. Environ Int 37:1259–1264

5.

Lujanienė G, Byčenkienė S, Povinec PP, Gera M (2012) Radionuclides from the Fukushima accident in the air over Lithuania: measurement and modelling approaches. J Environ Radioact 114:71–80

6.

Manolopoulou M, Stoulos S, Ioannidou A, Vagena E, Papastefanou C (2012) Radiation measurements and radioecological aspects of fallout from the Fukushima nuclear accident. J Radioanal Nucl Chem 292:155–159

7.

Masson O, Baeza A, Bieringer J, Brudecki K, Bucci S, Cappai M, Carvalho FP, Connan O, Cosma C, Dalheimer A, Didier D, Depuydt G, De Geer LE, De Vismes A, Gini L, Groppi F, Gudnason K, Gurriaran R, Hainz D, Halldórsson Ó, Hammond D, Hanley O, Holeý K, Homoki Zs, Ioannidou A, Isajenko K, Jankovic M, Katzlberger C, Kettunen M, Kierepko R, Kontro R, Kwakman PJM, Lecomte M, Leon Vintro L, Leppänen A-P, Lind B, Lujaniene G, McGinnity P, McMahon C, Malá H, Manenti S, Manolopoulou M, Mattila A, Mauring A, Mietelski JW, Møller B, Nielsen SP, Nikolic J, Overwater RMW, Pálsson SE, Papastefanou C, Penev I, Pham MK, Povinec PP, Ramebäck H, Reis MC, Ringer W, Rodriguez A, Rulík P, Saey PRJ, Samsonov V, Schlosser C, Sgorbati G, Silobritiene BV, Söderström C, Sogni R, Solier L, Sonck M, Steinhauser G, Steinkopff T, Steinmann P, Stoulos S, Sýkora I, Todorovic D, Tooloutalaie N, Tositti L, Tschiersch J, Ugron A, Vagena E, Vargas A, Wershofen H, Zhukova O (2011) Tracking of airborne radionuclides from the damaged Fukushima Dai-ichi nuclear reactors by European networks. Environ Sci Technol 45:7670–7677

8.

Pittauerová D, Hettwig B, Fischer HW (2011) Fukushima fallout in Northwest German environmental media. J Environ Radioact 102:877–880

9.

Debertin K (1984) The effect of correlations in the efficiency calibration of germanium detectors. Nucl Instrum Methods 226:566–568

10.

International Organization for Standardization, ISO 11929-3:2000 (2000) Determination of the detection limit and decision threshold for ionizing radiation measurements—Part 3: fundamentals and application to counting measurements by high resolution gamma spectrometry, without the influence of sample treatment

11.

Kritidis P, Florou H, Eleftheriadis K, Evangeliou N, Gini M, Sotiropoulou M, Diapouli E, Vratolis S (2012) Radioactive pollution in Athens, Greece due to the Fukushima nuclear accident. J Environ Radioact 114:100–104

12.

Potiriadis C, Kolovou M, Clouvas A, Xanthos S (2012) Environmental radioactivity measurements in Greece following the Fukushima Daiichi nuclear accident. Radiat Prot Dosimetry 150:441–447

13.

Kritidis P, Florou H (2001) Radiological impact of the Chernobyl accident in Greece—a ten year retrospective synopsis. Health Phys 80:440–446

14.

Barsanti M, Conte F, Delbono I, Iurlaro G, Battisti P, Bortoluzzi S, Lorenzelli R, Salvi S, Zicari S, Papucci C, Delfanti R (2012) Environmental radioactivity analyses in Italy following the Fukushima Dai-ichi nuclear accident. J Environ Radioact 114:126–130

15.

Institut de radioprotection et de sûreté nucléaire (2011) Synthèse des résultats des mesures de la radioactivité dans le cadre de la surveillance de l'impact à très longue distance des rejets de l'accident de Fukushima. Note d'information no 15. http://www.irsn.fr/FR/Actualites_presse/Actualites/Pages/201103_situation_en_france.aspx. Accessed 7 Dec 2011

16.

Beresford NA, Barnett CL, Howard BJ, Howard DC, Wells C, Tyler AN, Bradley S, Copplestone D (2012) Observations of Fukushima fallout in Great Britain. J Environ Radioact 114:48–53

17.

Cosma C, Iurian AR, Niţă DC, Begy R, Cîndea C (2012) Indicators of the Fukushima radioactive release in NW Romania. J Environ Radioact 114:94–99

18.

Consejo de Seguridad Nuclear (2011) Vigilancia radiológica ambiental en España. https://www.csn.es/index.php?optionOcom_content&viewOarticle&idO17270&ItemidO755&langOes. Accessed 6 Dec 2011

19.

Commission Implementing Regulation (EU) No 351/2011 of 11 April 2011 amending Regulation (EU) No 297/2011 imposing special conditions governing the import of feed and food originating in or consigned from Japan following the accident at the Fukushima nuclear power station. Official Journal of the European Union L 97/20-23 of 12 April 2011

20.

Assimakopoulos PA, Ioannides KG, Pakou AA (1988) The environmental behaviour of 131I in northwestern Greece following the nuclear reactor accident at Chernobyl. Health Phys 55:783–791

21.

Evrard O, Van Beek P, Gateuille D, Pont V, Lefèvre I, Lansard B, Bonté P (2012) Evidence of the radioactive fallout in France due to the Fuushima nuclear accident. J Environ Radioact 114:54–60

22.

Steinhauser G, Merz S, Hainz D, Sterba JH (2012) Artificial radioactivity in environmental media (air, rainwater, soil, vegetation) in Austria after the Fukushima nuclear accident. Environ Sci Pollut Res. doi:10.1007/s11356-012-1140-5

23.

Baeza A, Corbacho JA, Rodríguez A, Galván J, García-Tenorio R, Manjón G, Mantero J, Vioque I, Arnold D, Grossi C, Serrano I, Vallés I, Vargas A (2012) Influence of the Fukushima Dai-ichi nuclear accident on Spanish environmental radioactivity levels. J Environ Radioact 114:138–145

24.

International Commission of Radiological Protection (1995) Age-dependent doses to members of the public from intake of radionuclides—Part 4 inhalation dose coefficients. ICRP Publication 71. Ann ICRP 25(3–4):1–405

25.

International Atomic Energy Agency (1996) International basic safety standards for protection against ionizing radiation and for the safety of radiation sources. Safety series no. 115. International Atomic Energy Agency, Vienna

26.

Ioannides K, Patiris D, Papachristodoulou C (2009) Indoor radon concentrations in workplaces and dwellings in north–western Greece. Radioprotection 44:165–169
Acknowledgments
Gamma-spectrometry measurements were carried out in the facilities of the Archaeometry Center of the Network of Research Supporting Laboratories of the University of Ioannina.
About this article
Cite this article
Ioannides, K., Stamoulis, K. & Papachristodoulou, C. Environmental radioactivity measurements in north–western Greece following the Fukushima nuclear accident. J Radioanal Nucl Chem 298, 1207–1213 (2013). https://doi.org/10.1007/s10967-013-2527-6
Received:

Published:

Issue Date:
Keywords
Fukushima

Radioiodine

Radiocaesium

Dose assessment

Greece