Abstract
In literature quite a lot of data is available on uptake of radioactive caesium in mushrooms. There is less available on the evolution of concentration in fruitbodies after several years and on "outbound" transfer of radiocaesium from fruitbodies to their direct environment, i.e. dilution according to cooking techniques. The recent event at Fukushima has put the question of radionuclides in food, and the following exposure of consumers, high on the agenda. The purpose of this paper is twofold: (1) in order to investigate the variation in time of caesium uptake by fungi, analyses of the same species having grown on the same spot at different intervals during the last 25 years have been performed and (2) in terms of radiation protection the most important thing is the activity taken in by the consumer and not the contamination of raw products. Preparation can have a great impact on activity concentration. Various species of mushrooms frequently eaten have been sampled in Europe and contaminated areas in Japan. Different preparation techniques that can break the walls of the hyphae (drying, deepfreezing etc.) have been applied as well as different treatments: boiling or macerating in water with salt, in acid and basic media. The pH of different media was adjusted and measured. The samples and the medium were analysed separately in gamma spectrometry.
Access options
Buy single article
Instant access to the full article PDF.
US$ 39.95
Tax calculation will be finalised during checkout.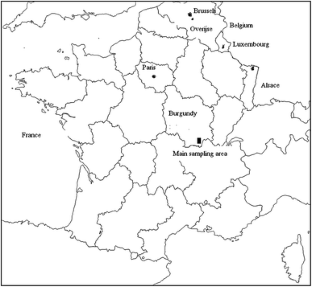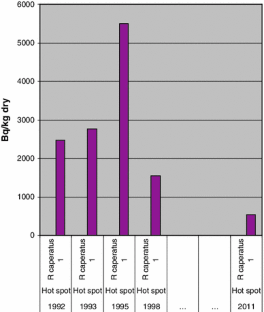 References
1.

Grueter H (1971) Health Phys 20:655–656

2.

Daillant O (1987) Bull Soc Myc France 103(2):33–37

3.

Kirchner G, Daillant O (1998) Sci Total Environ 222:63–70

4.

Stijve T (1994) Observ Mycol (Bull. de l'Observatoire Mycologique) 6:2–9

5.

Neukom HP, Gisler E (1991) Lebensmittel. Wissenschaft und Technologie 24(5):442–444

6.

Ban-nai T, Muramatsu Y, Yoshida S (1997) Health Phys 72(3):384–389

7.

Ban-Nai T, Muramatsu Y, Yoshida S (2004) J Radiat Res (Tokyo) 45(2):325–332

8.

http://www.observatoire-mycologique.fr. Accessed Dec 2011

9.

Radiation fears spread to forest industry, Mainichi Japan, on line version in English, December 26, (2011)
Acknowledgments
The authors wish to express their thanks to the members of the laboratories who participated in the analyses, Aurélie Migeon (ACRO), to Aoki-San for help in collecting and transporting samples as well as to Gerald Kirchner (Bundesamt für Strahlenschutz, Germany) for help in analyses in previous years.
About this article
Cite this article
Daillant, O., Boilley, D., Josset, M. et al. Evolution of radiocaesium contamination in mushrooms and influence of treatment after collection. J Radioanal Nucl Chem 297, 437–441 (2013). https://doi.org/10.1007/s10967-012-2411-9
Received:

Published:

Issue Date:
Keywords
Radiocaesium

Fungi

Mushrooms

Extraction of radiocaesium

Evolution of contamination