Abstract
A low cost and selective method has been developed for the separation of trace concentrations of 90Y3+ from its parent 89Sr2+. The proposed procedure is based upon complete retention of 90Y3+ onto zirconium-vanadate (Zr-V) gel ion exchanger packed column from aqueous solutions containing HCl (1.0 × 10−5mol dm−3). Under these conditions, 89Sr2+ species were not retained onto Zr-V sorbent. The retained 90Y3+ species were then recovered with HCl. The performance of Zr-V sorbent packed column was determined via the height equivalent to the theoretical plates (HETP) and the number of plates (N). Validation of the developed method was checked by calculating the radionuclidic purity in terms of purification factor (P f = A/A0) and radiochemical purity of the eluted 90Y from the column. Zr-V sorbent packed column offers unique advantages of retention and quantitative separation of 90Y from retention over conventional solid sorbents in rapid and effective separation of trace concentration of 90Y3+ from 89Sr2+ in their aqueous equilibrium media.
Access options
Buy single article
Instant access to the full article PDF.
USD 39.95
Price excludes VAT (USA)
Tax calculation will be finalised during checkout.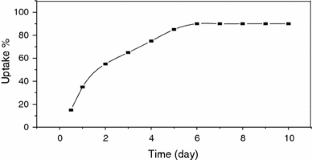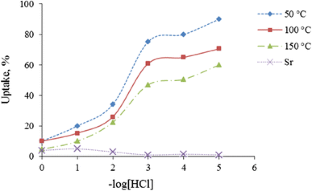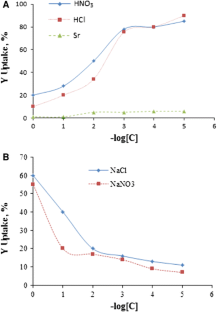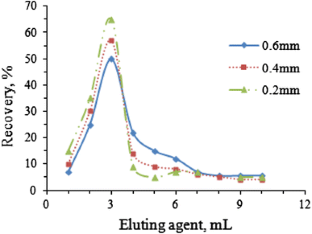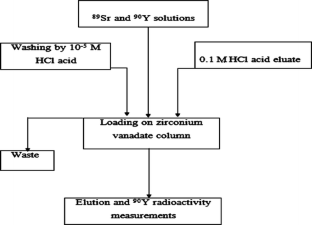 References
Govindan SV, Goldenberg DM (2010) New antibody conjugates in cancer therapy. Sci World J 10:2070–2089

Schmidt GP, Paprottka P, Jakobs TF, Hoffmann RT, Baur-Melnyk A, Haug A (2012) FDG-PET-CT and whole-body MRI for triagwe in patients planned for radiombolisation theraby. Eur J Radiol 81:269–276

Matthews KM, Bowyer TW, Saey PRJ, Payne RF (2012) The workshop on signatures of medical and industrial isotope production -WOSMIP; Strassoldo, Italy, 1–3 July 2009. J Environ Radioact 110:1–6

Theuer CP, Leigh BR, Multani PS, Allen RS, Liang BC (2004) Radioimmunotherapy of non-Hodgkin's lymphoma: clinical development of the Zevalin regimen. Biotechnol Annu Rev 10:265–295

Dutta S, Mohapatra PK, Raut DR, Manchanda VK (2011) Preferential extraction of 90Y from 90Sr using N,N,N,N-tetra-2-ethylhexyl diglycolamide (T2EHDGA) as the extractant. J Radioanal Nucl Chem 288:389–394

Dutta S, Mohapatra PK, Manchanda VK (2011) Separation of 90Y from 90Sr by a solvent extraction method using N,N,N',N'-tetraoctyl diglycolamide (TODGA) as the extractant. Appl Radiat Isot 69:158–162

Dutta S, Mohapatra PK, Raut DR, Manchanda VK (1218) Chromatographic separation of carrier free 90Y from 90Sr using a diglycolamide based resin for possible pharmaceutical applications. J Chromatogr A 6483–6488:2011

Bonardi ML, Martano L, Groppi F, Chinol M (2009) Rapid determination of 90Sr impurities in freshly "generator eluted" 90Y for radiopharmaceutical preparation. Appl Radiat Isot 67:1874–1877

Castillo AX, Perez-Malo M, Isaac-Olive K, Mukhallalati H, Gonzalez EC, Berdeguez MT, Diaz NC (2010) Production of large quantities of 90Y by ion-exchange chromatography using an organic resin and a chelating agent. Nucl Med Biol 37:935–942

Yusan S, Erenturk S (2012) Adsorption characterization of strontium on PAN/zeolite composite adsorbent. World J Nucl Sci Technol 1:6–12

Chuang JT, Lo JG (1996) Extraction chromatographic separation of carrier-free yttrium-90 from strontium-90/yttrium-90 generator by crown ether-coated silica gels. J Radioanal Nucl Chem 204:83–93

Hsieha BT, Tinga G, Hsieha HT, Shen LH (1993) Preparation of carrier-free yttrium-90 for medical applications by solvent extraction chromatography. Appl Radiat Isot 44:1473–1480

Bray LA, Wheelwright EJ, Western DW, Carson KJ, Elovich RJ, Shade EH, Alexander DL, Culley GE, Atkin SD (1992) Production of 90Y at Hanford. Radioact Radiochem 3:22–25

Chinol M, Hnatowich DJ (1987) Generator-produced yttrium-90 for radioimmunotherapy. J Nucl Med Soc Nucl Med 28:1465–1470

Dhara S, Sarkar S, Basu S, Chattopadhyay P (2009) Separation of the 90Sr-90Y pair with cerium(IV) iodotungstate cation exchanger. Appl Radiat Isot 67:530–534

Achuthan PV, Dhami PS, Kannan R, Gopalakrishnan V (2000) Separation of carrier-free 90Y from high level waste by extraction chromatographic technique using 2-ethylhexyl-2-ethylhexyl phosphonic acid (KSM-17). Sep Sci Technol 35:261–270

Malja S, Schomacker K, Malja E (2000) Preparation of 90Y by the 90Sr-90Y generator for medical purpose. J Radioanal Nucl Chem 245:403–406

Chuvilin DY, Khvostionov VE, Markovskij DV, Pavshook VA, Ponomarev-Stepnoy NN, Udovenko AN, Shatrov AV, Vereschagin YI, Rice J, Tome LA (2007) Production of 89Sr in solution reactor. Appl Radiat Isot 65:1087–1094

Chakravarty R, Pandey U, Manolkar RB, Dash A, Venkatesh M, Pillai MR (2009) Development of an electrochemical 90Sr-90Y generator for separation of 90Y suitable for targeted therapy. Nucl Med Biol 35:245–253

Lewis RF, FU-Mins S, Lane TA, Olewine KR, and Holton PS (2004) In: USPTO (ed) Method and apparatus for separating ions of metallic elements in aqueous solution, G21G1/02 ed. Bristol-Myers Squibb Pharma Company, Princeton

Li W, Wang X, Meng S, Li D, Xiong Y (2007) Extraction and separation of yttrium from the rare earths with sec-octylphenoxy acetic acid in chloride media. Sep Purif Technol 54:164–169

Chinol M (2006) New designed 90Sr/90Y generator and 90Sr breakthrough determination, development of generator technologies for therapeutic radionuclides. European Institute of Oncology, Milan, pp 65–67

Dutta S, Raut DR, Mohapatra PK (2012) Role of diluent on the separation of 90Y from 90Sr by solvent extraction and supported liquid membrane using T2EHDGA as the extractant. Appl Radiat Isot 70:670–675

Sylvester P (2005) In: USPTO (ed) Ion exchange materials for the separation of 90Y from 90SR. Lynntech, Inc., College Station

Hui-Bo G, Hong-Sheng B, Xiao-Hai J, Wei Y, Liang-Ge H, Hong-Qiang F (2006) Preparation of a new kind of inorganic adsorbent for 90Y, development of generator technologies for therapeutic radionuclides. European Institute of Oncology, Milan, pp 21–25

Castillo AX (2006) Development of a reproducible methodology for the production of 90Y from 90Sr/90Y chromatographic generator, development of generator technologies for therapeutic radionuclides. European Institute of Oncology, Milan, pp 26–34

Roy K, Mohapatra PK, Rawat N, Pal DK, Basu S, Manchanda VK (2004) Separation of 90Y from 90Sr using zirconium vanadate as the ion exchanger. Appl Radiat Isot 60(5):621–624

El-Shahawi MS, Kadi MW, El-Khouly SH, Abd El-Mohty A, Saad SM and Eweda NEA (2012) Separation of Y from Sr by zirconium-vanadte gel ion-exchanger sorbent: kinetics and thermodynamic study. J Radioanal Nucl Chem. doi:10.1007/s10967-012-1892-x

Helus F (1983) Radionuclides production. CRC Press, p 39

Roy K, Pal DK, Basus S, Dalia N, Susanta L (2004) Synthesis of a new ion exchanger, zirconium vanadate, and its application to the separation of barium and cesium radionuclides at tracer levels. Appl Radiat Isot 57:471–474

Braun T, Navratil JD, Farag AB (1985) Polyurethane foam sorbents in separation science. CRC Press. Inc, Florida

Malja S, Schomäcker K, Damani G (1997) Preliminary results on labelling antibody Mab B72.3 with 90Y. J Radioanal Nucl Chem 218:255–257

Cheng Z, Li M, Cao Z, Yang W, and Shengting Z (1995) Studies on the preparation of medical 90Y generator, China Nuclear Information Centre, Atomic Energy Press, document No. SINRE-0151
About this article
Cite this article
El-Shahawi, M.S., Kadi, M.W., El-Khouly, S.H. et al. Retention profile and selective separation of 90Y from 89Sr using zirconium-vanadate gel packed column. J Radioanal Nucl Chem 295, 1873–1880 (2013). https://doi.org/10.1007/s10967-012-2262-4
Received:

Published:

Issue Date:

DOI: https://doi.org/10.1007/s10967-012-2262-4
Keywords