Abstract
Using cyanoacrylate or "superglue" fuming to develop latent dermatoglyphic prints significantly altered the volatile and semivolatile compounds within the material of polyethylene zip-lock bags. Comparisons of SPME-GC/MS analyses of poly bags obtained before and after application of a glue fuming fingermark-developing technique resulted in markedly different material profiles of the bags. Not only were species added to the chemical composition of a bag, but other compounds that had been initially present were removed. These effects are particularly important for nuclear forensic investigations in the realm of route (pathway) analyses, and may also be of general interest to criminalistics laboratories that examine illicit drugs and their packaging.
Access options
Buy single article
Instant access to the full article PDF.
USD 39.95
Price excludes VAT (USA)
Tax calculation will be finalised during checkout.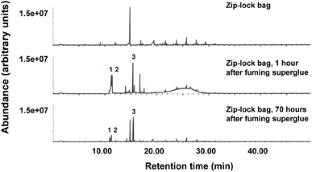 References
Moody KJ, Hutcheon ID, Grant PM (2005) Nuclear forensic analysis. Taylor & Francis/CRC Press, Boca Raton

Cleverly B (1979) The comparison and matching of low density polyethylene plastic bags by infrared spectroscopy. J Forensic Sci 24:339–345

Gilbert J, Ingram JM, Scott MP, Underhill M (1991) The analysis of clingfilms by infrared spectroscopy and thermal desorption capillary gas chromatography. J Forensic Sci Soc 31:337–347

Castle DA, Gibbins B, Hamer PS (1994) Physical methods for examining and comparing transparent plastic bags and cling films. J Forensic Sci Soc 34:61–68

Tsukame T, Kutsuzawa M, Sekine H, Saitoh H, Shibasaki Y (1999) Identification of polyethylene by differential scanning calorimetry – application to forensic science. J Therm Anal Calorim 57:847–851

Roux C, Bull S, Golding J, Lenard C (2000) Tracing the source of illicit drugs through plastic packaging—a database. J Foren Sci 45:99–114

Causing V, Marge C, Carries P, Schiavone S, Marigo A (2006) A quantitative differentiation method for plastic bags by infrared spectroscopy, thickness measurement and differential scanning calorimetry for tracing the source of illegal drugs. Forensic Sci Int 164:148–154

Denton S (1981) Extrusion marks in polyethylene film. J Forensic Sci Soc 21:259–262

Pierce DS (1990) Identifiable markings on plastic. J Forensic Identif 40:51–59

Vanderkolk JR (1995) Identifying consecutively made garbage bags through manufactured characteristics. J Forensic Identif 45:38–50

Lee HC, Gaensslen RE (1994) Advances in fingerprint technology. CRC Press, Boca Raton
Acknowledgments
This work performed under the auspices of the U.S. Department of Energy by Lawrence Livermore National Laboratory under Contract DE-AC52-07NA27344.
About this article
Cite this article
Koester, C.J., Blankenship, J.F. & Grant, P.M. Effects of superglue fuming on materials characterization of zip-lock polyethylene bags for route forensic analyses. J Radioanal Nucl Chem 295, 2015–2019 (2013). https://doi.org/10.1007/s10967-012-2191-2
Received:

Published:

Issue Date:

DOI: https://doi.org/10.1007/s10967-012-2191-2
Keywords
Forensic science

Nuclear smuggling

Route analyses

Zip-lock polyethylene bags

Material composition

Cyanoacrylate (superglue) fuming

SPME

GC/MS