Abstract
Non-irradiated and gamma irradiated monohydrated (l Asn·H2O) and anhydrous (l Asn) asparagines, in solid state, were studied by means of DSC. The samples were irradiated at room temperature with gamma radiations using a 137Cs source. The exposure doses ranged between 1 and 10 kGy. All samples were scanned in sealed pans, from room temperature to a temperature beyond the melting point. The DSC scans of l Asn·H2O samples in sealed crucibles revealed the presence of two dehydration processes and one of decomposition and only decomposition in the case of l Asn. The influence of gamma irradiation consisted in decreasing the enthalpy of dehydration and of decomposition. A decomposition mechanism is proposed.
Access options
Buy single article
Instant access to the full article PDF.
USD 39.95
Price excludes VAT (USA)
Tax calculation will be finalised during checkout.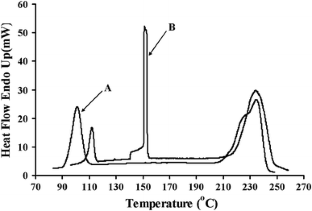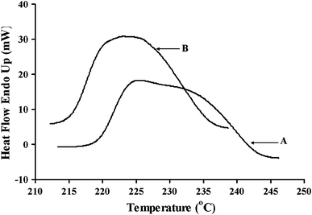 References
Contineanu M, Contineanu I, Neacsu A, St Perisanu (2010) The effect of γ rays upon monohydrated asparagine. A DSC study. Rad Phys Chem 79:1047–1051

Verbist JJ, Lehmann MS, Koetzle TF, Hamilton WC (1972) Precision neutron diffraction structure determination of protein and nucleic acid components. VI. The crystal and molecular structure of the aminoacid l-asparagine monohydrate. Acta Crystallogr B 28:3006–3013

Whitson KB, Lukan AM, Marlowe RL, Lee SA, Anthony L, Rupprecht A (1998) Binding of the water of primary hydration to the sodium and cesium salts of deoxyribonucleic acid and potassium hyalouronate. Phys Rev E58:2370–2377

Ramanadham M, Sikka SK, Chidambaram R (1972) Structure of l-asparagine monohydrate by neutron diffraction. Acta Crystallogr B 28:3000–3005

Yamada K, Hashime D, Shimizu T, Yokoyama S (2007) l-asparagine. Acta Crystallogr E63:3802–3803

Zubavichus Y, Fuchs O, Weinhardt L, Heske C, Umbach E, Denlinger JD, Grunze M (2004) Soft X-ray-induced decomposition of amino acids: an XPS, mass spectrometry, and NEXAFS study. Radiat Res 161:346–358

Cherezov V, Riedl KM, Caffrey M (2002) Too hot to handle? Synchrotron X-ray damage of lipid membranes and mesophases. J Synchrotron Radiat 9:333–341

Elpeth F, Garman A, Schneider TR (1997) Macromolecular cryocrystallography. J Appl Cryst 30:211–237

Wade RH (1984) The temperature dependence of radiation damage in organic and biological materials. Ultramicroscopy 14:265–270

Adams SM, Budzinski EE, Box HC (1976) Primary oxidation and reduction products in X-irradiated aspartic acid. J Chem Phys 65:998–1001

Box HC, Freund HG, Lilga KT, Budzinski EE (1970) Magnetic resonance studies of the oxidation and reduction of organic molecules by ionizing radiations. J Phys Chem 74:40–52

Lee JY, Box HC (1973) ESR and ENDOR studies of dl-serine irradiated at 428 K. J Chem Phys 59:2509–2512

Li J, Wang Z, Yang X, Hu L, Liu Y, Wang C (2006) Decomposition or subliming? An investigation of thermal behavior of l-leucine. Thermochim Acta 447:147–153

Menezes AS, Ardito FM, Dos Santos AO, Moreno AJD, Lima RJC, Hayashi MA, Cardoso LP (2011) Characterization of the time-dependent l-asparagine monohydrate crystal phase transition. J Appl Cryst 44:954–957

Deepti J, Bharadwaj S, Ganesan V, Awasthi AM, Nath R (2011) Thermally stimulated dehydration studies in l-asparagine monohydrate. AIP Conf Proc 1349:159–160

Dong Z, Salsbury JS, Zhou D, Munson EJ, Schroeder SA, Prakash I, Viazovkin S, Wight CA, Grant DWJ (2002) Dehydration kinetics of neotame monohydrate. J Pharm Sci 91(6):1423–1430

Guarini GGT, Dei L (1998) Kinetics and mechanism of the thermal dehydration of l. asparagine monohydrate microcrystals and single crystals: role of ageing. Thermochim Acta 311:129–140

Moreno AJD, Freire PTC, Guedes I, Melo J, Mendes-Filho FEA, Sanjurjo JA (1999) Raman scattering studies of monohydrated l-asparagine. Braz J Phys 29(2):380–387

Marciniec B, Kozak M, Wachowski L, Ogrodowcyk M (2003) Evaluation of radiostability of some steroid derivatives. J Therm Anal Cal 73:473–478

Marciniec B, Kozak M, Ogrodowcyk M (2004) DSC study of radiostability of 1,4-dihydropyridine derivates. J Therm Anal Cal 77:581–596

Neacsu A (2009) Doctoral Thesis. Department of Chemistry, University of Bucharest, Romania

Wesolowski M, Erecinska J (2005) Relation between chemical structure of amino acids and their thermal decomposition. J Therm Anal Cal 82:307–313

Sharma RK, Chan WG, Seeman JI, Hajaligol MR (2003) Formation of low molecular weight heterocycles and polycyclic aromatic compounds (PACs) in the pyrolysis of α-amino acids. J Anal Appl Pyrolysis 66:97–121
Acknowledgments
Support of the EU (ERDF) and Romanian Government, that allowed for acquisition of the research infrastructure under POS-CCE O 2.2.1 project INFRANANOCHEM-No. 19/01.03.2009, is gratefully acknowledged.
About this article
Cite this article
Contineanu, M., Neacsu, A., Contineanu, I. et al. The effects of gamma rays upon monohydrated and anhydrous asparagine: a DSC study in sealed pans. J Radioanal Nucl Chem 295, 379–384 (2013). https://doi.org/10.1007/s10967-012-2157-4
Received:

Published:

Issue Date:

DOI: https://doi.org/10.1007/s10967-012-2157-4
Keywords
Gamma rays

DSC

Asparagine monohydrate

Anhydrous asparagine

Sealed crucible

Decomposition