Abstract
The present investigation entails the biosorption studies of radiotoxic Strontium (90Sr), from aqueous medium employing dry cow dung powder (DCP) as an indigenous, inexpensive and, eco-friendly material without any pre or post treatments. The Batch experiments were conducted employing 90Sr(II) as a tracer and the effect of various process parameters such as optimum pH, temperature, amount of resin, time of equilibration, agitation speed and concentration of metal ions have been studied. The kinetic studies were carried out employing various models but the best fitting model was Lagergren pseudo-second order model with high correlation coefficient R 2 value of 0.999 and cation exchange capacity of DCP was found to be 9.00 mg/g. The thermodynamic parameters for biosorption were evaluated as ΔG° = −5.560 kJ/mol, ΔH° = −6.396 kJ/mol and ΔS° = 22.889 J/mol K, which indicated spontaneous and exothermic process with high affinity of Sr(II) for DCP.
Access options
Buy single article
Instant access to the full article PDF.
US$ 39.95
Tax calculation will be finalised during checkout.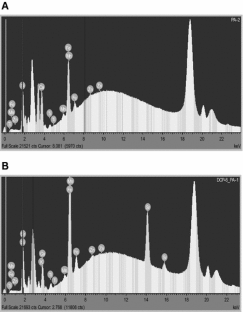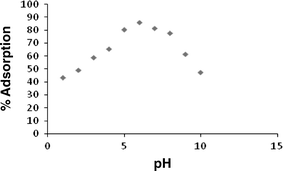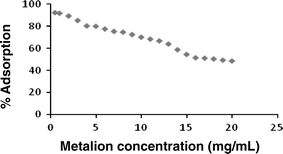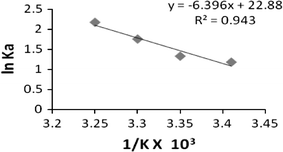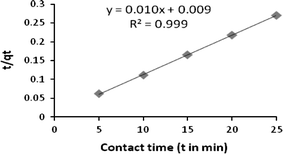 References
1.

Argonne National Laboratory, EVS Human Health Fact Sheet, Nov 2006

4.

Luo H, Dai S, Bonnesen P (2004) Anal Chem 76(10):2773–2779

5.

Horwitz E, Chiarizia R, Dietz M (1992) Sol Extr Ion Exch 10(2):313–336

6.

Yu L, Chakraboty S, Basu J (2006) Sep Purif Technol 50(3):336–341

7.

Maresova J, Pipiska M, Rozloznik M, Hornik M, Remenarova L, Augustin J (2010) Desalination. doi:10.1016/j.desal.2010.08.014

8.

Jia Y, Hub Y, Tiana Q, Shaoa Lib J, Safarikovac M, Safarik I (2010) Sep Sci Technol 45:1499–1504

9.

Mashkani S, Ghazvini M (2009) Bioresour Technol 100(6):1915–1921

10.

Bochkarev G, Pushkareva G (2009) J Mining Sci 45(3):290–295

11.

Petrova A, Flower A, Krip I, Shimchuk T, Petrushka I (2008) Radiochemistry 50(5):434–438

12.

Dabbagh R, Ghafourian H, Bhagvand A, Nabi G, Riahi H, Ahmadi Faghih M (2007) J Radioanal Nucl Chem 272(1):53–59

13.

Dabbagh R, Ghafourian H, Bhagvand A, Nabi G, Riahi H (2007) J Environ Sci Tech 33

14.

Chakraborty D, Maji S, Bandopadhyay A, Basu S (2007) Bioresour Technol 98(15):2949–2952

15.

Shaukat M, Sarwar M, Qadeer R (2005) J Radioanal Nucl Chem 265:73–79

16.

Bagla H, Barot N (2009) Green Chem Lett Rev 2(4):217–221

17.

Vogel I (1975) Textbook of quantitative inorganic analysis, 3rd edn. Longman Green & Co., London

18.

Lieser K (2001) Nuclear & radiochemistry: fundamentals and applications, 2nd edn. Wiley, Germany

19.

Waranusantigul P, Pokethitiyook P, Krutrachue M, Upatham E (2003) Environ Pollut 125:385–392

20.

Saiffudin N, Raziah A (2007) J Appl Sci Res 3(12):2091–2099

21.

Singh K (2005) J Indian Chem Soc 82:342–346

22.

Ahalya N, Kanamadi RD, Ramchandra T (2005) Electron J Biotech 8(3):323–393

23.

Lagergren S (1898) Zur theorie der sogenannten adsorption geloster stoffe. Kungliga svenska vetenskapsakademiens. Handlingar 24:1–39
Acknowledgments
We thank Gemmological Institute of India, Mumbai, for providing EDAX facility. We are also thankful to Dr. Raju Apte, Head of Gaushala, Keshav Shrushti, Thane, for providing DCP.
About this article
Cite this article
Barot, N.S., Bagla, H.K. Biosorption of radiotoxic 90Sr by green adsorbent: dry cow dung powder. J Radioanal Nucl Chem 294, 81–86 (2012). https://doi.org/10.1007/s10967-011-1539-3
Received:

Published:

Issue Date:
Keywords
Biosorption

Radiotoxic strontium

Dry cow dung powder

Green adsorbent