Abstract
Eight neutron activation analysis research groups from seven countries have participated in a trial proficiency test under the auspices of the Forum for Nuclear Cooperation in Asia. Three stream sediment reference materials were used in the test. A high degree of proficiency was found in the quantification of Co and Sc and more than 20 elements were well quantified by the majority of laboratories. The results support the use of neutron activation analysis, as practised by the participants, for geochemical mapping. The data produced in this study may provide an opportunity to improve the characterisation of the three reference materials.
Access options
Buy single article
Instant access to the full article PDF.
USD 39.95
Price includes VAT (USA)
Tax calculation will be finalised during checkout.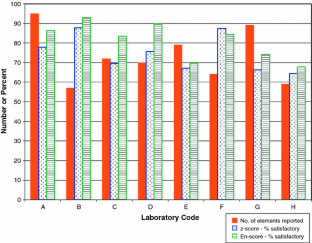 References
1.

Minami M, Shibata S, Tanaka T (2006) J Earth Planet Sci Nagoya Univ 53:15–32

2.

Terahima S, Sato K, Taniguchi M, Okai T, Imai N (2011) Geostand Newsl 27:259–271

3.

ISO (2005) ISO13528:2005(E), Statistical methods for use in proficiency testing by interlaboratory comparisons. Geneva, Switzerland

4.

Imai N, Terashima S, Itoh S, Ando A (1996) Geostand Newsl 20:165–216

5.

Hasselbarth W, Bremser W, Pradel R (1998) Fresnius J Anal Chem 360:317–321

6.

Thompson M, Ellison S, Wood R (2006) Pure Appl Chem 78:145–196

7.

Thompson M (2000) Analyst 125:385–386
Acknowledgments
The authors gratefully acknowledge the role of the FNCA Secretariat in distributing the sediment samples to the participants in the study.
About this article
Cite this article
Bennett, J.W., Ebihara, M., Tanaka, T. et al. A trial proficiency test of eight NAA laboratories in Asia using stream sediments. J Radioanal Nucl Chem 291, 535–541 (2012). https://doi.org/10.1007/s10967-011-1326-1
Received:

Published:

Issue Date:
Keywords
Proficiency test

NAA

k 0 -NAA

Geochemical mapping

JSd-1

JSd-2

JSd-3