Abstract
An automated delayed neutron counting (DNC) system has been developed at the Royal Military College of Canada (RMC) to enhance nuclear forensics capabilities pertaining to special nuclear material analysis. The system utilises the SLOWPOKE-2 Facility at RMC as a neutron source and 3He detectors. System control and data acquisition occur through a LabVIEW platform. The time dependent count rate of the delayed neutron production has been examined for 235U, using certified reference materials. Experimental validation according to ISO 17025 protocols suggests typical errors and precision of −3.6 and 3.1%, respectively, and a detection limit of 0.26 μg 235U.
This is a preview of subscription content, log in to check access.
Access options
Buy single article
Instant access to the full article PDF.
US$ 39.95
Price includes VAT for USA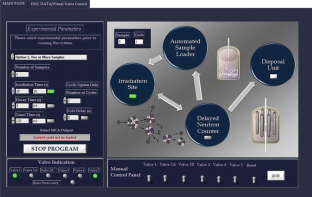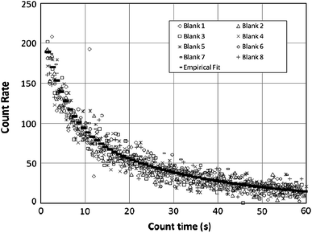 References
1.

Consolidated Canadian Results to the HEU Round Robin Exercise (2004) Defence R&D Canada, Ottawa. http://cradpdf.drdc.gc.ca/PDFS/unc62/p522801.pdf. Accessed 16 Feb 2011

2.

Nuclear Forensic Field Exercise #1 (2006) Defence R&D Canada, Ottawa. http://www.ottawa.drdc-rddc.gc.ca/docs/e/TM-2006-214-eng.pdf. Accessed 16 Feb 2011

3.

Keeping R (1958) Nucl Energy 7:13–34

4.

Handbook of Nuclear Data for Safeguards (2008) International Atomic Energy Agency, Vienna. http://www-nds.iaea.org/sgnucdata/safeg2008.pdf. Accessed 16 Feb 2011

5.

Li X, Henkelmann R, Baumgärtner F (2004) Nucl Instrum Methods Phys Res B 215:246–251

6.

Papadopoulos NN, Tsagas NF (1994) J Radioanal Nucl Chem 179(1):35–43

7.

BSEN (2005) ISO/IEC 17025 general requirements for the competence of testing and calibration laboratories. International Standards Organization, Geneva

8.

Andrews WS (1989) thermal neutron flux mapping around the reactor core of the SLOWPOKE-2 at RMC, MASC Thesis, Royal Military College of Canada

9.

Kelly DG, Bennett LGI, Fill MM, Mattson KM, Nielsen KS, White SD, Allen JF (2008) J Radioanal Nucl Chem 278(3):807–811

10.

Duke MJ (1983) Geochemistry of Exshaw Shale of Alberta—an application in neutron activation analysis and related techniques, MASC Thesis, University of Alberta

11.

Knoll GF (2000) Radiation detection and measurement, 3rd edn. John Wiley & Sons, New York
Acknowledgments
Financial support has been provided by the Director General of Nuclear Safety, the Analytical Sciences Group and the SLOWPOKE-2 Facility at the Royal Military College of Canada. The authors would like to thank Dave Ferguson, John Shaw, Matthew Mackay, Kathy Nielsen and Kristine Mattson for their assistance.
About this article
Cite this article
Sellers, M.T., Kelly, D.G. & Corcoran, E.C. An automated delayed neutron counting system for mass determinations of special nuclear materials. J Radioanal Nucl Chem 291, 281–285 (2012). https://doi.org/10.1007/s10967-011-1223-7
Received:

Published:

Issue Date:
Keywords
Delayed neutron counting

Nuclear forensics

Special nuclear materials