Abstract
Olive cake as low-cost abundantly available sorbent has been characterized by N2 at 77 K adsorption, porosity analysis, elemental analysis and IR spectra and has been used for preconcentrating of uranium(VI) and thorium(IV) ions prior to their determination spectrophotometrically. The optimum pH values for quantitative sorption of U(VI) and Th(IV) are 4–7 and 3–7, respectively. The enrichment factor for the preconcentration of U(VI) and Th(IV) were found to be 125 and 75 in the given order. The sorption capacity of olive cake is in the range of 2,260–15,000 μg g−1 for Th(IV) and in the range of 1,090–17,000 μg g−1 for U(VI) at pH 3–7. The sorbent exhibits good reusability and the uptake and stripping of the studied ions were fairly rapid. The elution of U(VI) and Th(IV) was performed with 0.3–1 M HCl/1–2 M HNO3 and 0.3–0.8 M HCl/1 M HNO3, respectively. The precision of the method was 1.8 RSD% for U(VI) and 2.5 RSD% for Th(IV) in a concentration of 1.00 μg mL−1 for 10 replicate analysis. The influence of some electrolytes and cations as interferents was discussed. Separation of U(VI) and Th(IV) from other metal ions in synthetic solution was achieved.
Access options
Buy single article
Instant access to the full article PDF.
USD 39.95
Price excludes VAT (USA)
Tax calculation will be finalised during checkout.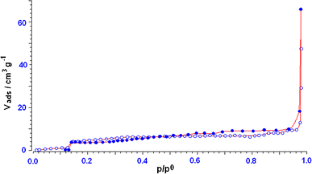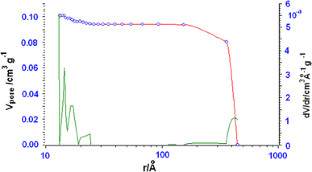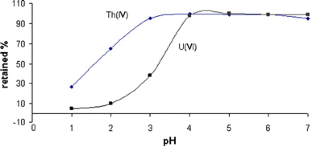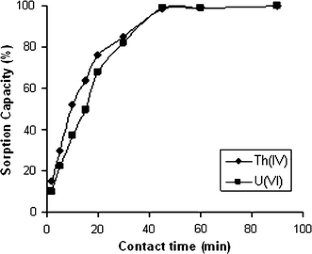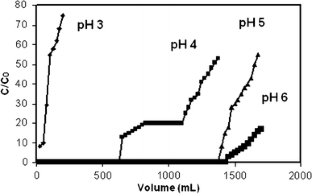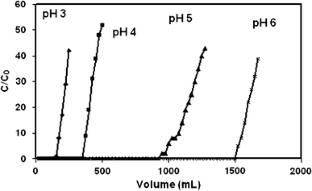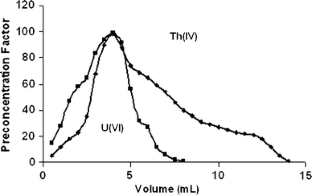 References
Agrawal YK, Vora SB (2003) Microchim Acta 142:255

Kadous A, Didi M, Villemin D (2009) J Radioanal Nucl Chem 280:157

Saad EM, Mansour RA, El-Asmy A, El-Shahawi MS (2008) Talanta 76:1041

Metaxas M, Kasselouri-Rigopoulou V, Galiatsatou P, Konstantopoulou C, Oikonomou D (2003) J Hazard Mater B97:71

Seko N, Katakai A, Tamada M, Yoshii F (2004) Sep Sci Technol 39:3753

Schierz A, Zanker H (2009) Environ Pollut 157:1088

Merdivan M, Seyhan S, Gok C (2006) Microchim Acta 154:109

Sadeghi S, Sheikhzadeh E (2009) J Hazard Mater 163:861

Krishina PG, Gladis JM, Rao KS, Rao TP, Naidu GRK (2005) J Radioanal Nucl Chem 266:251

Metilda P, Gladis JM, Rao TP (2003) Radiochim Acta 91:737

El-Sayed AA, Hamed MM, Hmmad HA, El-Reefy S (2007) Radiochim Acta 95:43

Starvin AM, Rao TP (2004) Talanta 63:225

Pancras JP, Puri BK (1999) Microchim Acta 130:203

Shamsipur M, Ghiasvand AR, Yamini Y (1999) Anal Chem 71:4892

Shawky S, Geleel MA, Aly A (2005) J Radioanal Nucl Chem 265:81

Awwad NS, Daifullah AAM (2005) J Radioanal Nucl Chem 264:623

Seyhan S, Merdivan M, Demirel N, Hosgoren H (2008) Microchim Acta 161:87

Rajul CSK, Subramanian MS, Srinivasan TG, Rao PRV (2006) Radiochim Acta 94:351

El-Menshawy AM, Khalifa ME (2006) J Radioanal Nucl Chem 268:341

El-Dessouky SI, Borai EH (2006) J Radioanal Nucl Chem 268:247

Rashed MN (2006) Environ Monit Assess 119:31

Ayyappan R, Sophia AC, Swaminathan K, Sandhya S (2005) Process Biochem 40:1293

Argun ME, Dursun S, Karatas M (2008) Bioresour Technol 99:8691

Galiatsatou P, Metaxas M, Kasselouri-Rigopoulou V (2002) J Hazard Mater B91:187

Bacaoui A, Yaacoubi A, Dahbi A, Bennouna C, Lou RPT, Maldonado-Hodar FJ, Rivera-Utrilla J, Moreno-Castilla C (2001) Carbon 39:425

Al-Anber ZA, Matouq MAD (2008) J Hazard Mater 151:194

Konstantinou M, Kolokassidou K, Pashalidis I (2007) Adsorption 13:33

Lippens BC, Linsen BG, de Boer JH (1964) J Catal 3:32

Sing KSW, Everett DH, Haul RAW, Moscou L, Pierotti RA, Rouquérol J, Siemieniewska T (1985) Pure Appl Chem 57:603

Atia A (2005) Hydrometallurgy 80:13

Chisholm-Brause CJ, Berg JM, Matzner RA, Morris DE (2001) J Colloid Interf Sci 233:38

Li WJ, Tao ZY (2002) J Radioanal Nucl Chem 254:187

Ekberg C, Albinson Y, Comarmond MJ, Brown PL (2000) J Solut Chem 29:63
Acknowledgment
The authors would like to thank Prof. Dr. Dieter Hönicke, Chemnitz Technical University/Germany for his help. The scholarship support for Prof. Dr. Kadir Yurdakoc by DAAD/Germany is gratefully appreciated. The authors are also grateful to Research Foundation of Dokuz Eylul University (Project 04-KB-FEN-102) for the financial support.
About this article
Cite this article
Bursali, E.A., Merdivan, M. & Yurdakoc, M. Preconcentration of uranium(VI) and thorium(IV) from aqueous solutions using low-cost abundantly available sorbent. J Radioanal Nucl Chem 283, 471–476 (2010). https://doi.org/10.1007/s10967-009-0365-3
Received:

Accepted:

Published:

Issue Date:

DOI: https://doi.org/10.1007/s10967-009-0365-3
Keywords
Olive cake

Sorption

Thorium(IV)

Uranium(VI)