Abstract
In this study, we aim to evaluate the shape memory effect of a Poly (Caprolactone) (PCL) (40%) and a Styrene-Butadiene-Styrene (SBS) (60%) blend. Shape memory cycle tests are performed at different temperatures to detect the best recovery rate. Under appropriate temperature, the blend recovers substantially its original shape. To study the recovery rate evolution, multi cycle tests are realized with controlled temperature. The results indicate that the shape memory effect growths when the number of cycle increases. The stored energy acts as a driving force to bring the polymer to its permanent shape after each loading cycle. Then, an original method is proposed to measure the stress-strain evolution during the recovery. With a variable temperature, no standard test can follow the stress-strain evolution. This test is needed to validate the behavior model.
This is a preview of subscription content,
to check access.
Access this article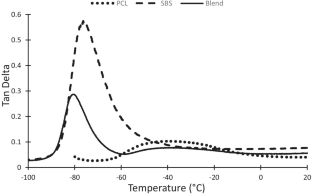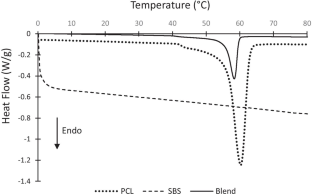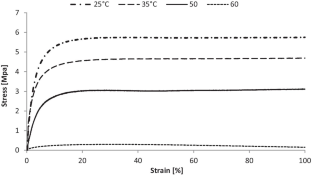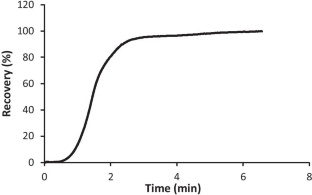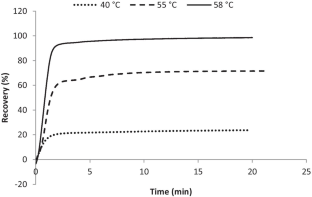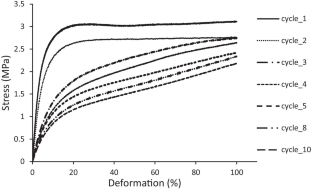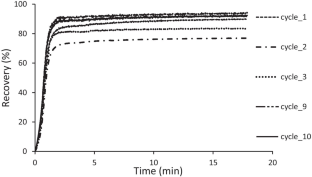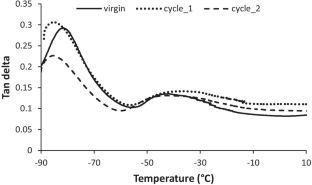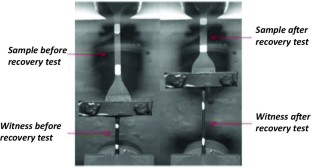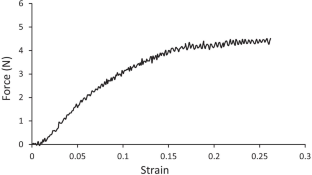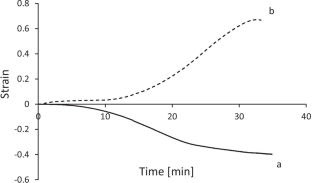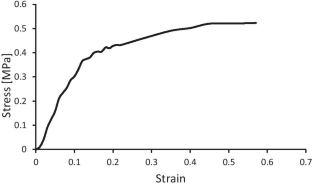 Similar content being viewed by others
References
Lendlein A, Kelch S (2002) Shape-memory polymers Angew. Chem. Int. 41:2034–57

Behl M, Lendlein A (2007) Shape-memory polymers. Mater. Today 10:20–8

Leng J, Lu H, Liu Y, Du S (2008) Conductive nanoparticles in electro activated shape memory polymer sensor and actuator SPIE: Proc. Nanosensors and microsensors for bio-systems (San Diego, CA, USA) pp 6931-8.

Abdallah-Elhirtsi S, Fitoussi J, Rashmi BJ, Prashantha K, Farzaneh S, Lacrampe MF, Krawczak P, Tcharkhtchi A (2015) Study of partial shape memory effect of polymers by multicycle tests Polym. Compos. 36:1145–51

Tcharkhtchi A, Abdallah-Elhirtsi S, Ebrahimi K, Fitoussi J, Shirinbayan M, Farzaneh S (2014) Some New Concepts of Shape Memory Effect of Polymers. Polymers 6:1144–63

Farzaneh S, Fitoussi J, Lucas A, Bocquet M, Tcharkhtchi, (2013) A Shape memory effect and properties memory effect of polyurethane. J. App. Polym. Sci. 128:3240–49

Tadaki T, Otsuka K, Shimizu K (1988) Shape Memory Alloys. Annu. Rev. Mater. Sci. 18:25–45

Lendlein A, Langer R (2002) Biodegradable, elastic shape-memory polymers for potential biomedical applications Science 96:1673–6.

Wache H M, Tartakowska D J, Hentrich A, Wagner M H (2004) Development of a polymer stent with shape memory effect as a drug delivery system J. Mater. Sci: Mater. Med. 14109–12.

Hu JL, Ding XM, Tao XM (2002) Shape memory polymers and their applications to smart textile products. J. China Textile Univ. 19:89–93

Russel D A, Hayashi S, Yamada T (1999) The potential use of memory film in clothing: Proc. techtextil symposium-new protective textiles (Frankfurt, Germany) pp 1–5

Karger-Kocsis J (2008) Recent advances in shape memory polymers and composites. J. Mater. Sci. 43:254–269

Xie T (2011) Recent advances in polymer shape memory Polymer 52:4985–5000

Hu J (2012) Recent advances in shape–memory polymers: Structure, mechanism, functionality, modeling and applications Prog. Polym. Sci. 37:1720–63

Blesa Gonzalez E (2011) Etude du Polyuréthane et du blend Poly(ε-Caprolactone)/Styrène-Butadiène-Styrène. Master thesis Art et Métiers ParisTech

Lin JR, Chen LW (1998) Study on shape-memory behaviour of polyether-based polyurethanes. I. Influence of the hard-segment content. J. Appl. Polym. Sci. 69:1563–74

Lin JR, Chen LW (1998) Study on shape-memory behavior of polyether-based polyurethanes. II. Influence of soft-segment molecular weight. J. Appl. Polym. Sci. 69:1575–86

Manandhar S (2011) Bioresorbable Polymer Blend Scaffold for Tissue engineering BSc Thesis University of North Texas

NF ISO 6239 (1986) Plastics—Determination of Tensile Properties by Use of Small Specimens Association Française de Normalisation (Seine-Saint-Denis, France)

Biron M (2000) Elastomères Thermoplastiques (AM 3 400) pp 1–13

Liu N, Huang WM, Phee SJ (2007) A secret garden of micro butterflies: phenomenon and mechanism. Surf. Rev. Lett. 14:1187–1190

Zhang H, Wang H, Zhong W, Du Q (2009) A novel type of shape memory polymer blend and the shape memory mechanism. Polymer 50:1596–1601

Ben Abdallah A, Gamaoun F, Kallel A, Abbas Tcharkhtchi (2020) Molecular weight influence on shape memory effect of shape memory polymer blend (poly (Caprolactone)/styrene-butadiene-styrene) J. of App. Poly. Sci. e49761

Dimensions Des Éprouvettes Pour Essais de Traction Selon Les Normes : Thermoplastiques et Thermo-durcis. Available from: http://www.atomer.fr/1/1_dimensions-eprouvettes-essais-de-traction.html
Funding
No funding was received to assist with the preparation of this manuscript
Ethics declarations
Research involving human and animal participants
The article follows the guidelines of the Committee on Publication Ethics (COPE) and involves no studies on human or animal subjects.
Consent to participate
Not applicable. The article involves no studies on humans.
Consent to publish
Not applicable. The article involves no studies on humans.
Competing interests
The authors declare that they have no competing interests.
Conflict of interest
The authors declare that they have no conflict of interest.
Additional information
Publisher's Note
Springer Nature remains neutral with regard to jurisdictional claims in published maps and institutional affiliations.
About this article
Cite this article
Kallel, A., Abdallah, A.B., Gamaoun, F. et al. Driving force for shape memory effect of polymers. J Polym Res 28, 308 (2021). https://doi.org/10.1007/s10965-021-02637-4
Received:

Accepted:

Published:

DOI: https://doi.org/10.1007/s10965-021-02637-4
Keywords