Abstract
The effect of the addition of cassava thermoplastic starch on the general properties and the photodegradation behavior of poly(L-lactic acid) (PLLA) was evaluated by blending PLLA with TPS in different weight percentages (5, 10, 15, 20 and 25 wt%). The blends were studied through differential scanning calorimetry (DSC), thermogravimetric analysis (TGA), scanning electron microscopy (SEM), and mechanical properties. All the studies were performed before and after the photo-degradation in a climatic chamber. It was found that TPS was immiscible with PLLA and reduced Tg, Tm, and Tcc and influence Xc of PLLA, indicating an interaction of the TPS phase with the PLLA matrix, probably due to plasticizer migration. The tension test showed a decrease in the mechanical resistance of the blends, especially at the lowest TPS content; however, an increase in TPS lead to an increase in ductility. On the other hand, the UV degradation resistance was higher for the blends than for L100, possibly due to the protective effect of glycerol. It was concluded that the films obtained were fully biobased and biodegradable with higher UV resistance than the PLLA and with similar ductility.
Access options
Buy single article
Instant access to the full article PDF.
USD 39.95
Price excludes VAT (USA)
Tax calculation will be finalised during checkout.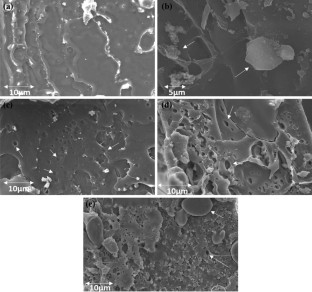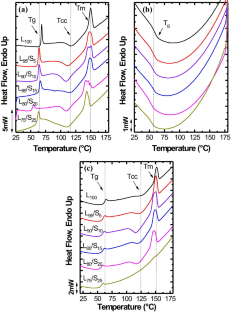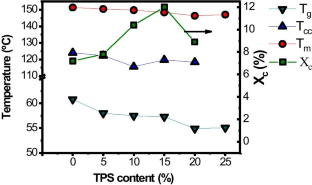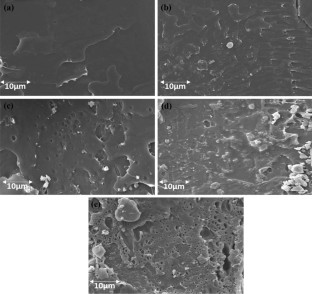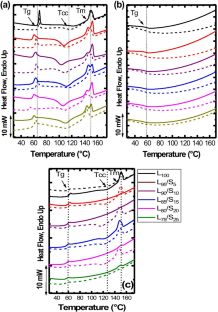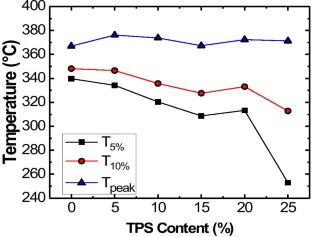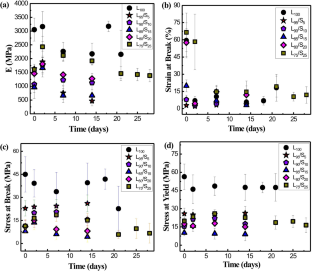 References
Shah AA, Hasan F, Hameed A, Ahmed S et al (2008) Biotechnol Adv 26:246

Greene J, Wang F et al (2009) In: Society of Plastics Engineers - Global Plastics Environmental Conference, GPEC 2008. p 112

Haider TP, Völker C, Kramm J, Landfester K, Wurm FR et al (2019) Angew Chemie Int Edit 58:50

Garlotta D (2001) J Polym Environ 9:63

Lim LT, Auras R, Rubino M et al (2008) Prog Polym Sci 33:820

Auras R, Lim LT, Selke SEM, Tsuji H et al (2010) Poly(Lactic Acid): Synthesis, Structures, Properties, Processing, and Applications. John Wiley and Sons

Panchal SS, Vasava DV et al (2020) ACS Omega 5:4370

Tsuji H, Matsumura N, Arakawa Y et al (2016) Polym J 48:1087

Niranjana Prabhu T, Prashantha K et al (2018) Polym Compos 39:2499

Ali Nezamzadeh S, Ahmadi Z, Afshari Taromi F et al (2017) J Appl Polym Sci 134:1

Liu H, Zhang J et al (2011) J Polym Sci Polym Phys 49:1051

Nofar M, Sacligil D, Carreau PJ, Kamal MR, Heuzey M-C et al (2019) Int J Biol Macromol 125:307

Tester RF, Karkalas J et al (2005) In: Steinbüchel A (Ed.) Biopolymers Online

Khan B, Bilal Khan Niazi M, Samin G, Jahan Z et al (2017) J Food Process Eng 40:e12447

Gadhave RV, Das A, Mahanwar PA, Gadekar PT et al (2018) Open Journal of Polymer Chemistry 08:21. https://doi.org/10.4236/ojpchem.2018.82003

Ke T, Sun X et al (2000) Cereal Chem 77:761

Zaaba NF, Ismail H et al (2019) Polym-Plast Technol 58:1945

Leja K, Lewandowicz G et al (2010) Pol J Environ Stud 19:255

Koh JJ, Zhang X, He C et al (2018) Int J Biol Macromol 109:99

González-López ME, Martín del Campo AS, Robledo-Ortíz JR, Arellano M, Pérez-Fonseca AA et al (2020) Polym Degrad Stabil 179:109290

Park JW, Im SS, Kim SH, Kim YH et al (2000) Polym Eng Sci 40:2539

Teixeira EM, Curvelo AAS, Corrêa AC, Marconcini JM, Glenn GM, Mattoso LHC et al (2012) Ind Crops Prod 37:61

Müller CM, Pires ATN, Yamashita F et al (2012) J Brazil Chem Soc 23:426

Huneault MA, Li H et al (2007) Polymer 48:270

Martin O, Avérous L et al (2001) Polymer 42:6209

Copinet A, Bertrand C, Govindin S, Coma V, Couturier Y et al (2004) Chemosphere 55:763

Lv S, Liu X, Gu J, Jiang Y, Tan H, Zhang Y et al (2017) Constr Build Mater 144:525

Copinet A, Bertrand C, Longieras A, Coma V, Couturier Y et al (2003) J Polym Environ 11:169

Matzinos P, Tserki V, Kontoyiannis A, Panayiotou C et al (2002) Polym Degrad Stab 77:17

Aou K, Hsu SL, Kleiner LW, Tang FW et al (2007) J Phys Chem B 111:12322

Reiter G, Strobl GR et al (2007) Progress in Understanding of Polymer Crystallization. Springer, Berlin Heidelberg, Berlin

Rodriguez-Gonzalez FJ, Ramsay BA, Favis BD et al (2004) Carbohydr Polym 58:139

Forssell P, Mikkilä J, Suortti T, Seppälä J, Poutanen K et al (1996) J Macromol Sci A 33:703

Lourdin D, Coignard L, Bizot H, Colonna P et al (1997) Polymer 38:5401

Ferri JM, Garcia-Garcia D, Sánchez-Nacher L, Fenollar O, Balart R et al (2016) Carbohydr Polym 147:60

Quiles-Carrillo L, Duart S, Montanes N, Torres-Giner S, Balart R et al (2018) Mater Des 140:54

Quiles-Carrillo L, Montanes N, Sammon C, Balart R, Torres-Giner S et al (2018) Ind Crops Prod 111:878

Maiza M, Benaniba MT, Quintard G, Massardier-Nageotte V et al (2015) Polimeros 25:581

Kulinski Z, Piorkowska E et al (2005) Polymer 46:10290

Martino VP, Ruseckaite RA, Jiménez A et al (2006) In: Journal of Thermal Analysis and Calorimetry. p 707

Mano JF, Koniarova D, Reis RL et al (2003) In: Journal of Materials Science: Materials in Medicine. p 127

Saeidlou S, Huneault MA, Li H, Park CB et al (2012) Prog Polym Sci 37:1657

Mandelkern L (2004) Crystallization of Polymers:, vol 2. Cambridge University Press, Cambridge, Kinetics and Mechanisms

Teixeira EM, Pasquini D, Curvelo AAS, Corradini E, Belgacem MN, Dufresne A et al (2009) Carbohydr Polym 78:422

Jacobsen S, Fritz HG et al (1996) Polym Eng Sci 36:2799

Aggarwal P, Dollimore D et al (1996) Talanta 43:1527

Mitchell MR, Link RE, Yang MH, Lin YH et al (2009) J Test Eval 37:102271

Arboleda GA, Montilla CE, Villada HS, Varona GA et al (2015) Int J Polym Sci 2015:1

Jose S, Aprem AS, Francis B, Chandy MC, Werner P, Alstaedt V, Thomas S et al (2004) Eur Polym J 40:2105

Bhat R, Karim AA et al (2009) Compr Rev Food Sci Food Saf 8:44–58

Peak MJ, Peak JG et al (1980) RadiatRes 83:553

Quispe M, López OV, Villar MA et al (2019) J Renew Mater 7:383

Zhou J, Ma Y, Zhang J, Tong J et al (2009) J Appl Polym Sci 112:99

Villar MA, Barbosa SE, García MA, Castillo LA, López OV et al (2017) Starch-Based Materials in Food Packaging: Processing, Characterization and Applications

Yang SL, Wu ZH, Yang W, Yang MB et al (2008) Polym Test 27:957

Azwa ZN, Yousif BF, Manalo AC, Karunasena W et al (2013) Mater Des 47:424

Ikada E (1997) J Photopolym Sci Technol 10:265

Feldman D (2002) J Polym Environ 10:163

Guillet JE (1972) Pure Appl Chem 30:135

Campos A, Marconcini JM, Martins-Franchetti SM, Mattoso LHC et al (2012) Polym Degrad Stab 97:1948
Acknowledgments
The authors acknowledge funding support from Decanato de Investigación y Desarrollo Universidad Simón Bolívar DID G02. Also, the authors acknowledge the contribution of Professor Alejandro Müller to this work.
Additional information
Publisher's Note
Springer Nature remains neutral with regard to jurisdictional claims in published maps and institutional affiliations.
Supplementary Information
Below is the link to the electronic supplementary material.
About this article
Cite this article
López, C., Medina, K., D´Ambrosio, R. et al. PLLA and cassava thermoplastic starch blends: crystalinity, mechanical properties, and UV degradation. J Polym Res 28, 26 (2021). https://doi.org/10.1007/s10965-020-02368-y
Received:

Accepted:

Published:

DOI: https://doi.org/10.1007/s10965-020-02368-y
Keywords
Poly (lactic acid)

Thermoplastic starch

Degradation

Climatic chamber

Polymer blend