Design and fabrication of environmentally benign cellulose based hydrogel matrix for selective adsorption of toxic dyes from industrial effluvia
Abstract
The present study investigates the use of agri-waste derived superabsorbent graft copolymer for effective removal of hazardous dye from industrial effluents. The hydrogel was synthesized via free radical graft copolymerization of poly (3-acrylamidopropyl)-trimethylammonium chloride copolymer N,N-Dimethylacrylamide (APTAC-co-DMA) onto banana pseudo-stem carboxymethyl cellulose (BPCMC) backbone. The reaction was initiated by ammonium per sulfate (APS) whereas the polymer cross linking was achieved by the addition of N,N-methylene-bis-acrylamide (MBA). The hydrogel was evaluated for its structure, morphology and thermal behavior using FT-IR, FESEM and TGA analyses respectively. The parameters affecting the hydrogel's swelling capacity in distilled water were optimized and the optimum condition was used to perform pH sensitivity test on the hydrogel. The maximum swelling as high as 559 g/g was obtained at the optimized condition of 0.0657 mol/L, 0.0972 mol/L and 0.5 mol for APS, MBA and APATAC/DMA respectively. The pH sensitivity test revealed maximum swelling under pH 7 for 570 min. Furthermore, the hydrogel was evaluated for removal of Rhodamine B. (RhB) and Eriochrome black T (EBT) dyes. The respective maximum dye adsorption capacity to the tune of 434 and 714 mg/g for RhB and EBT was obtained. The adsorption was modeled for isotherm studies and the Freundlich isotherm model was found to be the most favored models befitting the adsorption of both dyes.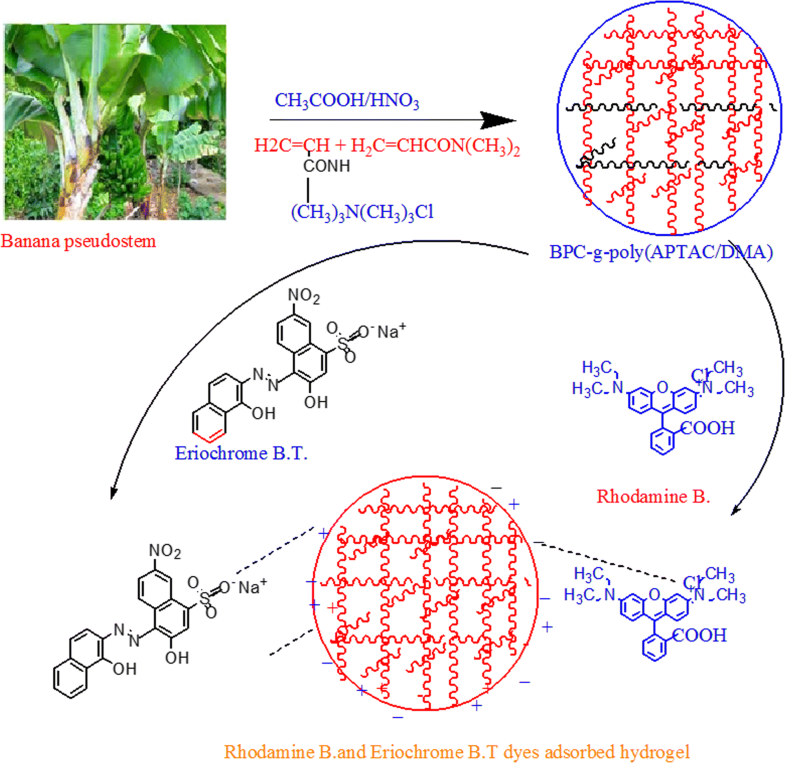 Keywords
Agri-waste 
(3-acrylamidopropyl)-trimethylammonium chloride 
N,N-Dimethylacrylamide 
Rhodamine B. 
Eriochrome black T 
Copyright information
© The Polymer Society, Taipei 2019