Abstract
Polyalkylthiophenes are applied in the form of thin films as active layers in organic devices. The main properties defined in the synthetic procedure that can affect the film formation are the molar mass and regioregularity degree (the content of head-to-tail, HT, linkages). These properties can be varied, at principle, by changing the conditions of the oxidative polymerization process. In this work, we evaluate the effect of oxidant addition rate, temperature and time-dependence of poly-(3-hexylthiophene), P3HT, oxidative polymerization in molar mass and regioregularity degree, besides other polymer properties such as absorption and emission of visible light. The results show that the polymer started to grow during the oxidant addition and already presents a relatively high molar mass (ca. 10,000 g/mol) just after the addition stopped. Polymerization temperature is more significant in molar mass variations than the time expended for the polymerization reaction, with values of Mw ranging from 15,000 to 70,000 g/mol in the conditions tested. The HT contents were all above 70 %, with higher variations in the two first hours of polymerization reaction and are mainly defined during the oxidant addition, which leads to higher HT contents and narrower molar mass distributions using slower additions. The solvent extraction reveals that the HT content is directly related to the polymer chains extension, being possible to improve both regioregularity degree and molar mass of P3HT.
Access options
Buy single article
Instant access to the full article PDF.
USD 39.95
Price excludes VAT (USA)
Tax calculation will be finalised during checkout.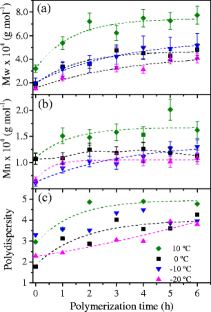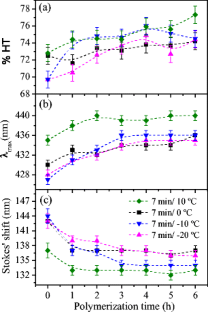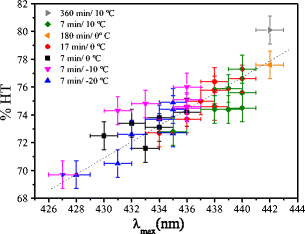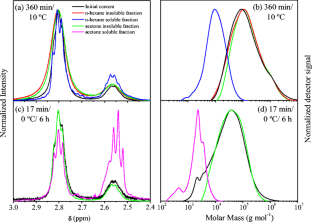 References
McCullough RD, Ewbank PC (1997) Regioregular, head-to-tail coupled poly(3-alkylthiophene) and its derivatives. In: Skotheim TA, Reynolds J (eds) Handb. Conduct. Polym. Vol. 1 Conjug. Polym. Theory, Synth. Prop. Charact., 3rd ed. CRC Press, Boca Raton, pp 225–258

McCullough RD (1998) The Chemistry of Conducting Polythiophenes. Adv Mater 10:93–116. doi:10.1002/(SICI)1521-4095(199801)10:2<93::AID-ADMA93>3.0.CO;2-F

Perepichka IF, Perepichka DF, Meng H, Wudl F (2005) Light-Emitting Polythiophenes. Adv Mater 17:2281–2305. doi:10.1002/adma.200500461

Roncali J (1997) Synthetic Principles for Bandgap Control in Linear π-Conjugated Systems. Chem Rev 97:173–206. doi:10.1021/cr950257t

He Z, Zhong C, Su S, et al. (2012) Enhanced power-conversion efficiency in polymer solar cells using an inverted device structure. Nat Photonics 6:593–597. doi:10.1038/nphoton.2012.190

Hu Y, Warwick C, Sou A, et al. (2014) Fabrication of ultra-flexible, ultra-thin organic field-effect transistors and circuits by a peeling-off method. J Mater Chem C 2:1260–1263. doi:10.1039/C3TC31869A

Søndergaard R, Manceau M, Jørgensen M, Krebs FC (2012) New Low-Bandgap Materials with Good Stabilities and Efficiencies Comparable to P3HT in R2R-Coated Solar Cells. Adv Energy Mater 2:415–418. doi:10.1002/aenm.201100517

Angmo D, Dam HF, Andersen TR, et al. (2014) All-Solution-Processed, Ambient Method for ITO-Free, Roll-Coated Tandem Polymer Solar Cells using Solution-Processed Metal Films. Energy Technol 2:651–659. doi:10.1002/ente.201402012

Sankaran S, Glaser K, Gärtner S, et al. (2016) Fabrication of polymer solar cells from organic nanoparticle dispersions by doctor blading or ink-jet printing. Org Electron 28:118–122. doi:10.1016/j.orgel.2015.10.011

Nguyen T-Q, Martini IB, Liu J, Schwartz BJ (2000) Controlling Interchain Interactions in Conjugated Polymers: The Effects of Chain Morphology on Exciton − Exciton Annihilation and Aggregation in MEH − PPV Films. J Phys Chem B 104:237–255. doi:10.1021/jp993190c

Shi Y, Liu J, Yang Y (2000) Device performance and polymer morphology in polymer light emitting diodes: The control of thin film morphology and device quantum efficiency. J Appl Phys 87:4254. doi:10.1063/1.373062

Bradley DDC, Grell M, Grice A, et al. (1998) Polymer light emission: control of properties through chemical structure and morphology. Opt Mater (Amst) 9:1–11. doi:10.1016/S0925-3467(97)00067-0

Szarko JM, Guo J, Liang Y, et al. (2010) When Function Follows Form: Effects of Donor Copolymer Side Chains on Film Morphology and BHJ Solar Cell Performance. Adv Mater 22:5468–5472. doi:10.1002/adma.201002687

Sanfelice RC (2014) Incorporação de nanopartículas metálicas a polímeros conjugados. Preparação, caracterização e utilização na fabricação de filmes nanoestruturados. Universidade de Sao Paulo

Chen T-A, Lee T-J, Lin M-Y, et al. (2010) Regiocontrolled Synthesis of Ethene-Bridged para -Phenylene Oligomers Based on Pt II - and Ru II -Catalyzed Aromatization. Chem - A Eur J 16:1826–1833. doi:10.1002/chem.200902231

Loewe RS, Khersonsky SM, McCullough RD (1999) A Simple Method to Prepare Head-to-Tail Coupled, Regioregular Poly(3-alkylthiophenes) Using Grignard Metathesis. Adv Mater 11:250–253. doi:10.1002/(SICI)1521-4095(199903)11:3<250::AID-ADMA250>3.0.CO;2-J

McCullough RD, Lowe RD, Jayaraman M, Anderson DL (1993) Design, synthesis, and control of conducting polymer architectures: structurally homogeneous poly(3-alkylthiophenes). J Org Chem 58:904–912. doi:10.1021/jo00056a024

Chen T-A, Wu X, Rieke RD (1995) Regiocontrolled Synthesis of Poly(3-alkylthiophenes) Mediated by Rieke Zinc: Their Characterization and Solid-State Properties. J Am Chem Soc 117:233–244. doi:10.1021/ja00106a027

Marrocchi A, Lanari D, Facchetti A, Vaccaro L (2012) Poly(3-hexylthiophene): synthetic methodologies and properties in bulk heterojunction solar cells. Energy Environ Sci 5:8457. doi:10.1039/c2ee22129b

McCullogh RD, Williams SP, Tristam-Nagle S, et al. (1995) The first synthesis and new properties of regioregular, head-to-tail coupled polythiophenes. Synth Met 69:279–282. doi:10.1016/0379-6779(94)02449-9

Rieke RD (1989) Preparation of Organometallic Compounds from Highly Reactive Metal Powders. Science 246(80-):1260–1264. doi:10.1126/science.246.4935.1260

Marrocchi A, Facchetti A, Lanari D, et al. (2016) Current methodologies for a sustainable approach to π-conjugated organic semiconductors. Energy Environ Sci 9:763–786. doi:10.1039/C5EE03727A

Suzuki A (1999) Recent advances in the cross-coupling reactions of organoboron derivatives with organic electrophiles, 1995–1998. J Organomet Chem 576:147–168. doi:10.1016/S0022-328X(98)01055-9

Wang Q, Takita R, Kikuzaki Y, Ozawa F (2010) Palladium-Catalyzed Dehydrohalogenative Polycondensation of 2-Bromo-3-hexylthiophene: An Efficient Approach to Head-to-Tail Poly(3-hexylthiophene). J Am Chem Soc 132:11420–11421. doi:10.1021/ja105767z

Hayashi S, Kojima Y, Koizumi T (2015) Highly regioselective Pd/C-catalyzed direct arylation toward thiophene-based π-conjugated polymers. Polym Chem 6:881–885. doi:10.1039/C4PY01426J

Andersson MR, Selse D, Berggren M, et al. (1994) Regioselective polymerization of 3-(4-octylphenyl)thiophene with FeCl3. Macromolecules 27:6503–6506. doi:10.1021/ma00100a039

Amou S, Haba O, Shirato K, et al. (1999) Head-to-tail regioregularity of poly(3-hexylthiophene) in oxidative coupling polymerization with FeCl3. J Polym Sci Part A Polym Chem 37:1943–1948. doi:10.1002/(SICI)1099-0518(19990701)37:13<1943::AID-POLA7>3.0.CO;2-X

Yoshino K, Hayashi S, Sugimoto R (1984) Preparation and Properties of Conducting Heterocyclic Polymer Films by Chemical Method. Jpn J Appl Phys 23:L899–L900. doi:10.1143/JJAP.23.L899

Zagórska M, Kulszewicz-Bajer I, Proń A, et al. (1998) Preparation and Spectroscopic and Spectroelectrochemical Characterization of Copolymers of 3-Alkylthiophenes and Thiophene Functionalized with an Azo Chromophore. Macromolecules 31:9146–9153. doi:10.1021/ma9806561

Costa Bizzarri P, Andreani F, Della Casa C, et al. (1995) Ester-functionalized poly(3-alkylthienylene)s: substituent effects on the polymerization with FeCl3. Synth Met 75:141–147. doi:10.1016/0379-6779(95)03401-5

Hu X, Xu L (2000) Structure and properties of 3-alkoxy substituted polythiophene synthesized at low temperature. Polymer (Guildf) 41:9147–9154. doi:10.1016/S0032-3861(00)00299-8

Leclere P, Surin M, Brocorens P, et al. (2006) Supramolecular assembly of conjugated polymers: From molecular engineering to solid-state properties. Mater Sci Eng R Reports 55:1–56. doi:10.1016/j.mser.2006.12.001

Torres BBM, Balogh DT (2012) Regioregular improvement on the oxidative polymerization of poly-3-octylthiophenes by slow addition of oxidant at low temperature. J Appl Polym Sci 124:3222–3228. doi:10.1002/app.35441

Gonçalves VC, Costa LMM, Cardoso MR, et al. (2009) Synthesis and characterization of copolymers of alkyl- and azo-thiophenes: Chromic properties and photoinduced birefringence. J Appl Polym Sci 114:680–687. doi:10.1002/app.30575

Nicho M (2004) Synthesis of derivatives of polythiophene and their application in an electrochromic device. Sol Energy Mater Sol Cells 82:105–118. doi:10.1016/j.solmat.2004.01.009

Hayes W, Pratt FL, Wong KS, et al. (1985) Absorption of doped polythiophene in the middle and far infrared. J Phys C Solid State Phys 18:L555

Barbarella G, Bongini A, Zambianchi M (1994) Regiochemistry and Conformation of Poly(3-hexylthiophene) via the Synthesis and the Spectroscopic Characterization of the Model Configurational Triads. Macromolecules 27:3039–3045. doi:10.1021/ma00089a022
Electronic supplementary material
About this article
Cite this article
Facchinatto, W.M., Torres, B.B.M. & Balogh, D.T. One-pot synthesis of poly-(3-hexylthiophene) with variable degrees of molar mass and regioregularity. J Polym Res 23, 187 (2016). https://doi.org/10.1007/s10965-016-1087-1
Received:

Accepted:

Published:

DOI: https://doi.org/10.1007/s10965-016-1087-1
Keywords