Diversification of spherulite patterns in poly(ethylene succinate) crystallized with strongly interacting poly(4-vinyl phenol)
Abstract
Poly(ethylene succinate) (PESu) blend with amorphous poly(vinyl phenol) (PVPh) in thin films were investigated on the crystalline spherulites patterns and crystalline lamellar arrangements by using polarized optical microscopic (POM) and atomic-force microscopy (AFM). A total of nine different types of crystalline morphology were identified in the PESu/PVPh blend with amorphous contents from 10 to 35 wt.% and T c  = 40–70 °C in ultra-thin film thickness. Multiple types of PESu crystalline morphology at the same crystallization temperature (T c ) are never seen in neat PESu, but only occur in PESu/PVPh blend with amorphous PVPh higher than 20 wt.%. Crystalline morphology diagrams are summarized to display various spherulite types in the PESu/PVPh blend confined in thin films as a function of crystallization temperature and blend composition. Crystallization temperature, thickness/space confinement, and presence of interacting amorphous PVPh are the main factors for multiple types of spherulites in the blends, partly due to strong interactions via hydrogen bonding between PESu and PVPh and likely extra nucleation capacity from the diffusion interfaces.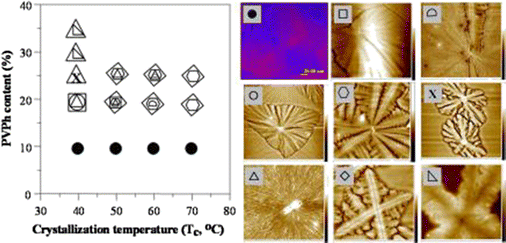 Keywords
Spherulites 
Poly(ethylene succinate) 
Poly(4-vinyl phenol) 
Optical birefringence 
Lamellae assembly 
Notes
Acknowledgments
This work has been financially supported by a basic research grant (NSC-99-2221-E-006-014-MY3) for three consecutive years from Taiwan's National Science Council (NSC), to which the authors express their gratitude.
Author contributions
The manuscript was written through contributions of all authors. All authors have given approval to the final version of the manuscript. †Hikmatun Ni'mah did most of the experiments, search references for background, produced and arranged the data and wrote the initial draft of manuscript; Eamor M. Woo conceived the original research ideas, advised and further reviewed, revised, proof-read for grammar errors, and finalized the final draft of manuscript. ‡ Siti Nurkhamidah contributed some of the original research topics from her past work, helped to doubly revise the manuscript, and commented for improvement in writing and language.
Copyright information
© Springer Science+Business Media Dordrecht 2013