Abstract
Thermoelectric (TE) properties of free-standing poly(3,4-ethylenedioxythiophene)/poly(4-styrenesulfonate) (PEDOT:PSS) films treated with camphorsulfonic acid (CSA) and left hand camphorsulfonic acid (L-CSA) have been systematically investigated utilizing two different methods: addition of CSA/L-CSA into the PEDOT:PSS solution; or post treatment of free-standing PEDOT:PSS films with different concentration of CSA/L-CSA solution. It is verified that the post-treatment method is much more effective than the direct addition of CSA/L-CSA into the PEDOT:PSS solution. Using post-treatment method, the highest electrical conductivity can increase up to 644.7 S/cm, which is much higher than that of the direct addition method, ~206.2 S/cm at room temperature. In both cases, there is trivial change in the Seebeck coefficient. The maximum value of ZT is 0.017 at room temperature for the PEDOT:PSS film post-treated by 0.08 M CSA solution. These results demonstrate that post treatment is a promising approach to enhance the TE properties of PEDOT:PSS thin films. The difference in optical activity between CSA and L-CSA also has an effect on the electrical conductivity of PEDOT:PSS.
Access options
Buy single article
Instant access to the full article PDF.
USD 39.95
Price excludes VAT (USA)
Tax calculation will be finalised during checkout.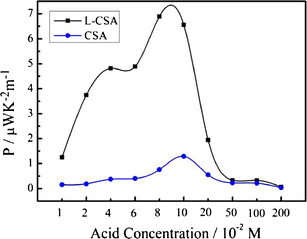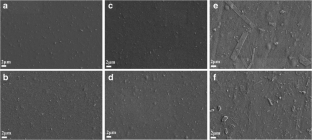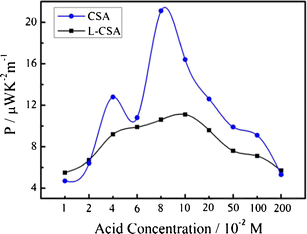 References
Hochbaum AI, Chen RK, Delgado RD, Liang WJ, Garnett EC, Najarian M, Majumdar A, Yang PD (2008) Nature 451:163–167

Harman TC, Taylor PJ, Walsh MP, LaForge BE (2002) Science 297:2229–2232

Sales BC, Mandrus D, Williams RK (1996) Science 272:1325–1328

Bell LE (2008) Science 321:1457–1461

Sootsman JR, Chung DY, Kanatzidis MG (2009) Angew Chem Int Ed 48:8616–8639

Minnich AJ, Dresselhaus MS, Ren ZF, Chen G (2009) Energy Environ Sci 2:466–479

Li JJ, Tang XF, Li H, Yan YG, Zhang QJ (2010) Synth Met 160:1153–1158

Meng CZ, Liu CH, Fan SS (2010) Adv Mater 22:535–539

Lu BY, Liu CC, Lu S, Xu JK, Jiang FX, Li YZ, Zhang Z (2010) Chin Phys Lett 27:057201/1-4

Choi ES, Seol YH, Song YS, Park YW (1997) Synth Met 84:747–748

Aich RB, Blouin N, Bouchard A, Leclerc M (2009) Chem Mater 21:751–757

Yan H, Ohno N, Toshima N (2000) Chem Lett 29:392–393

Yan H, Sada N, Toshima N, Therm J (2002) Anal Calorim 69:881–887

Kaul PB, Day KA, Abramson AR (2007) J Appl Phys 101:083507/1-7

Wang YJ (2009) J Phys Conf Ser 152:012023/1-10

Jiang FX, Xu JK, Lu BY, Xie Y, Huang RJ, Li LF (2008) Chin Phys Lett 25:2202–2205

Chang KC, Jeng MS, Yang CC, Chou YW, Wu SK, Thomas MA, Peng YC, Electron J (2009) Materials 38:1182–1188

Zhang B, Sun J, Katz HE, Fang F, Opila RL (2010) ACS Appl Mater Inter 2:3170–3178

See KC, Feser JP, Chen CE, Majumdar A, Urban JJ, Segalman RA (2010) Nano Lett 10:4664–4667

Kim JY, Jung JH, Lee DE, Joo J (2002) Synth Met 126:311–316

Joñsson SKM, Birgerson J, Crispin X, Greczynski G, Osikowicz W, van der Gon AWD, Salaneck WR, Fahlman M (2003) Synth Met 139:1–10

Ouyang J, Xu Q, Chu CW, Yang Y, Li G, Shinar J (2004) Polymer 85:8443–8450

Crispin X, Jakobsson FLE, Crispin A, Grim PCM, Andersson P, Volodin A, van Haesendonck C, Van der Auweraer M, Salaneck WR, Berggren M (2006) Chem Mater 18:4354–4360

Nardes AM, Kemerink M, de Kok MM, Vinken E, Maturova K, Janssen RAJ (2008) Org Electron 9:727–734

Nardes AM, Janssen RAJ, Kemerink M (2008) Adv Funct Mater 18:865–871

Xia Y, Ouyang J (2010) ACS Appl Mater Interfaces 2:474–483

Yan H, Ohno N, Toshima N (2000) Chem Lett 392–393

Yan H, Ohno T, Toshima N (2001) Macromol Mater Eng 286:139–142

Hiroshige Y, Ookawa M, Toshima N (2007) Synth Met 157:467–474

Fan BH, Mei XG, Ouyang J (2008) Macromolecules 41:5971–5973

Xia YJ, Ouyang J (2009) Macromolecules 42:4141–4147

Scholdt M, Do H, Lang J, Gall A, Colsmann A, Lemmer U, Koenig JD, Winkler M, Boettner H, Electron J (2010) Materials 39:1589–1592

Sparavigna AC, Florio L, Avloni J, Henn A (2010) Mater Sci Appl 1:253–259

Guckelsberger K, Rodhammer P, Gmelin E, Peo M, Menke K, Hocker J, Roth S, Dransfeld K (1981) Phys B: Condens Matter 43:189–191

Kaiser AB (1984) Phys Rev B 29:7088–7091

Moses D, Denenstein A (1984) Phys Rev B 30:2090–2097

Lunn BA, Unsworth J, Booth NG, Innis PC, Mater J (1993) Science 28:5092–5098

Shakouri A, Li S, In: Proceedings of International Conference on Thermoelectrics, Baltimore, USA, September 1999.

Luo J, Billep D, Waechtler T, Otto T, Toader M, Gordan O, Sheremet E, Martin J, Hietschold M, Zahn DRT, Gessner T, Mater J (2013) Chem A 1:7576–7583

Moriarty GP, De S, King PJ, Khan U, Via M, King JA, Coleman JN, Grunlan JC (2013) J Polym Sci B 51:119–123
Acknowledgments
This work was supported by the National Natural Science Foundation of China (51203070 & 51073074) and Jiangxi Provincial Department of Education (GJJ12595 & GJJ11590 & GJJ13565).
About this article
Cite this article
Song, H., Kong, F., Liu, C. et al. Improved thermoelectric performance of PEDOT:PSS film treated with camphorsulfonic acid. J Polym Res 20, 316 (2013). https://doi.org/10.1007/s10965-013-0316-0
Received:

Accepted:

Published:

DOI: https://doi.org/10.1007/s10965-013-0316-0
Keywords
Thermoelectrics

PEDOT:PSS

Camphorsulfonic acid

Electrical conductivity

Seebeck coefficient