Abstract
Polymer-clay nanocomposites have been prepared by free radical and RAFT polymerizations. To investigate the effects of nanoclay content and its modification system on the kinetics of polymerization, two different commercial grades of clay including Na-MMT and Cloisite 30B have been used and a method has been developed for further modification of Na-MMT with two commercial modifiers containing either a long organic chain or a vinyl group. Also, kinetics of free radical and RAFT polymerizations of both styrene and methyl methacrylate in the presence of these nanoclays was studied. Morphology of the nanocomposites has been studied by XRD and the results have been assessed with TEM observations. Exfoliated structure was obtained for the nanocomposites with 1 wt.% of vinyl-containing clays. Thermogravimetric behavior of the nanocomposites has been studied by TGA. Incorporation of clays has resulted in an evident increase in thermal stability of both polymers.
This is a preview of subscription content, log in to check access.
Access options
Buy single article
Instant access to the full article PDF.
US$ 39.95
Price includes VAT for USA
Subscribe to journal
Immediate online access to all issues from 2019. Subscription will auto renew annually.
US$ 99
This is the net price. Taxes to be calculated in checkout.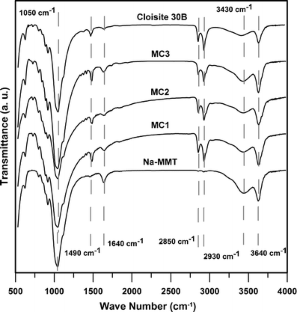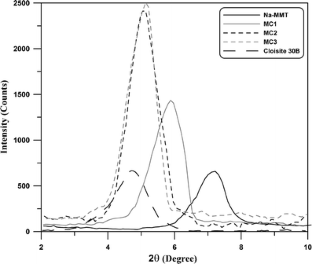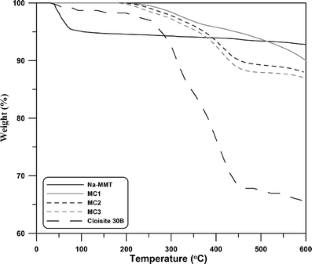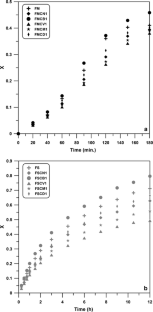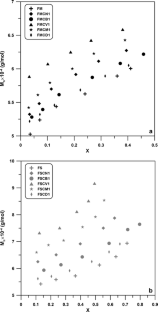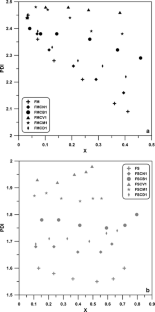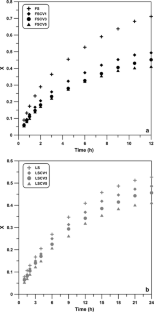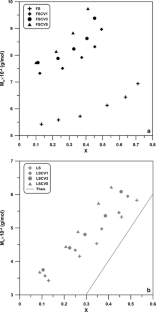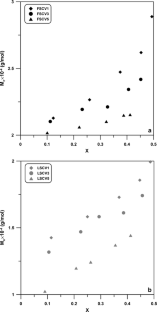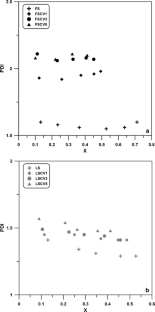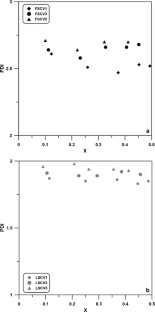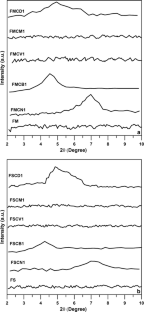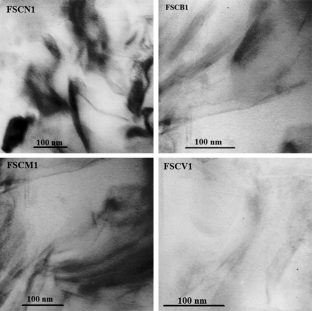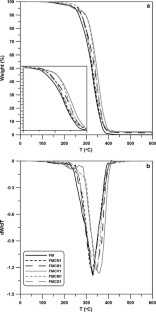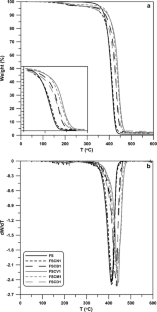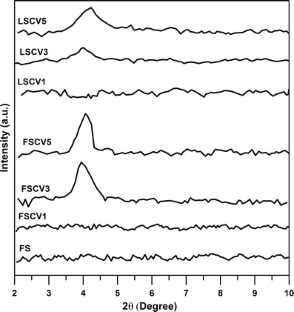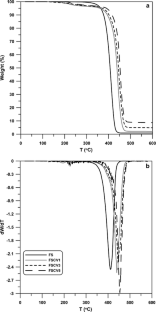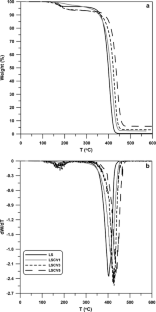 References
1.

Helvacıoğlu E, Aydın V, Nugay T, Nugay N, Uluocak BG, Şen S (2011) High strength poly(acrylamide)-clay hydrogels. J Polym Res 18:2341–2350

2.

Roghani-Mamaqani H, Haddadi-Asl V, Najafi M, Salami-Kalajahi M (2011) Preparation of nanoclay-dispersed polystyrene nanofibers via atom transfer radical polymerization and electrospinning. J Appl Polym Sci 120:1431–1438

3.

Khezri K, Haddadi-Asl V, Roghani-Mamaqani H, Salami-Kalajahi M (2012) Synthesis of clay-dispersed poly(styrene-co-methyl methacrylate) nanocomposite via miniemulsion atom transfer radical polymerization: a reverse approach. J Appl Polym Sci 124:2278–2286

4.

Kong Q, Tang Y, Hu Y, Song L, Liu H, Li L (2012) Thermal stability and flame retardance properties of acrylonitrile-butadiene-styrene/polyvinyl chloride/organophilic Fe-montmorillonite nanocomposites. J Polym Res 19: Art. No. 9751

5.

Arora A, Choudhary V, Sharma DK (2007) Effect of clay content and clay/surfactant on the mechanical, thermal and barrier properties of polystyrene/organoclay nanocomposites. J Polym Res 18:843–857

6.

Shia D, Hui CY, Burnside SD, Giannelis EP (1998) An interface model for the prediction of Young's modulus of layered silicate-elastomer nanocomposites. Polym Compos 19:608–617

7.

Khezri K, Haddadi-Asl V, Roghani-Mamaqani H, Salami-Kalajahi M (2011) Synthesis and characterization of exfoliated poly(styrene-co-methyl methacrylate) nanocomposite via miniemulsion atom transfer radical polymerization: an activators generated by electron transfer approach. Polym Compos 32:1979–1987

8.

Lai S-M, Chen W-C, Zi WW (2011) Effectiveness of a maleated compatibilizer on the tensile and tear properties of peroxide-cured metallocene polyethylene/clay nanocomposites. J Polym Res 18:1033–1042

9.

Roghani-Mamaqani H, Haddadi-Asl V, Salami-Kalajahi M (2012) In situ controlled radical polymerization: a review on synthesis of well-defined nanocomposites. Polym Rev 52:142–188

10.

Salami-Kalajahi M, Haddadi-Asl V, Rahimi-Razin S, Behboodi-Sadabad F, Najafi M, Roghani-Mamaqani H (2012) A study on the properties of PMMA/silica nanocomposites prepared via RAFT polymerization. J Polym Res 19: Art. No. 9793

11.

Salami-Kalajahi M, Haddadi-Asl V, Rahimi-Razin S, Behboodi-Sadabad F, Roghani-Mamaqani H, Hemmati M (2011) Investigating the effect of pristine and modified silica nanoparticles on the kinetics of methyl methacrylate polymerization. Chem Eng J 174:368–375

12.

Roghani-Mamaqani H, Haddadi-Asl V, Najafi M, Salami-Kalajahi M (2010) Synthesis and characterization of clay dispersed polystyrene nanocomposite via atom transfer radical polymerization. Polym Compos 31:1829–1837

13.

Hatami L, Haddadi-Asl V, Roghani-Mamaqani H, Ahmadian-Alam L, Salami-Kalajahi M (2011) Synthesis and characterization of poly(Styrene-co-Butyl Acrylate)/clay nanocomposite latexes in miniemulsion by AGET ATRP. Polym Compos 32:967–975

14.

Roghani-Mamaqani H, Haddadi-Asl V, Najafi M, Salami-Kalajahi M (2012) Well-defined nanofiberous polystyrene nanocomposites with twofold chains by ATRP. Polym Sci B 54:153–160

15.

Byrne C, McNally T (2007) Ionic liquid modification of layered silicates for enhanced thermal stability. Macromol Rapid Commun 28:780–784

16.

Nikolaidis AK, Achilias DS, Karayannidis GP (2011) Synthesis and characterization of PMMA/organomodified montmorillonite nanocomposites prepared by in situ bulk polymerization. Ind Eng Chem Res 50:571–579

17.

Roghani-Mamaqani H, Haddadi-Asl V, Najafi M, Salami-Kalajahi M (2011) Preparation of tailor-made polystyrene nanocomposite with mixed clay-anchored and free chains via atom transfer radical polymerization. AICHE J 57:1873–1881

18.

Roghani-Mamaqani H, Haddadi-Asl V, Najafi M, Salami-Kalajahi M (2012) Evaluation of the confinement effect of nanoclay on the kinetics of styrene atom transfer radical polymerization. J Appl Polym Sci 123:409–417

19.

Ahmadian-Alam L, Haddadi-Asl V, Roghani-Mamaqani H, Hatami L, Salami-Kalajahi M (2012) Use of clay-anchored reactive modifier for the synthesis of poly (styrene-co-butyl acrylate)/clay nanocomposite via in situ AGET ATRP. J Polym Res 19: Art. No. 9773

20.

Diaconu G, Micusık M, Bonnefond A, Paulis M, Leiza JR (2009) Macroinitiator and macromonomer modified montmorillonite for the synthesis of acrylic/MMT nanocomposite latexes. Macromolecules 42:3316–3325

21.

Discacciati JAC, Oréfice RL (2007) Structural analysis on photopolymerized dental resins containing nanocomponents. J Mater Sci 42:3883–3893

22.

Zhou Q, Fan X, Xia C, Mays J, Advincula R (2001) Living anionic surface initiated polymerization (SIP) of styrene from clay surfaces. Chem Mater 13:2465–2467

23.

Khezri K, Haddadi-Asl V, Roghani-Mamaqani H, Salami-Kalajahi M (2012) Synthesis of well-defined clay encapsulated poly(styrene-co-butyl acrylate) nanocomposite latexes via reverse atom transfer radical polymerization in miniemulsion. J Polym Eng 32:111–119

24.

Khezri K, Haddadi-Asl V, Roghani-Mamaqani H, Salami-Kalajahi M (2012) Encapsulation of organomodified montmorillonite with PMMA via in situ SR & NI ATRP in miniemulsion. J Polym Res 19: Art. No. 9868

25.

Khezri K, Haddadi-Asl V, Roghani-Mamaqani H, Salami-Kalajahi M (2012) Nanoclay-encapsulated polystyrene microspheres by reverse atom transfer radical polymerization. Polym Compos 33:990–998

26.

Yang Y, Wu D, Li C, Liu L, Cheng X, Zhao H (2006) poly (L-lactide) comb polymer brushes on the surface of clay layers. Polymer 47:7374–7381

27.

Fu X, Qutubuddin S (2001) Polymer-clay nanocomposites: exfoliation of organophilic montmorillonite nanolayers in polystyrene. Polymer 42:807–813

28.

Vyazovkin S, Dranca I, Fan X, Advincula R (2004) Degradation and relaxation kinetics of polystyrene-clay nanocomposites prepared by surface-initiated polymerization. J Phys Chem B 108:11672–11679

29.

Peterson JD, Vyazovkin S, Wight CA (1999) Kinetic study of stabilizing effect of oxygen on thermal degradation of poly(methyl methacrylate). J Phys Chem B 103:8087–8092
About this article
Cite this article
Rahimi-Razin, S., Salami-Kalajahi, M., Haddadi-Asl, V. et al. Effect of different modified nanoclays on the kinetics of preparation and properties of polymer-based nanocomposites. J Polym Res 19, 9954 (2012). https://doi.org/10.1007/s10965-012-9954-x
Received:

Accepted:

Published:
Keywords
Nanocomposites

Modification

Nanoclay

Kinetics

Thermal properties