Abstract
Blown low density polyethylene (LDPE) films added with oxo-biodegradable additive containing pro-oxidant were subjected to thermo-oxidation in an oven at 70 °C for varying time periods. The changes in mechanical and surface properties were studied using tensile strength, elongation at break, wettability, surface morphology using SEM, surface topology by AFM, functional groups by FTIR spectroscopy, absorbance spectra by UV-Vis spectroscopy. The thermally aged films with pro-oxidant additive added polyethylene (PE) exhibited a higher level of oxidation as revealed by increase in their carbonyl index than the pristine PE. In addition to it, the DSC melting behavior showed a slight increase in crystallinity (%C) and melting temperature (Tm) of the polymer containing oxo-biodegradable additive. The SEM micrograph reveals the increase in the size of cracks and grooves, according to the increase in the concentration of pro-oxidant additive. The surface roughness also supports the same through AFM image. The increase in the wettability and surface free energy of the thermally aged samples were attributed to the formation of hydrophilic groups on the polymer surface by thermo-oxidation. The pro-oxidant additive offers a new insight into the thermo-oxidation strategy for PE and can be widely used in packaging industry.
Access options
Buy single article
Instant access to the full article PDF.
USD 39.95
Price excludes VAT (USA)
Tax calculation will be finalised during checkout.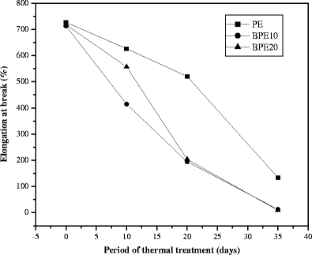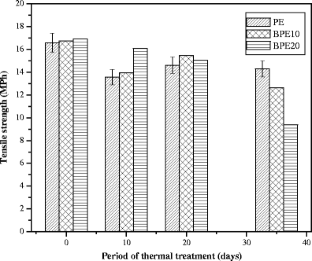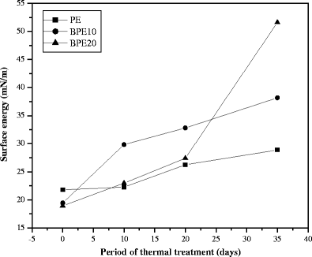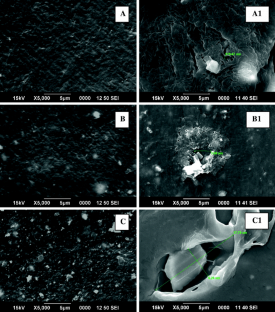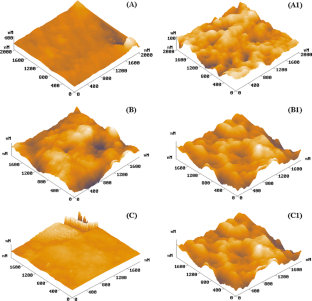 References
Moura EAB, Ortiz AZ, Wiebeck H, Paula ABA, Silva ALA, Silva LGA (2004) Effects of gamma radiation on commercial food packaging films-study of changes in UV/VIS spectra. Radiat Phys Chem 71:199–202

Ojeda TFM, Dalmolin E, Forte MMC, Jacques RJS, Bento FM, Camargo FAO (2009) Abiotic and biotic degradation of oxo-biodegradable polyethylenes. Polym Degrad Stab. doi:10.1016/j.polymdegradstab.03.011

Scott G (2000) "Green" polymers. Polym Degrad Stab 68:1–7

The Times of India (2009) Vol 2: Issue 197, p.2

Khabbaz F, Albertsson AC (2001) Rapid test methods for analyzing degradable polyolefins with a prooxident system. J Appl Polym Sci 79:2309–2316

Otey FH, Westhoff RP, Dane WM (1987) Ind Eng Chem Res 26:1659

Kemp TJ, McIntyre RA (2006) Influence of transition metal-doped titanium (IV) dioxide on the photodegradation of polyethylene. Polym Degrad Stab 91:3020–3025

Roy PK, Surekha P, Rajagopal C, Choudhary V (2006) Effect of cobalt carboxylates on the photo-oxidative degradation of low density polyethylene. Part –I. Polym Degrad Stab 91:1980–1988

Shah PB, Bandopadhyay S, Bellare JR (1995) Environmentally degradable starch filled low density polyethylene. Polym Degrad Stab 47:165–173

PomettoIII AL, Lee B, Johnson KE (1992) Production of an extracellular polyethylene-degrading enzyme(s) by Streptomyces species. Appl Environ Microbiol 61:731–733

Wiles DM, Scott G (2006) Polyolefins with controlled environmental degradability. Polym Degrad Stab 91:1581–1592

Roy PK, Surekha P, Raman R, Rajagopal C (2009) Investigation the role of metal oxidation state on the degradation behaviour of LDPE. Polym Degrad Stab 94:1033–1039

Gorghiu ML, Jipa S, Zaharescu T, Setnescu R, Mihalcea I (2004) The effect of metals on thermal degradation of polyethylenes. Polym Degrad Stab 84:7–11

Magagula B, Nhlapo N, Focke WW (2009) Mn2Al-LDH- and Co2Al-LDH-stearate as photodegradants for LDPE film. Polym Degrad Stab 94:947–954

Corti A, Muniyasamy S, Vitali M, Imamc SH, Chiellini E (2010) Oxidation and biodegradation of polyethylene films containing pro-oxidant additives: Synergistic effects of sunlight exposure, thermal aging and fungal biodegradation. Polym Degrad Stab 95:1106–1114

Lee B, Pometto AL III, Fratzke A, Bailey TB (1991) Biodegradation of degradable plastic polyethylene by Phanerochaete and Streptomyces species. Appl Environ Microbiol 57:678–685

Khabbaz F, Albertsson A-C, Karlsson S (1999) Chemical and morphological changes of environmentally degradable poly(ethylene) films exposed to thermo-oxidation. Polym Degrad Stab 63:127–138

Jakubowicz I (2003) Evaluation of degradability of biodegradable polyethylene (PE). Polym Degrad Stab 80:39–43

Gugumus F (2001) Re-examination of the thermal oxidation reactions of polymers.New views of an old reaction. Polym Degrad Stab 74:327–339

Sudhakar M, Trishul A, Doble M, Suresh Kumar K, Syed Jahan S, Inbakandan D, Viduthalai RR, Umadevi VR, Sriyutha Murthy P, Venkatesan R (2007) Biofouling and biodegradation of polyolefins in ocean waters. Polym Degrad Stab 92:1743–1752

Navaneetha Pandiyaraj K, Selvarajan V, Deshmukh RR, Gao C (2008) Adhesive properties of polypropylene (PP) and polyethylene terephthalate (PET) film surfaces treated by DC glow discharge plasma. Vacuum 83:332–339

Roy PK, Titus S, Surekha P, Tulsi E, Deshmukh C, Rajagopal C (2008) Degradation of abiotically aged LDPE films containing pro-oxidant by bacterial consortium. Polym Degrad Stab 93:1917–1922

Baljit Singh and Nisha Sharma (2008) Mechanical implications of plastic degradation. Polym Degrad Stab 93:561–584

Kaczmarek H, Oldak D, Podgorski A (2003) Photochemical properties of polyethylene modified by low-molecular organic compounds. Polym J 35(8):634–639

JWT Spinks, RJ Woods (1990) Int Rad Chem 3 Edn. Wiley, N Y, p. 468

Bikaris D, Prinos J, Perrier C, Panayiotou C (1997) Thermo analytical study on the effect of EAA and starch on the thermooxidative degradation of LDPE. Polym Degrad Stab 57:313–324

Wenzel RN (1936) Resistance of solid surfaces to wetting by water. Ind Eng Chem 28:988

Jose S, Thamas S, Biju PK, Koshy P, Karger-Kocsis J (2008) Thermal degradation and crystallisation studies of reactively compatibilised polymer blends. Polym Degrad Stab 93:1176–1187
Acknowledgments
The authors wish to express their thanks to The Director, CECRI, Karaikudi, for his kind permission. We are immensely thankful to Mr. Sampath Kumar and M/S Sri Lakshmi Narayana Plastics, Coimbatore for providing the pristine polyethylene and blended polyethylene films and for their helpful discussions. Appreciation is also extended to Sophisticated Test & Instrumentation Centre (STIC), Cochin University of Science and Technology, Cochin, Kerala and Sophisticated Analytical Instrument Facility (SAIF), IIT-Madras, Chennai for providing analytical support. I sincerely thank Dr. Shibu M Eapen, STIC, Cochin and Mr. P.Jayamurugan, Dept of. Physics, Sri Ramakrishna Mission Vidyalaya College of Arts and Science, Coimbatore for providing support in analytical studies and guidance.
About this article
Cite this article
Suresh, B., Maruthamuthu, S., Khare, A. et al. Influence of thermal oxidation on surface and thermo-mechanical properties of polyethylene. J Polym Res 18, 2175–2184 (2011). https://doi.org/10.1007/s10965-011-9628-0
Received:

Accepted:

Published:

Issue Date:

DOI: https://doi.org/10.1007/s10965-011-9628-0
Keywords
LDPE

Pro-oxidant additive

Thermo-oxidation

Wettability

FTIR

AFM