Abstract
By examining the relationship between trans identity, bathroom safety and wellbeing among high school students, this article empirically investigates how educational institutions operate as sites through which gender is negotiated in ways that are consequential for trans youth. We draw cross-sectional survey data, from a multi-school climate survey (n = 1046) conducted in the Midwestern United States, to examine three aspects of high school students' wellbeing: safety at school, self-esteem, and grades. The sample included students in 9th–12th grade who identified as trans (9.2%) and cisgender (41.2% boys, 49.6% girls), as well as LGBQ (21.6%) and heterosexual (78.4%). Most respondents were monoracial white (65.8%), monoracial Black (12.4%), and multiracial (14.1%). Using mediation and moderation linear regression models, we show that feeling safe using school facilities helps to explain widespread inequalities between trans and cisgender students. Based on these results, we suggest that in order to address disparities in educational outcomes between trans and cisgender students, as well as to improve student wellbeing in general, policies and practices need to ensure that all students have the right to safely access bathrooms and school facilities.
Access options
Buy single article
Instant access to the full article PDF.
US$ 39.95
Tax calculation will be finalised during checkout.
Subscribe to journal
Immediate online access to all issues from 2019. Subscription will auto renew annually.
US$ 119
Tax calculation will be finalised during checkout.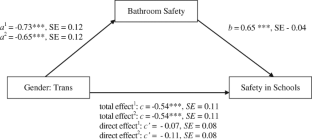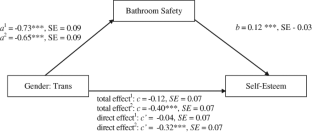 References
Aragon, S. R., Poteat, V. P., Espelage, D. L., & Koenig, B. W. (2014). The influence of peer victimization on educational outcomes for LGBTQ and non-LGBTQ high school students. Journal of LGBT Youth, 11(1), 1–19.

Baams, L., Beek, T., Hille, H., Zevenbergen, F. C., & Bos, H. M. W. (2013). Gender nonconformity, perceived stigmatization, and psychological well-being in Dutch sexual minority youth and young adults: A mediation analysis. Archives of Sexual Behavior, 42(5), 765–773.

Barker-Plummer, B. (2013). Fixing Gwen: News and the mediation of (trans) gender challenges. Feminist Media Studies, 13(4), 710–724.

Baum, J., Brill, S., Brown, J., Delpercio, A., Khan, E., Kenney, L., & Nicoll, A. (2013). Supporting and caring for our gender expansive youth. Washington, D.C., WA: Human Rights Campaign Foundation and Gender Spectrum.

Bender-Baird, K. (2016). Peeing under surveillance: Bathrooms, gender policing, and hate violence. Gender, Place & Culture, 23(7), 983–988.

Breen, R., & Jonsson, J. O. (2005). Inequality of opportunity in comparative perspective: Recent research on educational attainment and social mobility. Annual Review of Sociology, 31, 223–243.

Browne, K. (2004). Genderism and the bathroom problem:(Re) materialising sexed sites,(re) creating sexed bodies. Gender, Place & Culture, 11(3), 331–346.

Buchmann, C., DiPrete, T. A., & McDaniel, A. (2008). Gender inequalities in education. Annual Review of Sociology, 34, 319–337.

Clements-Nolle, K., Marx, R., & Katz, M. (2006). Attempted suicide among transgender persons: The influence of gender-based discrimination and victimization. Journal of Homosexuality, 51(3), 53–69.

Dessel, A. B., Woodford, M. R., Routenberg, R., & Breijak, D. P. (2013). Heterosexual students' experiences in sexual orientation intergroup dialogue courses. Journal of Homosexuality, 60(7), 1054–1080.

Esmaeili, S., & Arabmofrad, A. (2015). A critical discourse analysis of family and friends textbooks: Representation of genderism. International Journal of Applied Linguistics and English Literature, 4(4), 55–61.

Fabricant, M. (2010). Organizing for educational justice: The campaign for public school reform in the South Bronx. Minneapolis, MN: U of Minnesota.

Fischer, D., Bellinger, L. B., Horn, S. S., & Sullivan, S. L. (2016). Advocacy to support gender identity development in schools in the face of organized backlash. In S. Russell, S. Horn (Eds.), Sexual orientation, gender identity, and schooling: The nexus of research, practice, and policy (pp. 219–237). London: Oxford University Press.

Gates, G.J. (2011). Issue brief: How many people are lesbian, gay, bisexual, and transgender? http://williamsinstitute.law.ucla.edu/wp-content/uploads/Gates-How-Many-People-LGBT-Apr-2011.pdf Accessed 23 Dec 2016

Grant, J., Lisa, M., Tanis, J., Harrison, J., Herman, J., & Keisling, M. (2011). Injustice at every turn: A report of the national transgender discrimination survey. Washington, WA: National Center for Transgender Equality and National Gay and Lesbian Task Force.

Greytak, E., Kosciw, J., & Diaz, E. (2009). Harsh realities: The experiences of transgender youth in our nation's schools. New York, NY: GLSEN.

Hayes, A. F. (2013). Introduction to mediation, moderation, and conditional process analysis: A regression-based approach. New York, NY: Guilford.

Hayes, A.F., & Rockwood, N.J. (2016). Regression-based statistical mediation and moderation analysis in clinical research: Observations, recommendations, and implementation, Behaviour Research and Therapy, doi:10.1016/ j.brat.2016.11.001.

Herman, J., Flores, A., Brown, T., Wilson, B., & Conron, K. (2017). Age of individuals who identify as transgender in the United States. Los Angeles: Williams Institute.

Hill, D. B., & Willoughby, B. L. B. (2005). The development and validation of the genderism and transphobia scale. Sex Roles, 53(7-8), 531–544.

Ingrey, J. C. (2012). The public school washroom as analytic space for troubling gender: Investigating the spatiality of gender through students' self-knowledge. Gender and Education, 24(7), 799–817.

James, S. E., Herman, J. L., Rankin, S., Keisling, M., Mottet, L., & Anafi, M. (2016). The report of the 2015 U.S. transgender survey. Washington, WA: National Center for Transgender Equality.

Johnson, J. (2014). Transgender youth in public schools: Why identity matters in the restroom. William Mitchell Law Rev Sua Sponte, 40, 63–98.

Julia, S. (2007). Whipping girl: A transsexual woman on sexism and the scapegoating of femininity. Emeryville, CA: Seal.

Koken, J. A., Bimbi, D. S., & Parsons, J. T. (2009). Experiences of familial acceptance–rejection among transwomen of color. Journal of Family Psychology, 23(6), 853–60.

Kosciw, J. G., Greytak, E. A., Giga, N. M., Villenas, C., & Danischewski, D. (2016). 2015 national school climate survey: The experiences of lesbian, gay, bisexual, transgender and queer youth in our nation's schools. New York, NY: GLSEN.

Koyama, E. (2003). The transfeminist manifesto. In R. Dicker, A. Piepmeiser (Eds.), Catching a wave: Reclaiming feminism for the 21st century (pp. 244–262). Lebanon, NH: Northeastern University Press.

Larsen, H.G. (2016). The antecedent of fear in the public discourse: From Donald Trump's nativism to transgender bathroom access. International Journal of School and Cognitive Psychology 3(2): 177.

Lee, V.E.. (2001). Restructuring high schools for equity and excellence: What works. New York, NY: Teachers College Press.

Liptak, A. (2016 October 28). Supreme court to rule in transgender access case. The New York Times. https://www.nytimes.com/2016/10/29/us/politics/supreme-court-to-rule-in-transgender-access-case.html?_r=0

Lombardi, E. (2009). Varieties of transgender/transsexual lives and their relationship with transphobia. Journal of Homosexuality, 56(8), 977–992.

Lombardi, E. L., Wilchins, R. A., Priesing, D., & Malouf, D. (2002). Gender violence: Transgender experiences with violence and discrimination. Journal of Homosexuality, 42(1), 89–101.

McGuire, J. K., Anderson, C. R., Toomey, R. B., & Russell, S. T. (2010). School climate for transgender youth: A mixed method investigation of student experiences and school responses. Journal of Youth and Adolescence, 39(10), 1175–1188.

Moffit, R. E. (2015). Keeping the John open to Jane: How California's bathroom bill brings transgender rights out of the water closet. Georgetown Journal of Gender and the Law, 16, 475.

Nadal, K. L., & Griffin, K. E. (2011). Microaggressions: A root of bullying, violence, and victimization toward lesbian, gay, bisexual, and transgender youths. The Psychology of Teen Violence and Victimization, 1, 3–22.

Oakes, J., & Lipton, M. (2002). Struggling for educational equity in diverse communities: School reform as social movement. Journal of Educational Change, 3(3-4), 383–406.

Peters, J.W., Becker, J., & Hirschfield Davis, J. (2017, February 22). Trump rescinds rules on bathrooms for transgender students. The New York Times. http://www.nytimes.com.

Porta, C. M., Gower, A. L., Mehus, C. J., Yu, X., Saewyc, E. M., & Eisenberg, M. E. (2017). "Kicked out": LGBTQ youths' bathroom experiences and preferences. Journal of Adolescence, 56, 107–112.

Reisner, S. L., Hughto, J. M. W., Dunham, E. E., Heflin, K. J., Begenyi, J. B. G., Coffey-Esquivel, J., & Cahill, S. (2015). Legal protections in public accommodations settings: A critical public health issue for transgender and gender‐nonconforming people. Milbank Quarterly, 93(3), 484–515.

Robinson, J. P., & Espelage, D. L. (2011). Inequities in educational and psychological outcomes between LGBTQ and straight students in middle and high school. Educational Researcher, 40(7), 315–330.

Rosenberg, M. (1979). Conceiving the self. New York, NY: Basic Books.

Schuster, M. A., Reisner, S. L., & Onorato, S. E. (2016). Beyond bathrooms—meeting the health needs of transgender people. New England Journal of Medicine, 375(2), 101–103.

Seelman, K. L. (2014). Transgender individuals' access to college housing and bathrooms: Findings from the national transgender discrimination survey. Journal of Gay & Lesbian Social Services, 26(2), 186–206.

Seelman, K. L. (2016). Transgender adults' access to college bathrooms and housing and the relationship to suicidality. Journal of Homosexuality, 10, 1–22.

Sevelius, J. M. (2013). Gender affirmation: A framework for conceptualizing risk behavior among transgender women of color. Sex Roles, 68(11-12), 675–689.

Solorzano, D. G., & Ornelas, A. (2004). A critical race analysis of Latina/o and African American advanced placement enrollment in public high schools. The High School Journal, 87(3), 15–26.

Stanley, E. A., Smith, N. (Eds.) (2011). Captive genders: Trans embodiment and the prison industrial complex. Baltimore, MD: AK.

Sterling, M. (2014). To pee or not to pee-where is the question: Transgender students and the right to use public school restrooms. Cardozo JL & Gender, 21, 757.

Sutton, H. (2016). Transgender college students more at risk for suicide when denied bathroom, housing rights. Campus Security Report, 13(2), 9.

Szczerbinski, K. (2016). Education connection: The importance of allowing students to use bathrooms and locker rooms reflecting their gender identity. Children's Legal Rights Journal, 36, 153.

Tobin, H. J., & Levi, J. (2013). Securing equal access to sex-segregated facilities for transgender students. Wisconsin Journal of Law, Gender & Society, 28, 301–330.

Toomey, R.B. (2014). More than just queer or trans*: Exploring youth risk and resilience through a quantitative intersectional lens. In Keynote address, 2nd Annual LGBT Research Symposium. University of Illinois-Urbana Champaign School of Social Work. Champaign, IL: Author.

Toomey, R. B., Ryan, C., Diaz, R. M., Card, N. A., & Russell, S. T. (2010). Gender-nonconforming lesbian, gay, bisexual, and transgender youth: School victimization and young adult psychosocial adjustment. Developmental Psychology, 46(6), 1580–9.

U.S. Department of Education. (2015). Every student succeeds act. Washington, D.C., WA: United States Department of Education.

Weinberg, J. D. (2009). Transgender bathroom usage: A privileging of biology and physical difference in the law. Buffalo Journal of Gender, Law & Social Policy, 18, 147.

Wernick, L. J., Kulick, A., & Inglehart, M. H. (2014). Influences of peers, teachers, and climate on students' willingness to intervene when witnessing antitransgender harassment. Journal of Adolescence, 37, 927–935.

Woolley, S. W. (2016). Contesting silence, claiming space: Gender and sexuality in the neo-liberal public high school. Gender and Education, 29, 84–99.

Yosso, T. J. (2006). Critical race counterstories along the Chicana/Chicano educational pipeline. London: Routledge.

Yunger, J. L., Carver, P. R., & Perry, D. G. (2004). Does gender identity influence children's psychological well-being? Developmental Psychology, 40(4), 572–582.
Acknowledgements
Thank you to the leaders involved in Riot Youth at the Neutral Zone in Ann Arbor and the school-based organizations who helped to collect this data and are working to ensure that LGBTQ and similarly identified students have access to educational opportunities and supportive communities. We'd also like to thank Fuhua Zhai and Daniel Coleman from Fordham University for their statistical support and Milo Inglehart and Adrienne Dessel for their collaborations in the larger project. Funding for this project was provided by the Faculty Research Expense Program, Fordham University (Grant awarded to LJW).
Author Contributions
Riot Youth leaders conceived of the study in consultation with A.K. & L.J.W. L.J.W. conceived of this manuscript with A.K. and performed statistical analysis. A.K. contributed to the exploratory statistical analysis and interpreting quantitative findings. A.K. and L.W. consulted with legal experts and adult stuff at Neutral Zone. M.C. reviewed extant literature and crafted the introduction. L.J.W., A.K., and M.C. collaborated in writing the manuscript, including the theoretical framework and implications. All authors read and approved the final manuscript.
Ethics declarations
Conflict of Interest
The authors declare that they have no competing interests.
Ethical Approval
All procedures performed in studies involving human participants were in accordance with the ethical standards of the institutional research committee and/or national research committee and with the 1964 Helsinki declaration and its later amendments or comparable ethical standards.
Informed Consent
Informed consent was obtained from all individual participants included in the study.
About this article
Cite this article
Wernick, L.J., Kulick, A. & Chin, M. Gender Identity Disparities in Bathroom Safety and Wellbeing among High School Students. J Youth Adolescence 46, 917–930 (2017). https://doi.org/10.1007/s10964-017-0652-1
Received:

Accepted:

Published:

Issue Date:
Keywords
Transgender

Bathroom access

Cissexism

School climate

Wellbeing

Students