Abstract
Culturally prescribed social scripts for traditional masculinity that emphasize social dominance are frequently linked to diminished well-being for men across a variety of psychological domains. However, few studies have examined the role of traditional masculinity scripts in the lives of early adolescent boys and girls, despite their relevance during this period and their potential developmental implications. To address this need, we examined the development of early adolescents' conformity to traditional masculinity across the middle school transition, as well as its links with depressive symptoms and academic engagement. Using a diverse sample of 280 adolescents (M age = 11.13, SD = 0.51; 54.3 % Female; 44 % Latina/o) assessed at the beginning (fall 2014) and end (spring 2015) of their first year of middle school, we found an increase in conformity to traditional masculinity scripts among boys, but not among girls. For boys and girls alike, conformity to traditional masculinity predicted greater depressive symptoms and decreased academic engagement. Depressive symptoms also mediated the association between traditional masculinity and academic engagement for boys and girls. This study is among the first to study conformity to traditional masculinity from a developmental lens. The findings suggest that traditional masculinity scripts are relevant for early adolescents (particularly boys) transitioning to middle school. However, for both boys and girls, conformity to these scripts can compromise psychological and academic well-being.
Access options
Buy single article
Instant access to the full article PDF.
US$ 39.95
Tax calculation will be finalised during checkout.
Subscribe to journal
Immediate online access to all issues from 2019. Subscription will auto renew annually.
US$ 119
Tax calculation will be finalised during checkout.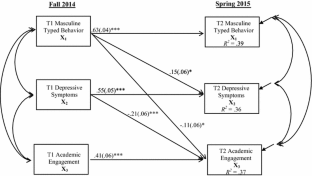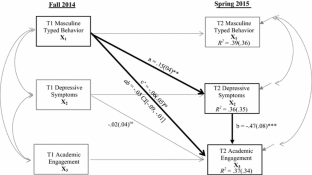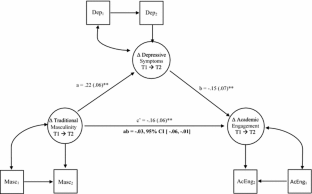 References
Allgaier, A. K., Frühe, B., Pietsch, K., Saravo, B., Baethmann, M., & Schulte-Körne, G. (2012). Is the Children's Depression Inventory Short version a valid screening tool in pediatric care? A comparison to its full-length version. Journal of Psychosomatic Research, 73(5), 369–374.

Bem, S. (1974). The measurement of psychological androgyny. Journal of Clinical Consulting Psychology, 42, 155–162.

Benner, A. D. (2011). Latino adolescents' loneliness, academic performance, and the buffering nature of friendships. Journal of Youth and Adolescence, 40(5), 556–567.

Blazina, C., Eddins, R., Burridge, A., & Settle, A. G. (2007). The relationships between masculinity ideology, loneliness, and separation–individuation difficulties. The Journal of Men's Studies, 15, 101–109.

Bosson, J. K., Taylor, J. N., & Prewitt-Freilino, J. L. (2006). Gender role violations and identity misclassification: The roles of audience and actor variables. Sex Roles, 55(1–2), 13–24.

Brown, L. M., & Gilligan, C. (1993). Meeting at the crossroads: Women's psychology and girls' development. Feminism & Psychology, 3(1), 11–35.

Chu, J. Y., Porche, M. V., & Tolman, D. L. (2005). The adolescent masculinity ideology in relationship scale. Men and Masculinities, 8(1), 93–115.

Cole, D. A., & Maxwell, S. E. (2003). Testing mediational models with longitudinal data: Questions and tips in the use of structural equation modeling. Journal of Abnormal Psychology, 112(4), 558.

Connolly, J., Craig, W., Goldberg, A., & Pepler, D. (2004). Mixed-gender groups, dating, and romantic relationships in early adolescence. Journal of Research on Adolescence, 14(2), 185–207.

Counroyer, R. J., & Mahalik, J. R. (1995). Cross-sectional study of gender role conflict examining college-aged and middle-aged men. Journal of Counseling Psychology, 42(1), 11–19.

Crick, N. R., & Grotpeter, J. K. (1995). Relational aggression, gender, and social-psychological adjustment. Child Development, 66(3), 710–722.

Csikszentmihalyi, M., & Larson, R. (1987). Validity and reliability of the experience-sampling method. The Journal of Nervous and Mental Disease, 175(9), 526–536.

DeLay, D., Zhang, L., Hanish, L. D., Miller, C., Fabes, R. A., Martin, C. L., et al. (2016). Peer influence on academic performance: A social network analysis of social–emotional intervention effects. Prevention Science,. doi:10.1007/s11121-016-0678-8.

Dotterer, A. M., McHale, S. M., & Crouter, A. C. (2009). The development and correlates of academic interests from childhood through adolescence. Journal of Educational Psychology, 101(2), 509.

Durlak, J. A., Weissberg, R. P., Dymnicki, A. B., Taylor, R. D., & Schellinger, K. B. (2011). The impact of enhancing students' social and emotional learning: A meta-analysis of school-based universal interventions. Child Development, 82(1), 405–432.

Eccles, J. S., Midgley, C., Wigfield, A., Buchanan, C. M., Reuman, D., Flanagan, C., et al. (1993). Development during adolescence: The impact of stage-environment fit on young adolescents' experiences in schools and in families. American Psychologist, 48(2), 90–101.

Enders, C. K. (2010). Applied missing data analysis. New York, NY: Guilford Press.

Farrell, A. D. (1994). Structural equation modeling with longitudinal data: Strategies for examining group differences and reciprocal relationships. Journal of Consulting and Clinical Psychology, 62, 477–487.

Feinman, S. (1984). A status theory of the evaluation of sex-role and age-role behavior. Sex Roles, 10(5–6), 445–456.

Fredricks, J. A., Blumenfeld, P. C., & Paris, A. H. (2004). School engagement: Potential of the concept, state of the evidence. Review of Educational Research, 74, 59–109.

Fröjd, S. A., Nissinen, E. S., Pelkonen, M. U., Marttunen, M. J., Koivisto, A. M., & Kaltiala-Heino, R. (2008). Depression and school performance in middle adolescent boys and girls. Journal of Adolescence, 31(4), 485–498.

Gupta, T., Way, N., McGill, R. K., Hughes, D., Santos, C., Jia, Y., et al. (2013). Gender-typed behaviors in friendships and well-being: A cross-cultural study of Chinese and American boys. Journal of Research on Adolescence, 23(1), 57–68.

Halim, M. L., Ruble, D. N., & Amodio, D. M. (2011). From pink frilly dresses to "one of the boys": A social-cognitive analysis of gender identity development and gender bias. Social and Personality Psychology Compass, 5(11), 933–949.

Henk, C. M., & Castro-Schilo, L. (2015). Preliminary detection of relations among dynamic processes with two-occasion data. Structural Equation Modeling: A Multidisciplinary Journal, 23(2), 180–193.

Hill, J. P., & Lynch, M. E. (1983). The intensification of gender-related role expectations during early adolescence. In J. Brooks-Gunn, & A. Petersen (Eds.) Girls at puberty: Biological and psychosocial perspectives (pp. 201–228). New York, NY: Plenum.

Hysenbegasi, A., Hass, S. L., & Rowland, C. R. (2005). The impact of depression on the academic productivity of university students. Journal of Mental Health Policy and Economics, 8(3), 145.

Iwamoto, D. K., Liao, L., & Liu, W. M. (2010). Masculine norms, avoidant coping, Asian values, and depression among Asian American men. Psychology of Men & Masculinity, 11(1), 15.

Jackson, C., & Dempster, S. (2009). "I sat back on my computer with a bottle of whisky next to me": constructing "cool" masculinity through "effortless" achievement in secondary and higher education. Journal of Gender Studies, 18(4), 341–356.

Janosz, M., Archambault, I., Morizot, J., & Pagani, L. S. (2008). School engagement trajectories and their differential predictive relations to dropout. Journal of Social Issues, 64(1), 21–40.

Kovacs, M. (1984). The Children's depression, inventory (CDI). Psychopharmacology Bulletin, 21(4), 995–998.

Levant, R. F., Richmond, K., Majors, R. G., Inclan, J. E., Rossello, J. M., Heesacker, M., et al. (2003). A multicultural investigation of masculinity ideology and alexithymia. Psychology of Men and Masculinity, 4, 97–99.

Li, Y., & Lerner, R. M. (2011). Trajectories of school engagement during adolescence: Implications for grades, depression, delinquency, and substance use. Developmental Psychology, 47, 233–247.

Little, R. J. (1988). A test of missing completely at random for multivariate data with missing values. Journal of the American Statistical Association, 83(404), 1198–1202.

Little, T. D. (2013). Longitudinal structural equation modeling. New York: Guilford.

MacKinnon, D. P., Warsi, G., & Dwyer, J. H. (1995). A simulation study of mediated effect measures. Multivariate Behavioral Research, 30(1), 41–62.

Martin, C. L., & Dinella, L. (2012). Congruence between gender stereotypes and activity preference in self-identified tomboys and non-tomboys. Archives of Sexual Behavior, 41(3), 599–610.

Muris, P., Schouten, E., Meesters, C., & Gijsbers, H. (2003). Contingency-competence-control-related beliefs and symptoms of anxiety and depression in a young adolescent sample. Child Psychiatry and Human Development, 33(4), 325–339.

Muthén, L. K., & Muthén, B. O. (1998–2013). Mplus user's guide. Seventh edition. Los Angeles: Muthén & Muthén.

Ojanen, T., & Findley-Van Nostrand, D. F. (2014). Social goals, aggression, peer preference, and popularity: Longitudinal links during middle school. Developmental Psychology, 50(8), 2134–2143.

Ojanen, T., Grönroos, M., & Salmivalli, C. (2005). An interpersonal circumplex model of children's social goals: Links with peer-reported behavior and sociometric status. Developmental Psychology, 41(5), 699–710.

Paechter, C., & Clark, S. (2007). Who are tomboys and how do we recognise them? Women's Studies International Forum, 30, 342–354.

Pellegrini, A. D., & Bartini, M. (2002). Dominance in early adolescent boys: Affiliative and aggressive dimensions and possible functions. Merrill Palmer Quarterly, 47(1), 142–163.

Pellegrini, A. D., & Long, J. D. (2002). A longitudinal study of bullying, dominance, and victimization during the transition from primary school through secondary school. British Journal of Developmental Psychology, 20(2), 259–280.

Pleck, J. H. (1981). The myth of masculinity. Cambridge, MA: MIT Press.

Pleck, J. H., Sonenstein, F. L., & Ku, L. C. (1993). Masculinity ideology and its correlates. In S. Oskamp & M. Costanzo (Eds.), Gender issues in social psychology (pp. 85–110). Newbury Park, CA: Sage.

Quiroga, C. V., Janosz, M., Bisset, S., & Morin, A. J. (2013). Early adolescent depression symptoms and school dropout: Mediating processes involving self-reported academic competence and achievement. Journal of Educational Psychology, 105(2), 552.

Rogers, A. A., Updegraff, K. A., Santos, C. E., & Martin, C. L. (2016). Masculinity and school adjustment in middle school. Psychology of Men & Masculinity,. doi:10.1037/men0000041.

Santos, C. E., Galligan, K., Pahlke, E., & Fabes, R. A. (2013). Gender-typed behaviors, achievement and adjustment among racially and ethnically diverse boys during early adolescence. American Journal of Orthopsychiatry, 83(2–3), 252–264.

Seidman, E., & French, S. E. (2004). Developmental trajectories and ecological transitions: A two-step procedure to aid in the choice of prevention and promotion interventions. Development and Psychopathology, 16(4), 1141–1159.

 Shahar, G., Henrich, C. C., Winokur, A., Blatt, S. J., Kuperminc, G. P., & Leadbeater, B. J. (2006). Self-criticism and depressive symptomatology interact to predict middle school academic achievement. Journal of Clinical Psychology, 62(1), 147–155.

Shoshani, A., & Slone, M. (2013). Middle school transition from the strengths perspective: Young adolescents' character strengths, subjective well-being, and school adjustment. Journal of Happiness Studies, 14(4), 1163–1181.

Tajfel, H. (2010). Social identity and intergroup relations. Cambridge: Cambridge University Press.

Tarrant, M., North, A. C., Edridge, D., Kirk, L. E., Smith, E. A., & Turner, R. E. (2001). Social identity in adolescence. Journal of Adolescence, 24(5), 597–609.

Thompson, E. H, Jr., & Pleck, J. H. (1995). Masculinity ideologies: A review of research instrumentation on men and masculinities. In R. Levant & W. Pollack (Eds.), A new psychology of men (pp. 129–163). New York, NY: Basic Books.

Tofighi, D., & MacKinnon, D. P. (2011). RMediation: An R package for mediation analysis confidence intervals. Behavior Research Methods, 43(3), 692–700.

Urdan, T., & Midgley, C. (2003). Changes in the perceived classroom goal structure and pattern of adaptive learning during early adolescence. Contemporary Educational Psychology, 28(4), 524–551.

Wang, M., & Eccles, J. S. (2012). Adolescent behavioral, emotional, and cognitive engagement trajectories in school and their differential relations to educational success. Journal of Research on Adolescence, 22, 31–39.

Way, N. (2011). Deep secrets. Harvard University Press.

Wong, Y. J., Steinfeldt, J. A., Speight, Q. L., & Hickman, S. J. (2010). Content analysis of Psychology of men & masculinity (2000–2008). Psychology of Men & Masculinity, 11(3), 170.
Acknowledgments
This research supported by the T. Denny Sanford Foundation and the Sanford School of Social and Family Dynamics.
Author Contributions
AR conceived of the study, performed the statistical analyses and interpretation of the data, and led the writing of the manuscript. DD contributed to the conceptualization and writing of the study. CM assisted in the conceptualization of the study and interpretation of findings, and reviewed drafts. DD and CM oversaw implementation and administration of the larger study from which the data are drawn. All authors read and approved the final manuscript.
Ethics declarations
Conflict of interest
The authors report no conflict of interest.
Ethical Approval
All procedures performed in studies involving human participants were in accordance with the ethical standards of the institution and/or national research committee and with the 1964 Helsinki declaration and its later amendments or comparable ethical standards.
Informed Consent
The study used passive consent, meaning that consent is assumed if parents did not specifically opt their child out of the study. Information packets were sent to parents two weeks prior to data collection to allow parents sufficient time to either consent or opt their child out of the current investigation. Written assents were collected from students who received parental consent. The study was approved by the Arizona State University Institutional Review Board and by the school district.
About this article
Cite this article
Rogers, A.A., DeLay, D. & Martin, C.L. Traditional Masculinity During the Middle School Transition: Associations with Depressive Symptoms and Academic Engagement. J Youth Adolescence 46, 709–724 (2017). https://doi.org/10.1007/s10964-016-0545-8
Received:

Accepted:

Published:

Issue Date:
Keywords
Gender roles

Masculinity

Mental health

School engagement

Adolescence