Abstract
Although disadvantaged youth are more likely to be victimized at school, victimization only partly explains their decreased feelings of safety at school. We applied a socioecological approach to test the hypotheses that the experience of poverty is associated with decreased feelings of safety at school, and that residential neighborhood features partly mediate the relationship between poverty and feeling less safe at school. This study draws on the Québec Longitudinal Study of Child Development (QLSCD) which began in 1998 with a representative population-based cohort of 2,120 5-month old infants (49.1 % female) and their primary caregiver. The study also includes measures of ego-centred residential neighborhood exposures (based on a 500 m circular buffer zone surrounding the family's residential postal code) derived from a spatial data infrastructure. We used latent growth modeling to estimate youth's family poverty trajectory from age 5 months to 13 years, and structural equation modeling to test our hypotheses. The results suggest that youth experiencing chronic and later-childhood poverty felt less safe at school in part because they lived in neighborhoods that their parents described as being disorderly (e.g., demarked by the presence of garbage, drug use and groups of trouble-makers). These neighborhoods also tended to have less greenery (e.g., trees, parks) and more lone-parent households. Neighborhood features did not help explain the relationship between early-childhood poverty and feeling less safe at school. The findings suggest that targeting residential neighborhood features such as greenery and disorder could improve youth's felt safety at school, particularly for those experiencing chronic and later-childhood poverty.
Access options
Buy single article
Instant access to the full article PDF.
USD 39.95
Price excludes VAT (USA)
Tax calculation will be finalised during checkout.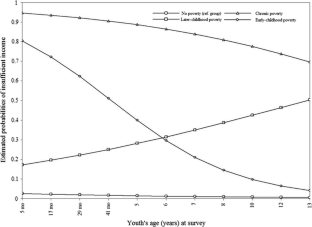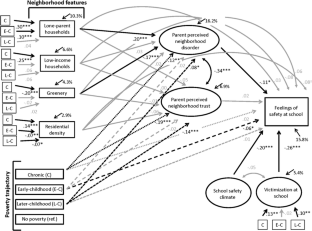 References
Aber, J. L., Bennett, N. G., Conley, D. C., & Li, J. (1997). The effects of poverty on child health and development. Annual Review of Public Health, 18(1), 463–483.

Asparouhov, T., & Muthen, B. (2010). Weighted least squares estimation with missing data. Mplus Technical Appendix, pp 1–10.

Attar, B. K., Guerra, N. G., & Tolan, P. H. (1994). Neighborhood disadvantage, stressful life events and adjustments in urban elementary-school children. Journal of Clinical Child Psychology, 23(4), 391–400.

Attree, P. (2006). The social costs of child poverty: A systematic review of the qualitative evidence. Children and Society, 20(1), 54–66.

Austin, D. M., Furr, L. A., & Spine, M. (2002). The effects of neighborhood conditions on perceptions of safety. Journal of Criminal Justice, 30(5), 417–427.

Barrett, K. L., Jennings, W. G., & Lynch, M. J. (2012). The relation between youth fear and avoidance of crime in school and academic experiences. Journal of School Violence, 11(1), 1–20. doi:10.1080/15388220.2011.630309.

Beran, T. N., & Tutty, L. (2002). Children's reports of bullying and safety at school. Canadian Journal of School Psychology, 17(2), 1–14.

Beyer, K. M., Kaltenbach, A., Szabo, A., Bogar, S., Nieto, F. J., & Malecki, K. M. (2014). Exposure to neighborhood green space and mental health: Evidence from the Survey of the Health of Wisconsin. International Journal of Environmental Research and Public Health, 11(3), 3453–3472.

Bowen, G., Richman, J., Brewster, A., & Bowen, N. (1998). Sense of school coherence, perceptions of danger at school, and teacher support among youth at risk of school failure. Child and Adolescent Social Work Journal, 15(4), 273–286. doi:10.1023/a:1025159811181.

Browning, C. R., & Soller, B. (2014). Moving beyond neighborhood: Activity spaces and ecological networks as contexts for youth development. A Journal of Policy Development and Research, 16(1), 165–196.

Carroll-Scott, A., Gilstad-Hayden, K., Rosenthal, L., Peters, S. M., McCaslin, C., Joyce, R., et al. (2013). Disentangling neighborhood contextual associations with child body mass index, diet, and physical activity: The role of built, socioeconomic, and social environments. Social Science and Medicine, 95, 106–114. doi:10.1016/j.socscimed.2013.04.003.

Chaix, B., Merlo, J., Evans, D., Leal, C., & Havard, S. (2009). Neighbourhoods in eco-epidemiologic research: delimiting personal exposure areas. A response to Riva, Gauvin, Apparicio and Brodeur. Social Science and Medicine, 69(9), 1306–1310.

Chui, T., Tran, K., & Maheux, H. (2008). Canada's Ethnocultural Mosaic, 2006 Census: Census Year 2006: Statistics Canada.

Davey, A., Shanahan, M. J., & Schafer, J. L. (2001). Correcting for selective nonresponse in the National Longitudinal Survey of Youth using multiple imputation. Journal of Human Resources, 36(3), 500–519.

Enders, C. K. (2010). Applied missing data analysis. New York: Guilford Press.

Evans, G. W. (2004). The environment of childhood poverty. American Psychologist, 59(2), 77–92. doi:10.1037/0003-066X.59.2.77.

Evans, G. W., & English, K. (2002). The environment of poverty: Multiple stressor exposure, psychophysiological stress, and socioemotional adjustment. Child Development, 73(4), 1238–1248.

Fitzpatrick, C., McKinnon, R. D., Blair, C. B., & Willoughby, M. T. (2014). Do preschool executive function skills explain the school readiness gap between advantaged and disadvantaged children? Learning and Instruction, 30, 25–31. doi:10.1016/j.learninstruc.2013.11.003.

Foster, H., & Brooks-Gunn, J. (2013). Neighborhood, family and individual influences on school physical victimization. Journal of Youth and Adolescence, 42(10), 1596–1610. doi:10.1007/s10964-012-9890-4.

Foster, S., Giles-Corti, B., & Knuiman, M. (2010). Neighbourhood design and fear of crime: A social-ecological examination of the correlates of residents' fear in new suburban housing developments. Health and Place, 16(6), 1156–1165.

Furlong, M. J., Greif, J. L., Bates, M. P., Whipple, A. D., Jimenez, T. C., & Morrison, R. (2005). Development of the California school climate and safety survey-short form. Psychology in the Schools, 42(2), 137–149.

Graziano, A. M., DeGiovanni, I. S., & Garcia, K. A. (1979). Behavioral treatment of children's fears: A review. Psychological Bulletin, 86(4), 804–830.

Gullone, E. (2000). The development of normal fear: A century of research. Clinical Psychology Review, 20(4), 429–451.

Jackson, J. (2004). Experience and expression social and cultural significance in the fear of crime. British Journal of Criminology, 44(6), 946–966.

Jacobs, J. (1961). The death and life of great American cities. New York: Random House.

Janosz, M., Archambault, I., Pagani, L. S., Pascal, S., Morin, A. J., & Bowen, F. (2008). Are there detrimental effects of witnessing school violence in early adolescence? Journal of Adolescent Health, 43(6), 600–608.

Jones, M., Pebley, A. R., & Sastry, N. (2011). Eyes on the block: Measuring urban physical disorder through in-person observation. Social Science Research, 40(2), 523–537.

Jung, T., & Wickrama, K. (2008). An introduction to latent class growth analysis and growth mixture modeling. Social and Personality Psychology Compass, 2(1), 302–317.

Khoury-Kassabri, M., Benbenishty, R., Astor, R. A., & Zeira, A. (2004). The contributions of community, family, and school variables to student victimization. American Journal of Community Psychology, 34(3–4), 187–204.

Kidger, J., Araya, R., Donovan, J., & Gunnell, D. (2012). The effect of the school environment on the emotional health of adolescents: a systematic review. Pediatrics, 129(5), 2011–2248.

Kuo, F. E., Bacaicoa, M., & Sullivan, W. C. (1998). Transforming inner-city landscapes trees, sense of safety, and preference. Environment and Behavior, 30(1), 28–59.

Kuo, F. E., & Sullivan, W. C. (2001). Environment and crime in the inner city does vegetation reduce crime? Environment and Behavior, 33(3), 343–367.

Leventhal, T., & Brooks-Gunn, J. (2000). The neighborhoods they live in: The effects of neighborhood residence on child and adolescent outcomes. Psychological Bulletin, 126(2), 309–337.

Maas, J., Spreeuwenberg, P., Van Winsum-Westra, M., Verheij, R. A., de Vries, S., & Groenewegen, P. P. (2009). Is green space in the living environment associated with people's feelings of social safety? Environment and Planning. A, 41(7), 1763–1777.

MacKinnon, D. P., Lockwood, C. M., Brown, C. H., Wang, W., & Hoffman, J. M. (2007). The intermediate endpoint effect in logistic and probit regression. Clinical Trials, 4(5), 499–513.

McCoy, D. C., Roy, A. L., & Sirkman, G. M. (2013). Neighborhood crime and school climate as predictors of elementary school academic quality: A cross-lagged panel analysis. American Journal of Community Psychology, 52(1–2), 128–140.

McLaughlin, D. H., Cohen, J., & Lee, R. (1997). NELS 88 Survey Item Evaluation Report. US Department of Education, Office of Educational Research and Improvement, National Center for Education Statistics.

Mijanovich, T., & Weitzman, B. C. (2003). Which 'broken windows' matter? School, neighborhood, and family characteristics associated with youths' feelings of unsafety. Journal of Urban Health, 80(3), 400–415.

Milam, A., Furr-Holden, C., & Leaf, P. (2010). Perceived school and neighborhood safety, neighborhood violence and academic achievement in urban school children. The Urban Review, 42(5), 458–467.

Nijs, M. M., Bun, C. J., Tempelaar, W. M., de Wit, N. J., Burger, H., Plevier, C. M., et al. (2014). Perceived school safety is strongly associated with adolescent mental health problems. Community Mental Health Journal, 50(2), 127–134.

Nylund, K., Bellmore, A., Nishina, A., & Graham, S. (2007). Subtypes, severity, and structural stability of peer victimization: What does latent class analysis say? Child Development, 78(6), 1706–1722.

Osofsky, J. D. (1995). The effect of exposure to violence on young children. American Psychologist, 50(9), 782–788.

Pabayo, R. A., Gauvin, L., Barnett, T. A., Morency, P., Nikiéma, B., & Séguin, L. (2012). Understanding the determinants of active transportation to school among children: Evidence of environmental injustice from the Quebec longitudinal study of child development. Health and Place, 18(2), 163–171.

Perkins, D. D., Meeks, J. W., & Taylor, R. B. (1992). The physical environment of street blocks and resident perceptions of crime and disorder: Implications for theory and measurement. Journal of Environmental Psychology, 12(1), 21–34.

Perkins, D., & Taylor, R. (1996). Ecological assessments of community disorder: Their relationship to fear of crime and theoretical implications. American Journal of Community Psychology, 24(1), 63–107. doi:10.1007/bf02511883.

Perumean-Chaney, S. E., & Sutton, L. M. (2013). Students and perceived school safety: The impact of school security measures. American Journal of Criminal Justice, 38(4), 570–588.

Sampson, R. J., & Sharkey, P. (2008). Neighborhood selection and the social reproduction of concentrated racial inequality. Demography, 45(1), 1–29.

Santiago, C. D., Wadsworth, M. E., & Stump, J. (2011). Socioeconomic status, neighborhood disadvantage, and poverty-related stress: Prospective effects on psychological syndromes among diverse low-income families. Journal of Economic Psychology, 32(2), 218–230.

Satorra, A., & Muthen, B. (1995). Complex sample data in structural equation modeling. Sociological Methodology, 25, 267–316.

Séguin, L., Nikiéma, B., Gauvin, L., Lambert, M., Tu, M. T., Kakinami, L., et al. (2012). Tracking exposure to child poverty during the first 10 years of life in a Quebec birth cohort. Canadian Journal of Public Health, 103(4), e270–e276.

Shumow, L., & Lomax, R. G. (2001). Predicting perceptions of school safety. School Community Journal, 11(2), 93–112.

Spencer, N., Thanh, T. M., & Louise, S. (2013). Low income/socio-economic status in early childhood and physical health in later childhood/adolescence: A systematic review. Maternal and Child Health Journal, 17(3), 424–431.

Stapleton, L. (2013). Multilevel structural equation modeling with complex sample data. In G. R. Hancock & R. O. Mueller (Eds.), Structural equation modeling: A second course (2nd ed., pp. 521–562). United States of America: Information Age Publishing Inc.

Stokols, D. (1996). Translating social ecological theory into guidelines for community health promotion. American Journal of Health Promotion, 10(4), 282–298.

Taylor, S. E., Repetti, R. L., & Seeman, T. (1997). Health psychology: What is an unhealthy environment and how does it get under the skin? Annual Review of Psychology, 48(1), 411–447.

Theall, K. P., Brett, Z. H., Shirtcliff, E. A., Dunn, E. C., & Drury, S. S. (2013). Neighborhood disorder and telomeres: Connecting children's exposure to community level stress and cellular response. Social Science and Medicine, 85, 50–58.

Turner, H. A., Shattuck, A., Hamby, S., & Finkelhor, D. (2013). Community disorder, victimization exposure, and mental health in a national sample of youth. Journal of Health and Social Behavior, 54(2), 258–275. doi:10.1177/0022146513479384.

van Hulst, A., Barnett, T. A., Gauvin, L., Daniel, M., Kestens, Y., Bird, M., et al. (2012). Associations between children's diets and features of their residential and school neighbourhood food environments. Canadian Journal of Public Health, 103(9), eS48–eS54.

Van Voorhees, B. W., Paunesku, D., Kuwabara, S. A., Basu, A., Gollan, J., Hankin, B. L., et al. (2008). Protective and vulnerability factors predicting new-onset depressive episode in a representative of U.S. adolescents. Journal of Adolescent Health, 42(6), 605-616, doi:10.1016/j.jadohealth.2007.11.135.

Weier, J., & Herring, D. (2011). Measuring vegetation (ndvi & evi). NASA online publication. http://earthobservatory.nasa.gov/Features/MeasuringVegetation/. Accessed 1 Oct 2014.

Welsh, W. N. (2000). The effects of school climate on school disorder. The Annals of the American Academy of Political and Social Science, 567(1), 88–107.

Whitlock, J. L. (2006). Youth perceptions of life at school: Contextual correlates of school connectedness in adolescence. Applied Developmental Science, 10(1), 13–29. doi:10.1207/s1532480xads1001_2.

Willms, J. D., & Shields, M. (1996). A measure of socioeconomic status for the National Longitudinal Study of Children. Report prepared for Statistics Canada.

Wilson-Genderson, M., & Pruchno, R. (2013). Effects of neighborhood violence and perceptions of neighborhood safety on depressive symptoms of older adults. Social Science and Medicine, 85(0), 43–49. doi:10.1016/j.socscimed.2013.02.028.

Yoshikawa, H., Aber, J. L., & Beardslee, W. R. (2012). The effects of poverty on the mental, emotional, and behavioral health of children and youth: Implications for prevention. American Psychologist, 67(4), 272–284. doi:10.1037/a0028015.
Acknowledgments
This study was funded by the Canadian Institutes of Health Research (CIHR) Grant Number 00309MOP-123079. Data were collected by the Institut de la Statistique du Québec, Direction Santé Québec. The IRSPUM and CRCHUM received infrastructure funding from the Fonds de la Recherche en Santé du Québec. CCL is funded by a Fonds de Recherche du Québec -Société et Culture fellowship. TB is supported by a FRQS Junior 2 Research Scholar award. YK holds a Young Investigator Award from Fonds de Recherche du Québec – Santé and a CIHR Applied Public Health Chair on Urban Interventions and Population Health. MTT was funded by a young investigator fellowship from the IRSPUM and was the recipient of a Young Investigator Award from the National Alliance for Research on Schizophrenia and Depression, the former name of the Brain & Behavior Research Foundation, at the time of the contribution. These funding agencies were not involved in the study design, data analyses, data interpretation or manuscript writing and submission processes. These findings were presented at the 81st conference of the Association Francophone pour le Savoir (ACFAS) and the 5th Annual Workshop of the International Network for Research on Inequalities in Child Health (INRICH).
Author Contributions
CCL conceived the study, performed the statistical analyses, participated in the design and interpretation of the data, and drafted the manuscript; TB participated in the design of the study and in the interpretation of the data, and helped to draft the manuscript; YK participated in data collection and critically revised the manuscript; MTT participated in data collection and critically revised the manuscript; LS participated in the design of the study, interpretation of the data and critically revised the manuscript. All authors read and approved the final manuscript.
Appendix
Appendix
About this article
Cite this article
Côté-Lussier, C., Barnett, T.A., Kestens, Y. et al. The Role of the Residential Neighborhood in Linking Youths' Family Poverty Trajectory to Decreased Feelings of Safety at School. J Youth Adolescence 44, 1194–1207 (2015). https://doi.org/10.1007/s10964-014-0214-8
Received:

Accepted:

Published:

Issue Date:

DOI: https://doi.org/10.1007/s10964-014-0214-8
Keywords