Abstract
Since the 1990's, implementation of zero tolerance policies in schools has led to increased use of school suspension and expulsion as disciplinary techniques for students with varying degrees of infractions. An unintended consequence of zero tolerance policies is that school suspension or expulsion may increase risk for contact with the juvenile justice system. In the present study, we test how forced absence from school via suspension or expulsion and chosen absence from school (truancy) are associated with the likelihood of being arrested. Using month-level data from 6,636 months from a longitudinal study of delinquent adolescents (N = 1,354; 13.5 % female; 41.5 % Black, 33.5 % Hispanic-American, 20.2 % White), we compare the likelihood of being arrested, within individuals, for months when youth were and were not suspended or expelled from school and for months when youth were and were not truant. Finally, we test if these associations were moderated by stable demographic characteristics (sex, race, age, history of problem behaviors) and time-varying contextual factors (peer delinquency, parental monitoring, and commitment to school). Being suspended or expelled from school increased the likelihood of arrest in that same month and this effect was stronger among youth who did not have a history of behavior problems and when youth associated with less delinquent peers. Truancy independently contributed to the likelihood of arrest, but this association was explained by differences in parental monitoring and school commitment. Thus, school disciplinary action places youth at risk for involvement in the juvenile justice system and this may be especially true for less risky youth.
Access options
Buy single article
Instant access to the full article PDF.
US$ 39.95
Tax calculation will be finalised during checkout.
Subscribe to journal
Immediate online access to all issues from 2019. Subscription will auto renew annually.
US$ 119
Tax calculation will be finalised during checkout.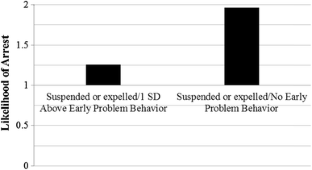 References
American Psychological Association Zero Tolerance Task Force. (2008). Are zero tolerance policies effective in the schools? An evidentiary review and recommendations. American Psychologist, 63(9), 852–862. doi:10.1037/0003-066X.63.9.852.

Arcia, E. (2006). Achievement and enrollment status of suspended students outcomes in a large, multicultural school district. Education and Urban Society, 38(3), 359–369.

Aud, S., KewalRamani, A., Frohlich, L. (2011). America's youth: Transitions to adulthood (NCES 2012-026). U.S. Department of Education, National Center for Education Statistics. Washington, DC: U.S. Government Printing Office.

Belli, R. F. (1998). The structure of autobiographical memory and the event history calendar: Potential improvements in the quality of retrospective reports in surveys. Memory, 6, 383–406. doi:10.1080/741942610.

Bushway, S., & Reuter, P. (2002). Labor markets and crime risk factors. In L. Sherman, D. Farrington, B. Welsh, & D. MacKenzie (Eds.), Evidence-based crime prevention (pp. 198–240). New York: Rutledge Press.

Casella, R. (2003). Zero tolerance policy in schools: Rationale, consequences, and alternatives. Teachers College Review, 105, 872–892.

Caspi, A., & Amell, J. (1994). The reliability of life history calendar data: DPPP technical report no. 94–01. Madison: University of Wisconsin.

Cernkovich, S., & Giordano, P. (1992). School bonding, race and delinquency. Criminology, 30(2), 261–291. doi:10.1111/j.1745-9125.1992.tb01105.x.

Cohen, L.E., & Felson, M. (1979). Social change and crime rate trends: A routine activity approach. American Sociological Review, 44(4), 588–608. http://www.jstor.org/stable/2094589.

Costenbader, V., & Markson, S. (1998). School suspension: A study with secondary school students. Journal of School Psychology, 36(1), 59–82. doi:10.1016/S0022-4405(97)00050-2.

Dupper, D. R., & Bosch, L. A. (1996). Reasons for school suspensions: An examination of data from one school district and recommendations for reducing suspensions. Journal of Just and Caring Education, 2, 140–159.

Felson, M. (1998). Crime and everyday life: Impact and implications for society. Thousand Oaks: Pine Forge.

Forth, A., Kosson, D., & Hare, R. (2003). The hare psychopathy checklist: Youth version, technical manual. New York: Multi-Health Systems, Inc.

Freedman, D., Thornton, A., Camburn, D., Alwin, D., & Young-Demarco, L. (1988). The life history calendar: A technique for collecting retrospective data. Sociological Methodology, 18, 37–68. doi:10.2307/271044.

Gatti, U., Tremblay, R. E., & Vitaro, F. (2009). Iatrogenic effect of juvenile justice. Journal of Child Psychology and Psychiatry, 50, 991–998. doi:10.1111/j.1469-7610.2008.02057.x.

Hemphill, S. A., Tombourou, J. W., Herrenkohl, T. I., McMorris, B. J., & Catalano, R. F. (2006). The effect of school suspensions and arrests on subsequent adolescent antisocial behavior in Australia and the United States. Journal of Adolescent Health, 39(5), 736–744. doi:10.1016/j.jadohealth.2006.05.010.

Henry, K. L. (2007). Who's skipping school: Characteristics of truants in 8th and 10th grade. Journal of School Health, 77(1), 29–35. doi:10.1111/j.1746-1561.2007.00159.x.

Hirschfield, P. (2004). Impact of juvenile justice involvement on educational outcomes. Research report submitted to the U.S. Department of Justice. http://www.ncjrs.gov/pdffiles1/nij/grants/206047.p.

Hjalmarsson, R. (2008). Criminal justice involvement and high school completion. Journal of Urban Economics, 63, 613–630. doi:10.1016/j.jue.2007.04.003.

Lahey, B. B., Van Hulle, C. A., D'Onofrio, B. M., Rodgers, J. L., & Waldman, I. D. (2008). Is parental knowledge of their adolescent offspring's whereabouts and peer associations spuriously associated with offspring delinquency? Journal of Abnormal Child Psychology, 36(6), 807–823. doi:10.1007/s10802-008-9214-z.

Laird, R. D., Pettit, G. S., Dodge, K. A., & Bates, J. E. (2005). Peer relationship antecedents of delinquent behavior in late adolescence: Is there evidence of demographic group differences in developmental processes? Development and Psychopathology, 17(1), 127–144. doi:10.1017/S0954579405050078.

McCrystal, P., Percy, A., & Higgins, K. (2007). Exclusion and marginalisation in adolescence: The experience of school exclusion on drug use and antisocial behaviour. Journal of Youth Studies, 10(1), 35–54. doi:10.1080/13676260701196103.

Mennis, J., & Harris, P. (2011). Contagion and repeat offending among urban juvenile delinquents. Journal of Adolescence, 34(5), 951–963. doi:10.1016/j.adolescence.2010.12.001.

Monahan, K. C., Steinberg, L., & Cauffman, E. (2009). Affiliation with antisocial peers, susceptibility to peer influence, and antisocial behavior during the transition to adulthood. Developmental Psychology, 45(6), 1520–1530. doi:10.1037/a0017417.

Monahan, K. C., Steinberg, L., & Cauffman, E. (2013). Developmental differences in the impact of employment and school on antisocial behavior. Child Development, 84(3), 791–801. doi:10.1111/cdev.12031.

Morrison, G. M., Anthony, S., Storino, M. H., Cheng, J. J., Furlong, M. J., & Morrison, R. L. (2001). School expulsion as a process and an event: Before and after effects on children at risk for school discipline. New Directions for Mental Health Services, 2001(92), 45–71.

Osgood, D. W., Anderson, A. L., & Shaffer, J. N. (2005). Unstructured leisure in the after-school hours. In J. L. Mahoney, R. W. Larson, & J. S. Eccles (Eds.), Organized activities as contexts of development: Extracurricular activities, after-school and community programs (pp. 45–64). Mahwah: Lawrence Erlbaum.

Osgood, D. W., Wilson, J. K., Bachman, J. G., O'Malley, P. M., Johnston, L. D. (1996). Routine activities and individual deviant behavior. American Sociological Review, 61, 635–655. http://www.jstor.org/stable/2096397.

Osher, D., Bear, G. G., Sprague, J. R., & Doyle, W. (2010). How can we improve school discipline? Educational Researcher, 39(1), 48–58. doi:10.3102/0013189X09357618.

Raffaele-Mendez, L. M., & Knoff, H. M. (2003). Who gets suspended from school and why: A demographic analysis of schools and disciplinary infractions in a large school district. Education and Treatment of Children, 26(1), 30–51.

Schubert, C. A., Mulvey, E. P., Steinberg, L., Cauffman, E., Losoya, S. H., Hecker, T., et al. (2004). Operational lessons from the pathways to desistance project. Youth Violence and Juvenile Justice, 2(3), 237–255.

Siennick, S. E., & Osgood, W. (2012). Hanging out with which friends? Friendship-level predictors of unstructured and unsupervised socializing in adolescence. Journal of Research on Adolescence, 22, 645–661. doi:10.1111/j.1532-7795.2012.00812.x.

Skiba, R. J., & Knesting, K. (2001). Zero tolerance, zero evidence: An analysis of school disciplinary practice. In R. J. Skiba & G. G. Noam (Eds.), Zero tolerance: Can suspension and expulsion keep schools safe? (pp. 17–43). San Francisco: Jossey-Bass.

Skiba, R. J., Michael, R. S., Nardo, A. C., & Peterson, R. (2002). The color of discipline: Sources of racial and gender disproportionality in school punishment. The Urban Review, 34(4), 317–342. doi:10.1023/A:1021320817372.

Snyder, H. N., & Sickmund, M. (2006). Juvenile offenders and victims: 2006 national report. Office of juvenile justice and delinquency prevention.

Steinberg, L. (2009). Adolescent development and juvenile justice. Annual Review of Clinical Psychology, 5, 459–485. doi:10.1146/annurev.clinpsy.032408.153603.

Steinberg, L., Lamborn, S. D., Dornbusch, S., & Darling, N. (1992). Impact of parenting practices on adolescent achievement. Authoritative parenting, school involvement, and encouragement to succeed. Child Development, 63, 1266–1281. doi:10.1111/j.1467-8624.1992.tb01694.x.

Stouthamer-Loeber, M., Loeber, R., Wei, E., Farrington, D. P., & Wilkstrom, P. H. (2002). Risk and promotive effects in the explanation of persistent serious delinquency in boys. Journal of Consulting and Clinical Psychology, 70(1), 111–123. doi:10.1037/0022-006X.70.1.111.

Sweeten, G. (2006). Who will graduate? Disruption of high school education by arrest and court involvement. Justice Quarterly, 23, 462–480. doi:10.1080/07418820600985313.

Taylor, M. C., & Foster, G. A. (1986). Bad boys and school suspensions: Public policy implications for black males. Sociological Inquiry, 56, 498–506.

Thornberry, T. P., Lizotte, A. J., Krohn, M. D., Farnworth, M., & Jang, S. J. (1994). Delinquent peers, beliefs, and delinquent behavior: A longitudinal test of interactional theory. Criminology, 32, 47–83. doi:10.1111/j.1475-682X.1986.tb01174.x.

Tobin, T., Sugai, G., & Colvin, G. (1996). Patterns in middle school discipline records. Journal of Emotional and Behavioral Disorders, 4(2), 82–94. doi:10.1177/106342669600400203.

Wald, J., & Losen, D. J. (2003). Defining and redirecting a school-to-prison pipeline. In J. Wald & D. J. Losen (Eds.), New directions for youth development (Vol. 99, pp. 9–15)., Deconstructing the school-to-prison pipeline San Francisco: Jossey-Bass.

Wallace Jr, J. M., Goodkind, S., Wallace, C. M., & Bachman, J. G. (2008). Racial, ethnic, and gender differences in school discipline among US high school students: 1991–2005. The Negro Educational Review, 59(1–2), 47–62.

Wiesner, M., Capaldi, D. M., & Kim, H. K. (2012). General versus specific predictors of male arrest trajectories: A test of the Moffitt and Patterson theories. Journal of Youth and Adolescence, 41(2), 217–228. doi:10.1007/s10964-011-9683-1.
Acknowledgments
The project described was supported by funds from the Office of Juvenile Justice and Delinquency Prevention (2005-JK-FX-K001), National Institute of Justice (2008-IJ-CX-0023), John D. and Catherine T. MacArthur Foundation, William T. Grant Foundation, Robert Wood Johnson Foundation, William Penn Foundation, Centers for Disease Control, National Institute on Drug Abuse Grant R01 DA 019697 05, Pennsylvania Commission on Crime and Delinquency, and the Arizona Governor's Justice Commission. We are grateful for their support. The content of this manuscript, however, is solely the responsibility of the authors and does not necessarily represent the official views of these agencies.
Author contributions
KM conceived of the study, performed the statistical analyses, and coordinated and drafted the manuscript. SV assisted in the conceptual framework and statistical analyses and drafting of the manuscript. JB participated in the conceptual framework of the study, reviewed statistical analyses, and assisted in the drafting of the manuscript. EC was a Principal Investigator on the project and participated in the study design and data collection, provided conceptual insight on the study, and assisted in drafting of the manuscript. All authors have read and approved the final manuscript.
About this article
Cite this article
Monahan, K.C., VanDerhei, S., Bechtold, J. et al. From the School Yard to the Squad Car: School Discipline, Truancy, and Arrest. J Youth Adolescence 43, 1110–1122 (2014). https://doi.org/10.1007/s10964-014-0103-1
Received:

Accepted:

Published:

Issue Date:
Keywords
School suspension

School expulsion

Truancy

Arrest

Zero tolerance