Abstract
Mastery, or the feeling of power or control over one's life, is a vital yet understudied covariate of wellbeing in adolescence and adulthood. The goal of the current study was to explore the effects of demographic characteristics (i.e., sex, age, race/ethnicity, and socioeconomic status (SES)), maternal mastery, and supportive-involved mothering on children's mastery at ages 16–17 years. 855 teens (47.6 % female) and their mothers provided study data as part of the 1992 and 1998 waves of National Longitudinal Survey of Youth-1979 (NLSY-79; 24.1 % Hispanic, 36.6 % Black). Hybrid path models indicated that only maternal parenting during middle childhood was linked directly to levels of children's mastery in middle adolescence; a small portion of the association between parenting and adolescent mastery was attributable to SES. The discussion centers on significance of these findings for future research and theory development.
Access options
Buy single article
Instant access to the full article PDF.
USD 39.95
Price includes VAT (USA)
Tax calculation will be finalised during checkout.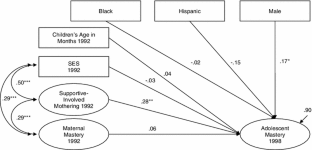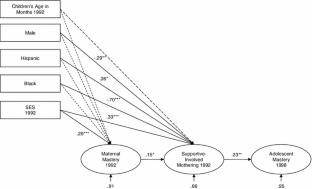 Notes
1.

Information about factor loadings, etc. is available from the first author upon request.
References
Aunola, K., Nurmi, J.-E., Onatsu-Arvilommi, T., & Pulkkinen, L. (1999). The role of parents' self-esteem, mastery-orientation and social background in their parenting styles. Scandinavian Journal of Psychology, 40, 307–317.

Belsky, J. (1984). The determinants of parenting: A process model. Child Development, 55, 83–96.

Ben-Zur, H. (2003). Happy adolescents: The link between subjective well-being, internal resources, and parental factors. Journal of Youth and Adolescence, 32, 67–79.

Bradley, R. H., Corwyn, R. F., McAdoo, H. P., & García Coll, C. (2001). The home environments of children in the United States part I: Variations by age, ethnicity, and poverty status. Child Development, 72, 1844–1867.

Caldwell, B. M., & Bradley, R. H. (1979). Home observation for measurement of the environment. Little Rock, AR: Center for Child Development and Education, University of Arkansas.

Christie-Mizell, C. A., & Erickson, R. J. (2007). Mothers and mastery: The consequences of perceived neighborhood disorder. Social Psychology Quarterly, 70, 340–365.

Conger, R. D., Conger, K. J., Matthews, L. S., & Elder, G. H., Jr. (1999). Pathways of economic influence on adolescent adjustment. American Journal of Community Psychology, 27, 519–541.

Conger, R. D., & Dogan, S. J. (2007). Social class and socialization in families. In J. E. Grusec & P. D. Hastings (Eds.), Handbook of socialization: Theory and research (pp. 433–460). New York: Guilford.

Conger, K. J., Williams, S. T., Little, W. M., Masyn, K. E., & Shebloski, B. (2009). Development of mastery during adolescence: The role of family problem-solving. Journal of Health and Social Behavior, 50, 99–114.

Falci, C. D. (2011). Self-esteem and mastery trajectories in high school by social class and gender. Social Science Research, 40, 586–601.

Goosby, B. J. (2007). Poverty duration, maternal psychological resources, and adolescent socioemotional outcomes. Journal of Family Issues, 28, 1113–1134.

Hoffman, M. A., & Levy-Shiff, R. (1994). Coping and locus of control: Cross-generational transmission between mothers and adolescents. Journal of Early Adolescence, 14, 391–405.

Kline, R. B. (1998). Principles and practice of structural equation modeling. New York: Guilford.

Lewis, S. K., Ross, C. E., & Mirowsky, J. (1999). Establishing a sense of personal control in the transition to adulthood. Social Forces, 77, 1573–1599.

McCartney, K., Burchinal, M. R., & Bub, K. L. (2006). Best practices in quantitative methods for developmentalists. Monographs of the Society for Research in Child Development, 71(3, Serial No. 285).

Mizell, C. A. (1999). African American men's personal sense of mastery: The consequences of the adolescent environment, self-concept, and adult achievement. Journal of Black Psychology, 25, 210–230.

Mott, F. L., Baker, P. C., Ball, D. E., Keck, C. K., & Lenhart, S. N. (1995). The NLSY children 1992: Description and evaluation. Columbus: Ohio State University, Center for Human Resource Research.

Muthén, L. K., & Muthén, B. O. (1998–2007). Mplus user's guide (3rd Ed.). Los Angeles, CA: Muthén & Muthén.

Pearlin, L., & Schooler, C. (1978). The structure of coping. Journal of Health and Social Behaviour, 19, 2–21.

Pudrovska, T., Schieman, S., Pearlin, L. I., & Nguyen, K. (2005). The sense of mastery as a mediator and moderator in the association between economic hardship and health in late life. Journal of Aging and Health, 17, 634–660.

Raffaelli, M., & Crockett, L. J. (2003). Sexual risk taking in adolescence: The role of self-regulation and attraction to risk. Developmental Psychology, 39, 1036–1046.

Sanders, M. R., & Wooley, M. L. (2005). The relationship between maternal self-efficacy and parenting practices: Implications for parent training. Child: Care, Health and Development, 31, 65–73.

Shanahan, M. J., & Bauer, D. J. (2004). Developmental properties of transactional models: The case of life events and mastery from adolescence to young adulthood. Development and Psychopathology, 16, 1095–1117.

Surjadi, F. F., Lorenz, F. O., Wickrama, K. A. S., & Conger, R. D. (2011). Parental support, partner support, and the trajectories of mastery from adolescence to early adulthood. Journal of Adolescence, 34, 619–628.

Zagorsky, J. L., & White, L. (1999). NLSY79 user's guide: A guide to the 1979–1998 national longitudinal survey of youth data. Washington, DC: US Department of Labor.
Author Contributions
K.M. conceived of the study, participated in its design, performed and interpreted the statistical analyses, and drafted the manuscript; Y.S. performed and interpreted the statistical analyses of moderated mediation and helped to draft the manuscript. Both authors read and approved the final manuscript.
Appendix
Appendix
See Table 4.
About this article
Cite this article
Moilanen, K.L., Shen, YL. Mastery in Middle Adolescence: The Contributions of Socioeconomic Status, Maternal Mastery and Supportive-Involved Mothering. J Youth Adolescence 43, 298–310 (2014). https://doi.org/10.1007/s10964-013-9951-3
Received:

Accepted:

Published:

Issue Date:
Keywords
Mastery

Locus of control

Parenting

Mothering

NLSY79

Longitudinal

SES

SEM