Abstract
Rates of STIs, HIV, and pregnancy remain high among adolescents in the US, and recent approaches to reducing sexual risk have shown limited success. Future expectations, or the extent to which one expects an event to actually occur, may influence sexual risk behavior. This prospective study uses longitudinal data from the National Longitudinal Survey of Youth 1997 (n = 3,205 adolescents; 49.8 % female) to examine the impact of previously derived latent classes of future expectations on sexual risk behavior. Cox regression and latent growth models were used to determine the effect of future expectations on age at first biological child, number of sexual partners, and inconsistent contraception use. The results indicate that classes of future expectations were uniquely associated with each outcome. The latent class reporting expectations of drinking and being arrested was consistently associated with the greatest risks of engaging in sexual risk behavior compared with the referent class, which reported expectations of attending school and little engagement in delinquent behaviors. The class reporting expectations of attending school and drinking was associated with having greater numbers of sexual partners and inconsistent contraception use but not with age at first biological child. The third class, defined by expectations of victimization, was not associated with any outcome in adjusted models, despite being associated with being younger at the birth of their first child in the unadjusted analysis. Gender moderated specific associations between latent classes and sexual risk outcomes. Future expectations, conceptualized as a multidimensional construct, may have a unique ability to explain sexual risk behaviors over time. Future strategies should target multiple expectations and use multiple levels of influence to improve individual future expectations prior to high school and throughout the adolescent period.
Access options
Buy single article
Instant access to the full article PDF.
US$ 39.95
Tax calculation will be finalised during checkout.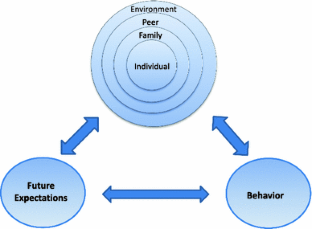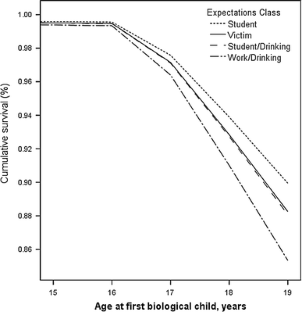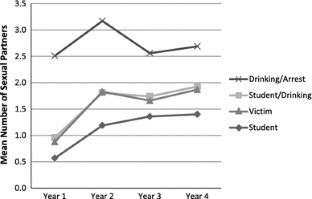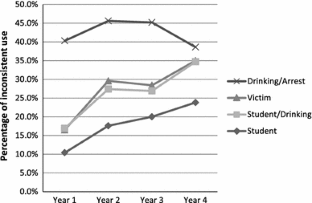 References
Allen, E., Bonell, C., et al. (2007). Does the UK government's teenage pregnancy strategy deal with the correct risk factors? Findings from a secondary analysis of data from a randomised trial of sex education and their implications for policy. Journal of Epidemiology and Community Health, 61(1), 20–27.

Bandura, A. (1991). Social cognitive theory of self-regulation. Organizational Behavior and Human Decision Processes, 50(2), 248–287.

Bandura, A. (2001). Social cognitive theory: An agentic perspective. Annual Review of Psychology, 52(1), 1–26.

Bogg, T., & Roberts, B. (2004). Conscientiousness and health-related behaviors: A meta-analysis of the leading behavioral contributors to mortality. Psychological Bulletin, 130(6), 887–919.

Bronfenbrenner, U. (1989). Ecological systems theory. Six theories of child development. In R. Vasta (Ed.), Annals of child development: A research annual (Vol. 6, pp. 187–249). Greenwich, CT: JAI Press.

Byrnes, J., Miller, D., et al. (1999). Gender differences in risk taking: A meta-analysis. Psychological Bulletin, 125(3), 367–383.

Catalano, R. F., Berglund, L., et al. (2004). Positive youth development in the United States: Research findings on eveluations of positive youth development programs. The ANNALS of the American Academy of Political and Social Science, 591(1), 98–124.

Constantine, M., Erickson, C., et al. (1998). Challenges to the career development of urban racial and ethnic minority youth: Implications for vocational intervention. Journal of Multicultural Counseling and Development, 26(2), 83–95.

DiClemente, R. J., Salazar, L. F., et al. (2007). A review of STD/HIV preventive interventions for adolescents: Sustaining effects using an ecological apporach. Journal of Pediatric Psychology, 32(8), 888–906.

Dubow, E. F., Arnett, M., et al. (2001). Predictors of future expectations of inner-city children: A 9-month prospective study. The Journal of Early Adolescence, 21(1), 5–28.

Duncan, S. C., Duncan, T. E., et al. (2006). Alcohol use from ages 9–16: A cohort sequential latent growth model. Drug and Alcohol Dependence, 81(1), 71–81.

Fisher, H. H., Eke, A. N., et al. (2008). Correlates of HIV-related risk behaviors in African American adolescents from substance-using families: Patterns of adolescent-level factors associated with sexual experience and substance use. Journal of Adolescent Health, 42(2), 161–169.

Freire, E., Gorman, B., et al. (1980). Temporal span, delay gratification, and children's socioeconomic status. The Journal of Genetic Psychology, 137(2), 247–255.

Gavin, L., Catalano, R. F., et al. (2010). A review of positive youth development programs that promote adolescent sexual and reproductive health. Journal of Adolescent Health, 46, S75–S91.

Geronimus, A. (1991). Teenage childbearing and social and reproductive disadvantage: The evolution of complex questions and the demise of simple answers. Family Relations, 40(4), 463–471.

Glanz, K., Rimer, B., et al. (2002). Health behavior and health education. Theory, research, and practice. San Francisco: Wiley.

Guijarro, S., Naranjo, J., et al. (1999). Family risk factors associated with adolescent pregnancy: Study of a group of adolescent girls and their families in Ecuador. Journal of Adolescent Health, 25(2), 166–172.

Gullone, E., & Moore, S. (2000). Adolescent risk-taking and the five factor model of personality. Journal of Adolescence, 23(4), 393–407.

Guttmacher Institute. (2006a). Facts on American teens' sexual and reproductive health. New York, NY: Guttmacher Institute.

Guttmacher Institute. (2006b). Facts on sexually transmitted infections in the United States. New York, NY: Guttmacher Institute.

Guttmacher Institute. (2010). "U.S. Teenage pregnancies, births and abortions: National and state trends and trends by race and ethnicity." Retrieved October 16, 2013, from www.guttmacher.org/pubs/USTPtrends.pdf.

Harris, K., Duncan, G., et al. (2002). Evaluating the role of "Nothing to Lose" attitudes on risky behavior in adolescence. Social Forces, 80(3), 1005–1039.

Hellerstedt, W. L., Fee, R. M., et al. (2001). Pregnancy feelings among adolescents awaiting pregnancy test results. Public Health Reports, 116(Suppl 1), 180–193.

James, S., Montgomery, S., et al. (2009). Sexual risk behaviors among youth in the child welfare system. Children and Youth Services Review, 31(9), 990–1000.

Johnson, B., Scott-Sheldon, L., et al. (2011). Interventions to reduce sexual risk for Human Immunodeficiency Virus in adolescents. Archives of Pediatrics and Adolescent Medicine, 165(1), 77–84.

Lamm, H., Schmidt, R., et al. (1976). Sex and social class as determinants of future orientation (time perspective) in adolescents. Journal of Personality and Social Psychology, 34(3), 317–326.

Little, R. J., & Rubin, D. B. (1987). Statistical analysis with missing data. New York: Wiley.

Manlove, J., Ryan, S. R., et al. (2003). Patterns of contraceptive use within teenagers' first sexual relationships. Perspectives on Sexual and Reproductive Health, 35(8), 246–255.

Martin, J., Hamilton, B., et al. (2012). Births: Final data for 2010. National Vital Statistics Reports, 61(1), 1–100.

McCabe, K., & Barnett, D. (2000a). First comes work, then comes marriage: Future orientation among African American young adolescents. Family Relations, 49(1), 63–70.

McCabe, K., & Barnett, D. (2000b). The relation between familial factors and the future orientation of urban, African American sixth graders. Journal of Child and Family Studies, 9(4), 491–508.

McWhirter, E. H., & McWhirter, B. T. (2008). Adolescent future expectations of work, education, family, and community: Development of a new measure. Youth & Society, 40(2), 182–202.

Meade, C., & Ickovics, J. (2005). Systematic review of sexual risk among pregnant and mothering teens in the USA: Pregnancy as an opportunity for integrated prevention of STD and repeat pregnancy. Social Science and Medicine, 60(4), 661–678.

Meade, C. S., Kershaw, T. S., et al. (2008). The intergenerational cycle of teenage motherhood: An ecological approach. Health Psychology, 27(4), 419–429.

Moore, W., Pedlow, S., et al. (2000). National Longitudinal Survey of Youth 1997 (NLSY97) technical sampling report. Chicago: NORC.

Mullen, P., Ramirez, G., et al. (2002). Meta-analysis of the effects of behavioral HIV prevention interventions on the sexual risk behavior of sexually experienced adolescents in controlled studies in the United States. Journal of Acquired Immune Deficiency Syndromes, 30(Suppl 1), S94–S105.

Muthen, B., & Asparouhov, T. (2002). Latent variable analysis with categorical outcomes: Multiple-group and growth modeling in Mplus. Retrieved June 8, 2010, from http://www.statmodel.com/download/webnotes/CatMGLong.pdf.

Nurmi, J. E. (1991). How do adolescents see their future? A review of the development of future orientation and planning. Developmental Review, 11(1), 1–59.

Oettingen, G., & Mayer, D. (2002). The motivating function of thinking about the future: Expectations versus fantasies. Journal of Personality and Social Psychology, 83(5), 1198–1212.

Pedhazur, E. J. (1997). Multiple regression in behavioral research. New York, NY: Holt, Rinehart & Winston.

Poole, M., & Cooney, G. (1987). Orientations to the future: A comparison of adolescents in Australia and Singapore. Journal of Youth and Adolescence, 17(2), 129–151.

Raffaelli, M., & Koller, S. H. (2005). Future expectations of Brasilian street youth. Journal of Adolescence, 28(2), 249–262.

Sagy, S., & Adwan, S. (2006). Hope in times of threat: The case of Israeli and Palestinian youth. American Journal of Orthopsychiatry, 76(1), 128–133.

Schafer, J. (1997). Analysis of incomplete multivariate data. London: Chapman & Hall.

Seal, D. W., Margolis, A. D., et al. (2003). HIV and STD risk behavior among 18- to 25-year-old men released from U.S. prisons: Provider perspectives. AIDS and Behavior, 7(2), 131–141.

Seginer, R. (2008). Future orientation in times of threat and challenge: How resilient adolescents construct their future. International Journal of Behavioral Medicine, 32(4), 272–282.

Simmons, W. (1979). The relationship between academic status and future expectations among low-income Blacks. Journal of Black Psychology, 6(1), 7–16.

Sipsma, H., Biello, K., et al. (2010). Like father, like son: The intergenerational cycle of teenage fatherhood. American Journal of Public Health, 100(3), 517–524.

Sipsma, H. L., Ickovics, J. R., Lin, H., et al. (2012). Future expectations among adolescents: A latent class analysis. American Journal of Community Psychology, 50, 169–181.

Sipsma, H., Ickovics, J. R., et al. (2011). Adolescent pregnancy desire and pregnancy incidence. Women's Health issues, 21, 110–116.

Small, S., & Luster, T. (1994). Adolescent sexual activity: An ecological, risk-factor approach. Journal of Marriage and Family, 56(1), 181–192.

Soller, B., & Haynie, D. (2013). Structuring the future: Anticipated life events, peer networks, and adolescent sexual behavior. Sociological Inquiry [epub before print]: 1–33.

Tevendale, H. D., Lightfoot, M., et al. (2009). Individual and environmental protective factors for risky sexual behavior among homeless youth: An exploration of gender differences. AIDS and Behavior, 13(1), 154–164.

U.S. Bureau of Labor Statistics. (2009). "Information in the NLSY97: Overview of the NLSY97." Retrieved June 5, 2009, from http://www.bls.gov/nls/nlsy97.htm.

Voydanoff, P., & Donnelly, B. (1990). Adolescent sexuality and pregnancy. Newbury Park: Sage Publications.

The National Campaign to Prevent Teen Pregnancy. (2010). Fast facts: Teen birth rates: How does the United States compare? http://www.thenationalcampaign.org/national-data/teen-pregnancy-birth-rates.aspx. Accessed July 2013.

Young, T., Turner, J., et al. (2004). Examining external and internal poverty as antecedents of teen pregnancy. American Journal of Health Behavior, 28(4), 361–373.
Acknowledgments
This project was supported by Award Number T32MH020031 from the National Institute of Mental Health. The content is solely the responsibility of the authors and does not necessarily represent the official views of the NIMH or the NIH.
Author contributions
H.S. conceived of the analysis, participated in its design, conducted the analysis, participated in the interpretation of the data, and drafted the manuscript; J.I., H.L., and T.K. participated in its design, the interpretation of the data, and helped to draft the manuscript. All authors critically read and made edits to earlier versions of the manuscript and approve its final version.
About this article
Cite this article
Sipsma, H.L., Ickovics, J.R., Lin, H. et al. The Impact of Future Expectations on Adolescent Sexual Risk Behavior. J Youth Adolescence 44, 170–183 (2015). https://doi.org/10.1007/s10964-013-0082-7
Received:

Accepted:

Published:

Issue Date:
Keywords
Adolescent

Future expectations

Sexual risk

Behavior