Abstract
Positive school climates have been found to have favorable effects on adolescent health risk behaviors and mental health outcomes. However, the mechanisms by which teacher behavior may promote such effects in high schools have not been extensively studied. Based on social control theory and a social developmental-contextual model, it was predicted that by respecting students' points of view and decision making capabilities, teachers can help build respectful school climates that encourage healthy norms of behavior. Structural equation modeling with a nationally representative sample of 476 youth ages 14–18 supported the model. Adolescents who reported higher teacher support and regard for student perspectives in their high schools were more likely to see their schools as having respectful climates and healthy norms of drug use which was associated with lower levels of personal drug use. Students in such schools also reported greater social belonging and fewer symptoms of depression.
This is a preview of subscription content,
to check access.
Access this article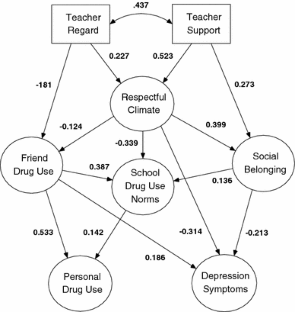 References
Arbuckle, J. L., & Wothke, W. (1999). Amos 4.0 user's guide. Chcago: SPSS.

Battistich, V., Schaps, E., & Wilson, N. (2004). Effects of an elementary school intervention on students' "connectedness" to school and social adjustment during middle school. The Journal of Primary Prevention, 24(3), 243–262.

Bollen, K., & Hoyle, R. (1991). Perceived cohesion: A conceptual and empirical examination. Social Forces, 69, 479–504.

Bonny, A. E., Britto, M. T., Klostermann, B. K., Hornung, R. W., & Slap, G. B. (2000). School disconnectedness: Identifying adolescents at risk. Pediatrics, 106(5), 1017–1021.

Bronfenbrenner, U., & Morris, P. A. (1998). The ecology of developmental processes. In W. Damon, & R. M. Lerner (Eds.), Handbook of child psychology: Theoretical models of human development (5th ed., Vol. 1, pp. 993–1028). New York: Wiley.

Burton, E. M., Stice, E., & Seeley, J. R. (2004). A prospective test of the stress-buffering model of depression in adolescent girls: No support again. Journal of Consulting and Clinical Psychology, 74(4), 689–697.

Cambridge Public Schools (2002). Hooking Kids on School. Unpublished measure.

Catalano, R. F., Haggery, K. P., Oesterle, S., Fleming, C. B., & Hawkins, J. D. (2004). The importance of bonding to school for healthy development: Findings from the social development research group. Journal of School Health, 74(7), 252–261.

CDC. (2003). Public health surveillance for behavioral risk factors in a changing environment. MMWR, 52(RR-9).

Coker, J. K., & Borders, L. D. (2001). An analysis of environmental and social factors affecting adolescent problem drinking. Journal of Counseling & Development, 79, 200–208.

Cook-Sather, A. (2002). Find out what it means to me: Respect. Academic Exchange Quarterly, 6(1), 168–173.

Frei, J. R., & Shaver, P. R. (2002). Respect in close relationships: Prototype definition, self-report assessment, and initial correlates. Personal Relationships, 9, 121–139.

Gottfredson, G. D., & Gottfredson, D. C. (1985). Victimization in schools. New York: Plenum Press.

Gottfredson, G. D., Gottfredson, D. C., Payne A. A., & Gottfredson, N. C. (2005). School climate predictors of school disorder: Results from a national study of delinquency prevention in schools. Journal of Research in Crime and Delinquency, 42(4), 412–444.

Hawkins, J. D., Catalano, R. F., Kosterman, R., Abbott, R., & Hill, K. G. (1999). Preventing adolescent health-risk behaviors by strengthening protection during childhood. Archives of Pediatrics and Adolescent Medicine, 13, 226–234.

Hemmings, A. (2003). Fighting for respect in urban high schools. Teachers College Record, 105(3), 416–437.

Hirschi, T. (1969). Causes of delinquency. Berkeley, CA: University of California Press.

Hu, L., & Bentler, P. M. (1995). Evaluating model fit. In R. H. Hoyle (Ed.), Structural equation modeling: Concepts, issues and applications (pp. 76–99). Newbury Park, CA: Sage.

Johnston, L. D., O'Malley, P. M., Bachman, J. G., & Schulenberg, J. E. (2004). Monitoring the future national survey results on drug use, 1975–2004: Secondary school students (NIH Publication No. 05–5727) (Vol. I) Bethesda, MD: National Institute on Drug Abuse.

Jones, H. M. F. (2002). Respecting respect: Exploring a great deal. Educational Studies, 28(4), 341–352.

Kann, L., Kinchen, S., Williams, B., Ross, J., Lowry, R., & Grunbaum, J. A., et al. (2000). Youth risk behavior surveillance survey—United States 1999. CDC Surveillance Summaries, 49(SS5), 1–96.

Kumar, R., O'Malley, P. M., Johnston, L. D., Schulenberg, J. E., & Bachman, J. G. (2002). Effects of school-level norms on student substance use. Prevention Science, 3(2), 105–124.

Kuperminc, G. P., Leadbeater, B. J., & Blatt, S. J. (2001). School social climate and individual differences in vulnerability to psychopathology among middle school students. Journal of School Psychology, 39(2), 141–159.

Kuperminc, G. P., Leadbeater, B. J., Emmons, C., & Blatt, S. J. (1997). Perceived school climate and difficulties in the social adjustment of middle school students. Applied Developmental Science, 1(2), 76–88.

LaRusso, M. D. (2004). Early adolescents' experiences of risks, relationships, and school atmosphere: An integrated qualitative and quantitative study. Doctoral Dissertation, Harvard University, Cambridge.

LaRusso, M. D., & Selman, R. L. (2003). The influence of development and school atmosphere on adolescents' perceptions of risk and prevention: Cynicism and skepticism. In D. Romer (Ed.), Reducing adolescent risk: Toward an integrated strategy (pp. 113–122). Thousand Oaks: Sage Publications.

LaRusso, M. D., & Selman, R. L. (under review). Students' social awareness and the middle school climate: Implications for early adolescents' risky behaviors and cynical versus skeptical attitudes.

Lawrence-Lightfoot, S. (2000). Respect: An exploration. Cambridge, MA: Perseus Books.

Lewinsohn, P. M., Roberts, R. E., Seeley, J. R., Rhode, P., Gotlib, I. H., & Hops, H. (1994). Adolescent psychopathology: II. Psychosocial risk factors for depression. Journal of Abnormal Psychology, 103, 302–315.

Libbey, H. P. (2004). Measuring student relationships to school: Attachment, bonding, connectedness, and engagement. Journal of School Health, 74(7), 274–283.

Loukas, A., & Robinson, S. (2004). Examining the moderating role of perceived school climate in early adolescent adjustment. Journal of Research on Adolescence, 14(2), 209–233.

Loukas, A., Suzuki, R., & Horton, K. D. (2006). Examining school connectedness as a mediator of school climate effects. Journal of Research on Adolescence, 16(3), 491–502.

Maddox, S. J., & Prinz, R. J. (2003). School bonding in children and adolescents: Conceptualization, assessment, and associated variables. Clinical Child and Family Psychology Review, 6(1), 31–49.

Maruyama, G. M. (1998). Basics of structural equation modeling. Thousand Oaks, CA: Sage.

McNeely, C., & Falci, C. (2004). School connectedness and the transition in and out of health-risk behavior among adolescents: A comparison of social belonging and support. Journal of School Health, 74(7), 284–292.

Nutbeam, D., Smith, C., Moore, L., & Bauman, A. (1993). Warning! School can damage your health: Alienation from school and its impact on health behaviour. Journal of Pediatrics and Child Health, 29(Supplement 1), S25–S30.

Patrick, H., Anderman, L. H., & Ryan, A. M. (2002). Social motivation and the classroom social environment. In C. Midgley (Ed.), Goals, goal structures, and patterns of adaptive learning (pp. 85–108). Mahwah, NJ: Lawrence Erlbaum Associates.

Resnick, M. D., Bearman, P. S., Blum, R. W., Bauman, K. E., Harris, K. E., & Jones, J., et al. (1997). Protecting adolescents from harm: Findings from the national longitudinal study on adolescent health. JAMA, 278(10), 823–832.

Roeser, R. W., & Eccles, J. S. (1998). Adolescents' perceptions of middle school: Relation to longitudinal changes in academic and psychological adjustment. Journal of Research on Adolescence, 8(1), 123–158.

Roeser, R. W., Eccles, J. S., & Sameroff, A. J. (2000). School as a context of early adolescents' academic and social-emotional development: A summary of research findings. The Elementary School Journal, 100(5), 443–471.

Romer, D. (2003). Prospects for an integrated approach to adolescent risk reduction. In D. Romer (Ed.), Reducing adolescent risk: Toward an integrated strategy (pp. 1–8). Thousand Oaks: Sage Publications.

Romer, D., & McIntosh, M. (2005). The roles and perspectives of school mental health professionals in promoting adolescent mental health. In D. L. Evans, E. B. Foa, R. E. Gur, H. Hendin, C. P. O'Brien, M. E. P. Seligman, & B. T. Walsh (Eds.), Treating and preventing adolescent mental health disorders (pp. 579–596). New York: Oxford University Press.

Ryan, A. M., & Patrick, H. (2001). The classroom social environment and changes in adolescents' motivation and engagement during middle school. America Educational Research Journal, 38(2), 437–460.

Samdal, O., Wold, B., Klepp, K. I., & Kannas, L. (2000). Students' perceptions of school and their smoking and alcohol use: A cross-national study. Addiction Research, 8(2), 141–167.

Selman, R. L. (1980). The growth of interpersonal understanding. Orlando: Academic Press.

Selman, R. L. (2003). The promotion of social awareness: Powerful lessons from the partnership of developmental theory and classroom practice. New York: Russell Sage Foundation.

Shultz, L. H., Selman, R. L., & LaRusso, M. D. (2003). The assessment of psychosocial maturity in children and adolescents: Implications for the evaluation of school-based character education programs. Journal of Research in Character Education, 1(2), 67–87.

Simons-Morton, B. G., Crump, A. D., Haynie, D. L., & Saylor, K. E. (1999). Student-school bonding and adolescent problem behavior. Health Education Research, 14(1), 99–107.

Welsh, W. N. (2001). Effects of student and school factors on five measures of school disorder. Justice Quarterly, 18(4), 911–947.

Wilson, D. B., Gottfredson, D. C., & Najaka, S. S. (2001). School-based prevention of problem behavior: A meta-analysis. Journal of Quantitative Criminology, 17, 247–272.
Acknowledgments
During the writing of this article, the first author was supported by an American Psychological Association/Institute of Education Sciences Postdoctoral Education Research Training fellowship under Department of Education, Institute of Education Sciences grant number R305U030004.
About this article
Cite this article
LaRusso, M.D., Romer, D. & Selman, R.L. Teachers as Builders of Respectful School Climates: Implications for Adolescent Drug Use Norms and Depressive Symptoms in High School. J Youth Adolescence 37, 386–398 (2008). https://doi.org/10.1007/s10964-007-9212-4
Received:

Accepted:

Published:

Issue Date:

DOI: https://doi.org/10.1007/s10964-007-9212-4
Keywords