Abstract
This study investigated tenth- and twelfth-grade adolescents' (N ≤ 264) judgments about the acceptability of same-sex peers who varied in terms of their sexual orientation (straight, gay or lesbian) and their conformity to gender conventions or norms in regard appearance and mannerisms or activity. Overall, the results of this study suggest that adolescents' conceptions of the acceptability of their peers are related not just to sexual orientation but also conformity to gender conventions. Both straight and gay or lesbian individuals who were non-conventional in their appearance and mannerisms were rated as less acceptable than individuals who conformed to gender conventions or those who participated in non-conventional activities. Most surprisingly, for boys, the straight individual who was non-conforming in appearance was rated less acceptable than either the gay individual who conformed to gender norms or was gender non-conforming in choice of activity.
This is a preview of subscription content, log in to check access.
Access options
Buy single article
Instant access to the full article PDF.
US$ 39.95
Price includes VAT for USA
Subscribe to journal
Immediate online access to all issues from 2019. Subscription will auto renew annually.
US$ 199
This is the net price. Taxes to be calculated in checkout.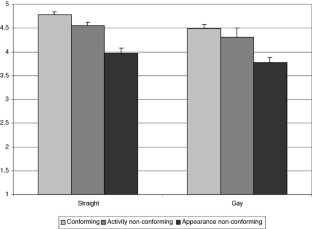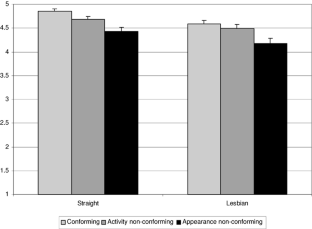 Notes
1.

Because we were not allowed to obtain any demographic information on the students who did not return permission forms we were unable to compare this group to the participants in the study. Additionally, we don't know if the students not returning their forms simply forgot about it or selected themselves out of the study for some other reason. In classes in which teachers required that students return the form as part of their course participation the response rate was close to 100%. In classes where this was not the case the response rate was typically lower than 30%. While this may suggest that a majority of students simply neglected to return their form, it is possible that some students selected themselves out for other reasons, thus, our sample may be biased toward individual students and families who are more accepting of same-sex sexualities.

2.

This study is part of a larger study investigating adolescents' beliefs about homosexuality, their attitudes toward gay and lesbian peers, and their evaluations of the treatment of others based on gender expression and sexual orientation. For additional reports from this study (see Horn and Nucci 2003; Horn, 2004). For a copy of the complete questionnaire, contact the author.
References
American Association of University Women (2001) Hostile hallways: Bullying, teasing, and sexual harassment in school. American Association of University Women Educational Foundation, Washington, D.C

Alfieri T, Ruble D, Higgins T (1996) Gender stereotypes during adolescence: Developmental changes and the transition to junior high school. Dev Psychol 32:1129–1137

Baker J, Fishbein H (1998) The development of prejudice towards gays and lesbians by adolescents. J Homosex 36:89–100

Blumenfield WJ (1992) Squeezed into gender envelopes. In: Blumenfeld WJ (ed) Homophobia: How we all pay the price. Beacon, Boston, MA, pp. 23–38

Bochenek M, Brown A (2001) Hatred in the hallways: Violence and discrimination against lesbian, gay, bisexual, and transgender students in U.S. schools. Human Rights Watch, New York

Carr CL (1998) Tomboy resistance and conformity: Agency in social psychological gender theory. Gender Soc 12:528–553

Carter DB, McCloskey LA (1983–1984) Peers and the maintenance of sex-typed behaviors: The development of children's conceptions of cross gender behavior in their pees. Soc Cognit 2:294–314

Carter DB, Patterson C (1982) Sex-roles as social conventions: The development of children's conceptions of sex-role stereotypes. Dev Psychol 18:812–824

Cianciotto J, Cahill S (2003) Education policy: Issues affecting lesbian, gay, bisexual, and transgender youth. National Gay and Lesbian Task Force Policy Institute, New York

Craig WM, Peplar D, Connolly J, Henderson K (2001) Developmental context of peer harassment in early adolescence: The role of puberty and the peer group. In: Juvonen J, Graham S (eds) Peer harassment in school: The plight of the vulnerable and victimized. Guilford Press, New York, pp. 242–262

Eder D (1985) The cycle of popularity: Interpersonal relations among female adolescents. Sociol Educ 58:154–165

Eder D, Evans C, Parker S (1995) School talk: Gender and adolescent's culture. Rutgers University Press, New Brunswick, NJ

Fine M (1993) Sexuality, schooling, and adolescent females: The missing discourse of desire. In: Weis L, Fine M (eds) Beyond silenced voices: Class, race and gender in United States schools. State University of New York Press, Albany, pp. 75–100

Friend RA (1993) Choices, not closets: Heterosexism and homophobia in schools. In: Weis L, Fine M (eds) Beyond silenced voices: Class, race and gender in United States schools. State University of New York Press, Albany, pp. 209–235

Gay, Lesbian, Straight Education Network (1999) National school climate survey. Gay, Lesbian, and Straight Education Network, New York

Gay, Lesbian, Straight Education Network (2001) National school climate survey. Gay, Lesbian, and Straight Education Network, New York

Herek G (1988) Heterosexuals' attitudes toward lesbians and gay men: Correlates and gender differences. J Sex Res 25:451–477

Horn SS (2003) Adolescents' reasoning about exclusion from social groups. Dev Psychol 39:71–84

Horn SS (2004) Adolescents' peer interactions: Conflict and coordination among personal expression, social norms, and moral reasoning. In: Nucci L (ed) Conflict, contradiction, and contrarian elements in moral development and education. Erlbaum, Mahwah, New Jersey

Horn SS, Killen M, Stangor CS (1999) The influence of group stereotypes on adolescents' moral reasoning. J Early Adolesc 19:98–113

Horn SS, Nucci LP (2003) The multidimensionality of adolescents' beliefs about and attitudes toward gay and lesbian peers in school. Equity Excell Educ 36:1–12

Killen M, Lee-Kim J, McGlothlin H, Stangor C (2002a) How children and adolescents evaluate gender and racial exclusion. Monogr Soc Res Child Dev 67 (4, Serial No. 271)

Killen M, Margie NG, Sinno S (2006) Morality in the context of intergroup relationships. In: Killen M, Smetana J (eds) Handbook for moral development. Lawrence Erlbaum Associates, Inc, Hillsdale, New Jersey, pp. 155–183

Killen M, McGlothlin H, Lee-Kim J (2002b) Between individuals and culture: Individuals' evaluations of exclusion from social groups. In: Keller H, Poortinga Y, Schoelmerich A (eds) Between biology and culture: Perspectives on ontogenetic development. Cambridge University Press, Cambridge, England

Kimmel MS (1994) Masculinity as homophobia: Fear, shame, and silence in the construction of gender identity. In: Brod H, Kauffman M (eds) Theorizing masculinities. Sage series on men and masculinities, vol 5. Sage Publications, Thousand Oaks, CA

Kimmel MS, Mahler M (2003) Adolescent masculinity, homophobia, and violence: Random school shootings, 1982–2001. Am Behav Sci 46:1439–1458

Lobel T (1994) Gender typing and the social perception of gender stereotypic and nonstereotypic behavior: The uniqueness of feminine males. J Pers Soc Psychol 66:379–385

Lobel T, Bempechat J, Gewirtz J, Shoken-Topaz T, Bach E (1993) The role of gender-related information and self-endorsement of traits in preadolescents inferences and judgments. Child Dev 64:1285–1294

Lobel T, Gewirtz J, Pras R, Shoeshine-Rokach M, Ginton R (1999) Preadolescents' social judgments: The relationship between self-endorsement of traits and gender-related judgments of female peers. Sex Roles 40:483-498

Mandel L, Shakeshaft C (2000) Heterosexism in middle schools. In: Lesko N (ed) Masculinities at school. Sage, Thousand Oaks, CA

Marsiglio W (1993) Attitudes toward homosexual activity and gays as friends: A national survey of heterosexual 15- to 19-year-old males. J Sex Res 30:12–17

Martin CL (1990) Attitudes and expectations about children with traditional and non-traditional gender roles. Sex Roles 22:151–165

Nucci L (1996) Morality and the personal sphere of actions. In: Reed E, Turiel E, Brown T (eds) Values and knowledge. Lawrence Erlbaum Associates, Inc, Hillsdale, NJ, pp. 41–60

Nucci L (2001) Education in the moral domain. Cambridge University Press, Cambridge, UK

Nucci L, Becker K, Horn S (2004, June) Assessing the development of adolescent concepts of social convention. Paper presented at the annual meeting of the Jean Piaget Society, Toronto, CA

Pharr S (1992) Homophobia as a weapon of sexism. In: Rothenberg PS (ed) Race, class, and gender in the US: An integrated study. St. Martin's, New York, pp. 431–440

Plummer D (2001) The quest for modern manhood: Masculine stereotypes, peer culture and the social significance of homophobia. J Adolesc 24:15–23

Russell ST (2003) Sexual minority youth and suicide risk. Am Behav Sci 46:1241–1257

Russell S, Franz B, Driscoll A (2001) Same-sex romantic attraction and experiences of violence in adolescence. Am J Public Health 91:903–906

Shakeshaft C, Barber E, Hergenrother MA, Johnson Y, Mandel L, Sawyer J (1995) Peer harassment in schools. In: Curcio JL, First FF (eds) Journal for a just and caring education. Corwin Press, Thousand Oaks, CA, pp. 30–44

Stein N (1995) Sexual harassment in school: The public performance of gendered violence. Harv Educ Rev 65:145–162

Stoddart T, Turiel E (1985) Children's concepts of cross-gender activities. Child Dev 56:1241–1252

Underwood M (2004) Social aggression among girls. Guilford Press, New York

Waxman Report (2004) The content of federally funded abstinence -only education programs. Retrieved, April 21, 2005 from http://www.democrats.reform.house.gov/Documents/20041201102153-50247.pdf

Weis L, Carbonell-Medina D (2000) Learning to speak out in an abstinence-based sex education group: Gender and race work in an urban magnet school. In: Weis L, Fine M (eds) Construction sites: Excavating race, class, and gender among urban youth. The teaching for social justice series. Teachers College Press, New York, pp. 26–49
Acknowledgments
The research reported in this article was supported, in part, by grants from the Wayne F. Placek Fund of the American Psychological Foundation and a University of Illinois at Chicago Campus Research Board awarded to the author and Larry Nucci.
I would like to thank Larry Nucci for his help and feedback on the manuscript. Additionally, I thank Jessica Rosenwein, Anna Kurtz, and Mary Kachiroubas for assistance with data collection and data entry.
Additional information
Associate professor of Educational Psychology and Human Development in the College of Education at the University of Illinois at Chicago. Her research interests are peer exclusion and harassment in adolescence and the ways in which adolescents apply their social and moral knowledge to understanding these issues. Additionally, Dr. Horn is interested in school climate issues for gay, lesbian, and gender non-conforming youth and is currently conducting an evaluation of a school based program aimed at reducing anti-gay, lesbian, bisexual, and transgender violence. She is particularly committed to bringing research-based evidence to bear on issues related to creating safe schools for gay, lesbian, bisexual and transgender youth. Her research has been published in journals such as Developmental Psychology and the Journal of Early Adolescence.
An erratum to this article is available at http://dx.doi.org/10.1007/s10964-007-9176-4.
About this article
Cite this article
Horn, S.S. Adolescents' Acceptance of Same-Sex Peers Based on Sexual Orientation and Gender Expression. J Youth Adolescence 36, 363–371 (2007). https://doi.org/10.1007/s10964-006-9111-0
Received:

Accepted:

Published:

Issue Date:
Keywords
Peer acceptance

Sexual orientation and gender conformity

Social cognition