Abstract
Though academic entrepreneurship has long been associated with technology transfer and more broadly with the passage of the Bayh–Dole Act in 1980, we have little understanding of its emergence as a research field. This paper therefore investigates development of the concept of academic entrepreneurship by studying the use of related keywords in the titles of papers published in the Journal of Technology Transfer (JTT) beginning with volume 1 in 1977. We conclude from our empirical findings that the role of universities in technology transfer has been consistently emphasized in the titles of papers published in the JTT over time, with entrepreneurship emerging more recently as a crucial area of scholarly focus.
Access options
Buy single article
Instant access to the full article PDF.
USD 39.95
Price excludes VAT (USA)
Tax calculation will be finalised during checkout.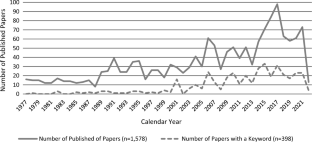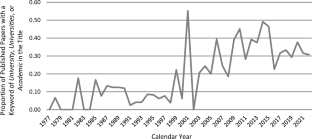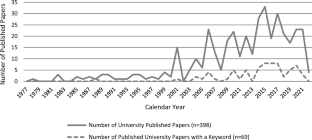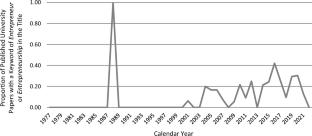 Notes
In the first issue of the JTT, in 1977, the scope of the journal was described in the following way (Editorial, 1977, p. 5): "It is the desire of the editors and the editorial advisory board to have articles in the Journal of Technology Transfer that cover a specific range of interest. There should be some theoretical articles dealing with technology transfer, technology assessment, and technology forecasting. Some articles should concentrate on the pragmatic techniques used to accomplish technology transfer, technology assessment or technology forecasting. A third category, that is believed to be of importance to the Journal of Technology Transfer readers, is case studies of technology assessment or technology forecasting. Both successful and unsuccessful cases need to be documented and reported. Both are important for education and reference. Yet another, a fourth category, that appears to have reader interest, is a narrative description of an organization whose principle product is the main stream of technology transfer, technology assessment or technology forecasting."

The aims and scope of the Journal of Technology Transfer under the new editorial regime has not changed over time. It remains as: "The Journal of Technology Transfer provides an international forum for research on the economic, managerial and policy implication of technology transfer, entrepreneurship, and innovation. The Journal is especially interested in articles that focus on the relationship between the external environment and organizations (governments, public agencies, firms, universities) and their innovation process. The Journal welcomes alternative modes of presentation ranging from broad empirical analyses, to theoretical models, to case studies based on theoretical foundations." See https://www.springer.com/journal/10961/aims-and-scope.

Maria Papadakis of James Madison University was also invited to be an editor.

In this paper, we define the year of publication to be the calendar year of the online publication of a paper. This dating method most closely identifies in time the year relevant to the author's choice of keywords. At the JTT, an author's online published paper occurs within weeks of the paper's final acceptance.

304 of the 1578 published papers used either the term technology transfer(s) or technology-transfer(s), and a number of those paper titles focused on the university. The term Bayh–Dole appeared three times.

We did not expand the sampling population to the end of calendar year 2022 because the date of an online publication was not consistently available.

A time series is stationary if its first two moments do not depend on the time at which it is observed. Stationarity is required, as a regression of nonstationary time series can lead to spurious results which do not reflect a meaningful underlying relationship.

Statistical information on each ADF test is available from the authors on request.
References
Association for University Technology Managers – AUTM (undated). "What Is Tech Transfer?" https://autm.net/about-tech-transfer

Bar-Zakay, S. N. (1971). Policymaking transfer: The need for national thinking laboratories. Policy Sciences, 2, 213–227.

Comptroller General of the United States. (1979). Interagency laboratory use: Current practices and recurring problems. General Accounting Office.

Doctors, S. I. (1969). The role of federal agencies in technology transfer. MIT Press.

Doutriaux, J. (1987). Growth pattern of academic entrepreneurial firms. Journal of Business Venturing, 2, 285–297.

Editorial (1977). Editorial. Journal of Technology Transfer. 1:5.

Etzkowitz, H., Webster, A., Gebhardt, C., & Terra, B. R. G. (2000). The future of the university and the university of the future: Evolution of Ivory tower to entrepreneurial paradigm. Research Policy, 29, 313–330.

Federal Coordinating Council for Science, Engineering, and Technology. (1977). Directory of Federal Technology Transfer. U.S. Government Printing Office.

Federal Laboratory Consortium for Technology Transfer (undated). "What Is Technology Transfer (T2)?" https://federallabs.org/about/what-is-tech-transfer/video-overview

Gilmore, J. S., & Price, C. R. (1969). The environment and the action in technology transfer 1970–1980. Denver Research Institute, University of Denver.

Guerrero, M., & Urbano, D. (2014). Academics' start-up intentions and knowledge filters: An individual perspective of the knowledge Spillover theory of entrepreneurship. Small Business Economics, 43, 57–74.

Guerrero, M., Urbano, D., Fayolle, A., Klofsten, M., & Mian, S. (2016). Entrepreneurial universities: Emerging models in the new social and economic landscape. Small Business Economics, 47, 551–563.

Hayter, C. S. (2016). A trajectory of early-stage spinoff success: The role of knowledge intermediaries within an entrepreneurial university ecosystem. Small Business Economics, 47, 633–656.

Hayter, C. S., & Link, A. N. (2018). Why do knowledge-intensive entrepreneurial firms publish their innovative ideas? Academy of Management Perspectives, 32, 141–155.

Hayter, C. S., Nelson, A. J., Zayed, S., & O'Connor, A. C. (2018). Conceptualizing academic entrepreneurship ecosystems: A review, analysis and extension of the literature. Journal of Technology Transfer, 43, 1039–1082.

Hayter, C. S., Rasmussen, E., & Rooksby, J. H. (2020). Beyond formal university technology transfer: Innovative pathways for knowledge exchange. Journal of Technology Transfer, 45, 1–8.

Jolly, J. A., & Creighton, J. W. (1977). The technology transfer process: Concepts, framework and methodology. Journal of Technology Transfer, 1, 77–91.

Link, A. N., & Oliver, Z. T. (2020). Technology transfer and U.S. Public Sector Innovation. Oxford University Press.

Link, A. N., & van Hasselt, M. (2019). On the transfer of technology from universities: The impact of Bayh–Dole act of 1980 on the institutionalization of university research. European Economic Review, 119, 472–481.

Link, A. N., Siegel, D. S., & van Fleet, D. D. (2011). Public science and public innovation: Assessing the relationship between patenting at U.S. national laboratories and the Bayh–Dole Act. Research Policy, 40, 1094–1099.

Link, A. N., & van Hasselt, M. (2023). Small firms and US technology policy: Social benefits of the US small business innovation research program. Edward Elgar.

Mathisen, M. T., & Rasmussen, E. (2019). The development, growth, and performance of university spin-offs: A critical review. Journal of Technology Transfer, 44, 1891–1938.

Menter, M. (2023). From technological to social innovation: Toward a mission-reorientation of entrepreneurial universities. Journal of Technology Transfer. https://doi.org/10.1007/s10961-023-10002-4

National Academy of Engineering. (1974). Technology transfer and utilization: recommendations for redirecting the emphasis and correcting the Imbalance. U.S. Government Printing Office.

Radko, N., Belitski, M., & Kalyuzhnova, Y. (2023). Conceptualising the entrepreneurial university: The Stakeholder approach. Journal of Technology Transfer, 48, 955–1044.

Roncancio-Marin, J. J., Dentchev, N. A., Guerrero, M., & Diaz-Gonzalez, A. A. (2022). Shaping the social orientation of academic entrepreneurship: An exploratory study. International Journal of Entrepreneurial Behavior & Research, 28, 1679–1701.

Schmitz, A., Urbano, D., Dandolini, G. A., de Souza, J. A., & Guerrero, M. (2017). Innovation and entrepreneurship in the academic setting: A systematic literature review. International Entrepreneurship and Management Journal, 13, 369–395.

Seely, B. E. (2003). Historical patterns in the scholarship of technology transfer. Comparative Technology Transfer and Society, 1, 7–48.

Siegel, D. S., & Wright, M. (2015). Academic entrepreneurship: Time for a rethink? British Journal of Management, 26, 582–595.

Teich, Albert H. (1979). Statement of Dr. Albert H. Teich. in Committee on Science and Technology, The Role of Federal Laboratories in Transferring Technology to State and Local Governments (pp. 1–12), Committee on Science and Technology.

Tuma, E. H. (1987). Technology transfer and economic development: Lessons of history. The Journal of Developing Areas, 21, 403–428.

Urbano, D., & Guerrero, M. (2013). Entrepreneurial Universities: Socioeconomic impacts of academic entrepreneurship in a European Region. Economic Development Quarterly, 27, 40–55.

World Intellectual Property Organization (WIPO, undated). "Intellectual Property and Technology Transfer," https://www.wipo.int/technology-transfer/en/index.html
Ethics declarations
Conflict of interest
The authors have no competing interests to declare that are relevant to the content of this article.
Additional information
Publisher's Note
Springer Nature remains neutral with regard to jurisdictional claims in published maps and institutional affiliations.
Rights and permissions
Springer Nature or its licensor (e.g. a society or other partner) holds exclusive rights to this article under a publishing agreement with the author(s) or other rightsholder(s); author self-archiving of the accepted manuscript version of this article is solely governed by the terms of such publishing agreement and applicable law.
About this article
Cite this article
Hayter, C.S., Link, A.N. & Schaffer, M. Identifying the emergence of academic entrepreneurship within the technology transfer literature. J Technol Transf 48, 1800–1812 (2023). https://doi.org/10.1007/s10961-023-10026-w
Accepted:

Published:

Issue Date:

DOI: https://doi.org/10.1007/s10961-023-10026-w
Keywords
JEL Classification