Abstract
Business incubators have become a popular policy option and economic development intervention tool. However, recent research shows that incubated firms may not benefit significantly from their incubator relationships, and may even be more vulnerable to failure post departure (graduation) from an incubator. These findings suggest that the impact of business incubation on new venture viability may be contingent on the type of support offered by an incubator and attributes of business environments within which incubation services are provided. Incubation services that protect and isolate ventures from key resource dependencies may hinder venture development and increase subsequent vulnerability to environmental demands. Alternatively, incubation services that help ventures connect and align with key resource dependencies are likely to promote firm survival. We propose that incubators vary in the services and resources they offer, and that university incubators typically provide greater connectivity and legitimacy with respect to important contingencies associated with key industry and community stakeholders. This leads us to propose that university affiliation is an important contingency that affects the relationship between firms' participation in incubators and their subsequent performance. The purpose of this study is to evaluate this contingency by examining whether firms graduating from university incubators attain higher levels of post-incubation performance than firms participating in non-university affiliated incubators. We test this by evaluating the performance of a sample of graduated firms associated with the population of university-based incubators in the US contrasted against the performance of a matched cohort of non-incubated firms. The analysis uses an enhanced dataset that tracks the number of employees, sales, and the entry and graduation (departure) points of incubated firms from a university incubation program, so as to delineate the scope of influence of the incubator.
This is a preview of subscription content, log in to check access.
Access options
Buy single article
Instant access to the full article PDF.
US$ 39.95
Price includes VAT for USA
Subscribe to journal
Immediate online access to all issues from 2019. Subscription will auto renew annually.
US$ 99
This is the net price. Taxes to be calculated in checkout.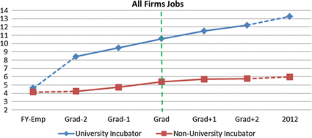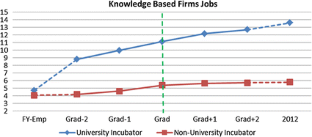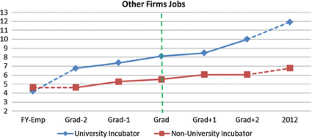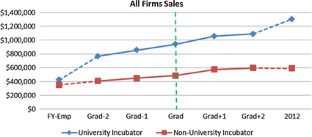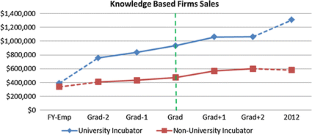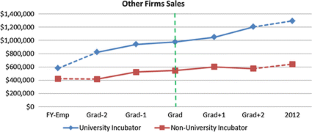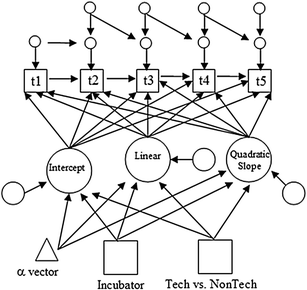 References
Aernoudt, R. (2004). Incubators: Tool for entrepreneurship? Small Business Economics, 23(2), 127–135.

Albert, P., & Gaynor, L. (2001). Incubators-growing up, moving out, a review of the literature. In ARPENT: Annual review of progress in entrepreneurship (Vol. 1, pp. 158).

Amezcua, A. (2010). Boon or Boondoggle? Business incubation as entrepreneurship policy. Unpublished Manuscript.

Amezcua, A., & Ratinho, T. (2012). Entrepreneurial strategic groups: How clustering helps nascent firms. Unpublished Manuscript.

Amezcua, A., Bradley, S., & Wiklund, J. (2011). Cutting the apron string of BUSINESS INCUBATION Firms: Is the Liability of Newness. A liability? Presented at the 2011 Academy of Management Annual Meeting, San Antonio, TX, USA: Academy of Management.

Barney, J. (1991). Firm resources and sustained competitive advantage. Journal of Management, 17(1), 99.

Baum, J., & Oliver, C. (1991). Institutional linkages and organizational mortality. Administrative Science Quarterly, 36(2), 187–218.

Bruneel, J., Ratinho, T., Clarysse, B., & Groen, A. (2012). The evolution of business incubators: Comparing demand and supply of business incubation services across different incubator generations. Technovation, 32(2), 110–121.

DeVol, R., Klowden, K., Bedroussian, A., & Yeo, B. (2009). North America's high-tech economy: The geography of knowledge-based industries. Milken Institute Research Reports.

Douglas, P. (1976). The Cobb–Douglas production function once again: Its history, its testing, and some new empirical values. The Journal of Political Economy, 84(5), 903–915.

Fan, X., & Sivo, S. A. (2007). Sensitivity of fit indices to model misspecification and model types. Multivariate Behavioral Research, 42(3), 509–529.

Kuratko, D., & LaFollette, W. (1987). Small business incubators for local economic development. Economic Development Review, 5(2), 49–55.

Lewis, D., & Edward, J. (2001). Does technology incubation work?: A critical review. USA: Economic Development Administration, US Department of Commerce.

Makadok, R. (2001). Toward a synthesis of the resource based and dynamic capability views of rent creation. Strategic Management Journal, 22(5), 387–401.

Milanov, H., & Fernhaber, S. (2009). The impact of early imprinting on the evolution of new venture networks. Journal of Business Venturing, 24(1), 46–61.

Patton, D. (2013). Realising potential: The impact of business incubation on the absorptive capacity of new technology-based firms. International Small Business Journal, 32(8), 1–21.

Peters, L., Rice, M., & Sundararajan, M. (2004). The role of incubators in the entrepreneurial process. The Journal of Technology Transfer, 29(1), 83–91.

Pfeffer, J., & Salancik, G. R. (2003). The external control of organizations: A resource dependence perspective. Stanford, CA: Stanford University Press.

Roberts, M., & Russo, R. (1999). A student's guide to analysis of variance (1st ed.). New York, NY: Routledge.

Rothaermel, F. T., & Thursby, M. (2005). Incubator firm failure or graduation?: The role of university linkages. Research Policy, 34(7), 1076–1090.

Scillitoe, J., & Chakrabarti, A. (2010). The role of incubator interactions in assisting new ventures. Technovation, 30(3), 155–167.

Shane, S. (2008). The handbook of technology and innovation management. New York, NY: Wiley.

Siegel, D. S., Westhead, P., & Wright, M. (2003). Science parks and the performance of new technology-based firms: a review of recent UK evidence and an agenda for future research. Small Business Economics, 20(2), 177–184.

Singh, J., Tucker, D., & House, R. (1986). Organizational legitimacy and the liability of newness. Administrative Science Quarterly, 31(2), 171–193.

Sivo, S., Fan, X., & Witta, L. (2005). The biasing effects of unmodeled ARMA time series processes on latent growth curve model estimates. Structural Equation Modeling, 12(2), 215–231.

Sivo, S. A., Fan, X., Witta, E. L., & Willse, J. T. (2006). The search for"optimal" cutoff properties: Fit index criteria in structural equation modeling. The Journal of Experimental Education, 74(3), 267–288.

Stinchcombe, A. (1965). Organizations and social structure. Handbook of Organizations, 44(2), 142–193.

Suchman, M. C. (1995). Managing legitimacy: Strategic and institutional approaches. Academy of Management Review, 20(3), 571–610.

Walls, D. (2013). National establishment time-series (NETS) database: 2012 database description. Oakland: Walls & Associates.

Westhead, P. (1997). R&D "inputs" and "outputs" of technology-based firms located on and off Science Parks. R&D Management, 27(1), 45–62.

Westhead, P., Storey, D. J., & Britain, G. (1994). An assessment of firms located on and off science parks in the United Kingdom. London, UK: HM Stationery Office.

Winer, B. (1962). Statistical principles in experimental design. New York, NY: McGraw-Hill.
About this article
Cite this article
Lasrado, V., Sivo, S., Ford, C. et al. Do graduated university incubator firms benefit from their relationship with university incubators?. J Technol Transf 41, 205–219 (2016). https://doi.org/10.1007/s10961-015-9412-0
Keywords
Resource endowments

Economic development

Regional development

Entrepreneur support organizations

Business incubation

University based business incubators

Graduate firms
JEL Classification