Abstract
Little is currently known about the effects of skill composition on academic entrepreneurship. Therefore, in this paper, following Lazear's (J Labor Econ 23(4):649–680, 2005) jack-of-all-trades approach, we study how the composition of a scientist's skills affects his or her intention to become an entrepreneur. Extending Lazear, we examine how the effect of balanced skills is moderated by a balance in working time and peer effects. Using unique data collected from 480 life sciences researchers in Switzerland and Germany, we provide first evidence that scientists with more diverse and balanced skills are more likely to have higher entrepreneurial intentions, but only if they also balance their working time and are in contact with entrepreneurial peers. Therefore, to encourage the entrepreneurial intentions of life scientists, it must be ensured that scientists are exposed to several types of work experience, have balanced working time allocations across different activities, and work with entrepreneurial peers; e.g., collaborating with colleagues or academic scientists who have started new ventures in the past.
Access options
Buy single article
Instant access to the full article PDF.
US$ 39.95
Tax calculation will be finalised during checkout.
Subscribe to journal
Immediate online access to all issues from 2019. Subscription will auto renew annually.
US$ 79
Tax calculation will be finalised during checkout.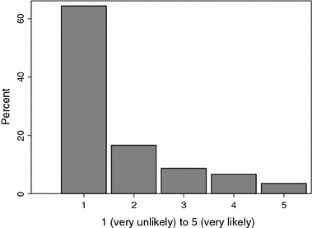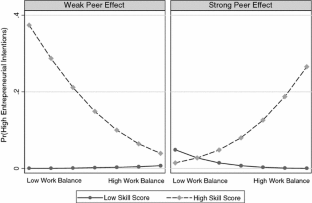 References
Acs, Z. J., Braunerhjelm, P., Audretsch, D. B., & Carlsson, B. (2009). The knowledge spillover theory of entrepreneurship. Small Business Economics, 32, 15–30.

Aiken, L. S., & West, S. G. (1991). Multiple regression: Testing and interpreting interactions. Thousand Oaks, CA: Sage.

Allen, S., Link, A., & Rosenbaum, D. (2007). Entrepreneurship and human capital: Evidence of patenting activity from the academic sector. Entrepreneurship Theory and Practice, 31(4), 937–951.

Ardichvili, A., Cardozo, R., & Ray, S. (2003). A theory of entrepreneurial opportunity identification and development. Journal of Business Venturing, 18(1), 105–123.

Åstebro, T., & Thompson, P. (2011). Entrepreneurs, Jacks of all trades or Hobos? Research Policy, 40(5), 637–649.

Backes-Gellner, U., & Moog, P. (2013). The disposition to become an entrepreneur and the jacks-of-all-trades in social and human capital. Journal of Socio-Economics, 47, 55–72.

Baron, R. A., & Markman, G. D. (2003). Beyond social capital: The role of entrepreneurs' social competence in their financial success. Journal of Business Venturing, 18(1), 41–60.

Baumol, W. J. (2005). Education for innovation: Entrepreneurial breakthroughs vs. corporate incremental improvements. In A. B. Jaffe, J. Lerner, & S. Stern (Eds.), Innovation policy and the economy (pp. 33–56). Cambridge: The MIT Press.

Bercovitz, J., & Feldman, M. (2008). Academic entrepreneurs: Organizational change at the individual level. Organization Science, 19(1), 69–89.

Boehm, D. N., & Hogan, T. (2012). 'A jack of all trades': The role of PIs in the establishment and management of collaborative networks in scientific knowledge commercialization. Journal of Technology Transfer,. doi:10.1007/s10961-012-9273-8.

Boeker, W., & Fleming, B. (2010). Parent firm effects on founder turnover: Parent success, founder legitimacy, and founder tenure. Strategic Entrepreneurship Journal, 4, 252–267.

Bygrave, W. D., & Hofer, C. W. (1991). Theorizing about entrepreneurship. Entrepreneurship Theory and Practice, 16, 13–22.

Campbell, B. A., Ganco, M., April, M. F., & Agarwal, R. (2012). Who leaves, where to, and why worry? Employee mobility, employee entrepreneurship, and effects on source firm performance. Strategic Management Journal, 33(1), 65–87.

Colbeck, C. L. (1998). Merging a seamless blend. How faculty integrate teaching and research. The Journal of Higher Education, 69, 647–670.

Colombo, M. G., D'Adda, D., & Piva, E. (2010). The contribution of university research to the growth of academic start-ups: An empirical analysis. Journal of Technology Transfer, 35, 113–140.

Davidson, P., & Honig, B. (2003). The role of social and human capital among nascent entrepreneurs. Journal of Business Venturing, 18, 301–331.

Ding, W. W. (2011). The impact of founders' professional-education background on the adoption of open science by for-profit biotechnology firms. Management Science, 57(2), 257–273.

Ding, W. W., & Choi, E. (2011). Divergent paths to commercial science: A comparison of scientists' founding and advising activities. Research Policy, 40, 69–80.

Ellison, G., & Fudenberg, D. (1993). Rules of thumb for social learning. Journal of Political Economy, 101(4), 612–643.

Etzkowitz, H. (2003). Research groups as 'quasi-firms': The invention of the entrepreneurial university. Research Policy, 32, 109–121.

Falck, O., Heblich, S., & Luedemann, E. (2010). Identity and entrepreneurship: Do school peers shape entrepreneurial intentions? Small Business Economics, 39(1), 39–59.

Ghiselli, E. E. (1974). Some perspectives for industrial psychology. American Psychologist, 29(2), 80–87.

Göktepe-Hulten, D., & Mahagaonkar, P. (2010). Inventing and patenting activities of scientists: In the expectation of money or reputation? Journal of Technology Transfer, 35, 401–423.

Henkel, M. (2007). Can academic autonomy survive in the knowledge society? A perspective from Britain. Higher Education Research & Development, 26(1), 87–99.

Hills, G. E., Shrader, R. C., & Lumpkin, G. T. (1999). Opportunity recognition as a creative process, frontiers of entrepreneurship research. Wellesley, MA: Babson College.

Horlings, E., & Gurney, T. (2013). Search strategies along the academic lifecycle. Scientometrics, 94, 1137–1160.

Jain, S., George, G., & Maltarich, M. A. (2009). Academics or entrepreneurs? Investigating role identity modification of university scientists involved in commercialization activity. Research Policy, 38(5), 922–935.

Kakati, M. (2003). Success criteria in high-tech new ventures. Technovation, 23, 447–457.

Karlsson, T., & Wigren, C. (2012). Start-ups among university employees: The influence of legitimacy, human capital and social capital. Journal of Technology Transfer, 37(3), 297–312.

Klofsten, M., & Jones-Evans, D. (2000). Comparing academic entrepreneurship in Europe—The case of Sweden and Ireland. Small Business Economics, 14, 299–309.

Krueger, N. F., Reilly, M. D., & Carsrud, A. L. (2000). Competing models of entrepreneurial Intentions. Journal of Business Venturing, 15(5–6), 411–432.

Lam, A. (2007). Knowledge networks and careers: Academic scientists in industry–university links. Journal of Management Studies, 44(6), 993–1016.

Lam, A. (2010). From 'ivory tower traditionalists' to 'entrepreneurial scientists'? Academic scientists in fuzzy university–industry boundaries. Social Studies of Science, 40(2), 307–340.

Lazear, E. P. (2005). Entrepreneurship. Journal of Labor Economics, 23(4), 649–680.

Link, A. N., & Ruhm, C. J. (2011). Public knowledge, private knowledge: The intellectual capital of entrepreneurs. Small Business Economics, 36, 1–14.

Louis, K., Blumenthal, D., Gluck, M., & Stoto, M. (1989). Entrepreneurs in academe: Exploration of behaviors among life scientists. Administrative Science Quarterly, 34(1), 110–131.

Merton, R. C. (1957). Priorities in scientific discovery: A chapter in the sociology of science. American Sociological Review, 22, 635–659.

Murray, F., & Graham, L. (2007). Buying science & selling science: Gender stratification in commercial science. Industrial and Corporal Change Special Issue on Technology Transfer, 16(4), 657–689.

Nanda, R., & Sorensen, J. B. (2010). Workplace peers and entrepreneurship. Management Science, 56(7), 1116–1126.

Ndonzuau, F. D., Pirnay, F., & Surlemont, B. (2002). A stage model of academic spin-off creation. Technovation, 22, 281–289.

Nicolaou, N., & Birley, S. (2003). Academic networks in a trichotomous categorization of university spinouts. Journal of Business Venturing, 18, 333–359.

Nosella, A., & Grimaldi, R. (2009). University-level mechanisms supporting the creation of new companies: An analysis of Italian academic spin-offs. Technology Analysis & Strategic Management, 21(6), 679–698.

OECD. (2005). Understanding economic growth. Paris: OECD.

Parker, S. (2004). The economics of self-employment and entrepreneurship. Cambridge: Cambridge University Press.

Roach, M., & Sauermann, H. (2012). Founders and joiners: The role of individual characteristics, social context, and commercial opportunities in entrepreneurial intentions. Presented at DRUID, CBS, Copenhagen, 2012.

Schmoch, U. (2003). Hochschulforschung und Industrieforschung – Perspektiven der Interaktion. Frankfurt/New York: Campus Verlag.

Shane, S. (2004). Academic entrepreneurship—University spin-offs and wealth creation. Northampton: Edward Elgar.

Silva, O. (2007). The jack-of-all-trades entrepreneur: Innate talent or acquired skill. Economic Letters, 97(2), 118–123.

Stuart, T. E., & Ding, W. W. (2006). When do scientists become entrepreneurs? The social structural antecedents of commercial activity in the academic life sciences. American Journal of Sociology, 112(1), 97–144.

Stuetzer, M., Obschonka, M., & Schmitt-Rodermund, E. (2012). Balanced skills among nascent entrepreneurs. Small Business Economics,. doi:10.1007/s11187-012-9423-2.

Thurik, R. (2003). Entrepreneurship and unemployment in the UK. Scottish Journal of Political Economy, 50(3), 264–290.

Thursby, J. G., & Thursby, M. C. (2002). Who is selling the ivory tower? Sources of growth in university licensing. Management Science, 48(1), 90–104.

Unger, J., Rauch, A., Frese, M., & Rosenbusch, N. (2011). Human capital and entrepreneurial success: A meta-analytical review. Journal of Business Venturing, 26(3), 341–358.

Villanueva, J., Zellmer-Bruhn, M. A., Forbes, D., & Sapienza, H. J. (2005). Entrepreneurial intentions of academic scientist–inventors. Presented at BKERC (Babson College-Kauffman Foundation Entrepreneurship Research Conference), Babson College, Boston, June 2005.

Wagner, J. (2004). Nascent Entrepreneurs. IZA Discussion Paper, No. 1293.

Werner, A., & Moog, P. (2009). Why do employees leave their jobs for self-employment? The impact of entrepreneurial working conditions in small firms. Munich Personal RePEc Archive, Paper No. 18826.
Acknowledgments
Financial support from the Volkswagenstiftung for the "Knowledge and Innovation Transfer from Academia into Industry"-Project is greatly appreciated. The authors thank the participants of the "Academic Policy and the Knowledge Theory of Entrepreneurship"-Conference in Augsburg for their helpful comments. The views expressed herein and all errors are those of the authors.
Appendix
Appendix
See Table 2.
About this article
Cite this article
Moog, P., Werner, A., Houweling, S. et al. The impact of skills, working time allocation and peer effects on the entrepreneurial intentions of scientists. J Technol Transf 40, 493–511 (2015). https://doi.org/10.1007/s10961-014-9347-x
Keywords
Jack-of-all-trades

Entrepreneurial intentions

Academic entrepreneurship

Peer effects
JEL Classification