Abstract
This paper analyzes the association between the number of patenting manufacturing firms and the quantity and quality of relevant university research across UK postcode areas. Our results indicate that different measures of research 'power' and 'excellence' positively affect the patenting of small firms within the same postcode area. Patenting by large firms, in contrast, is unaffected by research undertaken in nearby universities. This confirms the commonly held view that location matters more for small firms than large firms.
This is a preview of subscription content, log in to check access.
Access options
Buy single article
Instant access to the full article PDF.
US$ 39.95
Tax calculation will be finalised during checkout.
Subscribe to journal
Immediate online access to all issues from 2019. Subscription will auto renew annually.
US$ 99
Tax calculation will be finalised during checkout.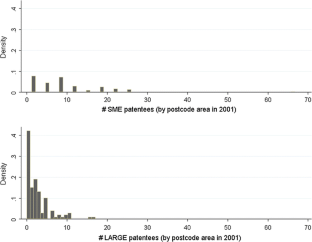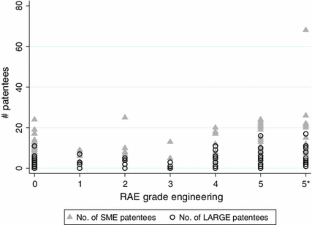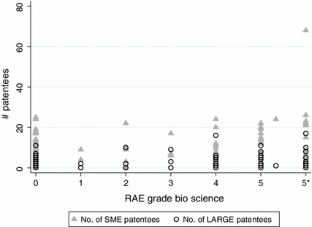 Notes
1.

For a discussion see Greenhalgh and Rogers (2010).

2.

Our small firm category contains both micro firms and small & medium enterprises (SMEs).

3.

The 2001 RAE grade scale is 5* (highest), 5, 4, 3a, 3b, 2 or 1.

4.

However, the data come from the UK Community Innovation Survey and do not allow to infer which firm in the sample has collaborated with which university.

5.

For relevant survey evidence see Graham et al. (2010).

6.

In particular, in the UK even the Office for National Statistics (ONS) does not have comprehensive data on smaller firms which means they cannot produce statistics on the geographical spread of micro and SME R&D activity.

7.

8.

We use the maximum grade received by all universities within a postcode area.

9.

The manufacturing diversification measure is constructed as the sum of squares of the share of 4-digit SIC within postcode areas using the entire population of UK firms which is available in FAME (for more information on FAME see Section 4) It takes a value of 0 if a single 4-digit SIC produces all the output in the postcode, and tends to 1 as diversification increases.

10.

For details on the matching process and further details on the database see Helmers et al. (2011).

11.

Our definition of 'engineering' department includes General Engineering, Chemical Engineering, Electrical and Electronic Engineering, Mechanical, Aeronautical and Manufacturing Engineering and Mineral and Mining Engineering. Our definition of 'biological sciences' department includes Clinical Laboratory Sciences, Pre-Clinical Studies, Anatomy, Physiology, Pharmacology, Pharmacy, Biological Sciences, and Chemistry.

12.

For humanities the period is 1994–2000 but we do not use RAE data on humanities in this paper.

13.

Note that the correlation between patenting in 2001 and subsequent years is very high (when aggregated to the postcode level). The correlation coefficient between 2001 and 2002 is 0.95 and only falls to 0.9 for between 2001 and 2005. This implies that an analysis of the lag structure of any impacts from university research is problematic. For robustness, Table 6 shows results when using patenting in 2005 instead of 2001.

14.

In fact, there are 120 postcode areas in the UK (excluding Northern Ireland). Missing data for the Outer Hebrides, the Shetland Islands, and Kirkwall in the Northern Highlands constrains our sample to 117 postcode areas.

15.

Total assets are used since this variable has the best coverage in FAME. This is due to the fact that in the UK all firms have a legal requirement to report total assets, but not total revenue or employment.

16.

The influence of Birmingham for the regressions on smaller firms has been checked and it does not affect the qualitative results, although the magnitude of coefficients does change.

17.

The fact that we observe a postcode that has a score of 5.333 for biological sciences is due to the fact that a single university submitted several reports which we averaged.

18.

For a detailed description of the test in the context of spatial econometrics, see Anselin (1988).

19.

See also The Guardian (March 2011) and BBC (March 2011).

20.

For a brief overview of the selective research funding allocation in the UK see Adams and Gurney (2010).

21.

For a comprehensive review of the evidence see Research Councils UK (RCUK 2010).
References
Abramovsky, L., & Simpson, H. (2008). Geographic proximity and firm-university innovation linkages: Evidence from Great Britain'. CMPO Working Paper No. 08/200.

Abramovsky, L., Harrison, R., & Simpson, H. (2007). University research and the location of business RandD. Economic Journal, 117(519), C114–C141.

Acs, Z., Audretsch, D. B., & Feldman, M. (1992). Real effects of academic research: Comment. American Economic Review, 82, 363–367.

Adams, J., & Gurney, K. (2010). Funding selectivity, concentration and excellence—how good is the UK's research?. Higher Education Policy Institute HEPI. Available at http://www.hepi.ac.uk/455-1793/Funding-selectivity,-concentration-and-excellence---how-good-is-the-UK's-research.html.

Anselin, L. (1988). Spatial econometrics: Methods and models. Boston: Kluwer Academic Publishers.

Audretsch, D. B., & Feldman, M. P. (1996). R&D spillovers and the geography of innovation and production. American Economic Review, 86(3), 630–640.

Cameron, C., & Trivedi, P. (1986). Econometric models based on count data: Comparisons and applications of some estimators and tests. Journal of Applied Econometrics, 1(1), 29–53.

Fritsch, M., & Slavtchev, V. (2007). Universities and innovation in space. Industry and Innovation, 14(2), 201–218.

Glaeser, E., Kallal, H., Scheinkman, J., & Shleifer, A. (1992). Growth in cities. Journal of Political Economy, 100(6), 1126–1152.

Graham, S., Merges, R. P., Samuelson, P., & Sichelman, T. M. (2010). High technology entrepreneurs and the patent system: Results of the 2008 Berkeley Patent Survey. Berkeley Technology Law Journal, 24(4), 255–327.

Greenhalgh, C., & Rogers, M. (2010). Innovation, intellectual property and economic growth. Princeton: Princeton University Press.

Grilliches, Z. (1979). Issues in assessing the contribution of research and development to productivity growth. The Bell Journal of Economics, 10(1), 92–116.

Hall, B., Helmers, C., Rogers, M., & Sena, V. (2013). The choice between formal and informal intellectual property: A review. Journal of Economic Literature (forthcoming).

HEFCE. (2011). Recurrent grants for 2011–2012. Available at http://www.hefce.ac.uk/media/hefce1/pubs/hefce/2011/1107/11_07_572412.pdf.

Helmers, C., Rogers, M., & Schautschick, P. (2011). Intellectual property at the firm-level in the UK: The Oxford firm-level intellectual property database. Oxford University, Department of Economics Working Paper No. 546.

Helmers, C., & Overman, H. (2013). My precious! The location and diffusion of scientific research: Evidence from the synchrotron diamond light source. LSE SERC Discussion Paper No. 131.

Harhoff, D. (1999). Firm formation and regional spillovers—Evidence from Germany. Economics of Innovation and New Technology, 8, 27–55.

Jacobs, J. (1969). The economy of cities. New York: Vintage.

Jaffe, A. (1989). Real effects of academic research. American Economic Review, 79(5), 957–970.

Jaffe, A., Trajtenberg, M., & Henderson, R. (1993). Geographic localization of knowledge spillovers as evidenced by patent citations. Quarterly Journal of Economics, 108, 577–598.

Kantor, S., & Whalley, A. (2009). Do universities generate agglomeration spillovers? Evidence from endowment value shocks. The Review of Economics and Statistics (forthcoming).

Laursen, K., Reichstein, T., & Salter, A. (2008). Exploring the effect of geographical proximity on industry university collaboration in the UK. Regional Studies (forthcoming).

Research Councils UK (RCUK). (2010). Research for our future: UK business success through public investment in research. Available at http://www.rcuk.ac.uk/Publications/reports/Pages/ResearchforourFuture.aspx.

Wooldridge, J. (2001). Econometric analysis of cross section and panel data. Cambridge: MIT Press.
Acknowledgments
The authors thank two anonymous referees, Simon Burgess, Bruno Cassiman, Ernest Miguelez, Bruno van Pottelsberghe, Julio Raffo, Jon Temple and participants at seminars at Aston University, Bristol University, the EPIP Conference, and the Zvi Griliches Workshop in Barcelona for insightful comments.
Additional information
Mark Rogers—deceased.
Mark Rogers was Formerly at Harris Manchester College, Oxford University.
About this article
Cite this article
Helmers, C., Rogers, M. The impact of university research on corporate patenting: evidence from UK universities. J Technol Transf 40, 1–24 (2015). https://doi.org/10.1007/s10961-013-9320-0
Received:

Accepted:

Published:

Issue Date:
Keywords
Patents

Universities

Knowledge transfer

Spillover

UK
JEL Classification