Abstract
Although principal investigators are key actors in scientific fields, there is little focus on what they actually do in shaping new scientific directions. This paper studies PIs practices to better understand their roles. Our central contribution is to identify the different ways in which PIs engage themselves in science, in implementing four main practices: 'focusing in scientific discipline', 'innovating and problem solving', 'shaping new paradigms and models' and 'brokering science'. While 'focusing' and 'innovating' remain close to project management, 'shaping' and 'brokering' look more like entrepreneurial activities, shaping new horizons, reshaping boundaries between subfields and among organizations. External orientations to how they engage in different practices shapes PIs roles to articulate different worlds and to reshape the boundaries of organizations, knowledge and markets. Studying PIs' practices and their combinations advances our knowledge about their roles in managing the interplay between science policies and scientific agendas more effectively highlighting their role as scientific entrepreneurs.
Access options
Buy single article
Instant access to the full article PDF.
USD 39.95
Price includes VAT (USA)
Tax calculation will be finalised during checkout.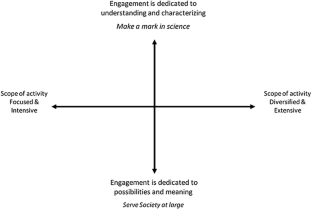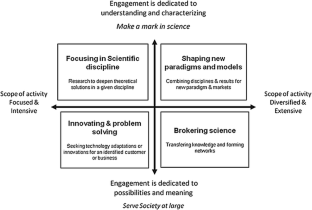 Notes
1.

2.

Provided by EUROPE DIRECT Contact Centre/Research Enquiry Service.
References
Ashforth, B. E., Harrison, S. H., & Corley, K. G. (2008). Identification in organizations: An examination of four fundamental questions. Journal of Management, 34(3), 325–374.

Baldwin, T. T., Bedell, M. D., & Johnson, J. L. (1997). The social fabric of a team-based MBA program: Network effects on student satisfaction and performance. Academy of Management Journal, 40(6), 1369–1397.

Bozeman, B., & Mangematin, V. (2004). Editor's introduction: Building and deploying scientific and technical human capital. Research Policy, 33(4), 565–568.

Callon, M., Lascoumes, P., & Barthe, Y. (2001). Agir dans un monde incertain: Essai sur la démocratie technique. Paris: Seuil.

Carlile, P. (2004). Transferring, translating, and transforming: An integrative framework for managing knowledge across boundaries. Organization Science, 15(5), 555–563.

Catherine, D., Corolleur, C., Carrere, A., & Mangematin, V. (2004). Turning scientific and technological human capital into economic capital: The experience of biotech start-ups in France. Research Policy, 33(4), 631–642.

Crawford, E., LePine, J., & Rich, B. (2010). Linking job demands and resources to employee engagement and burnout: A theoretical extension and meta-analytic test. Journal of Applied Psychology, 95(5), 834–848.

Etzkowitz, H. (2003). Research groups as 'quasi-firms': The invention of the entrepreneurial university. Research Policy, 32(1), 109–121.

Franklin, S. J., Wright, M., & Lockett, A. (2001). Academic and surrogate entrepreneurs in university spin-out companies. The Journal of Technology Transfer, 26(1–2), 127–141.

Frestedt, J. (2008). The role and impact of the principal investigator. Monitor, 31–35.

Jian, S., George, G., & Maltarich, M. (2009). Academics or entrepreneurs? Investigating role identity modification of university scientists involved in commercialisation activity. Research Policy, 38, 922–935.

Joerges, B., & Shinn, T. (Eds.). (2000). Instrumentation between science, state and industry: Between science, state, and industry. Amsterdam: Kluwer Academic Publisher.

Joly, P. B., & Mangematin, V. (1996). Profile of public laboratories, industrial partnerships and organisations of R&D: The dynamics of industrial relationships in a large research organisation. Research Policy, 25(6), 901–922.

Knorr-Cetina, K. D. (1982). Scientific communities or transepistemic arenas of research? A critique of quasi-economic models of science. Social Studies of Science, 12, 101–130.

Lam, A. (2010). From 'Ivory Tower Traditionalists' tp 'Entrepreneurial Scientists'? Academic scientists in fuzzy university-industry boundaries. Social Studies of Science, 40(2), 307–340.

Langlois, R. (2000). Modularity in technology and organisation. Journal of Economic Behavior & Organization, 49(1), 19–47.

Latour, B. (1987). Science in action. Cambridge, MA: Harvard University Press.

Latour, B. (1991). Le métier de directeur de recherche. In D. Vinck (Ed.), Gestion de la recherche. Brussels: De Boeck.

Latour, B., & Woolgar, S. (1979). Laboratory life: The construction of scientific facts. London: Sage.

Mangematin, V. S., Deschamp, B., & Genet, C. (2012). Project management: Learning by violating principles. Advances in Strategic Management, 28, 187–212.

Richard, P. J., & Devinney, T. M. (2005). Modular strategies: B2B technology and architectural knowledge. California Management Review, 47(4), 86–113.

Sabatier, V., Kennard, A., & Mangematin, V. (2012). When technological discontinuities and disruptive business models challenge dominant industry logics: Insights from the drugs industry. Technological Forecasting and Social Change, 79(5), 949–962.

Scarbrough, H., Swan, J., Laurent, S., Bresnen, M., Edelman, L., & Newell, S. (2004). Project-based learning and the role of learning boundaries. Organization Studies, 25(9), 1579–1600.

Shane, S. (2004). Academic entrepreneurship: University spinoffs and wealth creation. Aldershot: Edward Elgar.

Shibayama, S. (2010). Conflict between entrepreneurship and open science, and the transition of scientific norms. The Journal of Technology Transfer, 37(4): 508–531.

Shinn, T. (1988). Hiérarchies des chercheurs et formes de recherche. Actes de la recherche en sciences sociales, 74, 2–22.

Siow, A. (1998). Tenure and other unusual Personnel practices in Academia. Journal of Law Economics and Organization, 14(1), 152–173.

Suchman, M. C. (1995). Managing legitimacy—Strategic and institutional approaches. Academy of Management Review, 20(3), 571–610.

Tippmann, E., Sharkey Scott, P., & Mangematin, V. (2012). Problem solving in MNCs: How local and global solutions are (and are not) created. Journal of International Business Studies, 43(8), 746–771.

Weick, K. (1979). A social psychology of organizing. Reading, MA: Addison-Wesley.

Weick, K. E. (2003). Organizations in action: Social science bases of administrative theory. Administrative Science Quarterly, 48(3), 505–509.

Wenger, R. (1998). Communities of practice: Learning, meaning and identity. Cambridge: Cambridge University Press.

Wright, M., Birley, S., & Mosey, S. (2004). Entrepreneurship and university technology transfer. The Journal of Technology Transfer, 29(3–4), 235–246.
Acknowledgments
We gratefully acknowledge C. Baden-Fuller and B. Bozeman from their helpful and developmental comments on the earlier version. We would also like to express our deep acknowledgements to C. Robin who performed some of the interviews and to Jon Morgan of Paraphrase who helped us refine our arguments. We acknowledge the financial support of ANR (ANR-09-NANO-032-01 and ANR-10-BLANC-1811-02).
About this article
Cite this article
Casati, A., Genet, C. Principal investigators as scientific entrepreneurs. J Technol Transf 39, 11–32 (2014). https://doi.org/10.1007/s10961-012-9275-6
Keywords
Principal investigator

Scientific entrepreneur

Practices

Engagement

Boundary

Career path

Role

Position
JEL Classification