Abstract
Nanoscience and nanotechnology are science fields which are growing extremely dynamically. Germany occupies the top position in Europe and is only second to the US worldwide, which can be attributed to growing research promotion by the state. Based on a general conceptual framework on the role of different types of standards in the research process and technology life cycle, we argue that the market success of nanotechnology applications depends very much on the development of corresponding standards, which clarify not only terminology, measurement and testing methods, but also regulate safety and health aspects and specify interfaces. Other countries, European and international standardisation organisations have launched first initiatives rather early. However, Germany was not able to translate its excellent starting position in nanotechnology research into a leading position in standardisation initiatives, which pave the way for future commercialisation of nanotechnology and also the basis for the next generation of research activities. Based on a survey among stakeholders of German nanotechnology research, we are able not only to provide a first empirical validation of our conceptual model on the role of standards in the research process, but also to define the major problems at the interface between research and standardisation, and finally, to recommend possible options for their solution.
Access options
Buy single article
Instant access to the full article PDF.
US$ 39.95
Tax calculation will be finalised during checkout.
Subscribe to journal
Immediate online access to all issues from 2019. Subscription will auto renew annually.
US$ 79
Tax calculation will be finalised during checkout.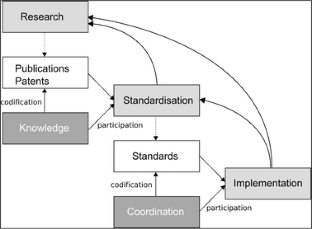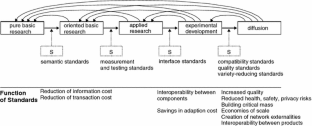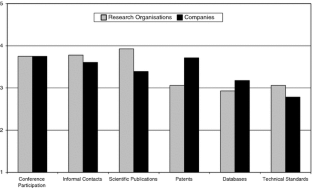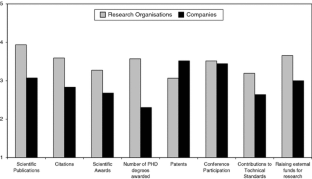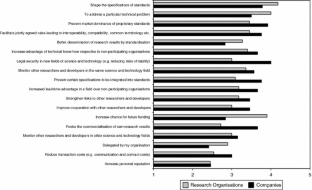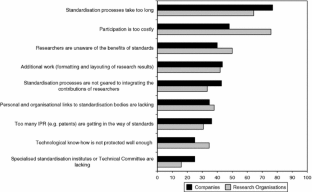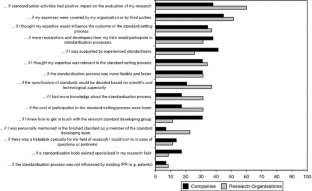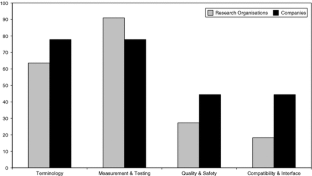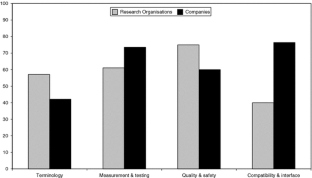 Notes
1.

Blind (2004) presents some empirical evidence of the trade and growth impacts of standards at the sector and macro level.

2.

Certainly not all output from research is relevant as input for standardisation. However, research about questions of terminology, metrology, measurement and testing methods, but also questions about risks for health, safety and the environment and all topics addressing interfaces or compatibility of technological components are in general relevant contents for standardisation processes. Regarding the recursive channel from standards to research, the standards are most relevant for the issues mentioned but in general the basis for all research activities.

3.

According to a global database of organisations active in nanotechnology cited by Hullmann (2006), around 120 institutions were active in nanotechnology in the year 2003, which confirms the relatively large share of our sample in relation to the population of organisations in Germany and therefore also its representativeness.

4.

The respondents actively participating in standardisation attribute a higher relevance to standards.

5.

In a survey among participants of the 5th Framework Programme, the more than 500 respondents ranked the contributions to standards last among all channels of recognition. Therefore, we can assume some sample bias according to our sampling method.

6.

Although we asked for individual motivations, the achievement of companies' or institutes' objectives is also in the interest of the researchers, especially since research budgets depend closely on the overall performance of companies.

7.

It is statistically more important for companies how to get in touch with relevant standardisation bodies than for the representatives of research institutes, whereas for the latter the personal reference as author is statistically more relevant than for companies.

8.

This structure confirms also that German stakeholders in standardisation are not so heavily involved in the future challenges of nanotechnological standardisation, neither quality and safety issues nor (even) compatibility questions. Due to the small sample size, we do not find statistically significant differences between the two stakeholder groups and the four types of standards.

9.

The significance level of a χ2-test is 0.026.

10.

The overview in Table 1 draws on a survey of standardisation activities in nanotechnology conducted by Peter Hatto, expert in nanotechnology standardisation involved in standardisation activities in the UK, at the European and the international level, but is complemented by the few recent activities in Germany.

11.

DKE is the German organisation responsible for elaborating standards and safety specifications in the area of electrical engineering, electronic and information technologies. It is a joint organisation of DIN and VDE (German Association for Electrical, Electronic and Information Technologies), with the juridical responsibility for running DKE being in the hands of VDE.

12.

Using an econometric analysis, Blind (2001) impressively shows the positive influence of standards on the foreign trade success of products in measurement and testing technology, but also in other product groups (Blind 2004) and underlines thereby the objective postulated in the German standardisation strategy (DIN Deutsches Institut für Normung 2004), to safeguard Germany's position as a leading industrial nation through standardisation.

13.

This type of standard also serves to reduce product variety, which then allows cost savings in mass production.

14.

Cf. also the examples of standardisation in the area of information and communication technology in Blind et al. (2004).
References
Bachmann, G. (1998). Innovationsschub aus dem Nanokosmos. VDI-Technologiezentrum (Ed.), Düsseldorf.

Bijker, W. E., Hughes, T. P., & Pinch, T. J. (Eds.). (1993). The social construction of technological systems new directions in the sociology and history of technology. Cambridge, MA, London: MIT Press.

Blind, K. (2001). The impacts of innovations and standards on trade of measurement and testing products: Empirical results of Switzerlands bilateral trade flows with Germany, France and the United Kingdom. Information Economics and Policy, 13, 439–460. doi:10.1016/S0167-6245(01)00047-6.

Blind, K. (2004). The economics of standards—Theory, evidence, policy. Cheltenham: Edward Elgar.

Blind, K. (2006). Explanatory factors for participation in formal standardisation processes: Empirical evidence at firm level. Economics of Innovation and New Technology, 15(2), 157–170.

Blind, K. (2008). Regulatory foresight: Methodologies and selected applications. Technology Forecasting & Social Change, special issue foresight edited by IPTS. http://www.sciencedirect.com

Blind, K., Bührlen, B., Kotz, C., Menrad, K., & Walz, R. (2004). New products and services: Analysis of regulations shaping new markets. European Commission DG Enterprise (Ed.), Luxembourg.

Blind, K., Thumm, N., Bierhals, R., Hossain, K., Iversen, E., van Reekum, R., & Rixius, B. (2002). Study on the interaction between standardisation and intellectual property rights; Final report to the DG Research of the European Commission (EC contract no G6MA-CT-2000–02001), Karlsruhe.

Bozeman, B. (2000). Technology transfer and public policy: A review of research and theory. Research Policy, 29, 627–655. doi:10.1016/S0048-7333(99)00093-1.

Bozeman, B., Laredo, P., & Mangematin, V. (2007). Understanding the emergence and deployment of "nano" S&T. Research Policy, 36(6), 807–812. doi:10.1016/j.respol.2007.02.010.

David, P. A. (1987). Some new standards for the economics of standardisation in the information age. In P. Dasgupta & P. Stoneman (Eds.), Economic policy and technological performance (pp. 206–234). Cambridge: Cambridge University Press.

David, P. A., & Greenstein, S. (1990). The economics of compatibility standards: An introduction to recent research. Economic Innovation and New Technology, 1, 3–41.

David, P. A., & Steinmueller, W. E. (1994). Economics of compatibility standards and competition in telecommunications networks. Information Economics and Policy, 6, 217–241. doi:10.1016/0167-6245(94)90003-5.

DIN Deutsches Institut für Normung (Ed.). (2004). Die Deutsche Normungsstrategie. Berlin, German Standardization Strategy.

European Commission. (2004). Towards a European strategy for nanotechnology, Brussels.

European Commission. (2005). Some figures about nanotechnology R&D in Europe and beyond. Brussels: European Commission, Research DG.

Grant, E. B., & Gregory, M. J. (1997). Tacit knowledge, the life cycle and international manufacturing transfer. Technology Analysis and Strategic Management, 9(2). doi:10.1080/09537329708524276.

Heinze, T. (2004). Nanoscience and nanotechnology in Europe: Analysis of publications and patent applications including comparisons with the United States. Nanotechnology Law & Business, 1(4), 10.

Heinze, T. (2006). Science-based technologies, organisations and networks—Nanotechnology in Germany. Frankfurt/New York: Campus.

Hossain, K., Levoguer, C., & Hunter, A. (1999) Exploiting research results through standardization, NPL Report CMMT(D)219, Teddington, UK.

Hullmann, A. (2006). The economic development of nanotechnology—An indicators based analysis. Brussels: European Commission, DG Research.

Hüsing, B., Bierhals, R., Bührlen, B., Friedewald, M., Kimpeler, S., Menrad, K., Wengel, J., Zimmer, R., & Zoche, P. (2002). Technikakzeptanz und Nachfragemuster als Standortvorteil, Fraunhofer-Institut für Systemtechnik und Innovationsforschung (ISI) (Ed.). Karlsruhe: Fraunhofer ISI.

ISO Technical Management Board (2005) Establishment of a new field of technical activity on Nanotechnologies, 12/2005. Vote/Information-Form, Geneva.

Luhmann, N. (1970) Die Selbststeuerung der Wissenschaft. In N. Luhmann (Ed.), Soziologische Aufklärung. Opladen: Westdeutscher Verlag.

Luther, W., & Malanowski, N. (2004) Das wirtschaftliche Potenzial der Nanotechnologie. Technikfolgenabschätzung, 13(2), 26–33.

Luther, W., Malanowski, N., et al. (2004). Nanotechnologie als wirtschaftlicher Wachstumsmarkt, Innovations und Technikanalyse. Düsseldorf: Zukünftige Technologien Consulting der VDI Technikzentrum GmbH.

Lux Research (Ed.). (2004). Sizing nanotechnology's value chain.

Malsch, I., & Oud, M. (2004). Outcome of the open consultation on the European strategy for nanotechnology.

Rashba, E., Gamota, D., Jamison, D., Miller, J., & Hermann, K. (2004). Standards in nanotechnology. Nanotechnology Law & Business, 1(2), 13.

Swann, G. M. P. (2000). The economics of standardization, final report for standards and technical regulations, Directorate Department of Trade and Industry. Manchester: University of Manchester.

Tassey, G. (2000). Standardization in technology-based markets. Research Policy, 29(4/5), 587–602. doi:10.1016/S0048-7333(99)00091-8.

The American National Standards Institute. (2005). Nanotechnology standards: A foundation for innovation. Nanotechnology Law & Business, 2(3), 269–272.

The Royal Society. (2004). Nanoscience and nanotechnologies: Opportunities and uncertainties, London.
Acknowledgements
The research undertaken for the paper was co-funded by the European Commission under the 6th Framework Programme with the project INTEREST (Integrating Research and Standardisation), contract no. 503 594. Furthermore, the authors thank two anonymous referees for valuable comments to improve the paper. However, the presented content is in the sole responsibility of the authors.
About this article
Cite this article
Blind, K., Gauch, S. Research and standardisation in nanotechnology: evidence from Germany. J Technol Transf 34, 320–342 (2009). https://doi.org/10.1007/s10961-008-9089-8
Keywords
Nanotechnology

Research

Standards

Technology transfer

Policies
JEL Classifications