Abstract
This article reports the findings of a 3-year study of a hybrid professional development program designed to prepare science and mathematics teachers to implement GIS in their classrooms. The study was conducted as part of the CoastLines Innovative Technology Experiences for Students and Teachers project funded by the National Science Foundation. Three cohorts of teachers participated in the program, with each participant receiving 40 h of synchronous online instruction and 80 h of in-person instruction and support over an 8-month period. Data from surveys of participants both before and after the program were analyzed using correlation, ordinary least squares, and ordered logit regression analyses. The analyses revealed increases in the self-reported frequency of GIS use and enhanced feelings of preparation, competence, community, and comfort with respect to using GIS for instruction. A composite index of all impact variables was positively influenced as well. The statistical analyses found a strong relationship between self-reported feelings of preparation and use of GIS. Some support was found for the idea that feelings of competence, community, and comfort were related to the teachers' sense of preparation. The findings suggest that a robust hybrid model of teacher professional development can prepare teachers to use GIS in their classrooms. More research is needed to understand how hybrid models influence the sociopsychological and other dimensions that support teachers' feelings of preparation to implement GIS.
Access options
Buy single article
Instant access to the full article PDF.
USD 39.95
Price excludes VAT (USA)
Tax calculation will be finalised during checkout.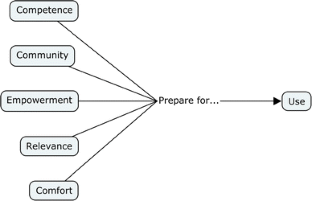 References
Aharony N (2014) The effect of personal and situational factors on LIS students' and professionals' intentions to use e-books. Library & Information Science Research 36(2):106–113. doi:10.1016/j.lisr.2014.01.001

Albion P (1999) Self-efficacy beliefs as an indicator of teachers' preparedness for teaching with technology. In: Proceedings of the 10th international conference of the Society for Information Technology & Teacher Education (SITE 1999). Association for the Advancement of Computing in Education (AACE), pp 1602–1608

Alexander PA (2003) The development of expertise: the journey from acclimation to proficiency. Educational Researcher 32(8):10

Audet RH, Paris J (1997) GIS implementation model for schools: assessing the critical concerns. J Geogr 96(6):293–300. doi:10.1080/00221349708978810

Baker TR, Palmer AM, Kerski JJ (2009) A national survey to examine teacher professional development and implementation of desktop GIS. J Geogr 108(4):12

Baker TR, Battersby S, Bednarz SW, Bodzin AM, Kolvoord B, Moore S et al (2015) A research agenda for geospatial technologies and learning. J Geogr. doi:10.1080/00221341.2014.950684

Bednarz SW (2004) Geographic information systems: a tool to support geography and environmental studies? GeoJournal 60:191–199

Bednarz SW, Audet RH (1999) The status of GIS technology in teacher preparation programs. J Geogr 98(2):60–67

Bednarz RS, Bednarz SW (2004) Geography education: the glass is half full and it's getting fuller. Prof Geogr 56(1):22–27

Boyle B, Lamprianou I, Boyle T (2005) A longitudinal study of teacher change: what makes professional development effective? Report of the second year of the study. Sch Eff Sch Improv 16(1):1–27

Bybee RW, Taylor JA, Gardner A, Van Scotter P, Powell JC et al (2006) The BSCS 5E instructional model: origins and effectiveness. http://www.bscs.org/library/BSCS_5E_Model_Full_Report2006.pdf. Accessed 13 Nov 2006

Campbell DT, Stanley JC (1963) Experimental and quasi-experimental designs for research. Houghton Mifflin, Boston

Challoo L, Green M, Maxwell G (2011) Attitudinal factors contributing to teacher stage of adoption of technology in rural South Texas: a path analysis. J Technol Integr Classr 3(1):33–44

Crocker L, Algina J (1986) Introduction to classical and modern test theory. Holt, Rinehart, and Winston, Orlando

Dede C, Jass Ketelhut D, Whitehouse P, Breit L, McCloskey EM (2009) A research agenda for online teacher professional development. J Teach Educ 60(1):8–19

Demirci A (2008) Evaluating the implementation and effectiveness of GIS-based application in secondary school geography lessons. Am J Appl Sci 5(3):169–178

Donovan MS, Bransford JD (eds) (2005) How students learn: history, mathematics, and science in the classroom. National Research Council, Washington

Dooley, KE (1999) Towards a holistic model for the diffusion of educational technologies: an integrative review of educational innovation studies. Educ Technol Soc, 2(4):34–35

Edwards JR (2001) Ten difference score myths. Organ Res Methods 4(3):265–287

Ertmer PA (2005) Teacher pedagogical beliefs: the final frontier in our quest for technology integration? Educ Tech Res Dev 53(4):25–39. doi:10.1007/BF02504683

Fishman B, Konstantopoulos S, Kubitskey BW, Vath R, Park G, Johnson H et al (2013) Comparing the impact of online and face-to-face professional development in the context of curriculum implementation. J Teach Educ 64(5):426–438. doi:10.1177/0022487113494413

Garet MS, Potter AC, Desimone L, Birman BF, Yoon KS (2001) What makes professional development effective? Results from a national sample of teachers. Am Educ Res J 38(4):915–945

Garrison DR, Anderson T, Archer W (2001) Critical thinking, cognitive presence, and computer conferencing in distance education. Am J Dis Educ 15(1):7–23. doi:10.1080/08923640109527071

Guskey TR, Yoon KS (2009) What works in professional development? Phi Delta Kappan 90(7):495–500

Hauselt P, Helzer J (2012) Integration of geospatial science in teacher education. J Geogr 111(5):163–172. doi:10.1080/00221341.2011.638722

Hew KF, Brush T (2007) Integrating technology into K-12 teaching and learning: current knowledge gaps and recommendations for future research. Educ Tech Res Dev 55(3):223–252

Kerski JJ (2003) The implementation and effectiveness of geographic information systems technology and methods in secondary education. J Geogr 102(3):128–137. doi:10.1080/00221340308978534

Kolvoord R, Uttal D (2012) Does GIS impact students' spatial thinking skills? Paper presented at the ESRI education user conference, San Diego, CA

Kolvoord R, Uttal DH, Meadow NG (2011) Using video case studies to assess the impact of the use of GIS on secondary students' spatial thinking skills. Paper presented at the international conference: spatial thinking and geographic information sciences, University of Tokyo, 14–16 September 2011

Kulo V, Bodzin A (2013) The impact of a geospatial technology-supported energy curriculum on middle school students' science achievement. J Sci Educ Technol 22(1):25–36. doi:10.1007/s10956-012-9373-0

Lee J, Bednarz R (2009) Effect of GIS learning on spatial thinking. J Geogr High Educ 33(2):183–198. doi:10.1080/03098260802276714

MaKinster JG, Trautmann NM (2014) The nature of teacher knowledge necessary for the effective use of geospatial technologies to teach science. In: MaKinster JG, Trautmann NM, Barnett MG (eds) Teaching science and investigating environmental issues with geospatial technology: designing effective professional development for teachers. Springer, Dordrecht, pp 470–496

Meyer JW, Butterick J, Olkin M, Zack G (1999) Geographic education: GIS in the K-12 curriculum: a cautionary note. Prof Geogr 51(4):571–578

Milson AJ, Kerski JJ (2012) Around the world with geospatial technologies. Soc Educ 76(2):105–108

Moon J, Passmore C, Reiser BJ, Michaels S (2014) Beyond comparisons of online versus face-to-face PD: commentary in response to Fishman et al., "Comparing the impact of online and face-to-face professional development in the context of curriculum implementation". J Teach Educ 65(2):172–176

National Research Council (2003) Engaging schools: fostering high school students' motivation to learn. National Academies Press, Washington

National Research Council (2006) Learning to think spatially: GIS as a support system in the K-12 curriculum. National Academies Press, Washington

National Research Council (2012) A framework for K-12 science education: practices, crosscutting concepts, and core ideas. Committee on a conceptual framework for new K-12 science education standards. Board on Science Education, Division of Behavioral and Social Sciences and Education. The National Academies Press, Washington, pp 1–401

Owston R, Wideman H, Murphy J, Lupshenyuk D (2008) Blended teacher professional development: a synthesis of three program evaluations. Internet High Educ 11(3–4):201–210. doi:10.1016/j.iheduc.2008.07.003

Patterson MW, Reeve K, Page D (2003) Integrating geographic information systems into the secondary curricula. J Geogr 102(6):275–281

Penuel WR, Gallagher LP (2009) Preparing teachers to design instruction for deep understanding in middle school earth science. J Learn Sci 18(4):461–508. doi:10.1080/10508400903191904

Penuel WR, Fishman BJ, Yamaguchi R, Gallagher LP (2007) What makes professional development effective? Strategies that foster curriculum implementation. Am Educ Res J 44(4):921–958

Penuel W, McWilliams H, McAuliffe C, Benbow A, Mably C, Hayden M (2009) Teaching for understanding in earth science: comparing impacts on planning and instruction in three professional development designs for middle school science teachers. J Sci Teach Educ 20(5):415–436. doi:10.1007/s10972-008-9120-9

Riggs IM, Enochs LG (1990) Toward the development of an elementary teacher's science teaching efficacy belief instrument. Sci Educ 74(6):625–637. doi:10.1002/sce.3730740605

Rogers E (1995) Diffusion of innovations. Free Press, New York

Sahin I (2008) From the social-cognitive career theory perspective: a college of education faculty model for explaining their intention to use educational technology. J Educ Comput Res 38(1):51–66

Shadish WR, Cook TD, Campbell DT (2002) Experimental and quasi-experimental designs for generalized causal inference. Houghton-Mifflin, Boston

Shin E-K (2006) Using geographic information system (GIS) to improve fourth graders' geographic content knowledge and map skills. J Geogr 105(3):109–120

Shriner M, Clark DA, Nail M, Schlee BM, Libler R (2010) Social studies instruction: changing teacher confidence in classrooms enhanced by technology. Soc Stud 101(2):37–45. doi:10.1080/00377990903283999

Swan K, Shea P, Richardson J, Ice P, Garrison DR, Cleveland-Innes M et al (2008) Validating a measurement tool of presence in online communities of inquiry. E-mentor 2(24):1–12

Trautmann NM, MaKinster JG (2010) Flexibly adaptive professional development in support of teaching science with geospatial technology. J Sci Teach Educ 21(3):351–370. doi:10.1007/s10972-009-9181-4

Van Driel JH, Beijaard D, Verloop N (2001) Professional development and reform in science education: the role of teachers' practical knowledge. J Res Sci Teach 38(2):137–158

Voogt J, Fisser P, Pareja Roblin N, Tondeur J, Van Braak J (2013) Technological pedagogical content knowledge—a review of the literature. J Comput Assist Learn 29(2):109–121. doi:10.1111/j.1365-2729.2012.00487.x

West BA (2003) Student attitudes and the impact of GIS on thinking skills and motivation. J Geogr 102(6):267–274

Wiggins G, McTighe J (2005) Understanding by design, 2nd edn. Association for Supervision and Curriculum Development, Alexandria

Wilder A, Brinkerhoff JD, Higgins TM (2003) Geographic information technologies + project-based science: a contextualized professional development approach. J Geogr 102(6):255–266
Acknowledgments
The authors thank Alejandra Priede for her thoughtful suggestions about the statistical analyses used in this paper. This material was based upon work supported by the National Science Foundation under Grant No. 0737706. Any opinions, findings, and conclusions or recommendations expressed in this material are those of the author(s) and do not necessarily reflect the views of the National Science Foundation.
Electronic supplementary material
Below is the link to the electronic supplementary material.
About this article
Cite this article
Moore, S., Haviland, D., Moore, W. et al. Preparing Teachers to Use GIS: The Impact of a Hybrid Professional Development Program on Teachers' Use of GIS. J Sci Educ Technol 25, 930–946 (2016). https://doi.org/10.1007/s10956-016-9641-5
Published:

Issue Date:

DOI: https://doi.org/10.1007/s10956-016-9641-5
Keywords