Abstract
The goal of this study was to examine pre-service STEM teachers' attitudes and perceptions about the effectiveness of various learning methods and, in specific, the use of information and communication technologies (ICTs) as means for enhancing progressive education. The study was conducted among two cohorts of pre-service STEM teachers (N = 103) in the years 2006 and 2012. The mixed method approach was used to compile data from two research tools: an attitudes questionnaire and reflective drawings. The findings of the first cohort indicated a conflict between the participants' declared attitudes and their perceptions, suggesting a gap between their inclination to coincide with educational trends, and their actual views about the use of ICTs in the classrooms. The first cohort's drawings illustrated ICTs as distractive technologies, ineffective tools for teaching and learning, impairing teachers' authority, and distancing teachers and students from each other. Findings of the second cohort indicated that the gap between attitudes and perceptions was narrowed in such a way that preservice STEM teachers did not see ICTs as threatening, but they perceived them as instrumental for leveraging progressive education.
Access options
Buy single article
Instant access to the full article PDF.
US$ 39.95
Tax calculation will be finalised during checkout.
Subscribe to journal
Immediate online access to all issues from 2019. Subscription will auto renew annually.
US$ 79
Tax calculation will be finalised during checkout.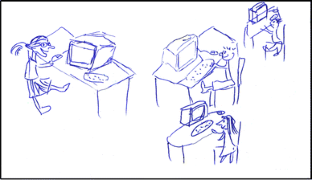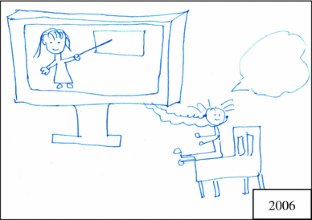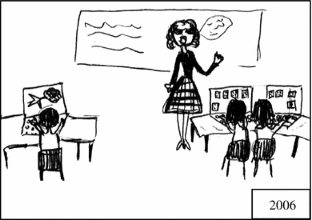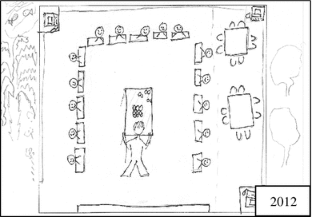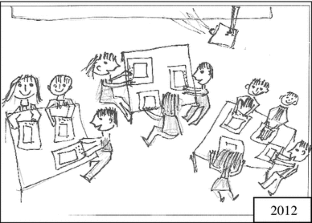 References
Barak M, Dori YJ (2005) Enhancing undergraduate students' chemistry understanding through project-based learning in an IT environment. Sci Educ 89(1):117–139

Barak M, Dori YJ (2009) Enhancing higher order thinking skills among in-service science education teachers via embedded assessment. J Sci Teach Educ 20(5):459–474

Barak M, Dori YJ (2011) Science education in primary schools: is an animation worth a thousand pictures? J Sci Educ Tech 20(5):608–620

Barak M, Rafaeli S (2004) Online question-posing and peer-assessment as means for Web-based knowledge sharing. Int J Hum Comp Stu 61(1):84–103

Barak M, Ziv S (2013) Wandering: a Web-based platform for the creation of location-based interactive learning objects. Com Educ 62:159–170

Barak M, Lipson A, Lerman S (2006) Wireless laptops as means for promoting active learning in large lecture halls. J Res Tech Educ 38(3):245–264

Barak M, Harward J, Kocur G, Lerman S (2007) Transforming an introductory programming course: from lectures to active learning via wireless laptops. J Sci Educ Tech 16(4):325–336

Barak M, Nissim Y, Ben-Zvi D (2011) Aptness between teaching roles and teaching strategies while integrating ICT into science education. Intred J e-Learn Learn Obj 7:305–322

Berenfeld B, Yazijian H (2010) Global lab: harnessing the cloud & social networking for K-12 science learning since 1991. In: Gibson D, Dodge B (eds) Proceedings of society for information technology and teacher education international conference. AACE, Chesapeake, pp 3544–3547

Bransford JD, Brown AL, Cocking RR (2000) How people learn: brain, mind, experience and school (expanded ed.). The National Academy Press, Washington

Bruner JT (1993) Schools for thought. MIT Press, Cambridge

Czerniak CM, Lumpe AT (1996) Relationship between teacher beliefs and science education reform. J Sci Teach Educ 7(4):247–266

David JL (1994) Realizing the promise of technology: a policy perspective. In: Means B (Ed.), Technology and education reform Jossey-Bass, San Francisco, pp 169–190

Davis KS (2003) Change is hard: what science teachers are telling us about reform and teacher learning of innovative practices. Sci Educ 87(1):3–30

Denzin NK, Lincoln YS (eds) (2005) The sage handbook of qualitative research, 3rd edn. Sage Publications, Thousand Oaks

Dewey J (1963) Experience and education. Collier MacMillan, New York (Original work published 1938)

Hammer EF (1980) The clinical application of projective drawings. Charles C. Thomas, Springfield

Hammond LD, Austin K, Orcutt S, Rosso J (2001) The learning classroom: theory into practice: a telecourse for teacher education and professional development. Stanford University School of Education, Stanford, pp 1–22

Hayes W (2007) Progressive education movement: is it still a factor in today's schools. Rowman Littlefield Education, Lanham

Jimoyiannis A (2010) Designing and implementing an integrated technological pedagogical science knowledge framework for science teachers professional development. Comp Educ 55(3):1259–1269

Johnston RB, Onwuegbuzie AJ (2004) Mixed methods research: a research paradigm whose time has come. Educ Res 33:14–26

Katz P, McGinnis JR, Hestness E, Riedinger K, Marbach-Ad G, Dai A, Pease R (2011) Professional identity development of teacher candidates participating in an informal science education internship: a focus on drawings as evidence. Int J Sci Educ 33(9):1169–1197

Law N, Pelgrum WJ, Plomp T (eds) (2008) Pedagogy and ICT use in schools around the world: findings from the IEA SITES 2006 study. CERC-Springer, Hong Kong

Lillard A (2005) Montessori: the science behind the genius. Oxford University Press, New York

Linn MC (1998) Learning and instruction in science education: Taking advantage of technology. In: Tobin D, Frazer B (eds) International handbook of science education. Kluwe, Dordrecht

Midoro V (ed) (2005) European teachers towards the knowledge society. Menabò, Cortona

Niederhauser DS, Stoddart T (2001) Teachers' instructional perspectives and use of educational software. 17:15–31

Oppenheimer T (2003) The flickering mind: the false promise of technology in the classroom and how learning can be saved. Random House, New York

Orland-Barak L, Klein S (2005) The expressed and the realized: mentors' conversation and its realization in practice. Teach Teach Educ 21(4):379–402

Paiget J (1970) The science of education and the psychology of the child. Grossman, NY

Romeo G, Lloyd M, Downes T (2012) Teaching teachers for the future (TTF): building the ICT in education capacity of the next generation of teachers in Australia. Aust J Educ Techn 28(6):949–964

Vygotsky LS (1978) Mind in society: the development of higher psychological processes. University Press Cambridge, Harvard
Acknowledgments
The author wishes to thank Mr. Arthur Kogan and the team of research assistance for helping with the complex data analysis and for corroborating the results of this study.
About this article
Cite this article
Barak, M. Closing the Gap Between Attitudes and Perceptions About ICT-Enhanced Learning Among Pre-service STEM Teachers. J Sci Educ Technol 23, 1–14 (2014). https://doi.org/10.1007/s10956-013-9446-8
Keywords
Attitudes

Drawing analysis

Information and communication technologies

Perceptions

Pre-service STEM teacher

Progressive education