Abstract
Israel suffers from a growing problem of socio-economic gaps between those who live in the center of the country and residents of outlying areas. As a result, there is a low level of accessibility to higher education among the peripheral population. The goal of the Sidney Warren Science Education Center for Youth at Tel-Hai College is to strengthen the potential of middle and high school students and encourage them to pursue higher education, with an emphasis on majoring in science and technology. This study investigated the implementation and evaluation of the enrichment science academic program, as an example of informal learning environment, with an emphasis on physics studies. About 500 students conducted feedback survey after participating in science activities in four domains: biology, chemistry, physics, and computer science. Results indicated high level of satisfaction among the students. No differences were found with respect to gender excluding in physics with a positive attitudes advantage among boys. In order to get a deeper understanding of this finding, about 70 additional students conducted special questionnaires, both 1 week before the physics enrichment day and at the end of that day. Questionnaires were intended to assess both their attitudes toward physics and their knowledge and conceptions of the physical concept "pressure." We found that the activity moderately improved boys' attitudes toward physics, but that girls displayed decreased interest in and lower self-efficacy toward physics. Research results were used to the improvement of the instructional design of the physics activity demonstrating internal evaluation process for effective intervention.
Access options
Buy single article
Instant access to the full article PDF.
US$ 39.95
Tax calculation will be finalised during checkout.
Subscribe to journal
Immediate online access to all issues from 2019. Subscription will auto renew annually.
US$ 79
Tax calculation will be finalised during checkout.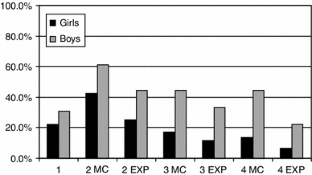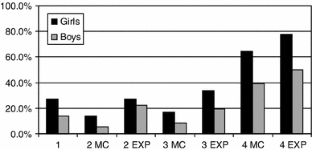 References
Abrahams I (2009) Does practical work really motivate? A study of the affective value of practical work in secondary school science. Int J Sci Educ 31:2335–2353

Anderson D, Lucas KB, Ginns IS, Dierking LD (2000) Development of knowledge about electricity and magnetism during a visit to a science museum and related post-visit activities. Sci Educ 84:658–679

Baram-Tsabari A, Yarden A (2010) Quantifying the gender gap in science interests. Int J Sci Math Educ 9:523–550

Baron ME (2011) Designing internal evaluation for a small organization with limited resources. In: Volkov BB, Baron ME (eds) Internal evaluation in the 21st century. New directions for evaluation, vol 132. Jossey-Bass, San Francisco, CA, pp 87–99

Beatty ID, Gerace WJ (2009) Technology-enhanced formative assessment: a research-based pedagogy for teaching science with classroom response technology. J Sci Educ Technol 18:146–162

Bozdoğan AE, Yalçın N (2009) Determining the influence of a science exhibition center training program on elementary pupils' interest and achievement in science. Eurasia J Math Sci Technol Educ 5(1):27–34

Cavallo AML, Laubach T (2001) Students' science perceptions and enrollment decisions in differing learning cycle classrooms. J Res Sci Teach 38:1029–1062

Clough E, Driver R (1986) A study of consistency in the use of students' conceptual framework across different task contexts. Sci Educ 70:473–496

Detterman DK (1993) The case for the prosecution: transfer as an epiphenomenon. In: Detterman DK, Sternberg RJ (eds) Transfer on trial: intelligence, cognition and instruction. Ablex, Norwood, pp 1–24

Dori YJ, Herscovitz O (1999) Question—posing capability as an alternative evaluation method: analysis of an environmental case study. J Res Sci Teach 36:430–441

Dori YJ, Sasson I (2008) Chemical understanding and graphing skills in an honors case-based computerized chemistry laboratory environment: the value of bidirectional visual and textual representations. J Res Sci Teach 45:219–250

Falk JH, Dierking LD (1992) The museum experience. Whalesback Books, Washington

Falk JH, Scott C, Dierking LD, Rennie LJ, Cohen Jones M (2004) Interactives and visitor learning. Curator 47:171–198

Fassoulopoulos G, Kariotoglou P, Koumaras P (2003) Consistent and inconsistent pupils' reasoning about intensive quantities: the case of density and pressure. Res Sci Educ 33:71–87

Flores F, Gallegos L (1998) Partial possible models: an approach to interpret students' physical representation. Sci Educ 82:15–29

Gray DO (2008) Making team science better: applying improvement-oriented evaluation principles to evaluation of cooperative research centers. In: Coryn CLS, Scriven M (eds) Reforming the evaluation of research. New directions for evaluation, vol 118. Jossey-Bass, San Francisco, CA, pp 73–87

Häussler P, Hoffmann L (2002) An intervention study to enhance girls' interest, self-concept, and achievement in physics classes. J Res Sci Teach 39:870–888

Hoffmann L (2002) Promoting girls' interest and achievement in physics classes for beginners. Learn Instr 12:447–465

Jarvis T, Pell A (2002) Effect of the challenger experience on elementary children's attitudes to science. J Res Sci Teach 39:979–1000

Jarvis T, Pell A (2005) Factors influencing elementary school children's attitudes toward science before, during, and after a visit to the UK National Space Centre. J Res Sci Teach 42:53–83

Jones J, Young DJ (1995) Perceptions of the relevance of mathematics and science: an Australian study. Res Sci Educ 25:3–18

Kariotogloy P, Koumaras P, Psillos D (1993) A constructivist approach for teaching fluid phenomena. Phys Educ 28:164–169

Kelly A (ed) (1987) Science for girls?. Open University Press, Milton Keynes

Kessels U, Hannover B (2008) When being a girl matters less: accessibility of gender-related self-knowledge in single-sex and coeducational classes and its impact on students' physics-related self-concept of ability. Br J Educ Psychol 78:273–289

Krapp A, Prenzel M (2011) Research on interest in science: theories, methods, and findings. Int J Sci Educ 33:27–50

Lee YC (2007) From a museum demonstration to problem solving: promoting the construction of concepts. Phys Educ 42:378–384

Linn MC (1980a) Free choice experiences: how do they help children learn? Sci Educ 64:237–248

Linn MC (1980b) When do adolescents reason? Paneur J Sci Educ 2:429–440

Linn MC, Eylon B (2000) Knowledge integration and displaced volume. J Res Sci Teach 9:287–310

Linn MC, Pulos S (1983) Male-female differences in predicting displaced volume: strategy usage, aptitude relationships and experience influences. J Educ Psychol 75:86–96

Llorens-Molina JA, Llorens de Jaime JM, Berzosa IS (2012) Analysis of students' generated questions in laboratory learning environments. J Technol Sci Educ 2(1):46–55

Lorenzo M, Crouch CH, Mazur E (2006) Reducing the gender gap in the physics classroom. Am J Phys 74:118–122

Loverude ME, Kautz CH, Heron PRL (2003) Helping students develop an understanding of Archimedes' principle. I. Research on student understanding. Am J Phys 7:1178–1187

Martin AJ (2001) The student motivation scale: a tool for measuring and enhancing motivation. Aust J Guidance Couns 11:1–20

Mathison S (2011) Internal evaluation, historically speaking. In: Volkov BB, Baron ME (eds) Internal evaluation in the 21st century. New directions for evaluation, vol 132. Jossey-Bass, San Francisco, CA, pp 13–23

Miyake A, Kost-Smith LE, Finkelstein ND, Pollock SJ, Cohen GL, Ito TA (2010) Reducing the gender achievement gap in college science: a classroom study of values affirmation. Science 330:1234–1237

Newcomer KE, Hatry HP, Wholey JS (1994) Meeting the need for practical evaluation approaches: an introduction. In: Wholey JS, Hatry HP, Newcomer KE (eds) Handbook of practical program evaluation. Jossey-Bass, San Francisco, pp 1–10

Osborne J, Simon S, Collins S (2003) Attitudes towards science: a review of the literature and its implications. Int J Sci Educ 25:1049–1079

Patton MQ (1997) Utilization-focused evaluation: the new century text, 3rd edn. Sage, Thousand Oaks

Pedretti E (2002) T. Kuhn meets T. Rex: critical conversations and new directions in science centres and science museums. Stud Sci Educ 37:1–42

Pintrich PR, Smith DAF, Garcia T, McKeachie WJ (1991) Motivated strategies for learning questionnaire. Educ Psychol Measur 53(3):801–813

Price S, Hein GE (1991) More than a field trip: science programs for elementary school groups at museums. Int J Sci Educ 13:505–519

Raghavan K, Sartoris ML, Glaser R (1998) Why does it go up? The impact of the MARS curriculum as revealed through changes in student explanations of a helium balloon. J Res Sci Teach 35:547–567

Rennie LJ, McLafferty TP (1995) Using visits to interactive science and technology centers, museums, aquariua, and zoos to promote learning in science. J Sci Teach Educ 6:175–185

Rivet AE, Krajcik JS (2004) Achieving standards in urban system reform: an example of a sixth grade project-based science curriculum. J Res Sci Teach 41:669–692

Rosenfeld M, Rosenfeld S (2006) Understanding teacher responses to constructivist learning environments: challenges and resolutions. Sci Educ 90:385–399

Salomon G, Globerson T (1987) Skill may not be enough: the role of mindfulness in learning and transfer. Int J Educ Res 11(6):623–637

Sasson I, Dori YJ (2011) Transfer skills and their case-based assessment. In: Fraser BJ, Tobin KG, McRobbie CJ (eds) The second international handbook of science education. Springer, Dordrecht, pp 691–711

Selçuk GS, Şahin M, Açıkgöz K (2011) The effects of learning strategy instruction on achievement, attitude, and achievement motivation in a physics course. Res Sci Educ 41:39–62

Sere MG (1982) A study of some frameworks used by pupils aged 11 to 13 years in the interpretation of air pressure. Eur J Sci Educ 2:299–309.

Shepardson DP, Moje EB (1994) The nature of fourth graders' understandings of electric circuits. Sci Educ 78:489–514.

Siegel MA, Ranney M (2003) Developing the changes in attitude about the relevance of science (CARS) questionnaire and assessing two high school science classes. J Res Sci Teach 40:757–775

Simon S, Johnson S, Cavellt S, Parsons T (2011) Promoting argumentation in primary science contexts: an analysis of students' interactions in formal and informal learning environments. J Comput Assist Learn 28:440–453

Smith MF (1989) Evaluability assessment a practical approach. Kluwer, Boston

Snir J, Smith C (1995) Constructing understanding in the science classroom: integrating laboratory experiments, student and computer models, and class discussion in learning scientific concepts. In: Perkins DN, Schwartz JL, West MM, Wiske MS (eds) Software goes to school: teaching for understanding with new technologies. Oxford University Press, New York, pp 233–254

Trevisan MS (2007) Evaluability assessment from 1986 to 2006. Am J Eval 28(3):290–303

Trumper R (2006) Factors affecting junior high school students' interest in physics. J Sci Educ Technol 15:47–58

Volkov BB, Baron ME (2011) Issues in internal evaluation: implications for practice, training, and research. In: Volkov BB, Baron ME (eds) Internal evaluation in the 21st century. New directions for evaluation, vol 132. Jossey-Bass, San Francisco, CA, pp 101–111

Von Glasersfeld E (1991) Knowing without metaphysics: aspects of the radical constructivist position. In: Steier F (ed) Research and reflecting. Sage, London, pp 12–29

Zimmerman BJ (2000) Self-efficacy: an essential motive to learn. Contemp Educ Psychol 25:82–91
Acknowledgments
We would like to thank Mr. Omer Moussaffi for his assistance.
Appendix
Appendix
Question 1
Imagine you are drinking water using a straw. Please explain what causes the water to flow upwards in the straw.
Question 2
Two different vessels are filled with water. The water depth is equal in both vessels. Two small cubes are placed in the bottom of the vessels. On which cube the pressure is higher?
a.

On the cube in vessel A

b.

On the cube in vessel B

c.

The pressure is equal on both cubes

d.

On the cube in the vessel that has more water in it
Please explain your answer.
Question 3
A U-shaped glass tube is filled with water. Initially, the water level is the same in both sides. One side is closed with a cork. Water is added through the open side. Then we wait until the water is still. What will be the water level on both sides then?
a.

The water level will be the same in both sides

b.

The water level in the open side will be higher

c.

The water level in the closed side will be higher

d.

The water level in the closed side will remain as before. The water level in the open side will be higher
Please explain your answer.
Question 4
Heart beats cause the blood to flow inside our body. During heart beats, the heart contracts and then relaxes. When the heart contracts, will the blood flow into it or out of it? Please explain how the blood flow is connected to pressure.
About this article
Cite this article
Sasson, I., Cohen, D. Assessment for Effective Intervention: Enrichment Science Academic Program. J Sci Educ Technol 22, 718–728 (2013). https://doi.org/10.1007/s10956-012-9425-5
Keywords
Informal learning environment

Enrichment program

Assessment

Physics

Gender

Attitudes

Self-efficacy