Abstract
Due to a growing trend of exploring scientific knowledge on the Web, a number of studies have been conducted to highlight examination of students' online searching strategies. The investigation of online searching generally employs methods including a survey, interview, screen-capturing, or transactional logs. The present study firstly intended to utilize a survey, the Online Information Searching Strategies Inventory (OISSI), to examine users' searching strategies in terms of control, orientation, trial and error, problem solving, purposeful thinking, selecting main ideas, and evaluation, which is defined as implicit strategies. Second, this study conducted screen-capturing to investigate the students' searching behaviors regarding the number of keywords, the quantity and depth of Web page exploration, and time attributes, which is defined as explicit strategies. Ultimately, this study explored the role that these two types of strategies played in predicting the students' online science information searching outcomes. A total of 103 Grade 10 students were recruited from a high school in northern Taiwan. Through Pearson correlation and multiple regression analyses, the results showed that the students' explicit strategies, particularly the time attributes proposed in the present study, were more successful than their implicit strategies in predicting their outcomes of searching science information. The participants who spent more time on detailed reading (explicit strategies) and had better skills of evaluating Web information (implicit strategies) tended to have superior searching performance.
Access options
Buy single article
Instant access to the full article PDF.
US$ 39.95
Tax calculation will be finalised during checkout.
Subscribe to journal
Immediate online access to all issues from 2019. Subscription will auto renew annually.
US$ 79
Tax calculation will be finalised during checkout.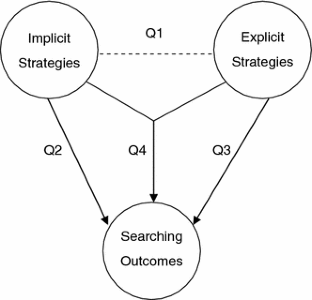 References
Brand-Gruwel S, Wopereis I, Vermetten Y (2005) Information problem solving by experts and novices: analysis of a complex cognitive skill. Comput Hum Behav 21:487–508

Brand-Gruwel S, Wopereis I, Walraven A (2009) A descriptive model of information problem solving while using internet. Comput Educ 53:1207–1217

Butler K, Lumpe A (2008) Student use of scaffolding software: relationships with motivation and conceptual understanding. J Sci Educ Technol 17:427–436

ChanLin L (2008) Technology integration applied to project-based learning in science. Innov Educ Teach Int 45:55–65

Cohen J (1988) Statistical power analysis for the behavioral sciences, 2nd edn. Lawrence, Hillsdale

Dias P, Gomes M, Correia A (1999) Disorientation in hypermedia environments: mechanisms to support navigation. J Educ Comput Res 20:93–117

Dimopoulos K, Asimakopoulos A (2010) Science on the web: secondary school students' navigation patterns and preferred pages' characteristics. J Sci Educ Technol 19:246–265

Gredler ME (2008) Learning and instruction: theory into practice, 6th edn. Prentice Hall, Upper Saddle River

Halverson K, Siegel M, Freyermuth S (2010) Non-science majors' critical evaluation of websites in a biotechnology course. J Sci Educ Technol 19:612–620

Hofer B (2004) Epistemological understanding as a metacognitive process: thinking aloud during online searching. Educ Psychol 39:43–55

Hoffman J, Wu H, Krajcik J, Soloway E (2003) The nature of middle school learners' science content understandings with the use of on-line resources. J Res Sci Teach 40:323–346

Hwang G-J, Tsai P-S, Tsai C-C, Tseng JCR (2008) A novel approach for assisting teachers in analyzing student web-searching behaviors. Comput Educ 51:926–938

Jansen B, Spink A (2006) How are we searching the world wide web? A comparison of nine search engine transaction logs. Info Process Manage 42:248–263

Kuiper E, Volman M, Terwel J (2005) The Web as an information resource in K-12 education: strategies for supporting students in searching and processing information. Rev Educ Res 75:285–328

Lin C-C, Tsai C-C (2007) A navigation flow map method of representing students' searching behaviors and strategies on the web, with relation to searching outcomes. CyberPsychol Behav 10:689–695

Lin C-C, Tsai C-C (2008) Exploring the structural relationships between high school students' scientific epistemological views and their utilization of information commitments toward online science information. Int J Sci Educ 30:2001–2022

MaKinster J, Beghetto R, Plucker J (2002) Why can't I find Newton's third law? Case studies of students' use of the web as a science resource. J Sci Educ Technol 11:155–172

Mason L, Boldrin A (2008) Epistemic metacognition in the context of information searching on the web. In: Khine MS (ed) Knowing, knowledge and beliefs: epistemological studies across diverse cultures. Springer, Dordrecht, pp 377–404

Mason L, Boldrin A, Ariasi N (2009) Searching the web to learn about a controversial topic: are students epistemically active? Instr Sci 38:607–633

Moos D, Azevedo R (2008) Self-regulated learning with hypermedia: the role of prior domain knowledge. Contemp Educ Psychol 33:270–298

Rouet J (2003) What was i looking for? The influence of task specificity and prior knowledge on students' search strategies in hypertext. Interact Comput 15:409–428

Spink A, Bateman J, Jansen B (1999) Searching the web: a survey of EXCITE users. Internet Res Elec Netw Appl Policy 9:117–128

Stadtler M, Bromme R (2008) Effects of the metacognitive computer-tool met. a. ware on the web search of laypersons. Comput Human Behav 24:716–737

Sweller J, Van Merrienboer J, Paas F (1998) Cognitive architecture and instructional design. Educ Psychol Rev 10:251–296

Tabatabai D, Shore B (2005) How experts and novices search the web. Library Info Sci Res 27:222–248

Thatcher A (2008) Web search strategies: the influence of web experience and task type. Info Process Manage 44:1308–1329

Tsai C-C (2004a) Beyond cognitive and metacognitive tools: the use of the internet as an 'epistemological' tool for instruction. British J Educ Technol 35:525–536

Tsai C-C (2004b) Information commitments in web-based learning environments. Innov Educ Teach Int 41:105–112

Tsai C-C (2008a) The use of Internet-based instruction for the development of epistemological beliefs: a case study in Taiwan. In: Khine MS (ed) Knowing, knowledge and beliefs. Springer, New York, pp 273–285

Tsai C-C (2008b) The preferences toward constructivist internet-based learning environments among university students in Taiwan. Comput Hum Behav 24:16–31

Tsai M-J (2009) Online information searching strategy inventory (OISSI): a quick version and a complete version. Comput Educ 53:473–483

Tsai M-J, Tsai C-C (2003) Information searching strategies in web-based science learning: the role of internet self-efficacy. Innov Educ Teach Int 40:43–50

Tsai M-J, Tsai C-C (2010) Junior high school students' internet usage and self-efficacy: a re-examination of the gender gap. Comput Educ 54:1182–1192

Tu Y-W, Shih M, Tsai C-C (2008) Eighth graders' web searching strategies and outcomes: the role of task types, web experiences and epistemological beliefs. Comput Educ 51:1142–1153

Walraven A, Brand-Gruwel S, Boshuizen H (2009) How students evaluate information and sources when searching the world wide web for information. Comput Educ 52:234–246

Wopereis I, Brand-Gruwel S, Vermetten Y (2008) The effect of embedded instruction on solving information problems. Comput Hum Behav 24:738–752

Wu Y-T, Tsai C-C (in press) The effects of different on-line searching activities on high school students' cognitive structures and informal reasoning regarding a socio-scientific issue. Res Sci Educ. doi:10.1007/11165-010-9189-y
Acknowledgments
The funding of this study is supported by National Science Council, Taiwan, under grant contract numbers NSC 98-2511-S-011-005-MY3 and NSC 95-2511-S-011 -005 -MY3.
About this article
Cite this article
Tsai, MJ., Hsu, CY. & Tsai, CC. Investigation of High School Students' Online Science Information Searching Performance: The Role of Implicit and Explicit Strategies. J Sci Educ Technol 21, 246–254 (2012). https://doi.org/10.1007/s10956-011-9307-2
Keywords
Web search

Science learning

Information problem-solving

Online search strategies

Pedagogical issues