Abstract
Early exposure to science may have a lifelong effect on children's attitudes towards science and their motivation to learn science in later life. Out-of-class environments can play a significant role in creating favourable attitudes, while contributing to conceptual learning. Educational science theatre is one form of an out-of-class environment, which has received little research attention. This study aims to describe affective and cognitive learning outcomes of watching such a play and to point to connections between theatrical elements and specific outcomes. "Atom Surprise" is a play portraying several concepts on the topic of matter. A mixed methods approach was adopted to investigate the knowledge and attitudes of children (grades 1–6) from two different school settings who watched the play. Data were gathered using questionnaires and in-depth interviews. Analysis suggested that in both schools children's knowledge on the topic of matter increased after the play with younger children gaining more conceptual knowledge than their older peers. In the public school girls showed greater gains in conceptual knowledge than boys. No significant changes in students' general attitudes towards science were found, however, students demonstrated positive changes towards science learning. Theatrical elements that seemed to be important in children's recollection of the play were the narrative, props and stage effects, and characters. In the children's memory, science was intertwined with the theatrical elements. Nonetheless, children could distinguish well between scientific facts and the fictive narrative.
Access options
Buy single article
Instant access to the full article PDF.
USD 39.95
Price excludes VAT (USA)
Tax calculation will be finalised during checkout.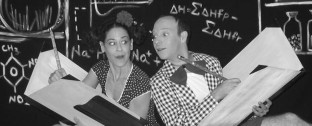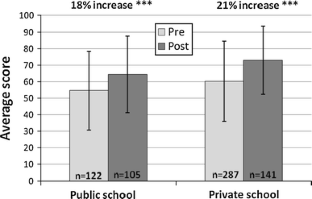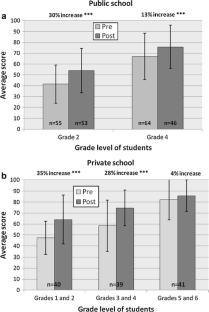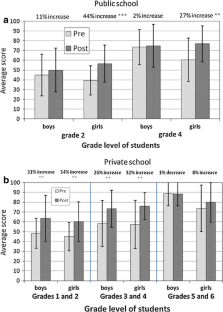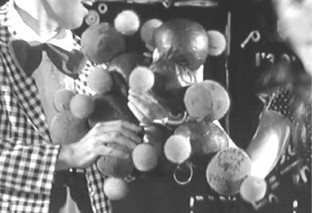 Notes
An excerpt of the play may be viewed on-line at http://www.madatron.co.il/. A comprehensive description of the play is attached as supporting documents.

An English translation of all three questionnaires is attached as supporting documents.

Only students from the private school were interviewed and answered questions regarding the play itself in the post questionnaire.

Each statement could be placed in several categories. For example, "because the play was interesting and funny" was categorized in both the 'funny' and the 'interesting' categories.
References
Aikenhead GS (2004) The humanistic and cultural aspects of science & technology. Paper presented at the 11th International Organization for Science and Technology Education (IOSTE) Symposium, Lublin, Poland

Alsop S (2001) Seeking emotional involvement in science education: food-chains and webs. Sch Sci Rev 83(302):63–68

Anderson D, Lucas KB (1997) The effectiveness of orienting students to the physical features of a science museum prior to visitation. Res Sci Educ 27(4):485–495

Anderson D, Lucas KB, Ginns IS, Dierking LD (2000) Development of knowledge about electricity and magnetism during a visit to a science museum and related post-visit activities. Sci Educ 84:658–679

Arieli B (2007) The integration of creative drama into science teaching. Unpublished Doctoral dissertation, Kansas State University

Bamberger Y, Tal T (2007) Learning in a personal context: levels of choice in a free choice learning environment in science and natural history museums. Sci Educ 91(1):75–95

Baum L, Hughes C (2001) Ten years of evaluating science theater at the museum of science, Boston. Curator 44(4):355–369

Begoray DL, Stinner A (2005) Representing science through historical drama: Lord Kelvin and the age of the earth debate. Sci Educ 14:547–571

Braund M (1999) Electric drama to improve understanding in science. Sch Sci Rev 81(294):35–41

Casey B, Erkut S, Ceder I, Young JM (2008) Use of a storytelling context to improve girls' and boys' geometry skills in kindergarten. J Appl Dev Psychol 29(1):29–48

Christensen P, James A (eds) (2002) Research with children: perspectives and practices. RoutledgeFalmer, London

Cohen L, Manion L, Morrison K (2000) Research methods in education, 5th edn. RoutledgeFalmer, London

Driver R, Squires A, Rushworth P, Wood-Robinson V (1994) Making sense of secondary science. Routledge, London

Eshach H (2007) Bridging in-school and out-of-school learning: formal, non-formal, and informal education. J Sci Educ Technol 16(2):171–190

Eshach H, Fried MN (2005) Should science be taught in early childhood? J Sci Educ Technol 14(3):315–336

Falk J, Storksdieck M (2005) Using the contextual model of learning to understand visitor learning from a science center exhibition. Sci Educ 89(5):744–778

Feingold B-A (1996) Why drama? Education and theater. Itav—publishing house [in Hebrew], Tel Aviv

Garner RL (2006) Humor in pedagogy: how ha-ha can lead to aha!. Coll Teach 54(1):177–180

Hadzigeorgiou Y (2006) Humanizing the teaching of physics through storytelling: the case of current electricity. Phys Educ 41(1):42–46

Halpern MK (2008) Understanding how audiences understand science on stage: cultural context in the dramatization of Darwin's letters. Paper presented at the AEJMC, Chicago

Hofstein A, Rosenfeld S (1996) Bridging the gap between formal and informal science learning. Stud Sci Educ 28:87–112

Hughes C, Jackson A, Kidd J (2007) The role of theatre in museums and historic sites: visitors, audiences and learners. In: Bresler L (ed) International handbook of research in arts education. Springer, Dordrecht

Immordino-Yang MH, Damasio A (2007) We feel, therefore we learn: the relevance of affective and social neuroscience to education. Mind Brain Educ 1(1):3

Ingleton C (1999) Emotion in learning: a neglected dynamic. HERDSA Annual International Conference, Melbourne

Khalil MK, Paas F, Johnson TE, Payer AF (2005) Interactive and dynamic visualizations in teaching and learning of anatomy: a cognitive load perspective. Anat Rec B New Anat 286B(1):8–14

Klepaker T, Almendingen SF, Tveita J (2007) Young Norwegian students' preferences for learning activities and the influence of these activities on the students' attitudes to and performance in science. NorDiNa 1:45–56

Kofoed MH (2006) The Hiroshima and Nagasaki bombs: role-play and students' interest in physics. Phys Educ 41(6):502–506

Laugksch RC (2000) Scientific literacy: a conceptual overview. Sci Educ 84(1):71–94

Littledyke M (2008) Science education for environmental awareness: approaches to integrating cognitive and affective domains. Environ Educ Res 14(1):1–17

Maltese AV, Tai RH (2010) Eyeballs in the fridge: sources of early interes in science. Int J Sci Educ 32(5):669–685

Marshall C, Rossman GB (2006) Designing qualitative research, 4th edn. Sage Publications, Thousand Oaks

Mathewson JH (1999) Visual-spatial thinking: an aspect of science overlooked by educators. Sci Educ 83:33–54

McSharry G, Jones S (2000) Role-play in science teaching and learning. Sch Sci Rev 82(298):73–82

Metcalfe RJA, Abbott S, Bray P, Exley J, Wisnia D (1984) Teaching science through drama: an empirical investigation. Res Sci Technol Educ 2(1):77–81

Meyer H (2005) Is it molecules? Again! A review of students' learning about particle theory. Chem Educ J 9(2). http://chem.sci.utsunomiya-u.ac.jp/v9n2/HMeyer/HMeyer.html

Millar R, Osborne J (eds) (1998) Beyond 2000: science education for the future. King's College, University of London

Ministry of Education (2005) National curriculum in science and technology for elementary schools. Available at http://cms.education.gov.il/EducationCMS/Units/Tochniyot_Limudim/science_tech/Techanim/Chomarim/

Murphy C, Beggs J (2001) Pupil's attitudes, perceptions and understanding of primary science: comparisons between Northern Irish and English schools, Annual Conference of the British Educational Research Association. University of Leeds, England

Nakhleh MB, Samarapungavan A (1999) Elementary school children's beliefs about matter. J Res Sci Teach 36(7):777–805

National Academies of Science (2009) Learning science in informal environments: people, places, and pursuits. Committee on Learning Science in Informal Environments, National Research Council, Washington, DC

National Reseach Council (2009) Learning science in informal environments: people, places, and pursuits. Committee on Learning Science in Informal Environments, Washington, DC. Available at http://www.nap.edu/catalog.php?record_id=12190

O'Toole J (1976) Theatre in education. Hodder and Stoughton, London

Ødegaard M (2003) Dramatic science. A critical review of drama in science education. Stud Sci Educ 39(1):75–101

Orion N (1993) A model for the development and implementation of field trips as an integral part of the science curriculum. Sch Sci Math 93(6):325–331

Orion N, Hofstein A, Tamir P, Giddings GJ (1997) Development and validation of an instrument for assessing the learning environment of outdoor science activities. Sci Educ 81(2):161–171

Osborne J, Dillon J (2008) Science education in Europe: critical reflections. A report to the Nuffield Foundation

Pell T, Jarvis T (2001) Developing attitude to science scales for use with children of ages from five to eleven years. Int J Sci Educ 23(8):847–862

Redington C (1983) Can theatre teach? An historical and evaluative analysis of theatre in education. Pergamon Press Ltd, Oxford, UK

Reiss MJ (2005) The importance of affect in science education. In: Alsop S (ed) Beyond Cartesian dualism. Encountering Affect in the Teaching and Learning of Science. Springer, Netherlands

Rockman E et al (1996) Evaluation of the Bill Nye the Science Guy television series and outreach. Rockman et al, San Francisco, California

Rule AC, Auge J (2005) Using Humorous Cartoons to teach mineral and rock concepts in sixth grade science class. J Geosci Edu 53(5):548–558

Schonmann S (1995) Theatre of the classroom. Cherikover, Tel Aviv

Schonmann S (2006) Theatre as a medium for children and young people: images and observations. Springer, Dordrecht

Scott J (2002) Children as respondents: the challenge for quantitative methods. In: Christensen P, James A (eds) Research with children: perspectives and practices. RoutledgeFalmer, London

Solomon J (2002) Science stories and science texts: what can they do for our students? Stud Sci Educ 37(1):85–105

Stinner A (1995) Contextual settings, science stories, and large context problems: towards a more humanistic science education. Sci Educ 79(5):555–581

Tashakkori A, Teddlie C (1998) Mixed methodology. SAGE Publications, Thousand Oaks

The Royal Society (2004) Taking a leading role: scientists survey. Retrieved October 3, 2010, from http://royalsociety.org/Taking-a-leading-role-scientists-survey/

Thompson J (2006) Applied theatre: bewilderment and beyond, 2nd edn. Peter Lang, Oxford, New York

Tveita J (2000) Helping students to understand the electron model for simple circuits by use of a drama model and other untraditional learning methods. Available at http://fysikk.hfk.vgs.no/johannestveitapaper.doc [2009, 25 April]

Urian D (2008) Theatre in society. Open University Press [in Hebrew], Raanana, Israel

West A, Hailes J, Sammons P (1997) Children's attitudes to the National Curriculum at Key Stage 1. Br Educ Res J 23(5):597–613

Wilson E (1994) The theater experience, 6th edn. McGraw-Hill, Inc., New York City

Yechieli T, Nussbaum J (2002) The structure of matter: vacuum and particles—teacher's guide. Matmon, Israel

Yoon H-G (2006) The nature of science drama in science education. Paper presented at the the 9th international conference on public communication of science and technology (PCST-9). Seoul, Korea
Acknowledgment
Ayelet Baram-Tsabari would like to thank the Landau Fellowship for supporting her research. Ran Peleg would like to thank the Papo Fellowship and Mitrani Fellowship for supporting and enabling his research. This research was inspired by the EU S-TEAM project: Science-teacher education advanced methods (no. 234870).
Electronic supplementary material
Below is the link to the electronic supplementary material.
About this article
Cite this article
Peleg, R., Baram-Tsabari, A. Atom Surprise: Using Theatre in Primary Science Education. J Sci Educ Technol 20, 508–524 (2011). https://doi.org/10.1007/s10956-011-9299-y
Published:

Issue Date:

DOI: https://doi.org/10.1007/s10956-011-9299-y
Keywords