Abstract
In today's increasingly "flat" world of globalization (Friedman 2005), the need for a scientifically literate citizenry has grown more urgent. Yet, by some measures, we have done a poor job at fostering scientific habits of mind in schools. Recent research on informal games-based learning indicates that such technologies and the communities they evoke may be one viable alternative—not as a substitute for teachers and classrooms, but as an alternative to textbooks and science labs. This paper presents empirical evidence about the potential of games for fostering scientific habits of mind. In particular, we examine the scientific habits of mind and dispositions that characterize online discussion forums of the massively multiplayer online game World of Warcraft. Eighty-six percent of the forum discussions were posts engaged in "social knowledge construction" rather than social banter. Over half of the posts evidenced systems based reasoning, one in ten evidenced model-based reasoning, and 65% displayed an evaluative epistemology in which knowledge is treated as an open-ended process of evaluation and argument.
This is a preview of subscription content, log in to check access.
Access options
Buy single article
Instant access to the full article PDF.
US$ 39.95
Price includes VAT for USA
Subscribe to journal
Immediate online access to all issues from 2019. Subscription will auto renew annually.
US$ 99
This is the net price. Taxes to be calculated in checkout.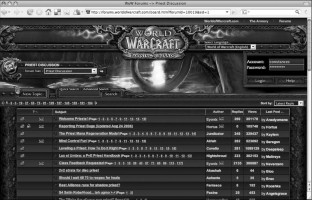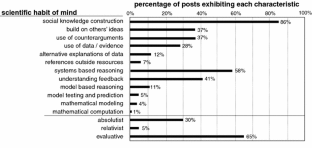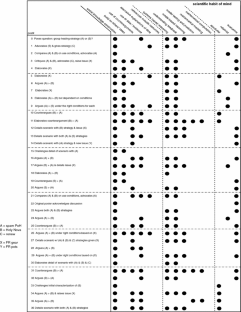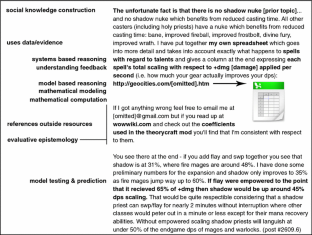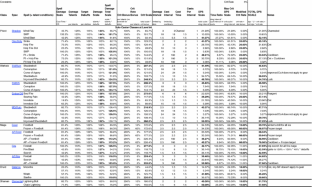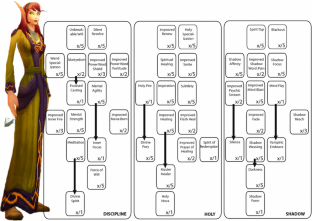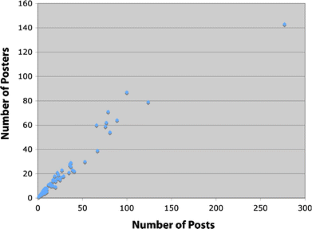 References
American Association for the Advancement of Science (1993) Benchmarks for science literacy. Oxford University Press, New York

Barab S, Arcici A, Jackson C (2005) Eat your vegetables and do your homework: a design-based investigation of enjoyment and meaning in learning. Educ Technol 45(1):15–21

Barab SA, Sadler T, Heiselt C, Hickey D, Zuiker S (2007) Relating narrative, inquiry, and inscriptions: a framework for socio-scientific inquiry. J Sci Educ Technol 16(1):59–82. doi:10.1007/s10956-006-9033-3

Basic (n.d.) Scaling model. Retrieved November 1, 2007 from http://geocities.com/karlthepagan/wow/damage_scale.htm

Chi MTH (1997) Quantifying qualitative analyses of verbal data: a practical guide. J Learn Sci 6(3):271–315. doi:10.1207/s15327809jls0603_1

Chinn CA, Malhotra B (2002) Epistemologically authentic inquiry in schools: a theoretical framework for evaluating inquiry tasks. Sci Educ 86(2):175–218. doi:10.1002/sce.10001

Dewey J (1897) My pedagogic creed. Sch J 14(3):77–80

Dewey J (1910) Science as subject matter and as method. Science 31(787):121–127. doi:10.1126/science.31.787.121

Elsner A (2005) Is US becoming hostile to science? CNN.com. Retrieved October 31, 2005 from http://www.cnn.com/2005/TECH/science/10/28/science.debate.reut

Friedman TL (2005) The world is flat. Farrar, Straus, and Giroux, New York

Gee JP (2003) What video games have to teach us about learning and literacy. Palgrave, New York

Hayes E Games I Learning through game design: a review of current software & research. Games Cult (in press)

Jenkins H III (1992) Textual poachers: television fans & participatory culture. Routledge, New York

Ketelhut DJ (2007) The impact of student self-efficacy on scientific inquiry skills: an exploratory investigation in River City, a multi-user virtual environment. J Sci Educ Technol 16(1):99–111. doi:10.1007/s10956-006-9038-y

Ketelhut DJ, Dede C, Clarke J, Nelson B, Bowman C (2007) Studying situated learning in a multi-user virtual environment. In: Baker E, Dickieson J, Wulfeck W, O'Neil H (eds), Assessment of problem solving using simulations. Lawrence Erlbaum Associates, Mahwah, NJ

Kuhn D (1992) Thinking as argument. Harv Educ Rev 62(2):155–178

Lave J (1988) Cognition in practice. Cambridge University Press, Cambridge UK

Lave J, Wenger E (1991) Situated learning. Cambridge University Press, Cambridge

Levy P (1999) Collective intelligence. (Robert Bononno, trans.). Perseus Books, Cambridge MA

Mayer RE (1992) Thinking, problem solving, cognition, 2nd edn. WH Freeman, New York

Miller JD (2004) Public understanding of, and attitudes toward, scientific research: what we know and what we need to know. Public Underst Sci 13(3):273–294. doi:10.1177/0963662504044908

Nasir NS (2005) Individual cognitive structuring and the sociocultural context: strategy shifts in the game of dominoes. J Learn Sci 14(1):5–34. doi:10.1207/s15327809jls1401_2

National Research Council (1996) National science education standards. National Academy Press, Washington DC

Nelson B, Ketelhut DJ, Clarke J, Dieterle E, Dede C, Erlandson B (2007) Robust design strategies for scaling educational innovations: The River City MUVE case study. In: Shelton BE, Wiley DA (eds) The design and use of simulation computer games in education. Sense Press, Rotterdam, The Netherlands

Osborne J, Erduren S, Simon S (2004) Enhancing the quality of argumentation in school science. J Res Sci Teach 41(10):994–1020. doi:10.1002/tea.20035

Poincaré H (2001) Science and hypothesis. In: Gould SJ (ed) The value of science: essential writings of Henri Poincare. The Modern Library, New York, pp 7–180 (Original work published 1905)

Schwab JJ (1962) The teaching of science as enquiry. Harvard University Press, Cambridge MA

Shaffer DW, Squire KD, Halverson R, Gee JP (2005) Video games and the future of learning. Phi Delta Kappan 87(2):105–111

Singer SR, Hilton M, Schweingruber HA (2005) America's lab report: investigations in high school science. The National Academy Press, Washington DC

Solomon A (2004, July 10) The closing of the American book. The New York Times p. A17

Squire K (2003) Replaying history: learning world history through playing Civilization III. Unpublished dissertation. Indiana University, Bloomington IN

Squire KD (2005) Educating the fighter. Horizon 13(2):75–88. doi:10.1108/10748120510608106

Steinkuehler CA (2004) Learning in massively multiplayer online games. In: Kafai YB, Sandoval WA, Enyedy N, Nixon AS, Herrera F (eds) Proceedings of the sixth ICLS. Erlbaum, Mahwah, NJ, pp 521–528

Steinkuehler CA (2005) Cognition and learning in massively multiplayer online games: a critical approach. Unpublished dissertation. University of Wisconsin, Madison WI

Steinkuehler C (2006a) The mangle of play. Games Cult 1(3):1–14

Steinkuehler CA (2006b) Massively multiplayer online videogaming as participation in a Discourse. Mind Cult Act 13(1):38–52. doi:10.1207/s15327884mca1301_4

Steinkuehler CA (2006c) Why game (culture) studies now? Games Cult 1(1):1–6

Steinkuehler C, Chmiel M (2006) Fostering scientific habits of mind in the context of online play. In: Barab SA, Hay KE, Songer NB, Hickey DT (eds) Proceedings of the international conference of the learning sciences. Erlbuam, Mahwah NJ, pp 723–729

Steinkuehler C (2007) Massively multiplayer online gaming as a constellation of literacy practices. eLearning 4(3):297–318

Steinkuehler CA (2008a) Cognition and literacy in massively multiplayer online games. In: Coiro J, Knobel M, Lankshear C, Leu D (eds) Handbook of research on new literacies. Erlbaum, Mahwah NJ, pp 611–634

Steinkuehler C (2008b) Massively multiplayer online games as an educational technology: an outline for research. Educ Technol 48(1):10–21

Woodcock BS (2008) An analysis of MMOG subscription growth 23.0. Retrieved April 21, 2008 from http://www.mmogchart.com
About this article
Cite this article
Steinkuehler, C., Duncan, S. Scientific Habits of Mind in Virtual Worlds. J Sci Educ Technol 17, 530–543 (2008). https://doi.org/10.1007/s10956-008-9120-8
Received:

Accepted:

Published:

Issue Date:
Keywords
Informal science reasoning

Virtual worlds

Social knowledge construction

Game-based learning

Informal learning