Abstract
The interaction of DET (diethyltin(IV)) and DVT (divinyltin(IV)) with 1-(2-aminoethyl)piperazine (AEP) was investigated potentiometrically at different temperatures in 0.1 mol·dm−3 NaNO3. The hydrolysis constants of diethyltin(IV) and divinyltin(IV) cations and the stepwise formation constants of the complexes formed in solution were calculated at different temperatures and in solutions of dioxane–water solutions of different compositions. The stoichiometries and stability constants for the complexes formed are reported. The results show formation of 1:1 complexes and the corresponding hydroxide complexes. The concentration distributions of the various complex species were evaluated as a function of pH. The thermodynamic parameters ΔH° and ΔS° calculated from the temperature dependence of the equilibrium constants were investigated for DET and DVT complexes with AEP.
Access options
Buy single article
Instant access to the full article PDF.
USD 39.95
Price excludes VAT (USA)
Tax calculation will be finalised during checkout.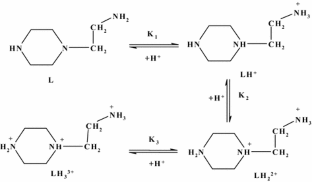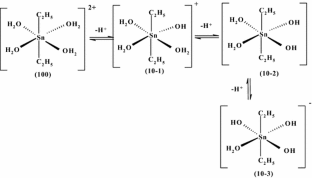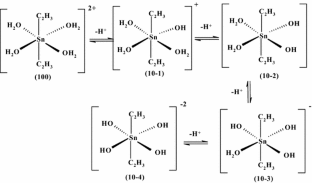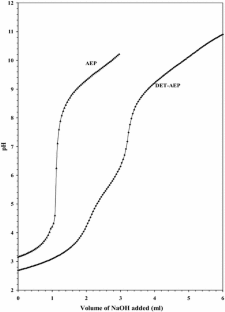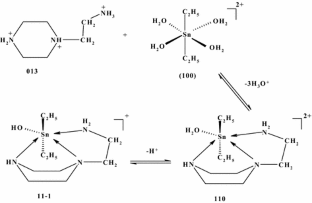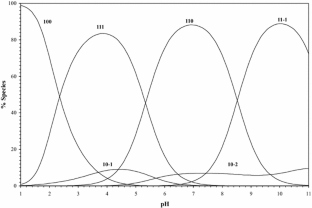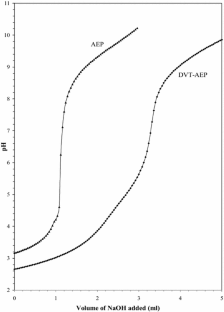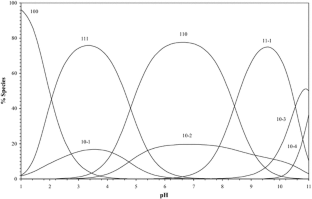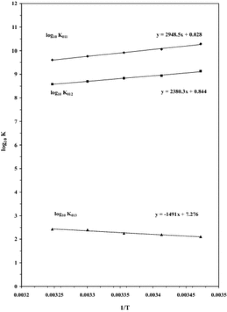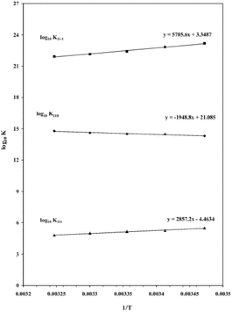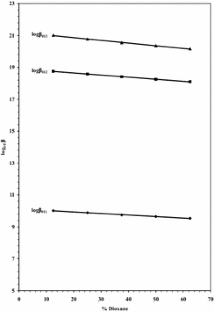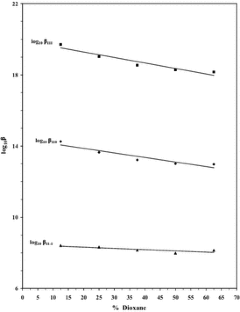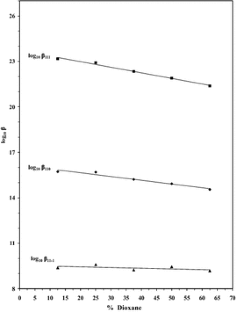 References
Rosenberg, B., Van Camp, L., Trasko, J.E., Mansour, V.H.: Platinum compounds: a new class of potent antitumour agent. Nature 222, 385–386 (1969)

Gielen, M., Lelieveld, P., deVos, D., Willem, R.: In: Keppler, K. (ed.) Metal Complexes in Cancer Chemotherapy, p. 383. VCH, Weinheim (1993)

Barbieri, R.: QSAR approach to understand antitumor activity of organotin. Inorg. Chim. Acta 191, 253–259 (1991)

Penninks, A.H., Bol-Schoenmakers, M., Seinen, W.: Cellular interaction of organotin compounds in relation to their antitumour activity. In: Gielen, M. (ed.) Tin-Based Antitumour Drugs. NATO ASI Series, vol. H37, p. 169. Springer, Berlin (1990)

Crowe, A.J.: In: Gielen, M. (ed.) Tin-Based Antitumour Drugs. NATO ASI Series, vol. H37, p. 69. Springer, Berlin (1990)

Gielen, M.: Organotin compounds and their therapeutic potential. Appl. Organometal. Chem. 16, 481–494 (2002)

Crowe, A.J., Smith, P.J., Cordin, C.J., Parge, H.E., Smith, F.E.: Possible pre-dissociation of diorganotin dihalide complexes: relationship between antitumour activity and structure. Cancer Lett. 24, 45–48 (1984)

El-Sherif, A.A., Shoukry, M.M.: Ternary copper(II) complexes involving 2-(aminomethyl)-benzimidazole and some bio-relevant ligands. Equilibrium studies and kinetics of hydrolysis for glycinemethyl ester under complex formation. Inorg. Chim. Acta 360, 473–487 (2007)

El-Sherif, A.A., Jeragh, B.: Mixed ligand complexes of Cu(II)–2-(2-pyridyl)-benzimidazole and aliphatic or aromatic dicarboxylic acids: synthesis, characterization and biological activity. J. Spectochim. Acta A 68, 877–882 (2007)

El-Sherif, A.A.: Mixed-ligand complexes of 2-(aminomethyl)benzimidazole palladium(II) with various biologically relevant ligands. J. Solution Chem. 35, 1287–1301 (2006)

El-Sherif, A.A.: Synthesis, spectroscopic characterization, and biological activity on newly synthesized copper(II) and nickel(II) complexes incorporating bidentate oxygen-nitrogen hydrazone ligands. Inorg. Chim. Acta 362, 4991–5000 (2009)

El-Sherif, A.A.: Synthesis, solution equilibria and antibacterial activity of Co(II) with 2-(aminomethyl)-benzimidazole and dicarboxylic acids. J. Solution Chem. 39, 1562–1581 (2010)

El-Sherif, A.A.: Coordination properties of bidentate (N, O) and tridentate (N, O, O) heterocyclic alcohols with dimethyltin(IV) ion. J. Coord. Chem. 64, 1240–1253 (2011)

El-Sherif, A.A., Shoukry, M.M.: Synthesis, characterization, potentiometric and thermodynamics of dimethyltin(IV)2+ cation with 4-amino-6-hydroxy-2-mercapto pyrimidine (AHMP). J. Main Group Met. Chem. 29, 189–200 (2006)

El-Sherif, A.A.: Synthesis and characterization of some potential antitumor palladium(II) complexes of 2-aminomethylbenzimidazole and amino acids. J. Coord. Chem. 64, 2035–2055 (2011)

Van Uitert, G.L., Hass, C.G.: Studies on the coordination compounds. A method for determining thermodynamic equilibrium constants in mixed solvents. J. Am. Chem. Soc. 75, 451–455 (1971)

El-Sherif, A.A.: potentiometric determination of the stability constants of trimethyltin(IV) chloride complexes with imino-bis(methylphosphonic acid) in water and dioxane–water mixtures. J. Solution Chem. 41, 392–409 (2012)

Gans, P., Sabatini, A., Vacca, A.: An improved computer program for the computation of formation constants from potentiometric data. Inorg. Chim. Acta 18, 237–239 (1976)

Pettit, L. (University of Leeds, U.K), personal communication

Lewis, J., Wilkins, R.G.: Modern Coordination Chemistry, Principles and Methods. Interscience, New York (1960)

Inczedy, J.: Analytical Applications of Complex Equilibria. Wiley, New York (1976)

Kramer-Schnabel, U., Linder, P.W.: Substituent effects in the protonation and complexation with copper(II) ions of organic monophosphate esters: a potentiometric and calorimetric study. Inorg. Chem. 30, 1248–1254 (1991)

Rees, D.C.: Experimental evaluation of the effective dielectric constant of proteins. J. Mol. Biol. 141, 323–326 (1980)

Rogersa, N.K., Mooreb, G.R., Sternberga, M.J.E.: Electrostatic interactions in globular proteins: calculation of the pH dependence of the redox potential of cytochrome C551. J. Mol. Biol. 182, 613–616 (1985)

Akerlof, G., Short, O.A.: The dielectric constant of dioxane–water mixtures between 0 and 80°—Correction. J. Am. Chem. Soc. 75, 6357 (1953)

Rorabacher, D.B., MacKellar, W.J., Shu, F.R., Bonavita, S.M.: Solvent effects on protonation constants. Ammonia, acetate, polyamine, and polyaminocarboxylate ligands in methanol–water mixtures. Anal. Chem. 43, 561–573 (1971)

Sharma, R.K., Jha, N.S., Sindhwani, S.K.: A study of the chelation behavior of bivalent metal complexes of biologically active 2-hydroxy-1,4-naphthoquinone monoxime (HNQM) in dioxan–water mixtures. Thermochim. Acta 156, 267–273 (1984)

Shoukry, M.M., Shoukry, E.M., El-Medani, S.M.: Metal complexes of cephradine: synthesis and equilibrium studies. Monat. Für Chemie 126, 909–918 (1995)

Sigel, H.: Hydrophobic interactions in biological systems: some background information based on ligand–ligand interactions in metal ion complexes. Pure Appl. Chem. 61, 923–932 (1989)

Mohamed, M.M.A., Shehata, M.R., Shoukry, M.M.: trimethyltin(IV) complexes with some selected DNA constituents. J. Coord. Chem. 53, 125–142 (2001)
About this article
Cite this article
El-Sherif, A.A., Shehata, M.R., Shoukry, M.M. et al. Potentiometric Study of Speciation and Thermodynamics of Complex Formation Equilibria of Diorganotin(IV) Dichloride with 1-(2-Aminoethyl)piperazine. J Solution Chem 45, 410–430 (2016). https://doi.org/10.1007/s10953-016-0450-5
Received:

Accepted:

Published:

Issue Date:

DOI: https://doi.org/10.1007/s10953-016-0450-5
Keywords
Formation equilibria

Diethyltin (IV)

Divinyltin(IV)

Piperazine

Dioxane

Thermodynamics

Speciation