Abstract
Lanthanum (La) is one of the most reactive rare earth elements, whose carbonate had been approved by the FDA for marketing as a treatment drug for hyperphosphatemia. In this paper, a complex of La with the natural active compound morin was synthesized and identified. The interaction between synthesized complex (LaMO) and human serum albumin (HSA) was studied by multiple spectroscopic methods. It was found that LaMO has an efficient interaction with HSA through hydrogen bonds and van der Waals forces, with formation of the LaMO–HSA complex in its ground state. The reaction led to quenching of HSA's fluorescence and the quenching follows a static quenching mechanism. The binding constants, reference state enthalpy change (ΔH θ), Gibbs energy change (ΔG θ) and entropy change (ΔS θ) were calculated at four different temperatures. Fluorescence probe techniques were used to identify the binding location. The results showed that LaMO competes with warfarin for Sudlow's site I in subdomain IIA of HSA, an acknowledged site marker. Meanwhile, circular dichroism spectrum measurements revealed changes of HSA's secondary structure in the presence of LaMO, which implies that LaMO is potentially bioactive. The study involves research about the pharmacologic mechanism of rare earth metal coordination compounds and can provide basic data for their safety evaluation.
Access options
Buy single article
Instant access to the full article PDF.
USD 39.95
Price excludes VAT (USA)
Tax calculation will be finalised during checkout.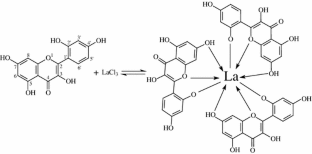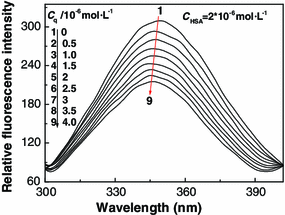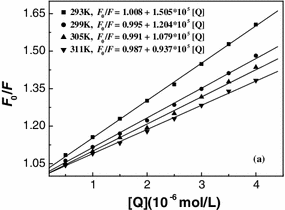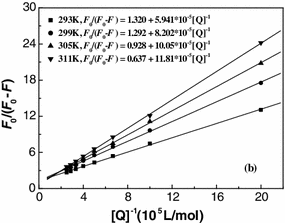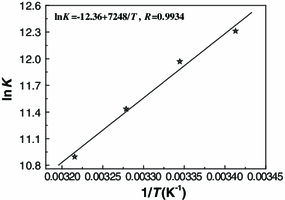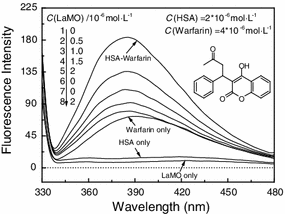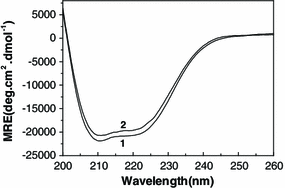 References
Thompson, K.H., Orvig, C.: Editorial: lanthanide compounds for therapeutic and diagnostic applications. Chem. Soc. Rev. 35, 499-499 (2006)

Fricker, S.P.: The therapeutic application of lanthanides. Chem. Soc. Rev. 35, 524–533 (2006)

Li, T.-R., Yang, Z.-Y., Wang, B.-D., Qin, D.-D.: Synthesis, characterization, antioxidant activity and DNA-binding studies of two rare earth(III) complexes with naringenin-2-hydroxy benzoyl hydrazone ligand. Eur. J. Med. Chem. 43, 1688–1695 (2008)

Xia, J., Gao, J., Inagaki, Y., Kokudo, N., Nakata, M., Tang, W.: Flavonoids as potential anti-hepatocellular carcinoma agents: recent approaches using HepG2 cell line. Drug Discov. Ther. 7, 1–8 (2013)

Pourcel, L., Irani, N.G., Koo, A.J.K., Bohorquez-Restrepo, A., Howe, G.A., Grotewold, E.: A chemical complementation approach reveals genes and interactions of flavonoids with other pathways. Plant J. 74, 383–397 (2013)

Chaudhuri, S., Sengupta, B., Taylor, J., Pahari, B.P., Sengupta, P.K.: Interactions of dietary flavonoids with proteins: insights from fluorescence spectroscopy and other related biophysical studies. Curr. Drug Metab. 14, 491–503 (2013)

Song, Y., Yang, P., Yang, M., Kang, J., Qin, S., Lü, B., Wang, L.: Spectroscopic and voltammetric studies of the cobalt(II) complex of morin bound to calf thymus DNA. Transition Met. Chem. 28, 712–716 (2003)

Qi, Z.-D., Zhang, Y., Liao, F.-L., Ou-Yang, Y.-W., Liu, Y., Yang, X.: Probing the binding of morin to human serum albumin by optical spectroscopy. J. Pharm. Biomed. 46, 699–706 (2008)

Liu, H., Li, L., Guo, Q., Dong, J., Li, J.: Synthesis, crystal structure, DNA- and albumin-binding properties of a chromium(III) complex with 1,10-phenanthroline and a Schiff base derived from glycine. Transition Met. Chem. 38, 441–448 (2013)

Zhou, J., Wang, L.-F., Wang, J.-Y., Tang, N.: Synthesis, characterization, antioxidative and antitumor activities of solid quercetin rare earth(III) complexes. J. Inorg. Biochem. 83, 41–48 (2001)

Song, Y.-M., Xu, J.-P., Ding, L., Hou, Q., Liu, J.-W., Zhu, Z.-L.: Syntheses, characterization and biological activities of rare earth metal complexes with curcumin and 1,10-phenanthroline-5,6-dione. J. Inorg. Biochem. 103, 396–400 (2009)

Avaji, P., Reddy, B.N., Patil, S., Badami, P.: Synthesis, spectral characterization, biological and fluorescence studies of lanthanum(III) complexes with 3-substituted-4-amino-5-hydrazino-1,2,4-triazole Schiff bases. Transition Met. Chem. 31, 842–848 (2006)

Zhou, S.-.S., Xue, X., Wang, J.-F., Dong, Y., Jiang, B., Wei, D., Wan, M.-L., Jia, Y.: Synthesis, optical properties and biological imaging of the rare earth complexes with curcumin and pyridine. J. Mater. Chem. 22, 22774–22780 (2012)

Varshney, A., Rehan, M., Subbarao, N., Rabbani, G., Khan, R.H.: Elimination of endogenous toxin, creatinine from blood plasma depends on albumin conformation: site specific uremic toxicity & impaired drug binding. PLoS ONE 6, 17230 (2011)

Hu, Y.J., Ou-Yang, Y., Bai, A.M., Li, W., Liu, Y.: Investigation of the interaction between ofloxacin and bovine serum albumin: spectroscopic approach. J. Solution Chem. 39, 709–717 (2010)

Hegde, A., Punith, R., Seetharamappa, J.: Optical, structural and thermodynamic studies of the association of an anti-leucamic drug imatinib mesylate with transport protein. J. Fluoresc. 22, 521–528 (2012)

Nicoletti, F.P., Howes, B.D., Fittipaldi, M., Fanali, G., Fasano, M., Ascenzi, P., Smulevich, G.: Ibuprofen induces an allosteric conformational transition in the heme complex of human serum albumin with significant effects on heme ligation. J. Am. Chem. Soc. 130, 11677–11688 (2008)

Curry, S., Mandelkow, H., Brick, P., Franks, N.: Crystal structure of human serum albumin complexed with fatty acid reveals an asymmetric distribution of binding sites. Nat. Struct. Biol. 5, 827–835 (1998)

Silva, E., Rousseau, C., Zanella-Cléon, I., Becchi, M., Coleman, A.: Mass spectrometric determination of association constants of bovine serum albumin (BSA) with para-sulphonato-calix[n]arene derivatives. J. Incl. Phenom. Macrocycl. chem. 54, 53–59 (2006)

Ansari, A.A.: Paramagnetic NMR shift, spectroscopic and molecular modeling studies of lanthanide(III)–morin complexes. J. Coord. Chem. 61, 3869–3878 (2008)

Xiao, J., Wu, M., Kai, G., Wang, F., Cao, H., Yu, X.: ZnO–ZnS QDs interfacial heterostructure for drug and food delivery application: enhancement of the binding affinities of flavonoid aglycones to bovine serum albumin. Nanomedicine 7, 850–858 (2011)

Xiao, J.: Polyphenol-plasma proteins interaction: its nature, analytical techniques, and influence on bioactivities of polyphenols. Curr. Drug Metab. 14, 367–368 (2013)

Xiao, J., Kai, G., Chen, X.: Effect of CdTe QDs on the protein–drug interactions. Nanotoxicology 6, 304–314 (2011)

Carter, D.C., Ho, J.X.: The structure of serum albumin. Adv. Protein Chem. 45, 153–203 (1994)

Hu, Y.J., Ou-Yang, Y., Dai, C.M., Liu, Y., Xiao, X.H.: Site-selective binding of human serum albumin by palmatine: spectroscopic approach. Biomacromolecules 11, 106–112 (2010)

Zhang, H.-X., Liu, Y.: Protein-binding properties of a designed steroidal lactam compound. Steroids 80, 30–36 (2014)

Kamat, B.P.: Study of the interaction between fluoroquinolones and bovine serum albumin. J. Pharm. Biomed. 39, 1046–1050 (2005)

Zhang, H.-X., Liu, E.: Spectroscopic and molecular modeling investigation on the binding of a synthesized steroidal amide to protein. J. Lumin. 153, 182–187 (2014)

Lehrer, S.S.: Solute perturbation of protein fluorescence. The quenching of the tryptophyl fluorescence of model compounds and of lysozyme by iodide ion. Biochemistry 10, 3254–3263 (1971)

Ross, P.D., Subramanian, S.: Thermodynamics of protein association reactions: forces contributing to stability. Biochemistry 20, 3096–3102 (1981)

Varshney, A., Sen, P., Ahmad, E., Rehan, M., Subbarao, N., Khan, R.H.: Ligand binding strategies of human serum albumin: how can the cargo be utilized? Chirality 22, 77–87 (2010)

Zhang, J., Sun, H.-H., Zhang, Y.-Z., Yang, L.-Y., Dai, J., Liu, Y.: Interaction of human serum albumin with indomethacin: spectroscopic and molecular modeling studies. J. Solution Chem. 41, 422–435 (2012)

Sudlow, G., Birkett, D.J., Wade, D.N.: Further characterization of specific drug binding sites on human serum albumin. Mol. Pharmacol. 12, 1052–1061 (1976)

Baroni, S., Mattu, M., Vannini, A., Cipollone, R., Aime, S., Ascenzi, P., Fasano, M.: Effect of ibuprofen and warfarin on the allosteric properties of haem–human serum albumin. Eur. J. Biochem. 268, 6214–6220 (2001)

Bhattacharya, A.A., Grüne, T., Curry, S.: Crystallographic analysis reveals common modes of binding of medium and long-chain fatty acids to human serum albumin. J. Mol. Biol. 303, 721–732 (2000)

Zhang, H.-X., Mei, P.: Synthesis of morin–zinc(II) complex and its interaction with serum albumin. Biol. Trace Element Res. 143, 677–687 (2011)

Whitmore, L., Wallace, B.A.: Protein secondary structure analyses from circular dichroism spectroscopy methods and reference databases. Biopolymers 89, 392–400 (2007)

Rogers, D.M., Hirst, J.D.: First-principles calculations of protein circular dichroism in the near ultraviolet. Biochemistry 43, 11092–11102 (2004)

Boghaei, D.M., Farvid, S.S., Gharagozlou, M.: Interaction of copper(II) complex of compartmental Schiff base ligand N, N'-bis(3-hydroxysalicylidene)ethylenediamine with bovine serum albumin. Spectrochim. Acta A 66, 650–655 (2007)

Gharagozlou, M., Boghaei, D.M.: Interaction of water-soluble amino acid Schiff base complexes with bovine serum albumin: fluorescence and circular dichroism studies. Spectrochim. Acta A 71, 1617–1622 (2008)

Zhang, H.-X., Chen, K.-S.: Biophysical studies on the site-selective binding of a synthesized selenium–quercetin complex on a protein. J. Solution Chem. 41, 915–925 (2012)
Acknowledgments
The authors gratefully acknowledge the fund support of the Science and Technology Research Program of the Education Department, Hubei, China (Grants No. Q20134303 and Q20144304) and the Scientific Research Project of Jingchu University of Technology (Grant No. ZR201302; ZR201108). The work is also supported by Hubei Key Laboratory of Drug Synthesis and Optimization (Grant No. OPP2014YB01).
About this article
Cite this article
Liu, E., Zhang, Hx. Interaction of the La(III)–Morin Complex with Human Serum Albumin. J Solution Chem 43, 1402–1413 (2014). https://doi.org/10.1007/s10953-014-0210-3
Received:

Accepted:

Published:

Issue Date:

DOI: https://doi.org/10.1007/s10953-014-0210-3
Keywords
Rare earth

Human serum albumin

Fluorescence quenching

Binding site