Abstract
The kinetics of oxidation of ethylenediaminetetraacetic acid (Red) and nitrilotriacetic acid (Red) by trisacetatomanganese(III) dihydrate in dilute sulfuric acid and dilute perchloric acid media in nitrogen atmosphere were studied, where Red denotes the reductant in these reactions. At constant [Red], [H+], ionic strength and temperature, a first order dependence with respect to [Mn(III)] was observed. The rate increased with [Red] but was independent at higher [Red]. The rate was unaltered by the changes in [H+], ionic strength and added Mn(II). A suitable mechanism has been proposed to explain the observed kinetic data.
This is a preview of subscription content, log in to check access.
Access options
Buy single article
Instant access to the full article PDF.
US$ 39.95
Price includes VAT for USA
Subscribe to journal
Immediate online access to all issues from 2019. Subscription will auto renew annually.
US$ 199
This is the net price. Taxes to be calculated in checkout.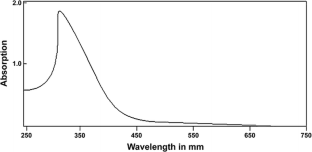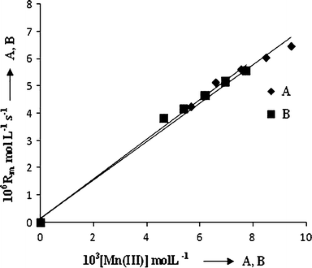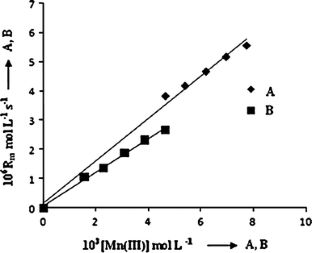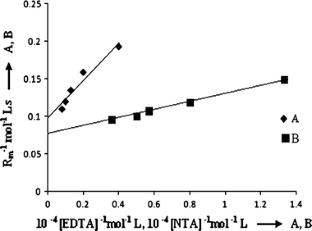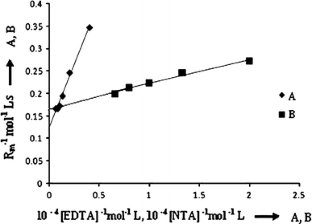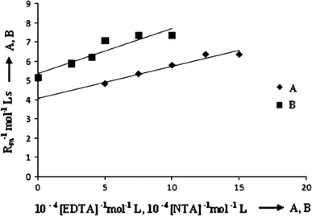 References
1.

Jiang, Jh, Kucernak, A.: Electronically conducting polymer of manganese halide complex bearing 2,6-bis(imino)pyridyl ligands. Synth. Met. 128, 221–227 (2002)

2.

Sadlick, J.: Thermal initiation of vinyl polymerization by ceric solution. J. Polym. Sci. 19, 73–75 (1956)

3.

Ananthanarayanan, V.S., Santappa, M.: Kinetics of vinyl polymerization initiated by ceric ion in aqueous solution. J. Appl. Polym. Sci. 9, 2437–2449 (1965)

4.

Pramanick, D., Sarkar, S.K.: Mode of initiation in ceric salt initiated aqueous polymerization of methylmethacrylate. Colloid Polym. Sci. 254, 989–993 (1976)

5.

Drumond, A.Y., Waters, W.A.: Stages in oxidation of organic compounds by potassium permanganate. Part III. A kinetic study of the oxidation by manganic pyrophosphate. J. Chem. Soc., 3119–3123 (1953)

6.

Senapathy, M., Samal, N.C., Mishra, R., Tripatty, B., Rout, S., Rout, M.K.: Polymerization of acrylonitrile iniated by a manganese(III) acetate glycerol redox system. J. Polym. Sci Polym. Chem. Ed. 21, 407–413 (1983)

7.

Drumond, A.Y., Waters, W.A.: Stages in oxidation of organic compounds by potassium permanganate. Part VI. Oxidation of ketones and pyruvic acid. J. Chem. Soc. 497–504 (1955)

8.

Ganga Devi, N., Mahadevan, V.: Polymerization of acrylamide by the redox system pinacol–Mn(III). J. Polym. Sci. Polym. Lett. 10, 903–910 (1972)

9.

Kemp, J.J., Waters, W.A.: The oxidation of malonic acid by manganic sulphate. J. Chem. Soc. 4, 1489–1493 (1964)

10.

Drumond, A.Y., Waters, W.A.: Stages in oxidation of organic compounds by potassium permanganate. Part IV. Oxidation of malonic acid and its analogues. J. Chem. Soc. 2456–2467 (1954)

11.

Ganga Devi, N., Mahadevan, V.: Redox polymerization. Kinetics of the reaction initiated by the malonic acid/Mn(III) system. Macromol. Chem. 152, 77–184 (1972)

12.

Levesely, P., Waters, W.A.: Stages in oxidation of organic compounds by potassium permanganate. Part V. Oxidation of some α-hydroxy-acids by manganic pyrophosphate. J. Chem. Soc., 217–221 (1955)

13.

Jose, T.P., Nandibewoor, S.T., Tuwar, S.M.: Kinetics and mechanism of the oxidation of vanillin by hexacyanoferrate(III) in aqueous alkaline medium. J. Solut. Chem. 35, 51–62 (2006)

14.

Sen Gupta, K.K., Das, S., Sen Gupta, S.: Kinetics and mechanism of the oxidation of thiosulphate by hexachloroplatinate(IV). Transition Met. Chem. 13, 155–159 (1988)

15.

Saha, S.K., Chaudruri, A.K.: Effect of amines on the ceric ion-initiated polymerization of vinyl monomer. II. Polymerization of acrylonitrile by ceric ion in presence of various substituted amines. J. Polym. Sci. Part A Polym. Chem. 10, 797–808 (1972)

16.

Hsu, W.C., Kuo, J.F., Chen, C.Y.: Aqueous polymerization of acrylamide initiated by cerium(IV)–amino acid chelating agent redox initiators. J. Polym. Sci. Part A Polym. Chem. 31, 267–270 (1993)

17.

Hsu, W.-C., Kuo, J.-F., Chen, C.-Y.: Aqueous polymerization of acrylamide initiated by cerium(IV)–ethylenediamine tetraacetic acid redox system. J. Polym. Sci. Part A Polym. Chem. 30, 2459–2466 (1992)

18.

Demappa, M.T.: Polymerization kinetics of methylmethacrylate by oxidation: reduction system using cerium(IV)/lactic acid in aqueous medium. J. Appl. Polym. Sci. 103, 3498–3505 (2006)

19.

Christianson, O.T., Anorg, Z.: Untersuchunger uber Managanverbindungen II. Manganiacetat und Alaune des Mangans. Allgem. Chem. 27, 315–340 (1901)

20.

Andrulis, P.J., Dewar, M.J.S., Dietz, R., Hunt, J.R.: Aromatic oxidation by electron transfer. I. Oxidation of p-methoxytoluene. J. Am. Chem. Soc. 88, 5473–5478 (1966)

21.

Haragopal, M., Mahadevan, V.: Redox polymerization. 4. Kinetics of the polymerization of acrylic acid derivatives initiated by the system cyanoacetic acid/Mn(OCOCH3) in dimethylformamide. Macromol. Chem. 181, 1189–1198 (1980)

22.

Jeyakrishnan, A., Haragopal, M., Mahadevan, V.: Redox polymerization-kinetics of the reaction initiated by the CH2(CH)2–Mn(III) in aqueous H2SO4 and the systemCH2(CN)2–Mn(OAC)3 in DMF and acetic acid. J. Polym. Sci. Polym. Chem. Ed. 19, 1311–1318 (1981)

23.

Ratnasabapathy, S.: Some aspects of polymerization (kinetics of polymerization of N,N'-methylenebisacrylamide by redox systems involving Mn(III)). Ph.D. thesis, Madurai Kamaraj University (1989)

24.

Vogel, A.I.: A textbook of quantitative inorganic analysis, p. 282. ELBS-Longmans Green and Co, London (1962)

25.

Lineweaver, H., Burk, D.: The determination of enzyme dissociation constants. 5. J. Am. Chem. Soc. 56, 658–666 (1934)

26.

Nagarajan, A., Srinivasan, K.S.V.: Efficiency of ceric ions for oxidation and polymerization: A review. J. Macromol Sci. Pure Appl. Chem. 38, 53–76 (1998)

27.

Mottola, H.A.: Nitrilotriacetic acid as a chelating agent: applications, toxicology, and bio-environmental impact. Toxicol. Environ. Chem. 2, 99–161 (1974)

28.

Martell, A.E., Galvin, M.: Chemistry of the metal chelate compounds, 3rd edn, p. 21. Prentice Hall, Englewood Cliffs (1956)

29.

Gangadevi, N., Mahadevan, V.: Redox polymerization, 5. Kinetics of the polymerization of acrylonitrile and methyl methacrylate initiated by the system cyanoacetic acid–Mn(III)(acac)3 in DMF and DMSO. Macromol. Chem. 182, 23–28 (1981)
About this article
Cite this article
Sivakumar, G., Krishnaveni, N. & Umayavalli, M. Oxidation Studies of Mn(III)–Amino Acid Chelating Agents. J Solution Chem 41, 1937–1947 (2012). https://doi.org/10.1007/s10953-012-9913-5
Received:

Accepted:

Published:

Issue Date:
Keywords
Mn(III)–amino acid chelating agent complexes

Ethylenediaminetetraacetic acid

Nitrilotriacetic acid

Trisacetatomanganese(III) dihydrate