Abstract
A site-specific probabilistic seismic hazard analysis (PSHA) has been performed for the only nuclear power plant site in Brazil, located 130 km southwest of Rio de Janeiro at Angra dos Reis. Logic trees were developed for both the seismic source characterisation and ground-motion characterisation models, in both cases seeking to capture the appreciable ranges of epistemic uncertainty with relatively few branches. This logic-tree structure allowed the hazard calculations to be performed efficiently while obtaining results that reflect the inevitable uncertainty in long-term seismic hazard assessment in this tectonically stable region. An innovative feature of the study is an additional seismic source zone added to capture the potential contributions of characteristics earthquake associated with geological faults in the region surrounding the coastal site.
Access options
Buy single article
Instant access to the full article PDF.
USD 39.95
Price excludes VAT (USA)
Tax calculation will be finalised during checkout.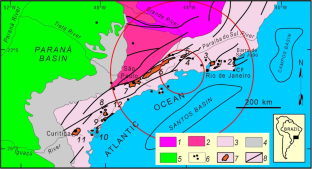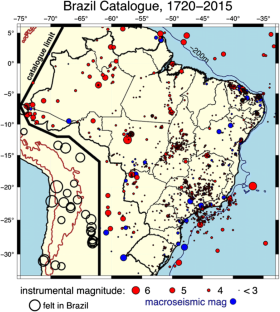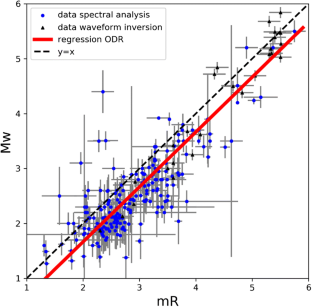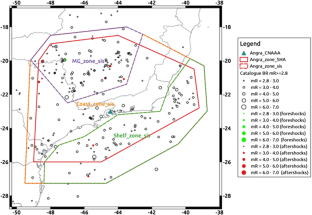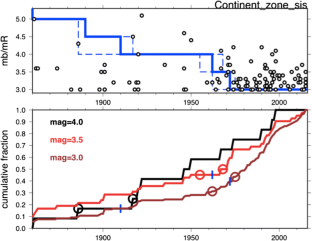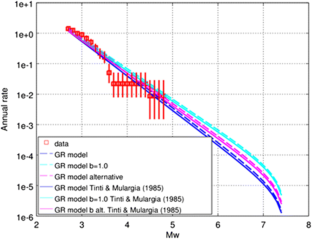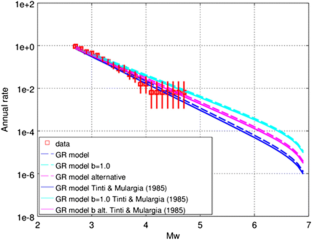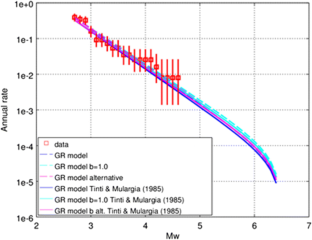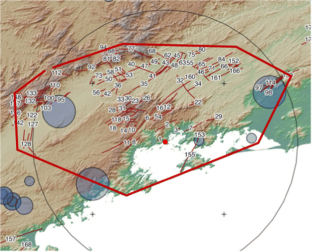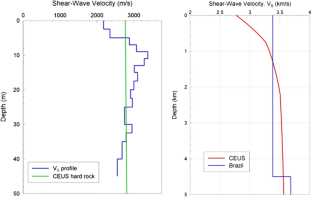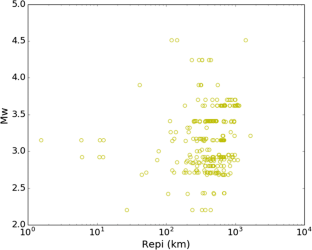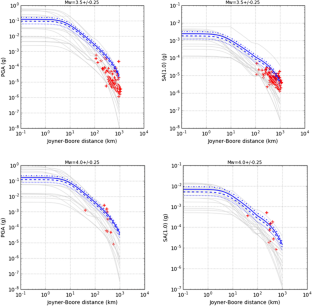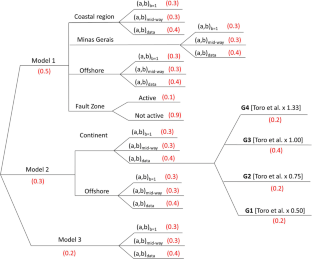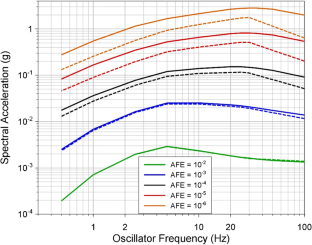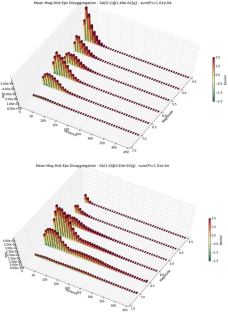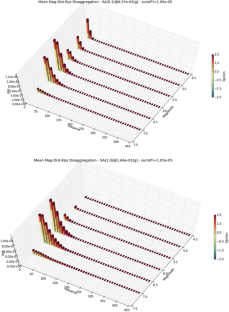 References
Anderson JG, Hough SE (1984) A model for the shape of the Fourier amplitude spectrum of acceleration at high frequencies. Bull Seismol Soc Am 74(5):1969–1993

Agurto H, Assumpção M, Ciardelli C, Albuquerque DF, Barros LV, França GSL (2015) The 2012-2013 Montes Claros earthquake series in the São Francisco craton, Brazil: new evidence for non-uniform intraplate stresses in mid-plate South America. Geophys J Int 200:216–226. https://doi.org/10.1093/gji/ggu333

Assumpção M (1983) A regional magnitude scale for Brazil. Bull Seismol Soc Am 73(1):237–246

Assumpção M (1998a) Seismicity and stresses in the Brazilian passive margin. Bull Seismol Soc Am 88(1):160–169

Assumpção M (1998b) Focal mechanisms of small earthquakes in SE Brazilian shield: a test of stress models of the south American plate. Geophys J Int 133:490–498

Assumpção M, Dourado JC, Ribotta LC, Mohriak WU, Dias FL, Barbosa JR (2011) The São Vicente earthquake of April 2008 and seismicity in the continental shelf off SE Brazil: further evidence for flexural stresses. Geophys J Int 187:1076–1088. https://doi.org/10.1111/j.1365-246X.2011.05198.x

Assumpção M, Ferreira J, Barros L, Bezerra FH, França GS, Barbosa JR, Menezes E, Ribotta LC, Pirchiner M, Nascimento A, Dourado JC (2014). Intraplate seismicity in Brazil. In: Intraplate Earthquakes, chapter 3, ed. P. Talwani, Cambridge UP, ISBN 978-1-107-04038-0

Assumpção M, Suárez G (1988) Source mechanisms of moderate size earthquakes and stress orientation in mid-plate South America. Geophys J 92:253–267

Atkinson GM, Bommer JJ, Abrahamson NA (2014) Alternative approaches to modeling epistemic uncertainty in ground motion in probabilistic seismic-hazard analysis. Seismol Res Lett 85(6):1141–1144

Barros LV, Assumpção M, Chimpliganond C, Carvalho JM, Von Huelsen MG, Caixeta D, França GS, Albuquerque DF, Ferreira VM, Fontenele DP (2015) The Mara Rosa 2010 GT-5 earthquake and its possible relationship with the continental-scale transbrasiliano lineament. J S Am Earth Sci 60:1–9. https://doi.org/10.1016/j.jsames.2015.02.002

Barros LV, Assumpção M, Quinteros R, Caixeta D (2009) The intraplate Porto dos Gaúchos seismic zone in the Amazon craton—Brazil. Tectonophysics 469(1–4):37–47. https://doi.org/10.1016/j.tecto.2009.01.006

Berrocal J, Assumpção MM, Antezana R, Dias Neto CM, Ortega R, França H, Veloso JAV (1984) Sismicidade do Brasil. Instituto Astronômico e Geofísico da Universidade de São Paulo e Comissão Nacional de Energia Nuclear, Brazil, p 320

Bianchi MB, Assumpção M, Rocha MP, Carvalho JM, Azevedo PA, Fontes SL, Dias FL, Ferreira JM, Nascimento AF, Ferreira MV, Costa ISL (2018) The Brazilian seismographic network (RSBR): improving seismic monitoring in Brazil. Seismol Res Lett 89:452–457. https://doi.org/10.1785/0220170227

Bommer JJ, Crowley H (2017) The purpose and definition of the minimum magnitude limit in PSHA calculations. Seismol Res Lett 88(4):1097–1106

Bommer JJ, Douglas J, Strasser FO (2003) Style-of-faulting in ground motion prediction equations. Bull Earthq Eng 1(2):171–203

Boore DM, Joyner WB (1997) Site amplifications for generic rock sites. Bull Seismol Soc Am 87:327–341

Cogné N, Gallagher K, Cobbold PR (2011) Post-rift reactivation of the onshore margin of Southeast Brazil: evidence from apatite (U-Th)/He and fission-track data. Earth Planet Sci Lett 309(1–2):118–130

Cogné N, Gallagher K, Cobbold PR, Riccomini C, Gautheron C (2012) Post-breakup tectonics in Southeast Brazil from combined inverse-forward thermal history modeling. J Geophys Res 117:B11413

Crone AJ, Wheeler RL (2000) Data for quaternary faults, liquefaction features, and possible tectonic features in the central and eastern United States, east of the Rocky Mountain front. U.S. Geol Surv Open-File Report 00-260:332

Dias FL, Assumpção M, Facincani EM, França GS, Assine ML, Paranhos Filho AC, Gamarra RM (2016) The 2009 earthquake, magnitude 4.8 mb, in the Pantanal wetlands, western Brazil. Annals, Brazilian Academy of Science 88(3):1253–1264. https://doi.org/10.1590/0001-3765201620140507

Drouet S, Assumpção M (2013) Spectral analysis of Brazilian data and comparison with ground-motion models. 13th international congress of the Brazilian geophysical society & EXPOGEF, Rio de Janeiro, Brazil, 26–29 August 2013: pp. 1745–1749. https://doi.org/10.1190/sbgf2013-358

Gardner JK, Knopoff L (1974) Is the sequence of earthquakes in Southern California, with aftershocks removed, Poissonian? Bull Seismol Soc Am 64(9):1363–1367

Grünthal G (1985) The up-dated earthquake catalog for the German Democratic Republic and adjacent areas—statistical data characteristics and conclusions for hazard assessment. Proceedings 3rd International Symposium on the Analysis of Seismicity and Seismic Risk. Czechoslovak Academy of Science, Prague, 19–25

Hiruma ST, Riccomini C, Modenesi-Gauttier MC, Hackspacher PC, Hadler Neto JC, Franco-Magalhães AOB (2010) Denudation history of the Bocaina plateau, Serra do mar, southeastern Brazil: relationships to Gondwana breakup and passive margin development. Gondwana Res 18(4):674–687

IAEA (2010) Seismic hazard in site evaluation for nuclear installations. In: Specific safety guide SSG-9. International Atomic Energy Agency, Vienna 80 pp

Johnston AC, Coppersmith KJ, Kanter LR, Cornell CA (1994) The earthquakes of stable continental regions: assessment of large earthquake potential, TR-102261, vol 1–5, ed. Schneider, J.F., Electric Power Research Institute (EPRI), Palo Alto, CA

Modenesi-Gauttieri MC, Hiruma ST, Riccomini C (2002) Morphotectonics of a high plateau on the northwest flank of the continental rift of southeastern Brazil. Geomorphology 43(3–4):257­271

Mulargia F, Gasperini P, Tinti S (1987) Contour mapping of Italian seismicity. Tectonophysics 142:203–216

Musson RMW (2012) The effect of magnitude uncertainty on earthquake activity rates. Bull Seismol Soc Am 102(6):2771–2775

Nogueira FC, Bezerra FHR, Fuck RA (2010) Quaternary fault kinematics and chronology in intraplate northeastern Brazil. J Geodyn 49(2):79–91

Pagani M, Monelli D, Weatherill G, Danciu L, Crowley H, Silva V, Henshaw P, Butler L, Nastasi M, Panzeri L, Simionato M, Vigano D (2014) OpenQuake engine: an open hazard (and risk) software for the global earthquake model. Seismol Res Lett 85(3):692–702

Promon (1989) Usina Nuclear de Angra Unidade 3: Relatório Geotécnico Vol. In: 1, Document BP-3-6502-850100-R1. Promon Engenharia, Rio de Janeiro 66 pp

Riccomini C, Assumpção M (1999) Quaternary tectonics in Brazil. Episodes 22(3):221–225

Riccomini C, Peloggia AUG, Saloni JCL, Kohnke MW, Figueira RM (1989) Neotectonic activity in the Serra do Mar rift system (southeastern Brazil). J S Am Earth Sci 2(2):191–197

Riccomini C, Sant'Anna LG, Ferrari AL (2004) Evolução geológica do Rift Continental do Sudeste do Brasil. In: Mantesso-Neto V, Bartorelli A, Carneiro CDR, Brito Neves BB (eds) Geologia do Continente Sul-Americano: evolução da obra de Fernando Flávio Marques de Almeida. Beca, São Paulo, pp 393–405

Riccomini C, Grohmann CH, Sant'Anna LG, Hiruma ST (2010) A captura das cabeceiras do Rio Tietê pelo Rio Paraíba do Sul. In: Modenesi-Gauttieri M.C., A. Bartorelli, V. Mantesso-Neto, C.D.R. Carneiro & M.B.A.L. Lisboa, eds., A Obra de Aziz Nacib Ab'Sáber. Becca, São Paulo, pp. 157–169

Rocha MP, Schimmel M, Assumpção M (2011) Upper-mantle seismic structure beneath SE and Central Brazil from P- and S-wave regional traveltime tomography. Geophys J Int 184:268–286. https://doi.org/10.1111/j.1365-246X.2010.04831.x

Scherbaum F, Cotton F, Smit P (2004) On the use of response spectral-reference data for the selection and ranking of ground-motion models for seismic-hazard analysis in regions of moderate seismicity: the case of rock motion. Bull Seismol Soc Am 94(6):2164–2185

Scherbaum F, Delavaud E, Riggelsen C (2009) Model selection in seismic hazard analysis: an information-theoretic perspective. Bull Seismol Soc Am 99(6):3234–3247

Shearer PM, Stark PB (2012) Global risk of big earthquakes has not recently increased. Proc US Nat Acad Sci 109:717–721

Tinti S, Mulargia F (1985) Effects of magnitude uncertainties on estimating the parameters in the Gutenberg-Richter frequency-magnitude law. Bull Seismol Soc Am 75:1681–1697

Toro GR, Abrahamson NA, Schneider JF (1997) Model of strong ground motions from earthquakes in central and eastern North America: best estimates and uncertainties. Seismol Res Lett 68(1):41–57

Toro GR (2002) Modification of the Toro et al. (1997) Attenuation equations for large magnitudes and short distances. Risk Engineering Inc.

USAEC (1973) Design response spectra for seismic design of nuclear power plants. Regulatory Guide 1.60, Atomic Energy Commission, Washington D.C.

USNRC (2007) A performance-based approach to define the site-specific earthquake ground motion. Regulatory Guide 1.208, US Nuclear Regulatory Commission, Washington D.C.

Van Stiphout T, Zhuang J, Marsan D (2012) Seismicity declustering. Community Online Ressource for Statistical Seismicity Analysis, doi:https://doi.org/10.5078/corssa-52382934. Available at http://www.corssa.org

Veloso JAV (2014) On the footprints of a major Brazilian Amazon earthquake. Ann Braz Acad Sci 86(3):1115–1129. https://doi.org/10.1590/0001-3765201420130340

Weichert DH (1980) Estimation of the earthquake recurrence parameters for unequal observation periods for different magnitudes. Bull Seismol Soc Am 70(4):1337–1346

Wells DL, Coppersmith KJ (1994) New empirical relationships among magnitude, rupture length, rupture width, rupture area, and surface displacement. Bull Seismol Soc Am 84(4):974–1002
Acknowledgements
Many individuals contributed to this study in different ways, including Drs Jesus Berrocal and Jorge Daniel Riera, who provided critical feedback during the early stages of the model development. Paola Albini undertook work to retrieve archive information on historical earthquakes in southeast Brazil and provided valuable updates on some key events as well as identifying rich sources of information in European archives that have yet to be fully mined. The interpretation and modelling of geological faults in the study region were greatly enriched by interactions and discussions with Anthony Crone, Michael Machette and Francisco Hilario Bezarra who participated with several of the authors in a field reconnaissance study of the area in May–June, 2016. We also express our very sincere thanks to the team at the GEM (Global Earthquake Model) Foundation in Pavia, Italy, for their kind and generous assistance with the operation of the OpenQuake hazard engine; particular thanks in this regard are due to Marco Pagani and Graeme Weatherill. We are also grateful to Marlon Pirchiner for his invaluable assistance with the execution of the hazard calculations, and in particular the disaggregations, in OpenQuake and to Carlos H. Grohmann for his support in building the fault database. The authors wish to thank Eletrobrás Eletronuclear, the Brazilian state-owned company, which was responsible for the support to this project and to assemble the project team, especially to Eng. Lucio D. B. Ferrari and Eng. Paulo C. Carneiro, who made it possible. The interaction of the project team with other engineers Ricardo C. Albano, Rodolfo L.M. Suanno and Tarcísio de Freitas Cardoso from Eletronuclear has been very informative and useful in ensuring that the output from this study addresses the engineering needs for the Angra dos Reis Nuclear Power Plants. We would also like to express our thanks to the Associate Editor and an anonymous reviewer for the very helpful feedback that enabled us to improve the presentation of this work.
Electronic supplementary material
About this article
Cite this article
de Almeida, A.A.D., Assumpção, M., Bommer, J.J. et al. Probabilistic seismic hazard analysis for a nuclear power plant site in southeast Brazil. J Seismol 23, 1–23 (2019). https://doi.org/10.1007/s10950-018-9755-8
Received:

Accepted:

Published:

Issue Date:

DOI: https://doi.org/10.1007/s10950-018-9755-8
Keywords