Abstract
In her nineteenth century book "Domestic Life in Palestine", Mary Eliza Rogers describes the earthquake she had experienced in Haifa in the middle of the night between the 10th and 11th of October 1856. Although she reports that the earthquake was well felt in northern Palestine and even slightly damaged structures in Haifa, she is the only one who reported the event. However, on the following night, a destructive earthquake that occurred close to Crete was reported by many contemporary sources. Rogers' report is not cited in any of the existing earthquake catalogs or literature. Thus, the question arises is whether what she reports is an earthquake that was unknown to us till now or perhaps she merely dated incorrectly the event she had experienced. To resolve this question, I interpreted her description of the moon phase at the time of the earthquake occurrence and concluded that Rogers incorrectly dated the event whereas in fact what she had experienced was the Crete earthquake. The rest of her description is probably reliable and reinforces reports of damaged localities along the coast of northern Palestine and southern Lebanon.
Access options
Buy single article
Instant access to the full article PDF.
US$ 39.95
Tax calculation will be finalised during checkout.
Subscribe to journal
Immediate online access to all issues from 2019. Subscription will auto renew annually.
US$ 79
Tax calculation will be finalised during checkout.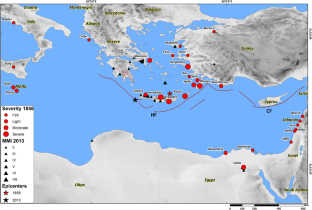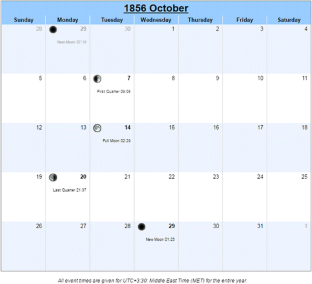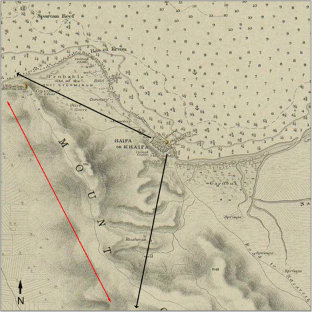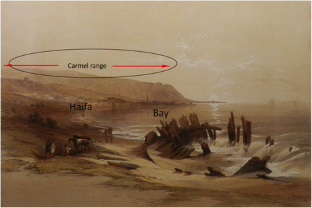 References
Ambraseys NN (2009) Earthquakes in the Mediterranean and Middle East. A multidisciplinary study of seismicity up to 1900, 1st edn. Cambridge University Press, New York

Amiran DHK, Arieh E, Turcotte T (1994) Earthquakes in Israel and adjacent areas: macroseismic observation since 100 B.C.E. Israel Exploration Journal 44:260–305

Ben-Arieh Y (1970) The rediscovery of the holy land in the nineteenth century. Carta Jerusalem & the Israel Exploration Society, Jerusalem (Hebrew)

Ben-Menahem A (1979) Earthquake catalog for the Middle East (92 B.C.–1980 A.D.). Boll Geofis Teor Appl 21:245–310

Carmel A (2011) Ottoman Haifa: a history of four centuries under Turkish rule. IB Tauris, London

Galea P (2007) Seismic history of the Maltese islands and considerations on seismic risk. Ann Geophys 50:725–740

Guidoboni E, Comastri A (2005) Catalogue of earthquakes and tsunamis in the Mediterranean area from the 11th to the 15th century. INGV-SGA, Bologna

Guidoboni E, Comastri A, Traina G (1994) Catalogue of ancient earthquakes in the Mediterranean area up to the 10th century. ING-SGA, Bologna

Hall JK, Cleave RL (1998) The DTM project. Geological Survey of Israel, Jerusalem

Hull TA (1865) Mediterranean Sea Syria surveyed by Mess. TA Hull & FB Christian R.N. under the direction of Comm. AL Mansell RN engraved by J. & C. Walker. Admiralty 1st. June 1863, under the superintendence of Adm. Washington F.R.S. Hydrographer, London

Karcz I (1987) Bibliographic reliability of catalogues of historic earthquakes in and around Israel. Catalogue of Turcott and Arieh (1986). Geological survey of Israel, Jerusalem, 92 pp

Karcz I, Lom P (1987) Bibliographic reliability of catalogues of historic earthquakes in and around Israel: methodology and background. Geological Survey of Israel, Jerusalem, 89 pp

NASA (2017) SKYCAL—Sky Events Calendar. NASA. https://eclipse.gsfc.nasa.gov/SKYCAL/SKYCAL.html [Accessed March 2017]

Papazachos BC (1996) Large seismic faults in the Hellenic arc. Annali di Geofisica XXXIX:891–903

Papazachos BC, Papazachou C (1997) The earthquakes of Greece. Editions Ziti, Thessaloniki

Papazachos BC, Comninakis PE, Karakaisis GF, Karakostas BG, Papaioannou CA, Papazachos CB, Scordilis EM (2000) A catalogue of earthquakes in Greece and surrounding area for the period 550BC-1999 vol 1. Publ. Geoph. Lab. University of Thessaloniki, Thessaloniki

Perrey A (1859) Note sur les tremblements de terre en 1856, avec suppléments pour les années antérieures [Séance du 9/10/1858]. Mémoires couronnés et autres mémoires. Publiés par l'Académie royale des Sciences, des Lettres et des Beaux-arts de Belgique, Belgique, 79 pp

Roberts D (1842-1849) The Holy Land, Syria, Idumea, Arabia, Egypt & Nubia. Drawings made on the spot by David Roberts, R.A. with historical descriptions by the Rev. George Croly, L.L.D. Lithographed by Louis Haghe. F. G. Moon, London

Rogers ME (1862) Domestic life in Palestine. Kegan Paul International, London. https://archive.org/details/domesticlifeinp01rogegoog [Accessed April 2017]

Salamon A (2009) Patterns of seismic sequences in the Levant-interpretation of historical seismicity. J Seismol 14:339–367

Salamon A, Rockwell T, Ward NS, Guidoboni E, Comastri A (2007) Tsunami hazard evaluation of the eastern Mediterranean: historical analysis and selected modeling. Bull Seismol Soc Am 97:705–724

Salamon A, Rockwell T, Guidoboni E, Comastri A (2011) A critical evaluation of tsunami records reported for the Levant coast from the second millennium BCE to the present. Isr J Earth Sci 58:327–354

Schmidt JF (1879) Monographien von Orient Erdbeben 1837–1873. Alwin Georgi, Leipzig

Tucker JE (1990) Traveling with the ladies: Women's travel literature from the nineteenth century Middle East. J Women's History 2:245–250. doi:10.1353/jowh.2010.0167

USGS (2013a) M 6.6—31km W of Platanos, Greece United State Geological Survey http://earthquake.usgs.gov/earthquakes/eventpage/usb000kbn7%23general_region [Accessed March 2017]

USGS (2013b) M 6.6 - 31km W of Platanos, Greece - Did you feel it? United State Geological Survey. https://earthquake.usgs.gov/earthquakes/eventpage/usb000kbn7%23dyfi [Accessed March 2017]

Zohar M, Salamon A, Rubin R (2017) Earthquake damage history in Israel and its close surrounding—evaluation of spatial and temporal patterns. Tectonophysics 696:1–13. doi:10.1016/j.tecto.2016.12.015

Zucker S (2010) Moon and Sun rise and set http://wise-obs.tau.ac.il/observations/Util/RiseSet.html [Accessed May 2017]
Acknowledgements
I thank Prof. Shmulik Marco and Prof. Shay Zucker from Tel Aviv University for their advice and kind assistance, Prof. Basil Papazachos from Aristolle University of Thessaloniki for his support, and Prof. Rehav Rubin from the Hebrew University of Jerusalem and Dr. Amos Salamon from the Geological Survey of Israel for their useful comments and review. I also thank the Rothschild and Minerva foundations and the Geological Survey of Israel. Finally, I thank the anonymous reviewers for their useful comments and review and Beverly Katz for editing the manuscript.
About this article
Cite this article
Zohar, M. A newly discovered historical earthquake or merely a chronological mistake? Report of Mary Eliza Rogers from October 10, 1856. J Seismol 21, 1285–1290 (2017). https://doi.org/10.1007/s10950-017-9686-9
Received:

Accepted:

Published:

Issue Date:
Keywords
Mary Eliza Rogers

Historical earthquake

Damage

1856

Palestine

Haifa