Abstract
Infrasonic signals propagate from an atmospheric source via media with stochastic and fast space-varying conditions. Hence, their travel time, the amplitude at sensor recordings and even manifestation in the so-called "shadow zones" are random. Therefore, the traditional least-squares technique for locating infrasonic sources is often not effective, and the problem for the best solution must be formulated in probabilistic terms. Recently, a series of papers has been published about Bayesian Infrasonic Source Localization (BISL) method based on the computation of the posterior probability density function (PPDF) of the source location, as a convolution of a priori probability distribution function (APDF) of the propagation model parameters with likelihood function (LF) of observations. The present study is devoted to the further development of BISL for higher accuracy and stability of the source location results and decreasing of computational load. We critically analyse previous algorithms and propose several new ones. First of all, we describe the general PPDF formulation and demonstrate that this relatively slow algorithm might be among the most accurate algorithms, provided the adequate APDF and LF are used. Then, we suggest using summation instead of integration in a general PPDF calculation for increased robustness, but this leads us to the 3D space-time optimization problem. Two different forms of APDF approximation are considered and applied for the PPDF calculation in our study. One of them is previously suggested, but not yet properly used is the so-called "celerity-range histograms" (CRHs). Another is the outcome from previous findings of linear mean travel time for the four first infrasonic phases in the overlapping consecutive distance ranges. This stochastic model is extended here to the regional distance of 1000 km, and the APDF introduced is the probabilistic form of the junction between this travel time model and range-dependent probability distributions of the phase arrival time picks. To illustrate the improvements in both computation time and location accuracy achieved, we compare location results for the new algorithms, previously published BISL-type algorithms and the least-squares location technique. This comparison is provided via a case study of different typical spatial data distributions and statistical experiment using the database of 36 ground-truth explosions from the Utah Test and Training Range (UTTR) recorded during the US summer season at USArray transportable seismic stations when they were near the site between 2006 and 2008.
Access options
Buy single article
Instant access to the full article PDF.
US$ 39.95
Tax calculation will be finalised during checkout.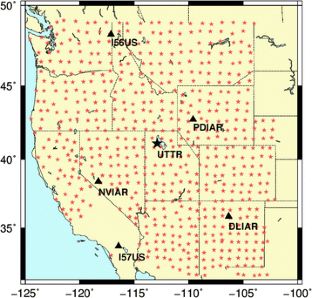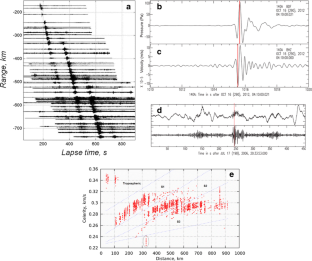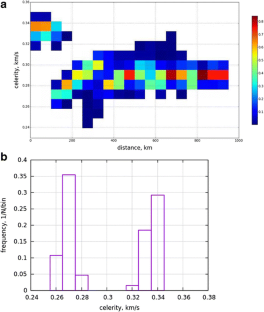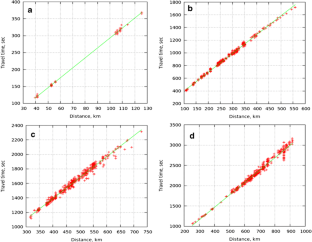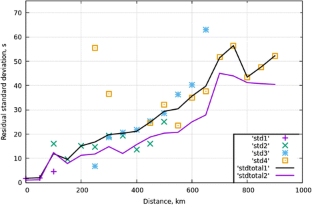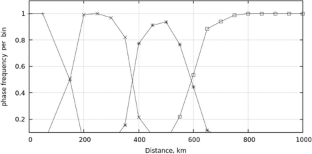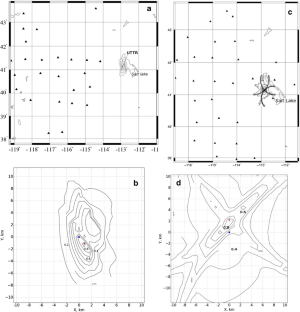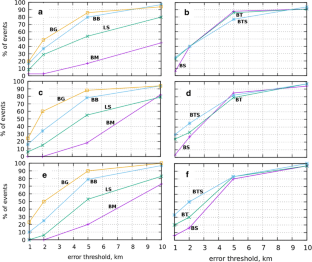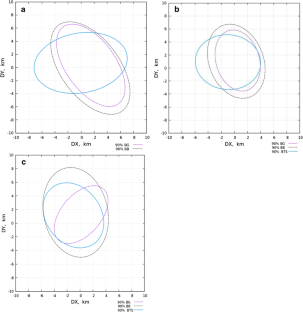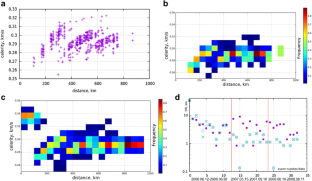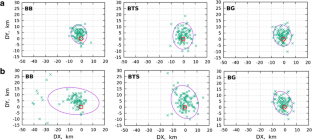 References
Arrowsmith SJ, Whitaker RW, Taylor SR, Burlacu R, Stump B, Hedlin MAH, Randall G, Hayward C, ReVelle D (2008) Regional monitoring of infrasound events using multiple arrays: application to Utah and Washington state. Geophys J Int 175:291–300

Balachandran NK, Donn WJ, Kaschak G (1971) On the propagation of infrasound from rockets: effects of winds. J Acoust Soc Am 50(2):397–404

Bedard AJ (1978) Infrasound originating near mountainous regions in Colorado. J Appl Meteorol 17(July 1978):1014–1022

Bedard AJ (2005) Low-frequency atmospheric acoustic energy associated with vortices produced by thunderstorms. Mon Wea Rev 133:241–263

Bedard AJ, Jones RM (2013) Infrasonic ray tracing applied to mesoscale atmospheric structures: refraction by hurricanes. J Acoust Soc Am 134(5):3446–3451

Bedard, A. J., B. W. Bartram, A. N. Keane, D. C. Welsh, R. T. Nishiyama (2004). 22nd conference on severe local storms, 4-8 October 2004, Hyannis, MA.

Blom P, Waxler R (2012) Impulse propagation in the nocturnal boundary layer: analysis of the geometric component. J Acoust Soc Am 131(5):3680–3690

Blom PS, Marcillo O, Arrowsmith SJ (2015) Improved Bayesian infrasonic source localization for regional infrasound. Geoph. J. Int. 203(3):1682–1693. doi:10.1093/gji/ggv387

Busby RW, Vernon FL, Newman RL, Astiz L (2006) Earth-Scope's USArray: advancing eastward. EOS Trans Am Geophys Union 87(52) Fall Meeting Supplement, Abstract U41B-0820

Chunchuzov I, Kulichkov SN, Popov O, Hedlin MAH (2014) Modeling propagation of infrasound signals observed by a dense seismic network. J Acoust Soc Am 135(1):38–48. doi:10.1121/1.4845355

de Groot-Hedlin CD, Hedlin MAH (2015) A method for detecting and locating geophysical events using groups of arrays. Geophys J Int 2015(203):960–971. doi:10.1093/gji/ggv345

De Groot-Hedlin CD, Hedlin MAH, Walker KT (2014) Detection of gravity waves across the USArray: a case study. Earth Planet Sci Lett 402:346–352. doi:10.1016/j.epsl.2013.06.042

Drob DP, Picone JM, Garces M (2003) Global morphology of infrasound propagation. J Geophys Res 108(D21):4680

Drob DP, Garcés M, Hedlin M, Brachet N (2010) The temporal morphology of infrasound propagation. Pure Appl Geophys 167(4):437–453. doi:10.1007/s00024-010-0080-6

Evers LG, Haak HW (2010) The characteristics of infrasound, its propagation and some early history. In: Le Pichon A, Blank E, Houchecorne A (eds) Infrasound Monitoring for Atmospheric Studies. Springer, Netherlands, pp 3–26

Frazier WG, Talmadge C, Park J, Waxler R, Assink J (2014) Acoustic detection, tracking, and characterization of three tornadoes. J Acoust Soc Am 135(4):1742–1751

Garcés MA, Hansen RA, Lindquist KG (1998) Traveltimes for infrasonic waves propagating in a stratified atmosphere. Geophys J Int 135:255–263

Geiger L (1912) Probability method for the determination of earthquake epicenters from the arrival time only. Bull St Louis Univ 8:60–71

Huber PJ (1981) Robust statistics. John Wiley & Sons Inc., New York

Kulichkov SN (2000) On infrasonic arrivals in the zone of geometric shadow at long distances from surface explosions, in Proceedings of the Ninth Annual Symposium on Long-Range Propagation, Oxford, Mississippi, 14–15 September, National Center for Physical Acoustics, pp. 238–251

Le Pichon A, Blanc E, Hauchecorne A (2010) Infrasound monitoring for atmospheric studies. Springer, New York, p 735

Lomax A, Virieux J, Volant P, Berge C (2000) Probabilistic earthquake location in 3D and layered models: introduction of a Metropolis-Gibbs method and comparison with linear locations. In: Thurber CH, Rabinowitz N (eds) Advances in seismic event location. Kluwer, Amsterdam, pp 101–134

Marcillo O, Arrowsmith S, Wittaker R, Anderson D, Nippress A, Green DN, Drob D (2014) Using physics-based priors in a Bayesian algorithm to enhance infrasound source location. Geophys J Int 196(1):375–385

Modrak RT, Arrowsmith SJ, Anderson DN (2010) A Bayesian framework for infrasound location. Geophys J Int 181(1):399–405

Morton EA, Arrowsmith SJ (2014) The development of global probabilistic propagation look-up tables for infrasound celerity and back-azimuth deviation. Seismol Res Let 85(6):1223–1233. doi:10.1785/0220140124

Negraru PT (2010) Application of seismo-acoustic signals to the study of local site effects. Acta Geophys 58(6):1021–1039

Nippress A, Green DN, Marcillo OE, Arrowsmith SJ (2014) Generating regional infrasound celerity-range models using ground-truth information and the implications for event location. Geophys J Int 197:1154–1165

Pinsky V (2000) Prototype autonomous earthquake locator for regional networks. Geophys Res Lett 11/2000 27(21):3549–3552. doi:10.1029/1999GL011237

Pinsky V (2006) Using beamforming for global network location. Phys Earth Planet Inter 158:75–83

Pinsky V (2015) Real-time version of the Bayesian infrasonic source localization method. ITW, Vienna

Pinsky V, Blom P, Marchillo O, Nippress A, Arrowsmith S, Hofstetter A (2015) Real-time versions of the Bayesian Infrasonic Source Localization method. American Geophysical Union Fall Meeting

Posmentier ES (1967) A theory of microbaroms. Geophys J R Astron Soc 13:487–301

Shams QA, Zuckerwar AJ, Burkett CG, Weistroffer GR, Hugo DR (2013) Experimental investigation into infrasonic emissions from atmospheric turbulence. J Acoust Soc Am 133(3):1269–1280. doi:10.1121/1.4776180

Tarantola A, Valette B (1982) Inverse problems = quest for information. J Geophys 50:159–170

Trabant C, Hutko AR, Bahavar M, Karstens R, Ahern T, Aster R (2012) Data products at the IRIS DMC: stepping stones for research and other applications. Seismol Res Lett 83(5):846–854. doi:10.1785/0220120032

Tytell J, Vernon F, Hedlin M, de Groot Hedlin C, Reyes J (2016) The USArray Transportable Array as a platform for weather observation and research. Bull Am Meteorol Soc. doi:10.1175/BAMS-D-14-00204.1 on-line publication

Wald A (1943) Tests of statistical hypotheses concerning several parameters when the number of observations is large. Trans am Math Soc 54(3):426–482

Waxler R, Evers LG, Assink J, Blom P (2015) The stratospheric arrival pair in infrasound propagation. J Acoust Soc Am 137(4):1846–1856

Whitaker RW, Mutschlecner JP (2008) A comparison of infrasound signals refracted from stratospheric and thermospheric altitudes. J Geophys Res 113(D08117). doi:10.1029/2007JD008852
Acknowledgements
We are grateful to Alexandra Nippress, who shared the dataset of travel time infrasonic picks from the UTTR explosions recorded by the US Transportable Array and the regional infrasonic arrays and who essentially participated in writing this paper. We are grateful for the anonymous reviewers who shared their time and effort for reading the paper and making a lot of valuable comments and recommendations. This study was supported by the USA–Israel Binational Science Foundation under the contract grant 2010354.
About this article
Cite this article
Pinsky, V., Blom, P., Polozov, A. et al. Towards an accurate real-time locator of infrasonic sources. J Seismol 21, 1361–1383 (2017). https://doi.org/10.1007/s10950-017-9670-4
Received:

Accepted:

Published:

Issue Date:
Keywords
Infrasonic signals

Infrasonic source location

Bayesian infrasonic source locator

Celerity-range histograms

Infrasonic phase travel time

USArray

Transportable array

Utah Test and Training Range explosions