Abstract
Two moderate earthquakes of Mw 5.7 on the first of May and Mw 5.2 on the second of August occurred in the Kishtwar region in the year 2013. Our broadband seismic observatories located in the region recorded these events and the aftershocks. We analyzed these data to understand the seismotectonics of this region. Most of the events were located between 33.03° to 33.29° N latitude and 75.40° to 76.07° E longitude. Focal depths of these shallow earthquakes range from 7 to 12 km and are confined between Panjal Thrust (PT) and Kishtwar Window (KW). Spectral analysis of these events reveals that stress drop, source radius, corner frequency, and moment magnitude varied between 3.3 and 70.1 bars, 0.121 and 3.55 km, 0.397 and 6.06 Hz, and Mw 2.2 and Mw 5.7, respectively. The low stress drop of small-magnitude earthquakes reveals the brittle nature of the upper crust which is coincident with the field observations. The variation of stress drop with magnitude shows positive correlation whereas no such relation was observed between stress drop and depth of focus. The b value calculated (0.83) for the area reveals high stress accumulation within the incompetent rock zones in the area.
Access options
Buy single article
Instant access to the full article PDF.
USD 39.95
Price excludes VAT (USA)
Tax calculation will be finalised during checkout.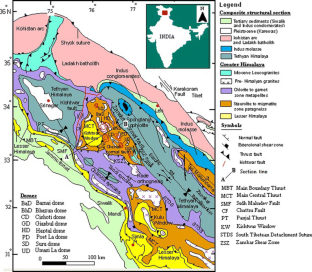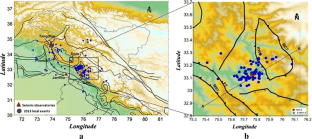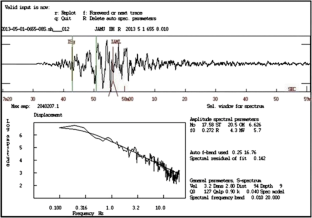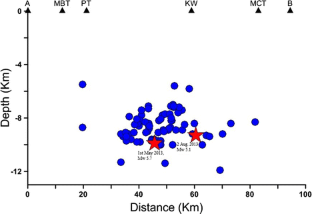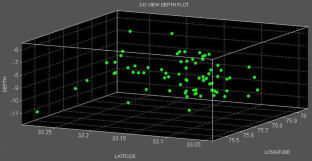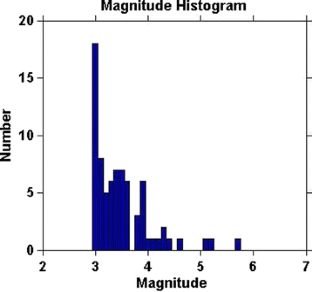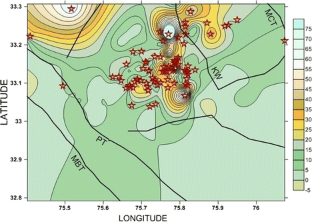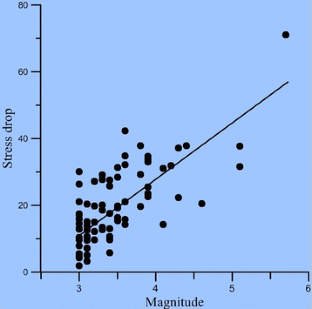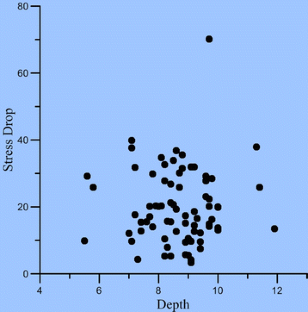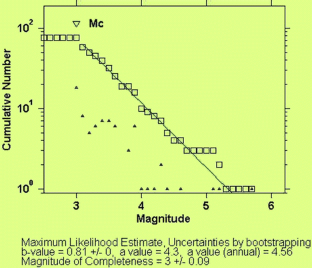 References
Aki K (1965) Maximum likelihood estimate of B in the formula log N=a - bM and its confidence limits. Bulletin of the Earthquake research Institute 43:237–239

Allen CR, Amand PS, Richter CF, Nordquist JM (1965) Relation between seismicity and geological structure in the southern California region. Bull Seism Soc Am 55:752–797

Allen TI, Gibson G, Brown A, Cull JP (2004) Depth variation of seismic source scaling relations: implications for earthquake hazard in southeastern Australia. Tectnophysics 390:5–24

Ambraseys NN, Douglas J (2004) Magnitude calibration of north Indian earthquakes. Geopyhsical Journal International 158:1–42

Banghar AR (1972) Focal mechanism of Indian earthquakes. Bull Seismol Soc Am 62:603–608

Bashir A et al (2009) Historical record of earthquakes in the Kashmir valley. J Himal Geol 30:75–84

Bender B (1983) Maximum likelihood estimation of b values for magnitude grouped data. Bull Seismol Soc Am 73:831–851

Bhat GM, Pandita SK, Singh Y, Sharma S (2013) Estimation of source parameters of local earthquakes in Jammu & Kashmir, India. International Journal of Scientific and Research publications 3(p):2

Bilham R (2009) The great Himalayan earthquakes. Himalayan Journal 65

BIS (2002) IS 1893–2002 (part 1): Indian standard criteria for earthquake resistant design of structures, part 1—general provision and buildings. Bureau of Indian Standards, New Delhi

Bolt BA (1999) Earthquake, 4th edn. W.H. freeman, San Francisco

Brune JN (1970) Tectonic stress and spectra of seismic shear waves from earthquakes. J Geophys Res 75:4997–5009

Brune JN (1971) Correction to tectonic stress and the spectra of seismic shear waves from earthquakes. J Geophys Res 76:5002

Chopra S, Kumar V, Suthar A, Kumar P (2012) Modelling of strong ground motions for 1991 Uttarkashi, 1999 Chamoli earthquakes and a hypothetical great earthquake in Garhwal-Kumaun Himalaya. Nat Hazards 64(2):1141–1159

Das R, Wason HR, Sharma ML 2010 Variations in the magnitude of completeness and 'b' value for the Indian Himalaya region during the catalog period 1964–2007. Nepal Geological Society, p 143

Dasgupta S, Pande P, Ganguly D, Iqbal Z, Sanyal K, Venkatraman NV, Dasgupta S, Sural B, Harendranath L, Mazumdar K, Sanyal S, Roy A, Das LK, Misra PS, Gupta H 2000 Seismotectonic atlas of India and its environs. Geol Surv India 1–87

Frank W, Grasemann B, Guntli P, Miller C (1995) Geological map of the Kishtwar-Chamba-Kulu region (north-west Himalaya, India). Jb Geol B-A ISSN 138:299–308

Fuchs G (1975) Contribution to the geology of the north-western Himalayas. Abh Geol B-A 32:59

Gansser A (1981) The geodynamic history of the Himalaya. American Geophysical Union, Washington, Geodynamics series 3:111–121

Gutenberg B, Richter CF (1944) Frequency of earthquakes in California. Bull Seismol Soc Am 34:185–188

Hakhoo N, Bhat GM, Koul S, Craig J, Thusu B 2011 Potential Proterozoic petroleum system, northwest Himalayan Thrust Belt, Jammu (India). AAPG Inter. Conf. Exbi. pp. 1–3

Havskov J, Ottemoller L 2013 Seisan: the earthquake analysis software. Version 10.0

Honegger K 1983 Strukturen und Metamorphose im Zanskar-Kristallin. Diss. Nr. Der 7456 ETH Zürich, vol 117. S., Zürich

Horton F, Lee J, Hacker B, Bowman-Kamaha'o M, Cosca M (2014) Himalayan gneiss dome formation in the middle crust and exhumation by normal faulting: new geochronology of Gianbul dome, northwestern India. Geological Society of American Bulletin. doi:10.1130/B31005.1

Hussain A (2009) Geological setting of the 8th October 2005 Kashmir earthquake. J Seismol 13:315–325

Jangpangi BS, Kumar G, Rathode DR, Dutta S (1986) Geology of the autochthonous folded belt Jammu and Kashmir Himalaya with special reference to Panjal thrust. J Paleon Soc of India 31:39–51

Jha MK (2010) Natural and anthropogenic disasters: vulnerability, preparedness & mitigation. Geological Survey of India 8:1–14

Kanamori H (1977) The energy release in great earthquakes. J Geophys Res 82:2981–2987

Kayal JR, Srivastava VK, Bhattacharya SN, Khan PK, Chatterjee R (2009) Source parameters and focal mechanisms of local earthquakes: single broadband observatory at ISM, Dhanbad. Journal of Geological Society of India 74:413–419

Kumar N, Sharma J, Arora BR, Mukhopadhyay S (2009) Seismotectonic model of the Kangra-Chamba sector of NW Himalaya: constraints from joint hypocenter determination and focal mechanism. Bull Seismol Soc Am 99(1). doi:10.1785/0120080220

Kumar N, Yadav DK, Mondal SK, Roy PNS (2013) Stress drop and its relation to tectonic and structural elements for the meizoseismal region of great 1905 Kangra earthquake of NW Himalaya. Nat Hazards. doi:10.1007/s11069-013-0793-9

Mogi K (1962) Magnitude-frequency relation for elastic shocks accompanying fractures of various materials and some relates problems in earthquakes. Bulletin of the Earthquake Research Institute 40:831–853

Ogata Y, Katsura K (1993) Analysis of temporal and spatial heterogeneity of magnitude frequency distribution inferred from earthquake catalogues. Geophys J Int 113(3):727–738

Pandey MR, Tandukar RP, Avouac JP, Vergne J, Heritier T (1999) Seismotectonics of the Nepal Himalaya from a local seismic network. J Asian Earth Sci 17(5):703–712

Parvez IA, Yadav P, Nagraj K (2011) Attenuation of P, S and coda waves in the NW Himalayas, India. Int J Geosci 3:179–191

Raha PK (1984) Stratigraphy of the Jammu limestone (great limestone), Udhampur district, Jammu and Kashmir state with special reference to its stromatolite. Geological survey of India, palaeontologia indica 47:1–103

Scholz CH (1968) The frequency-magnitude relation of microfracturing in rock and its relation to earthquakes. Buletin of Seismological Society of America 58:399–415

Schorlemmer D, Weimer S, Wyss M (2004) Earthquake statistics at Parkfield:1. Stationarity of b values. Journal of Geophysical Research: Solid Earth 109:B12307. doi:10.1029/2004JB003234

Searle MP, Windley BF, Coward MP, Cooper DJW, Rex AJ, Rex D, Tingdong L, Xuchang X, Jan MQ, Thakur VC, Kumar S (1987) The closing of Tethys and the tectonics of the Himalaya. Geol Soc Amer Bull 98:678–701

Sri Ram V, Kumar D, Khattri KN (2005) The 1986 Dharamsala earthquake of Himachal Himalaya- estimates of source parameters, average intrinsic attenuation and site amplification functions. J Seismol 9:473–485

Stäubli A 1988 Metamorphose und Deformation im Bereich der zentralen Hauptüberschiebung (M.C.T.), (Kishtwar Fenster, NW Himalaya). Dissertation Nr. 8573 der ETH Zürich, Zürich

Szeliga W et al (2010) Intensity, magnitude, location and attenuation in India for felt earthquakes since 1762. Bull Seismol Soc Am 100(2):570–584

Talukdar P (2013) Seismic study and spatial variation of b-value in Northeast India. IOSR Journal of Applied Physics (IOSR-JAP) 4:31–40

Thakur VC (1992) Geology of western Himalaya. Pergamon Press, Oxford, p. 366

Utsu T (1999) Representation and analysis of the earthquake size distribution: a historical review and some approaches. Pure Appl Geophys 155:509–535

Verma M, Sutar AK, Bansal BK, Arora BR, Bhat GM (2015) Mw 4.9 earthquake of 21 August, 2014 in Kangra region, northwest Himalaya: seismotectonics implications. J Asian Earth Sci 109:29–37

Wakhaloo SN, Dhar BL (1971) On the geology of the area in and around Kishtwar, Doda district, Kashmir Himalaya. Himal Geol 1:123–146

Wallace K, Bilham R, Blume F (2005) Surface deformation in the region of the 1905 Kangra Mw = 7.8 earthquake in the period 1846-201. Geophysics Res Lett 32:15, LI5307. doi:10.1029/2005GL022906

Warren NW, Latham GV (1970) An experimental study of thermally induced microfracturing and its relation to volcanic seismicity. Journal of Geophysical Research: Solid Earth 75:4455–4464

Wesnouski SG, Scholz CH, Shimazaki K, Matsuda T (1983) Earthquake frequency distribution and the mechanics of faulting. J Geophys Res 88:9331–9340

Woessner J, Wiemer S (2005) Assessing the quality of earthquake catalogue: estimating the magnitude of completeness and its uncertainty. Bull Seismol Soc Am 95(2):684–698. doi:10.1785/0120040007

Wyss M (1973) Towards a physical understanding of the earthquake frequency distribution. Geophys J R Astron Soc 31(4):341–359

Yin A (2006) Cenozoic tectonic evolution of the Himalaya orogen as constrained by along-strike variation of structural geometry, exhumation history, and foreland sedimentation. Science direct 76:1–131
Acknowledgments
The authors are very thankful to the Seismology Division, MoES, New Delhi, for funding the Seismology Project under which the seismic observatories were established and the seismic data taken. Discussions with H. N. Srivastava, Naveen Hakhoo, and B. R. Arora proved to be very helpful in finalizing the manuscript. We gratefully acknowledge the anonymous reviewers for their useful and constructive comments that significantly improved the manuscript.
About this article
Cite this article
Pandey, S.J., Bhat, G.M., Puri, S. et al. Seismotectonic study of Kishtwar region of Jammu Province using local broadband seismic data. J Seismol 21, 525–538 (2017). https://doi.org/10.1007/s10950-016-9614-4
Received:

Accepted:

Published:

Issue Date:

DOI: https://doi.org/10.1007/s10950-016-9614-4
Keywords
Kishtwar 2013 earthquake

Epicentral location

Source parameters

b-value

Kishtwar window

Seismotectonics