Abstract
Seismic events can affect the physico-chemical characteristics of groundwater. These anomalies are of a pre-seismic, co-seismic and post-seismic nature and correspond to pulse variations, sudden increases and decreases without return to initial values and upward or downward changes in trend. Continuous and in situ conductivity and temperature monitoring and periodic water sampling at a hot spring associated with neotectonic activity are of great interest for establishing predictive methods. This method is limited to the seismic activity affecting the fracturing system with which the hot spring is associated. The Region of Murcia and surroundings (southeast Spain) was selected as the study area for exploring the nature of these influences on groundwater. A hot spring in the Leana spa (Murcia) was equipped and monitored during the period 2006–2008, allowing for the in situ determination of conductivity and temperature as well as of major and minor constituents at the laboratory. Due to its proximity and related with fault network, we suggest that 86 % of earthquakes located between 0 and 10 km may affect in situ parameters of groundwater, and 75 % may affect laboratory determinations. This percentage drops in more distant zones. Of all earthquakes that seem to influence groundwater, 55 % of the in situ parameter anomalies and 53 % of laboratory were of a pre-seismic nature.
Access options
Buy single article
Instant access to the full article PDF.
USD 39.95
Price includes VAT (USA)
Tax calculation will be finalised during checkout.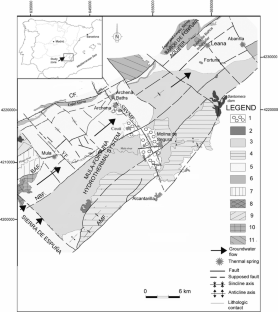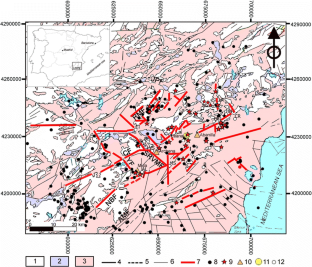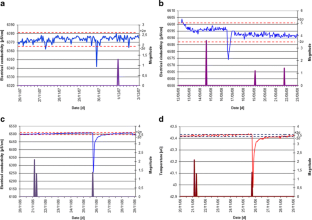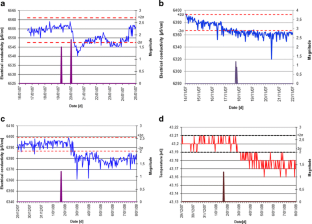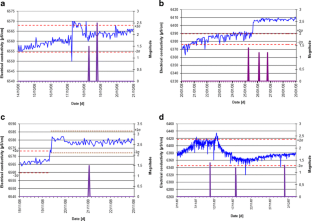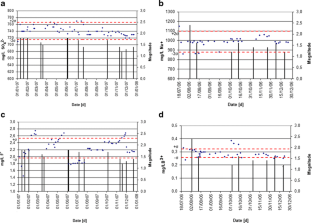 References
Albarello D, Ferrari G, Martinelli G, Mucciarelli M (1991) Well-level variation as a possible seismic precursor: a statistical asessment from Italian historical data. Tectonophysics 193:385–395. doi:10.1016/0040-1951(91)90347-U

Amoruso A, Crescentini L, Petitta M, Rusi S, Tallini M (2011) Impact of the 6 April 2009 L'Àquila earthquake on groundwater flow in the Gran Sasso carbonate aquifer, Central Italy. Hydrol Process 25(11):1754–1764. doi:10.1002/hyp.7933

Bernardeau L, Baena J, Gabaldón V, Barranco LM (1991) Mapa neotectónico, sismotectónico y de actividades de fallas en la Región de Murcia. Instituto Geológico y Minero de España. Madrid. http://mapas.igme.es/gis/services/Cartografia_Tematica/IGME_Neotectonico_1M/MapServer/WMSServer (Free access. Last updated in March 2015)

Berthoeux PM, Brown LC (1994) Statistics for environmental engineers. Lewis Publisher, New York, NY, p. 335

Bowman DD, Ouillon G, Sammis CG, Sornette A, Sornette D (1998) An observational test of the critical earthquake concept. J Geophys Res 103(B10):24359–24372. doi:10.1029/98JB00792

Buforn E, Udías A (2003) Mecanismos focales de terremotos en España. Física de la Tierra 15:211–227

Dobrovolsky IP, Zubkov SI, Miachkin VI (1979) Estimation of the size of earthquake preparation zones. Pure Appl Geophys 117:1025–1044. doi:10.1007/BF00876083

Echevarria A, Khazaradze G, Asensio E, Gárate J, Martín Dávila J, Suriñach E (2013) Crustal deformation in eastern Betics from CuaTeNeo GPS network. Tectonophysics 608:600–612. doi:10.1016/j.tecto.2013.08.020

Ekemen T (2010) Groundwater changes in relation to seismic activity: a case study from Eskipazar (Karabuk, Turkey). Hydrogeol J 18:1205–1218. doi:10.1007/s10040-010-0589-x

Favara R, Grassa F, Madonia P, Valneza M (2007) Flow changes and geochemical anomalies in warm and cold springs associated with the 1992–1994 seismic sequence at Pollina, Central Sicily, Italy. Pure Appl Geophys 164:12:2411–2430(20).DOI 10.1007/978–3–7643-8720-4_4

García-Mayordomo J, Gaspar-Escribano JM, Benito B (2007) Seismic hazard assessment of the Province of Murcia (SE Spain): analysis of source contribution to hazard. J Seismol 11:453–471. doi:10.1007/s10950-007-9064-0

Hauksson E, Goddard JG (1981) Radon earthquake precursor studies in Iceland. J Geophys Res 86:7037–7054. doi:10.1029/JB086iB08p07037

Hornero J, Martinez M (2012) Propuesta metodológica para estudiar la influencia de los sismos en los acuíferos mediante monitorización de parámetros físico-químicos en puntos termales y manantiales. Aplicación a la Región de Murcia (España). 7 AHPG, Asamblea hispano portuguesa de geodesia y geofísica, Donostia–San Sebastián 25–29 de junio de 2012. [CD-ROM]. Donostia: Aranzadi Zientzia Elkartea 2013:471–477

Hunter S, Hänel R (2002) Atlas of geothermal resources in Europe. Luxembourg. Office for Official publications of the European Communities

Igarashi G, Wakita H (1995) Geochemical and hydrological observations for earthquake prediction in Japan. Journal of Physics of the Earth 43(5):585–598. doi:10.4294/jpe1952.43.585

Instituto Geográfico Nacional (2016) Mapas de sismicidad y peligrosidad. Información sísmica. Red Sísmica Nacional. Instituto Geográfico Nacional, Madrid https://www.ign.es/ign/layoutIn/sismoListadoMapasSismicos.do

King C-Y (1986) Gas geochemistry applied to earthquake prediction: An overview. J Geophys Res Solid Earth 91(B12):12269–12281

Kissin IG, Belikov VH, Shukuliev GA (1996) Short-term groundwater variations in a seismic region as an indicator of the geodynamic regime. Tectonophysics 265(3–4):313–326

Martinelli G (2015) Hydrogeologic and geochemical precursors of eathquakes: an assesment for posible applications. Bolletino di Geofisica Teorica ed Applicata 56(2):83–94. doi:10.4430/bgta0146

Martínez M (2010) Influencias de los eventos sísmicos en las aguas subterráneas. Tierra y Tecnología 37:3–11

Martínez M, Durán JJ (2004) Respuesta de los acuíferos en el área de Mula (Murcia, SE España) a los movimientos sísmicos de 1999. Geogaceta 36:131–134

Mezcua J, Rueda JJ (2007) Predicción de sismos: Estado de la cuestión. In Ayala FJ, Olcina J. Laín L, González A (eds) Riesgos naturales y desarrollo sostenible: impacto, predicción y mitigación. Serie Medio Ambiente. Riesgos Geológicos n° 10. Instituto Geológico y Minero de España, Madrid, 249:263 ISBN 978–84–7840-666-1

Mogi K, Mochizuki H, Kurokawa Y (1989) Temperature changes in an artesian spring at Usami in the Izu peninsula (Japan) and their relation to earthquakes. Tectonophysics 159(1–2):95–108. doi:10.1016/0040-1951(89)90172-8

Nishizawa S, Igarashi G, Sano Y, Shoto E, Tsaka S, Sasaki Y (1998) Radon, Cl− and SO4 2− anomalies in hot-spring water associated with the 1995 earthquake swarm off the east coast of the Izy peninsula, Central Japan. Appl Geochem 13:89–94. doi:10.1016/S0883-2927(97)00058-9

O'Neil JR, King C (1981) Variations in stable-isotope ratios of ground waters in seismically active regions of California. Geophys Res Lett 8(5):429–431. doi:10.1029/GL008i005p00429

Ohno M, Wakita H (1996) Coseismic radon changes of the 1995 Hygo-ken Nanbu earthquake. Journal of Physics of the Earth 44:391–395. doi:10.4294/jpe1952.44.391

Pérez-López R, Bañon E, López-Gutiérrez J, Lario J, Rodríguez-Pascua MA, Martín-Velázquez S, Giner-Robles JL, Silva PG, Del Moral B, Pueyo-Morer EL (2015) Positive correlation between CO2 daily peaks and micro-earthquakes ocurrence in deep fault-caves: an empirical model. Miscellanea INGV Abstracts Volume 6th International INQUA Meeting on Paleosismology, Active Tectonics and Archaeoseismology. 19–24 April 2015, Pescina, Fucino Basin, Italy. 27: 369:372

Pinuaga I, González LA, Martínez M, Moreno L, Rodríguez-Estrella T (2003) Panorama de las aguas minerales en la Región de Murcia. Instituto Geológico y Minero de España, Madrid

Roeloffs E (1998) Persistent water level changes in a well near Parkfield, California, due to local and distant earthquakes. J Geophys Res 103(B1):869–889. doi:10.1029/97JB02335

Sheng-Rong S, Wei-Yi K, Yaw-Lin C, Y-Chieh L, Ll C-m, Li-Wei K, Tsanyao FY, Huann-Jih L (2003) Groundwater chemical anomaly before and after the Chi-Chi earthquake in Taiwan. TAO 14(3):311–320

Sibson RH, Moore J, Ramkin A (1975) Seismic pumping. A hydrothermal fluid transport mechanism Journal of the Geological Society 131:653–659. doi:10.1144/gsjgs.131.6.0653

Skelton A, Andrén M, Kristmannsdóttir H, Stockmann G, Mörth C-M, Sveinbjörnsdóttir A, Jónsson S, Sturkell E, Guðrúnardóttir HR, Hjartarson H, Siegmund H, Kockum I (2014) Changes in groundwater chemistry before two consecutive earthquakes in Iceland. Nat Geosci 7:752–756. doi:10.1038/ngeo2250

Song SR, Ku MWY, Chen YL, Liu CM, Chen HF, Chan PS, Chen YG, Yang TF, Chen CH, Liu TK, Lee M (2006) Hydrogeochemical anomalies in the springs of the Chiayi area in West-central Taiwan as possible precursors to earthquakes. Pure Appl Geophys 163:675–691. doi:10.1007/s00024-006-0046-x

Spence W, Sipkin S, Choy G (1989) Measuring the size of an earthquake. Earthquakes Volcanoes 21(1):58–63 ISBN 978-1288681136

Suer S, Guleç N, Mutlu H, Hilton DR, Çifter C, Sayin M (2008) Geochemical monitoring of geothermal waters (2002-2004) along the north anatolian fault zone, Turkey: spatial and temporal variations and relationship to seismic activity. Pure Appl Geophys 165:17–43. doi:10.1007/978-3-7643-8738-9_3

Toutain JP, Muñoz M, Poitrasson F, Lienard AC (1997) Spring water chloride ion anomaly prior to M = 5.2 Pyrenean earthquake. Earth Planet Sci Lett 149:113–119. doi:10.1016/S0012-821X(97)00066-6

Tsunogai U, Wakita H (1996) Anomalous changes in groundwater chemistry possible precursors of the 1995 Hyogo-ken Nanbú earthquake, Japan. Journal of Physics of the Earth 44(4):381–390

Wakita H (1996) Geochemical challenge to earthquake prediction. Proc Natl Acad Sci 93:3781–3786

Wang CY, Manga M (2010) Hydrologic responses to earthquakes and a general metric. Geofluids 10:206–216. doi:10.1111/j.1468-8123.2009.00270x

Woith H (2015) Radon earthquake precursor: a short review. European Physical Journal-Special Topics 224:611–627
Acknowledgments
The authors wish to thank the management and technical staff of the Leana Spa Resort for facilitating the installation of equipment, access and logistical support during the sampling campaign. This study is part of the following projects conducted by Geological Survey of Spain (IGME): "Characterization and physico-chemical evolution of groundwater in tectonically active areas. Application to zones with historical and existing seismicity in the Murcia Region" (ref. IGME-424) and DORIS project funding from the European Community (EC) Seventh Framework Programe. The project was managed by the Research Executive Agency (REA). FP7/2007-2013-Grant Agreement N° 242212.
The constructive comments of anonymous reviewers contributed to the improvement of this work.
About this article
Cite this article
Martínez, M., Hornero, J. & Trujillo, C. Physico-chemical evolution of groundwater in tectonically active areas. Application to the Leana hot spring (Murcia Region, SE Spain). J Seismol 21, 349–366 (2017). https://doi.org/10.1007/s10950-016-9605-5
Received:

Accepted:

Published:

Issue Date:
Keywords
Earthquake

Groundwater

Physico-chemical changes

Prediction

Murcia

Spain