Abstract
Quality factor Q, which describes the attenuation of seismic waves with distance, was determined for South Africa using data recorded by the South African National Seismograph Network. Because of an objective paucity of seismicity in South Africa and modernisation of the seismograph network only in 2007, I carried out a coda wave decay analysis on only 13 tectonic earthquakes and 7 mine-related events for the magnitude range 3.6 ≤ M L  ≤ 4.4. Up to five seismograph stations were utilised to determine Q c for frequencies at 2, 4, 8 and 16 Hz resulting in 84 individual measurements. The constants Q 0 and α were determined for the attenuation relation Q c(f) = Q 0 f α. The result was Q 0 = 396 ± 29 and α = 0.72 ± 0.04 for a lapse time of 1.9*(t s − t 0) (time from origin time t 0 to the start of coda analysis window is 1.9 times the S-travel time, t s) and a coda window length of 80 s. This lapse time and coda window length were found to fit the most individual frequencies for a signal-to-noise ratio of at least 3 and a minimum absolute correlation coefficient for the envelope of 0.5. For a positive correlation coefficient, the envelope amplitude increases with time and Q c was not calculated. The derived Q c was verified using the spectral ratio method on a smaller data set consisting of nine earthquakes and one mine-related event recorded by up to four seismograph stations. Since the spectral ratio method requires absolute amplitudes in its calculations, site response tests were performed to select four appropriate stations without soil amplification and/or signal distortion. The result obtained for Q S was Q 0 = 391 ± 130 and α = 0.60 ± 0.16, which agrees well with the coda Q c result.
Access options
Buy single article
Instant access to the full article PDF.
USD 39.95
Price excludes VAT (USA)
Tax calculation will be finalised during checkout.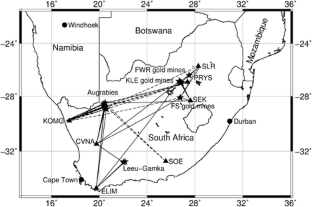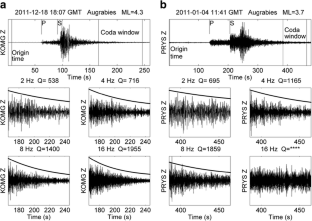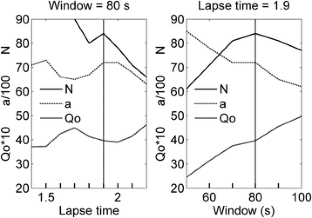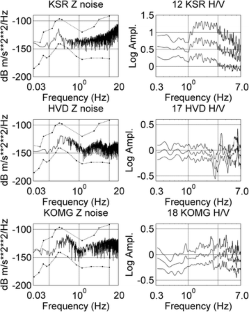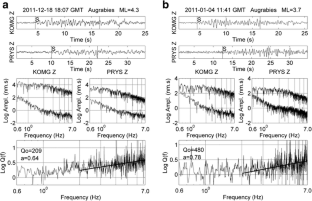 References
Abercrombie RA (2000) Crustal attenuation and site effects at Parkfield, California. J Geophys Res 105:6277–6286

Aki K, Chouet B (1975) Origin of coda waves: source, attenuation, and scattering effects. J Geophys Res 80:3322–3342

Akinci A, Malagnini L, Herrmann RB, Pino NA, Scognamiglio L, Eyidogan H (2001) High-frequency ground motion in the Erzincan Region, Turkey: inferences from small earthquakes. Bull Seismol Soc Am 91:1446–1455

Brandt MBC (2014) Focal depths of South African earthquakes and mine events. J South Afr Inst Min Metall 114:1–8

Campillo M, Plantet J, Bouchon M (1985) Frequency-dependent attenuation in the crust beneath central France from Lg waves: data analysis and numerical modelling. Bull Seismol Soc Am 75:1395–1411

Chow RAC, Fairhead JD, Henderson NB, Marshall PD (1980) Magnitude and Q determination in southern Africa using Lg wave amplitudes. Geophys J R Astron Soc 63:735–745

Edwards B, Rietbrock A, Bommer JJ, Baptie B (2008) The acquisition of source, path, and site effects from microearthquake recordings using Q tomography: application to the United Kingdom. Bull Seismol Soc Am 98:1915–1935. doi:10.1785/0120070127

Fernandez LM, Brandt MBC (2000) The reference spectral noise ratio method to evaluate the seismic response of a site. Soil Dyn Earthq Eng 20:381–388

Gusev AA (1995) Vertical profile of turbidity and coda Q. Geophys J Int 123:665–672

Haberland C, Rietbrock A (2001) Attenuation tomography in the western central Andes: a detailed insight into the structure of a magmatic arc. J Geophys Res 106:11,151–11,167

Havskov J, Ottemöller L (2010a) SEISAN earthquake analysis software for Windows, Solaris, Linux and Macosx. Ver. 8.3. University of Bergen, Norway

Havskov J, Ottemöller L (2010b) Routine data processing in earthquake seismology. Springer Science+Business Media. 347 pp. doi: 10.1007/978-90-481-8697-6

Herrmann RB, Kijko A (1980) Short-period Lg magnitudes: instrument, attenuation and source affects. Bull Seismol Soc Am 73:1835–1850

Hlatywayo DJ, Midzi V (1995) Determination of Lg-wave attenuation using single-station seismograms: a case study for Zimbabwe. Geophys J Int 123:291–296

Kvamme LB, Havskov J (1989) Q in southern Norway. Bull Seismol Soc Am 79:1575–1588

Kvamme LB, Hansen RA, Bungum H (1995) Seismic-source and wave-propagation effects of Lg waves in Scandinavia. Geophys J Int 120:525–536

Lee WS, Sato H (2006) Power-law decay characteristics of coda envelopes revealed from the analysis of regional earthquakes. Geophys Res Lett 33:L07317. doi:10.1029/2006GL025840

Malagnini L, Herrmann RB, Koch K (2000) Regional ground-motion scaling in Central Europe. Bull Seismol Soc Am 90:1052–1061

Motazedian D (2006) Region-specific key seismic parameters for earthquakes in Northern Iran. Bull Seismol Soc Am 96:1383–1395. doi:10.1785/0120050162

Mukhopadhyay S, Tyagi C (2008) Variation of intrinsic and scattering attenuation with depth in NW Himalayas. Geophys J Int 172:1055–1065

Nakahara H, Carcole E (2010) Maximum-likelihood method for estimating coda Q and the Nakagami-m parameter. Bull Seismol Soc Am 100:3174–3182. doi:10.1785/0120100030

Nakamura Y (1989) A method for dynamic characteristics estimation of subsurface using microtremor on the ground surface. Q R Railw Tech Res Inst 30(1):25–33

Nuttli OW (1978) A time-domain study of the attenuation of 10-Hz waves in the New Madrid seismic zone. Bull Seismol Soc Am 68:343–355

Nuttli OW (1980) The excitation and attenuation of seismic crustal phases in Iran. Bull Seismol Soc Am 70:469–485

Parvez IA, Yadav P, Nagaraj K (2012) Attenuation of P, S and coda waves in the NW-Himalayas, India. Int J Geosci 3:179–191

Peterson J (1993) Observation and modelling of seismic background noise. US Geological Survey Technical Report No. 93-322, 94 pp

Rietbrock A (2001) P wave attenuation structure in the fault area of the 1995 Kobe earthquake. J Geophys Res 106:4141–4154

Saunders I, Brandt MBC, Steyn J, Roblin DL, Kijko A (2008) The South African National Seismograph Network. Seismol Res Lett 79:203–210. doi:10.1785/gssrl.79.2.203

Stein S, Wysession M (2003) Introduction to seismology, earthquakes and earth structure. Blackwell, 498 pp

Tankard AJ, Jackson MPA, Eriksson KA, Hobday DK, Hunter DR, Minter WEL (1982) Crustal evolution of southern Africa. Springer, New York, 480 pp

Zhu X-Y (2014) An inversion of Lg-wave attenuation and site response from seismic spectral ratios in the eastern China region. Bull Seismol Soc Am 104:1389–1399. doi:10.1785/0120120359
Acknowledgments
This research was funded as part of the operation and data analysis of the South African National Seismograph Network. I wish to thank the Council for Geoscience for permission to publish my results. Zahn Nel undertook the language editing.
About this article
Cite this article
Brandt, M.B.C. Q c and Q S wave attenuation of South African earthquakes. J Seismol 20, 439–447 (2016). https://doi.org/10.1007/s10950-015-9536-6
Received:

Accepted:

Published:

Issue Date:

DOI: https://doi.org/10.1007/s10950-015-9536-6
Keywords
Quality factor

Q

Seismic wave attenuation

Coda

Amplitude ratio

South Africa