Abstract
The October 27, 1985 Constantine earthquake of magnitude MS 5.9 (NEIC) although moderate is the strongest earthquake recorded in the eastern Tellian Atlas (northeast Algeria) since the beginning of instrumental seismology. The main shock locations given by different institutions are scattered and up to 10 km away northwest from the NE–SW 30 km long elongated aftershocks cloud localized by a dedicated temporary portable network. The focal mechanism indicates left-lateral strike-slip on an almost vertical fault with a small reverse component on the northwest dipping plane. This paper presents relocations of the main shock and aftershocks using TomoDD. One hundred thirty-eight individual focal mechanisms have been built allowing the determination of the stress tensor at different scales. A rupture model has been suggested, which explains the different observations of aftershock distribution and stress tensor rotation.
Access options
Buy single article
Instant access to the full article PDF.
US$ 39.95
Tax calculation will be finalised during checkout.
Subscribe to journal
Immediate online access to all issues from 2019. Subscription will auto renew annually.
US$ 79
Tax calculation will be finalised during checkout.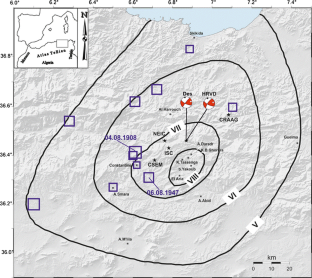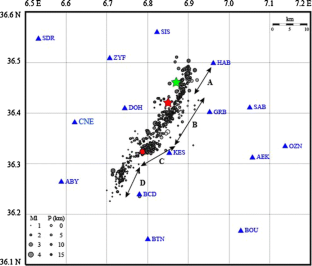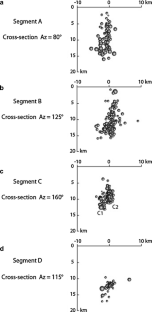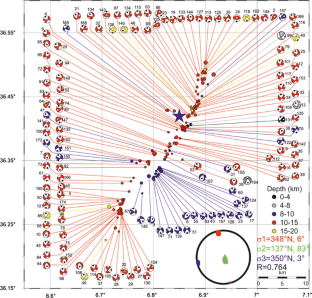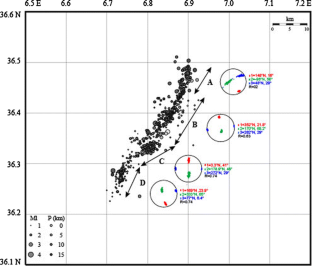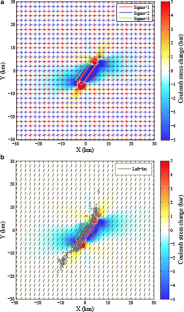 References
Angelier J, Mechler P (1977) Sur une méthode graphique de recherche des contraintes principales également utilisable en tectonique et en sismologie: la méthode des dièdres droits. Bull Soc Geol Fr XIX(7):1309–1318

Arthaud F (1969) Méthode de détermination géographique des directions des raccourcissements, d'allongement et intermédiaire d'une population de failles. Bull Soc Geol Fr 7:729–737

Ayadi A, Ousadou-Ayadi F, Bourouis S, Benhallou H (2002) Seismotectonic and seismic quietness of the Oranie region (western Algeria); the Mascara earthquake of August 18th 1994, Mw = 5.7, Ms = 6.0. Journal of Seismology 6(1):13–23. doi:10.1023/A:1014276727136

Ayadi A, Dorbath C, Ousadou F, Maouche S, Chikh M, Bounif MA, Meghraoui M (2008) Zemmouri earthquake rupture zone (Mw 6.8, Algeria): aftershocks sequence relocation and 3D velocity model. J Geophys Res 113:B09301. doi:10.1029/2007JB005257

Benhallou H, Ferrer A, Roussel J (1971) Catalogue des séismes Algériens de 1951 à 1970. IMPGA, Publication no. 3

Benouar D (1994) Materials for investigation of the seismicity of Algeria and adjacent regions during the twentieth century. Ann Geofis XXXVII:860

Bounif MA (1990) Etude sismotectonique en Algérie du nord : contribution à l'étude d'un tronçon de la chaine tellienne à partir des répliques du séisme de Constantine du 27 octobre 1985, Magister Thesis, USTHB, Alger, p 155

Bounif MA, Dorbath C (1998) Three dimensional velocity structure and relocated aftershocks for the 1985 Constantine, Algeria (Ms = 5.9) earthquake. Annali di Geofisica 41(1):93–104

Bounif MA, Haessler H, Meghraoui M (1987) The Constantine (Northeast Algeria) earthquake of October 27, 1985; surface ruptures and aftershock study. Earth Planet Sci Lett 85:451–460. doi:10.1016/0012-821X(87)90140-3

Bounif MA, Bezzeghoud M, Dorbath L, Legrand D, Deschamps SA, Rivera L, Benhallou H (2003) Seismic source study of the 1989, October 29, Chenoua (Algeria), broad-band and strong ground motion records. Ann Geophys 46(4):625–646

Bounif A, Dorbath C, Ayadi A, Meghraoui M, Beldjoudi H, Laouami N, Frogneux M, Slimani A, Alasset PJ, Kharroubi A, Ousadou F, Chikh M, Harbi A, Larbes S, Maouche S (2004) The 21 May Zemmouri (Algeria) earthquake Mw 6.8: relocation and aftershock sequence analysis. Geophys Res Lett 31:L19606. doi:10.1029/2004GL020586

Catalli K, Shim SH, Prakapenka VB (2008) A crystalline-to-crystalline transition in Ca(OH)2 at 8 GPa and room temperature. Geophys Res Lett 35(L05312):5. doi:10.1029/2007GL033062

Deschamps A, Bezzeghoud M, Bounif A (1991) Seismological study of the Constantine (Algeria) earthquake (27 October 1985), Publication IGN., Série Monographia, no. 8, pp 163–173

Dorbath C, Dorbath L, Gaulon R, George T, Mourgue P, Ramdani M, Robineau B, Tadili B (1984) Seismotectonics of the Guinean Earthquake of December 22, 1983. Geophys Res Lett 11(10):971–974. doi:10.1029/GL011i010p00971

Dorbath L, Evans K, Cuenot N, Valley B, Charléty J, Frogneux M (2010) The stress field at Soultz-sous-Forêts from focal mechanisms of induced seismic events: case of the well GPK2 and GPK3. Compt Rendus Geosci 342:413–437

Gephart JW (1990) FMSI: a fortran program for inverting fault/slickenside and earthquake focal mechanism data to obtain the regional stress tensor. Comput Geosci 16(7):953–989

Grandjean A (1954) Séismes d'Algérie de 1940 à 1950 inclus, Ann. Inst. phys. Globe, Strasbourg, 3 ème partie, Géophysique, VII, 83 (Le Puy)

Harbi A, Benouar D, Benhallou H (2003) Re-appraisal of seismicity and seismotectonics in the north-eastern Algeria part I: review of historical seismicity. Journal of Seismology 7:115–136

Harbi A, Peresan A, Panza GF (2010) Seismicity of Eastern Algeria: a revised and extended earthquake catalogue. Nat Hazards 54(3):725–747. doi:10.1007/s11069-009-9497-6

Hardebeck JL, Hauksson E (2001) Stress orientation obtained from earthquake focal mechanisms: what are appropriate uncertainty estimate. Bull Seism Soc Am 91(2):250–262

Hée A (1933) La fréquence des tremblements de terre en Algérie, 1911–1932, Monogr Bur Centr Seism Intern, pp. 99

Hée A (1950) Catalogue des séismes algériens de 1850 à 1911. Ann Inst Phys Globe, Strasbourg 6:41–49

King GCP, Stein RS, Lin J (1994) Static stress changes and triggering of earthquakes. Bull Seism Soc Am 84:935–953

Klein FW (1978) Hypocenter location program HYPOINVERSE, part I: user guide to version 1, 2, 3 and 4, U.S. Geological Survey. Open file Rep., 78–694, p 113

Lin J, Stein RS (2004) Stress triggering in thrust and subduction earthquakes and stress interaction between the southern San Andreas and nearby thrust and strike-slip faults. J Geophys Res 109:B02303. doi:10.1029/2003JB002607

Lyon-Caen, Armijo HR, Drakopoulos H, Baskoutas J, Delibassis N, Gaulon R, Kouskouna V, Latoussakis J, Makropoulos K, Papadimitriona P (1988) The 1986 Kalamata (south Peloponnesus) earthquake detailed study of a normal fault, evidence for east-west extension in the Hellenic arc. J Geophys Res 93:14967–15000

Meghraoui M (1988) Géologie des zones sismiques du nord de l"Algérie: Paléosismologie, tectonique active et synthèse sismotectonique; PhD thesis, Orsay University-Paris XI, p. 356

Meghraoui M, Cisternas A, Philip H (1986) Seismotectoninc of the lower Chellif Basin: structural background of the El Asnam (Algeria) earthquake. Tectonics 5(6):806–836. doi:10.1029/TC005i006p00809

Mezcua J, Martinez JM (1983) Sismisidad Del Area Ibero Mogrebi. Seccion de Sismologia, Inst. Geogr. Nacional, Madrid, Spain

Michael JA (1984) Determination of stress from slip data: faults and folds. J Geophys Res 89(11):517–11,526

Michael AJ (1987a) Stress rotation during the Coalinga aftershock sequence. J Geophys Res 92:7963–7979. doi:10.1029/JB092iB08p07963

Michael JA (1987b) The use of focal mechanisms to determine stress: a control study. J Geophys Res 92:357–368

Mokrane A, Aït Messaoud A, Sebaï A, Menia A, Ayadi A, Bezzeghoud M, Benhallou H (1994) Les séismes en Algérie de 1365 à 1992. Centre de Recherche en Astronomie Astrophysique et Géophysique, Alger, Centre de Recherche en Astronomie Astrophysique et Géophysique, Alger, 277

Okada Y (1992) Internal deformation due to shear and tensile faults in a half-space. Bull Seism Soc Am 82(2):1018–1040

Ouyed M, Yielding G, Hatzfeld D, King GCP (1983) An aftershock study of the El-Asnam (Algeria) earthquake of October 10, 1980. Geophys J R Astr Soc 73:605–639

Rebai S, Philip H, Taboada A (1992) Modern tectonic stress field in the Mediterranean region: evidence for variation in stress direction at different scales. Geophys J Int 110:106–140. doi:10.1111/j.1365-246X.1992.tb00717.x

Rothé JP (1950) Les séismes de Kherrata et la sismicité de l'Algérie. Bulletin du Service de la Carte Géologique de l'Algérie, 4 ème série, Géophysique, N° 3. P.40

Roussel J (1973) Les zones actives et la fréquence des séismes en Algérie (1716–1970). Extrait du Bulletin de la Société d'Histoire Naturelle de l'Afrique du nord. Tome 64, fascicule 3 et 4, pp 211–228

Thurber CH (1983) Local earthquake tomography: velocities and VP/VS-theory. In: Iyer HM, Hirahara K (eds) Seismic tomography: theory and practice. Chapman and Hall, New York, pp 563–583

Toda S, Stein RS (2003) Toggling of seismicity by the 1997 Kagoshima earthquake couplet: a demonstration of time dependent stress transfer. J Geophys Res 108(B12):2567. doi:10.1029/2003JB002527

Toda S, Stein RS, Richards-Dinger K, Bozkurt S (2005) Forecasting the evolution of seismicity in southern California: animations built on earthquake stress transfer. J Geophys Res B05S16. doi:10.1023/2004JB003415

Wells DL, Coppersmith KJ (1994) New empirical relationships among magnitude, rupture length, rupture width, rupture area, and surface displacement. Bull Seism Soc Am 84(4):974–1002

Zhang H, Thurber CH (2003) Double-difference tomography: the method and its application to the Hayward fault, California. Bull Seis-mol Soc Am 93:1875–1889. doi:10.1785/0120020190

Zoback ML (1992) Stress field constraints on intraplate seismicity in eastern North America. J Geophys Res 97(B8):11,761–11,782. doi:10.1029/92JB00221
Acknowledgments
We gratefully acknowledge the two anonymous reviewers and the editor for their fruitful comments that substantially improved this manuscript. We express our gratitude to Mustapha Meghraoui for the discussion about the surface ruptures of the studied earthquake, Seid Bourouis for his help in the preparation of some figures, Rémi Dretzen from the RéNass for his help to relocate the main shock using the RéNass procedure, and Jérome Van der Woerd for his assistance in the preparation the manuscript. We would like to remember one of our co-author, Prof. Hadj Benhalou, who passed away recently on October 16, 2011 after a long illness. This study has been supported by the CRAAG and the EOST, University of Strasbourg, and the TASSILI CMEP project (11 MDU 847).
Appendix
Appendix
The 138 aftershock mechanisms built with their corresponding location in half lower sphere. Mechanisms have been constructed from the first P wave arrival polarities and considered events that have at least nine polarities. The associated label is the one reported on Fig. 4.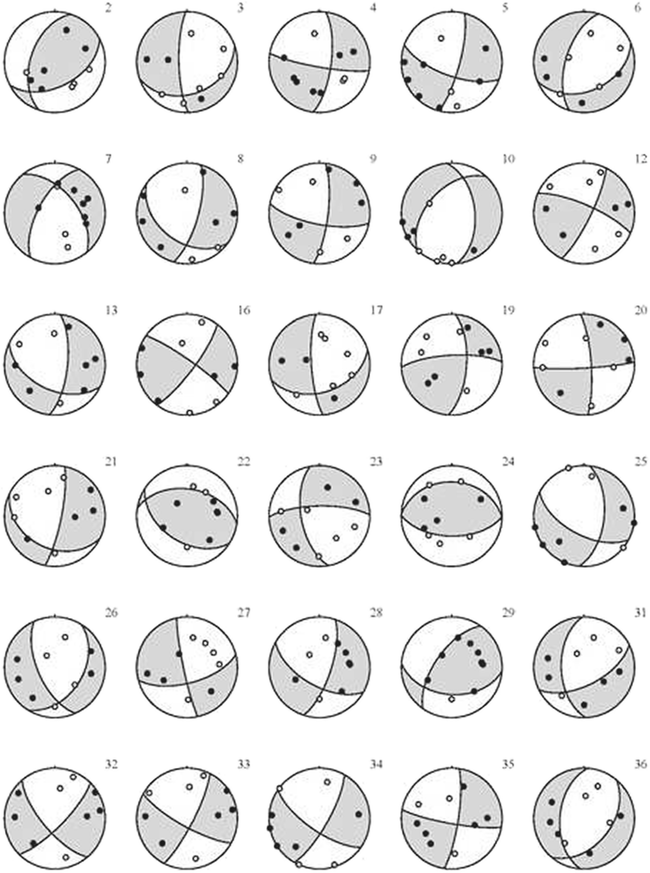 About this article
Cite this article
Ousadou, F., Dorbath, L., Dorbath, C. et al. The Constantine (Algeria) seismic sequence of 27 October 1985: a new rupture model from aftershock relocation, focal mechanisms, and stress tensors. J Seismol 17, 207–222 (2013). https://doi.org/10.1007/s10950-012-9320-9
Received:

Accepted:

Published:

Issue Date:
Keywords
Aftershocks

Tellian Atlas

Focal mechanisms

Stress tensors

Coulomb failure stress