Abstract
The aim of this work is the study of the magnetic, elastic, thermic, and thermoelectric properties of the ternary full-Heusler alloys Ru2VZ (Z = Ge and Sb) in L21 structure, using an ab initio calculation within the linearized augmented plane wave method with a full potential (FP-LAPW) based on the density functional theory (DFT). We computed these properties within the general gradient approximation (GGA). The structural parameters obtained are in favorable agreement with respect to the theoretical values found in the literature. The electronic properties studied have shown that the compounds have a half-metallic behavior. We have also computed the mechanical properties where we found that these full-Heusler compounds are mechanically stable. Furthermore, we have studied the thermal properties by the quasi-harmonic Debye model incorporated in the GIBBS code, which takes into account the lattice vibrations, pressure, and temperature effects on structural parameters. The thermoelectric properties were computed as a function of chemical potential at 300, 600, and 900 K. To our knowledge, the thermodynamic and thermoelectric characteristics have not yet been measured or calculated; hence, our results serve as a prediction for future study. Our obtained results for these quantities make these compounds attractive candidates for materials used in spintronic devices.
Access options
Buy single article
Instant access to the full article PDF.
USD 39.95
Price includes VAT (USA)
Tax calculation will be finalised during checkout.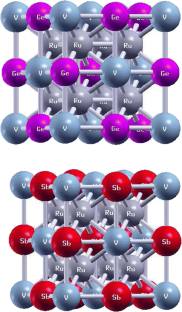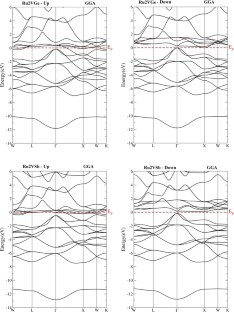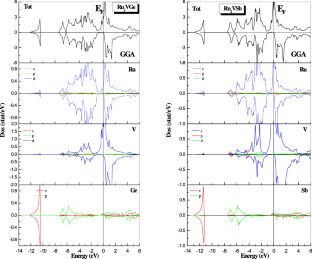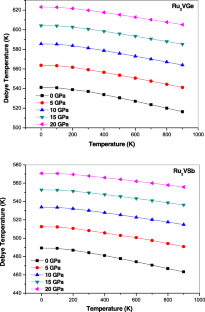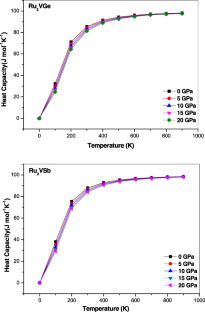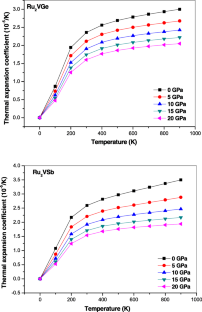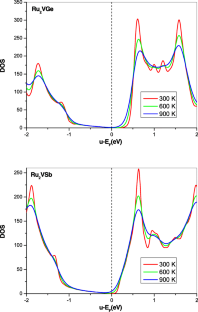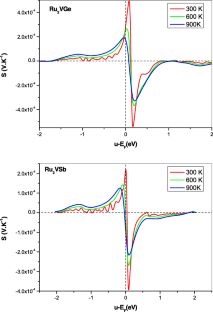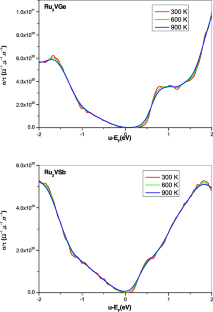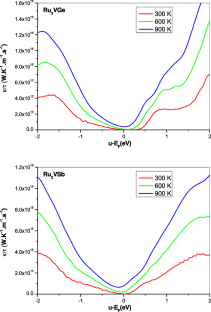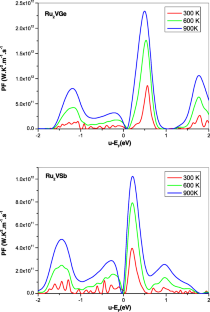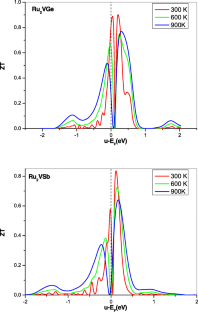 References
1.

de Groot, R.A., Mueller, F.M., van Engen, P.G., Buschow, K.H.J.: Phys. Rev. Lett. 50, 2024 (1983)

2.

Heusler, F., W. Starck, and E. Haupt. "Uber magnetische maganlegierun.": Verh. DPG. 5, 220 (1903)

3.

Heusler, F. "Mangan-aluminium-kupferlegierungen." :Verh. DPG. 5, 219 (1903)

4.

Coey, J.M.D., Venkatesan, M., Bari, M.A.: In: Berthier, C., et al. (eds.) Half-metallic ferromagnets (lecture notes in physics), vol 595, p. 377. Springer, Berlin (2002)

5.

Katsnelson, M.I., Irkhin, V.Y., Chioncel, L., de Groot, R.A.: Rev. Mod. Phys. 80, 315 (2008)

6.

Felser, C., Fecher, G.H., Balke, B.: Angew. Chem. Int. Ed. 46, 668 (2007)

7.

Balke, B., Wurmehl, S., Fecher, G.H., Felser, C., Kübler, J.: Sci. Technol. Adv. Mater. 9, 014102 (2008)

8.

Graf, T., Felser, C., Parkin, S.S.P.: Prog. Solid State Chem. 39, 1 (2011)

9.

Wu, F., Mizukami, S., Watanabe, D., Naganuma, H., Oogane, M., Ando, Y.: Appl. Phys. Lett. 94, 122503 (2009)

10.

Brown, P.J., Neumann, K.U., Webster, P.J., Ziebeck, K.R.A.: J. Phys. Condens. Matter. 12, 1827 (2000)

11.

Umetsu, R.Y., Okubo, A., Xu, X., Kainuma, R.: J. Alloys Compd. 588, 153 (2014)

12.

Heusler, O.: Kristallstruktur und Ferromagnetismus der Mangan-Aluminium Kupferlegierungen. Ann. Phys. 19, 155 (1934)

13.

Yalcin, B.G.: J. Magn. Magn. Mater. 408, 137 (2016)

14.

Mondal, S., Mazumdar, C., Ranganathan, R.: AIP Conf. Proc. 1512, 978 (2013)

15.

Mondal, S., Mazumdar, C., Ranganathan, R.: AIP Conf. Proc. 1536, 285 (2013)

16.

Gupta, D.C., Bhat, I.H.: J. Magn. Magn. Mater. 374, 209 (2015)

17.

Yang, J., Li, H., Wu, T., Zhang, W., Chen, L., Yang, J.: Adv. Funct. Mater. 18, 2888 (2008)

18.

Comtesse, D., Geisler, B., Entel, P., Kratzer, P., Szunyogh, L.: Phys. Rev. B. 89, 094410 (2014)

19.

Yadav, M.K., Sanyal, B.: J. Alloys Compd. 622, 388 (2015)

20.

Blaha, P., Schwarz, K., Madsen, G.K.H., Kvasnicka, D.J.: "WIEN2K, an augmented plane wave +local orbitals program for calculating crystal properties" (Karlheinz Schwarz, Technische Universität, Wien, Austria, 2001), ISBN 3-9501031 1-2 (2001)

21.

Hohenberg, P., Kohn, W.: Phys. Rev. 136, B864 (1964)

22.

Kohn, W., Sham, L.J.: Phys. Rev. 140, A1133 (1965)

23.

Schwarz, K., Blaha, P., Madsen, G.K.H.: Comput. Phys. Commun. 147, 71 (2002)

24.

Perdew, J.P., Wang, Y.: Phys. Rev. B. 45, 13 244 (1992)

25.

Tran, F., Blaha, P.: Phys. Rev. Lett. 102, 226401 (2009)

26.

Monkhorst, H.J., Pack, J.D.: Phys. Rev. B. 13, 5188 (1976)

27.

Robie, R.A., Edwards, J.L.: J. Chem. Phys. 37, 2659 (1966)

28.

Blanco, M.A., Francisco, E., Luana, V.: Comput. Phys. Commun. 158, 57 (2004)

29.

Blanco, M.A., Pendás, A.M., Francisco, E., Recio, J.M., Franco, R.: J. Mol. Struct. (THEOCHEM). 368, 245 (1996)

30.

Flórez, M., Recio, J.M., Francisco, E., Blanco, M.A., Pendás, A.M.: Phys. Rev. B. 66, 144112 (2002)

31.

Francisco, E., Recio, J.M., Blanco, M.A., Pendás, A.M.: J. Phys. Chem. 102, 1595 (1998)

32.

Madsen, G.K.H., Singh, D.J.: Comput. Phys. Commun. 175, 67 (2006)

33.

Murnaghan, F.D.: Proc. Natl. Acad. Sci. U. S. A. 30, 244 (1944)

34.

Mizusaki, S., Douzono, A., Ohnishi, T., Nagata, Y.: J. Phys. Conf. Ser. 200(0520), 17 (2010)

35.

Yin, M., Nash, P.: J. Alloys Compd. 634, 70 (2015)

36.

Gilleßen, M.: PhD thesis, RWTH Aachen University, Aachen, Germany (2009)

37.

Mehl, M.J., Klein, B.K., Papaconstantopoulos, D.A.: Intermetallic com- pounds: principle and practice. In: Westbrook, J.H., Fleischeir, R.L. (eds.) Principles, vol. I. Wiley (1995)

38.

Voigt, W.: Lehrbush der Kristallphysik. Taubner, Leipzig (1928)

39.

Schreiber, E., Anderson, O.L., Soga, N.: Elastic constants and their measurements. McGraw-Hill, New York (1973)

40.

Born, M., Huang, K.: Dynamical theory of crystal lattices. Clarendon, Oxford (1956)

41.

Pettifor, D.G.: Mater. Sci. Technol. 8, 345 (1992)

42.

Kanchana, V., Vaitheeswaran, G., Ma, Y., Xie, Y., Svane, A., Eriksson, O.: Phys. Rev. B. 80, 125108 (2009)

43.

Haines, J., Léger, J.M., Bocquillon, G.: Annu. Rev. Mater. Res. 31, 1 (2001)

44.

Biskri, Z., Rached, H., Bouchear, M., Rached, D.: J. Mech. Behav. Biomed. Mater. 32, 345 (2014)

45.

Kandpal, H.C., Fecher, G.H., Felser, C.: J. Phys. D. 40, 1507 (2007)

46.

Galanakis, I., Dederichs, P.H., Papanikolaou, N.: Phys. Rev. B. 66, 134428 (2002)

47.

Debye, P.: Ann. Phys. 39, 789 (1912)

48.

Petit, A.T., Dulong, P.L.: Ann. Chim. Phys. 10, 395 (1819)

49.

Seebeck, T.J.: Ueber die Magnetische Polarisation der Metalle und Erze durch Temperatur-Differenz, Abhandlungen der Königlichen Preußischen Akademie der Wissenschaften zu Berlin. 1820-1821, 289–346 (1822)

50.

Ioffe, A. I. "Energeticheskie osnovi termoelektricheskih battery poluprovodnikov." Academy of Science of the USSR Moscow (1949)

51.

He, J., Amsler, M., Xia, Y., Naghavi, S.S., Hegde, V.I., Hao, S., Goedecker, S., Ozoliņš, V.: Phys. Rev. Lett. 117, 046602 (2016)
Funding
This work is supported by the Algerian University research project (PRFU) under grant number B00L02UN200120200001 and the General Directorate for Scientific Research and Technological Development (DGRSDT), Algeria.
Additional information
Publisher's note
Springer Nature remains neutral with regard to jurisdictional claims in published maps and institutional affiliations.
About this article
Cite this article
Bentouaf, A. Elastic, Half-Metallicity, Thermodynamic, and Transport Properties of Ru2VGe and Ru2VSb Full-Heusler Compounds: a First-Principle Study. J Supercond Nov Magn 34, 157–167 (2021). https://doi.org/10.1007/s10948-020-05692-y
Received:

Accepted:

Published:

Issue Date:
Keywords
FP-LAPW

Heusler compounds

GGA

Thermodynamic properties

Transport properties

Spintronics