Abstract
Superconducting properties of YBa2Cu3O7-x (YBCO)/SrTiO3 (STO) polycrystalline composites were investigated. The composites were obtained by rapid thermal processing of the 20% YBCO–80% STO mixtures in the air in the temperature range 700–1000 °C for 2 min. Magnetization measurements showed that the superconducting critical temperature (Tc) is practically not changed if optimally doped YBCO is used in YBCO/STO composites. In contrast, a strong increase of Tc from 65 to 90 K was found in the case of underdoped YBCO. This increase of Tc can be explained by unusually fast diffusion of oxygen from STO to YBCO grains in sintered composites. Obtained results show that the YBCO oxidation process can be significantly accelerated in underdoped YBCO/STO composites during rapid high-temperature processing.
This is a preview of subscription content, log in to check access.
Access options
Buy single article
Instant access to the full article PDF.
US$ 39.95
Price includes VAT for USA
Subscribe to journal
Immediate online access to all issues from 2019. Subscription will auto renew annually.
US$ 199
This is the net price. Taxes to be calculated in checkout.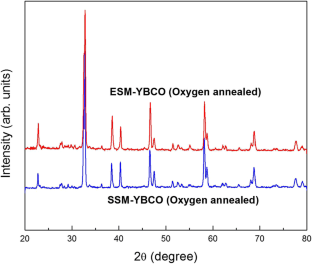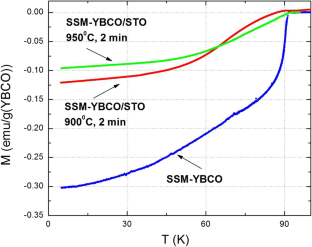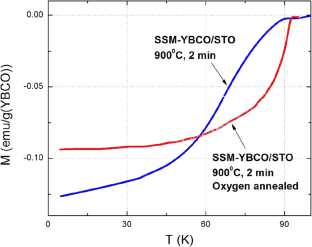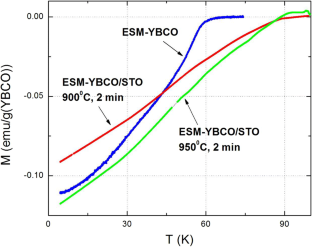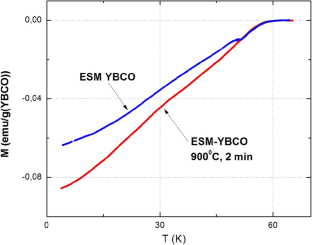 References
1.

Zubko, P., Gariglio, S., Gabay, M., Ghosez, P., Triscone, J.M.: Annu Rev Condens Matter Phys. 2, 141 (2011)

2.

Keldysh, L.V.: Pis'ma Zh. Eksp. Teor. Fiz. 29, 716 (1979) [JETP Lett. 29, 658 (1979)]

3.

Shengelaya, A., Müller, K.A.: J. Supercond. Nov. Magn. 26, 491 (2013)

4.

Müller, K.A., Burkard, H.: Phys. Rev. B. 19, 3593 (1979)

5.

Kalnberga, M., Livinsh, M., Kundzinsh, M., Sternberg, A., Shorubalko, I., Shebanovs, L., Bormanis, K.: J. Low Temp. Phys. 105, 1433 (1996)

6.

Landinez-Téllez, D.A., Roa-Rojas, J., Peña-Rodriguez, G.: Mater. Res. 16, 1002 (2013)

7.

Matsumoto, Y., Irie, F.: Jpn. J. Appl. Phys. 29, 416 (1990)

8.

Feng, Y., Zhou, L., Du, S., Zhang, Y.: J. Phys. Condens. Matter. 6, 9755 (1994)

9.

Lepeshev, A.A., Patrin, G.S., Yurkin, G.Y., Vasiliev, A.D., Nemtsev, I.V., Gokhfeld, D.M., Balaev, A.D., Demin, V.G., Bachurina, E.P., Karpov, I.V., Ushakov, A.V., Fedorov, L.Y., Irtyugo, L.A., Petrov, M.I.: J. Supercond. Nov. Magn. 31, 3841 (2018)

10.

Berling, D., Loegel, B., Mehdaoui, A., Regnier, S., Caranoni, C., Marfaing, J.: Supercond. Sci. Technol. 11, 1292 (1998)

11.

Balaev, D.A., Shaihutdinov, K.A., Popkov, S.I., Gokhfeld, D.M., Petrov, M.I.: Supercond. Sci. Technol. 17, 175 (2004)
Acknowledgments
The authors gratefully acknowledge F. La Mattina and E. Pomjakushina for valuable discussions and for help with the XRD measurements.
Funding
This work was supported by the Shota Rustavely National Science Foundation of Georgia under grant No. PhD_F_17_40.
Additional information
Publisher's Note
Springer Nature remains neutral with regard to jurisdictional claims in published maps and institutional affiliations.
About this article
Cite this article
Tchabukiani, T., Daraselia, D., Japaridze, D. et al. Study of Superconductivity in YBa2Cu3O7-x/SrTiO3 Composites. J Supercond Nov Magn 32, 3121–3124 (2019). https://doi.org/10.1007/s10948-019-5085-5
Received:

Accepted:

Published:

Issue Date:
Keywords
Cuprate superconductors

Strontium titanate

Composites